When it comes to finding the perfect beach, folks are usually drawn to pristine white sand and crystal-clear waters. But there's another unsung sandy hero that deserves some praise and Instagram love, too. Black sand beaches, which are typically created by volcanic activity that occurs nearby, feature millions of pieces of glistening black basalt. And while many of these spots aren't meant for traditional activities like volleyball or sunbathing (the shores tend to be hotter since black absorbs more sunlight), they offer impressive, larger-than-life views. So where exactly can you find these stunning geological gems? We sifted through several black sand beaches around the world and compiled a list of our favorites, from the Big Island of Hawaii to the glacial shores of Iceland. No photo filters necessary.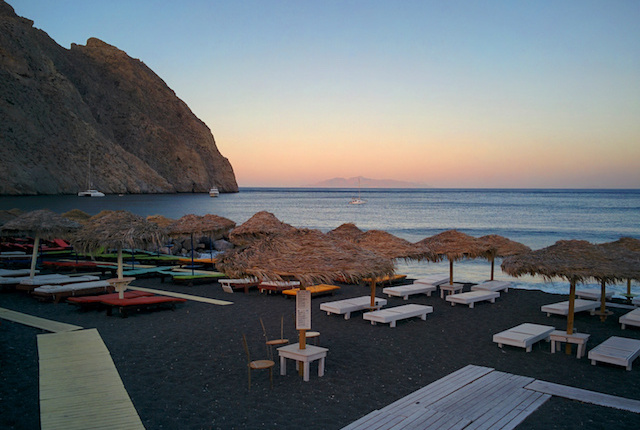 Positioned on the southern coast of in the shadow of Mount Vouno, Perissa Beach plays host to the ruins of Ancient Thira. It's also home to restaurants that come with umbrellas and sun loungers that are set directly on the sand and can be used free of charge when ordering food and drinks. Take a seat and watch the sunset or marvel over the mountain that separates Perissa Beach from the bigger and more crowded Kamari Beach.
2. Stokksnes Beach, Iceland
https://www.instagram.com/p/BGAa8jhFXQs/
Arriving at the spectacular Stokksnes beach in Iceland feels a lot like stepping onto the set of a sci-fi movie. Here, you'll find black sand dunes and the looming and majestic Vestrahorn mountain. Photographers and tourists tend to visit around sunrise and sunset to snap photos of this beach, which is constantly changing due to shifting sand dunes. You won't be far from the town of Hofn — about a 20-minute car ride away — and the famous Vatnajokull glacier as well.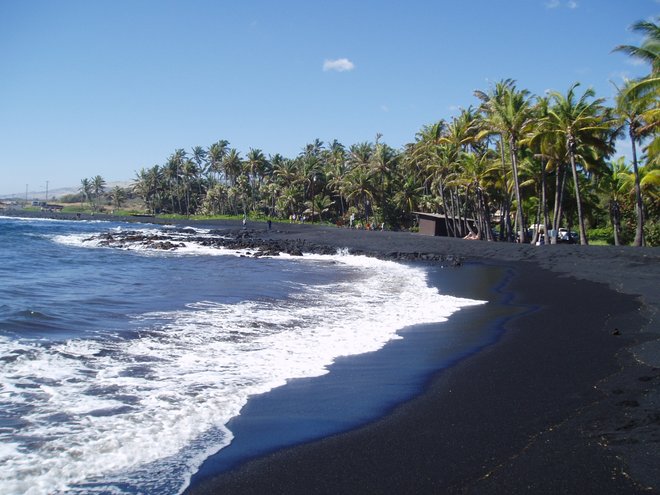 Bordered by palm trees on the of Hawaii, Punalu'u Beach is a popular tourist destination. For starters, the millions of black granules that make up the area dazzle as the clear Pacific Ocean laps on the shore. Here, you'll also likely stumble upon honu (or green Hawaiian sea turtles) and hawksbill turtles, which rest on the shores. If you do spot the creatures, look but don't touch. It's against federal and state law to harass the animals in any way. And while it might be tempting to bring a bag of the black sand home as a souvenir, be careful. Locals believe a curse falls on those who take lava outside of Hawaii.
This 3.5-mile stretch of black sand and pebbles sits in Shelter Cove on the rugged Lost Coast of Northern . Compared to other beaches on the coastline that are frequented by tourists, seals, and sea lions, this one is fairly secluded. Great for exploring tide pools at low tide and collecting silver dollars on the shore, this spot is also prime for spotting gray whales from September through January and March through June. The only downside: the surf can be a tad too rough for swimming and the chilly water temperature makes a wetsuit necessary for those who want to catch a wave.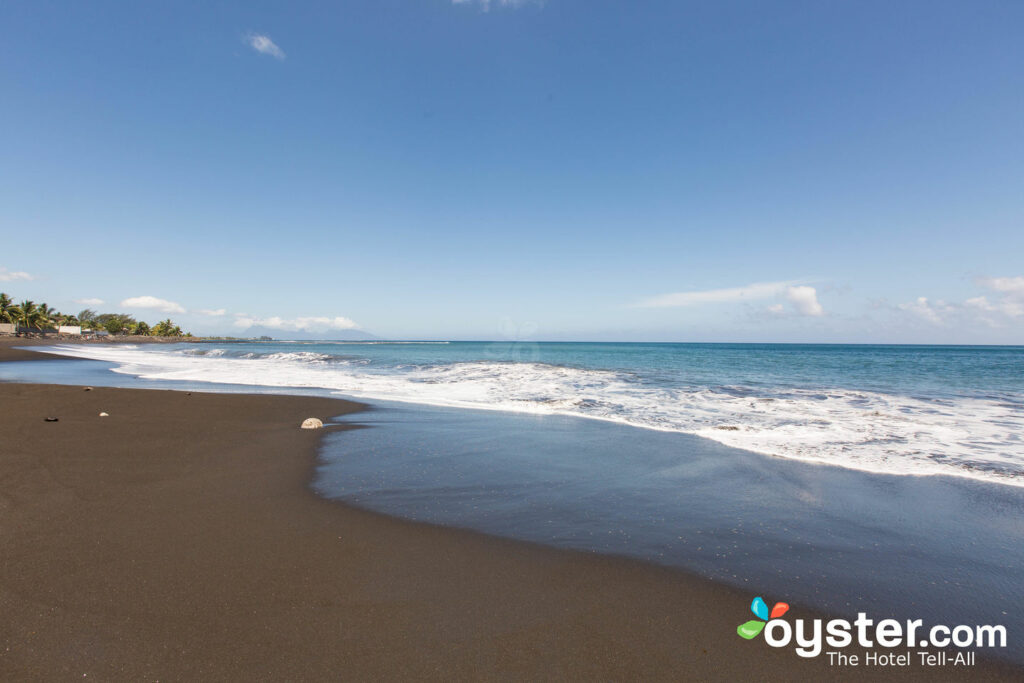 Located in front of and facing the island of Moorea, Lafayette Beach is home to a narrow stretch of black sand and the Matavai Bay's calm and shallow waters. From here, it's a 10-minute drive to an impressive lighthouse and Point Venus, another black sand beach and popular surfing spot. As the story goes, Samuel Wallis discovered Tahiti in the 1760s and later, Captain James Cook arrived with a team of astronomers to observe the transit of Venus. Today, you'll find memorials at Point Venus dedicated to the explorers.
6. Playa Roque Bermejo, Canary Islands
https://www.instagram.com/p/BE36DS7OphG/
Reaching the relatively remote Playa Roque Bermejo requires taking a boat, but it's well worth the trip. Located in a fishing hamlet on the eastern tip of Tenerife — the largest of the Canary Islands — this gorgeous beach isn't as crowded as the several other black and golden options in the area. And if you're up for a hike, opt for the two-hour walk from Chamorga to the beach.
7. Playa Negra, Puerto Rico
https://www.instagram.com/p/BIX2ERej5Vh/
If you can handle the 10- to 15-minute trek down to Playa Negra on Isla de Vieques, you'll likely have the isolated black sand beach to yourself. Plus, walking on the trail brings its own adventure, chock-full of horse, hermit crab, and other wildlife sightings. While the big waves make it a less than ideal swimming spot, the beach, which can appear darker depending on weather, is pretty calm and quiet.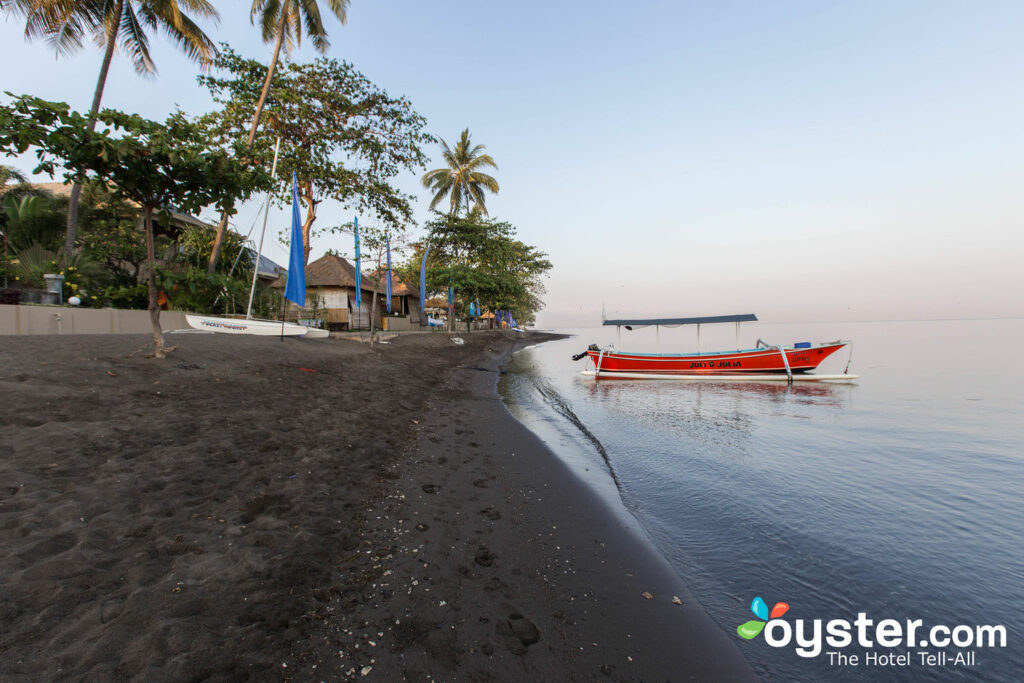 Located on the northwestern side of Bali in a rural area with rice paddies, Lovina Beach can be described as laid-back. Here, locals play volleyball and vendors, who can be aggressive, sell their wares. Snorkeling conditions are also excellent, as the area is protected by coral reef. And if you're wondering about that huge dolphin structure in Binaria Square, it's a tribute to the dolphins that frequent the waters off the shore. Many visitors also book early morning dolphin boat trips.
NOW WATCH: 5 Best Pink-Sand Beaches in the World
https://www.youtube.com/watch?v=lQXTHGbbSUs
Relates Stories:
All products are independently selected by our writers and editors. If you buy something through our links, Oyster may earn an affiliate commission.