Whether they're naturally formed or manmade, intricately detailed or strikingly simple, spiritual centers around the world offer a therapeutic place to reflect. Each has a fascinating past -- some with roots in prehistoric times and many that have earned UNESCO World Heritage status. From an ashram in an Indian forest to a Buddhist temple on the island of Java to an incredible monolith in the desert plains of central Australia, we've rounded up eight spiritual centers that stand out from the multitude of others across the globe.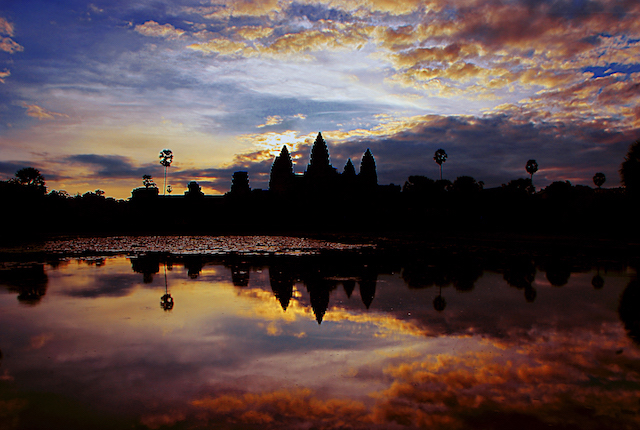 The architectural stand-in for Mount Meru — home of the gods in Hindu mythology — is considered the biggest religious monument in the world. Constructed between 1112 and 1152, the temple is part of Angkor, a UNESCO-protected archaeological park in Siem Reap, Cambodia. Various other temples and structures built by the Khmer Empire are scattered throughout the complex, but Angkor Wat differs in that it has been used almost continuously since being built. Mythological bas-reliefs, thousands of carved nymphs, and a seven-headed serpent are among its eye-catching features.
Where to Stay: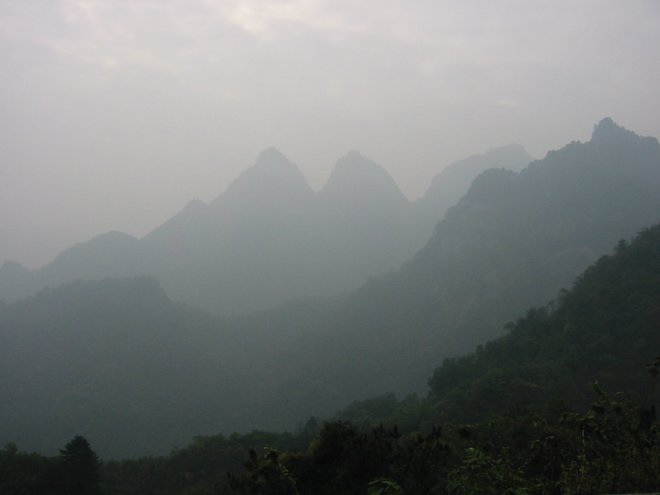 In the Wudang Mountains of China's Hubei province, there exists a complex of ancient temples that display architecture from the Yuan, Ming, and Qing dynasties. Originally created with structures dating to the seventh century, many of the earliest buildings have since deteriorated. The oldest of the remaining 53 buildings and nine architectural sites can be traced to the early 12th century. One highlight includes the Purple Heaven Palace, a 12th-century Taoist structure that showcases the rarely seen uplift wooden crossbeam style of architecture. The closest airport is Shiyan Wudangshan Airport, around a three-hour flight from Shanghai.
Located in the Kedu Valley of the Indonesian island of Java, this enormous Buddhist temple and UNESCO World Heritage site dates to the eighth or ninth century (its precise age is disputed). Aside from being impressively old, it's also visually arresting, with its three-tiered stupa, 27,000 square feet of walls and balustrades, and vertical architecture that relates to Buddhist cosmology.
Where to Stay:
4. Mecca
A pilgrimage to Mecca — home to the most sacred Islamic mosque, Al-Masjid al-Haram — is among the Five Pillars of Islam. Millions make the journey, or hajj, each year in western Saudi Arabia. As for Mecca's spiritual roots, it's said that the Prophet Muhammad often meditated inside a cave somewhere overlooking the city. In 610 AD, he experienced the presence of God and the rest is history. Unfortunately, recent years have seen destruction of some of the ancient buildings.
Dubbed the Sistine Chapel of Prehistoric Art, this cave in the Vézére valley of southwestern France features fascinating paintings of hunting scenes along its limestone walls. Colorful and detailed in particular places, the animals depicted include now-extinct Ice Age species, along with some unidentified fairytale-type creatures. The paintings are a whopping 15,000 to 17,000 years old, and archaeologists say that religious ceremonies and hunting activities were held inside the cave. The sight wasn't discovered until 1940, when a runaway dog led four teenage boys to the trove of Upper Paleolithic-period artwork. As for how how to get there, Bordeaux is around a three-hour drive from the site.
Where to Stay:
6. Arsha Vidya Gurukulam
https://www.instagram.com/p/BHk8HRSDjDx/
Hidden away in a forest in India's Tamil Nadu, this ashram is devoted to Advaita Vedanta, a Hindu philosophy with roots in ninth-century texts called Upanishads. A "National Geographic" interview with two filmmakers behind a recent documentary about the ashram reveals that Advaita Vedanta has been hugely influential on "the history of philosophy" as well as India's "spiritual traditions" and the yoga explosion in the West. To get there, it's about a three-and-a-half-hour flight from Goa.
A sandy plain in central Australia is home to a striking geological feature that influenced one of the world's oldest societies, the Anangu Aboriginal people. Uluru (also known as Ayers Rock) is a reddish monolith and considered sacred by the Anangu. The monstrous rock, which draws plenty of tourists, is partly covered with intricate cave paintings (archaeological records here date back 10,000 years) and has a distinctive energy. That vibe might have something to do with Anangu mythology, which says that ancestral beings created the desert landscape at the dawn of time. Hop on a three-and-a-half-hour flight from Sydney to see it in person.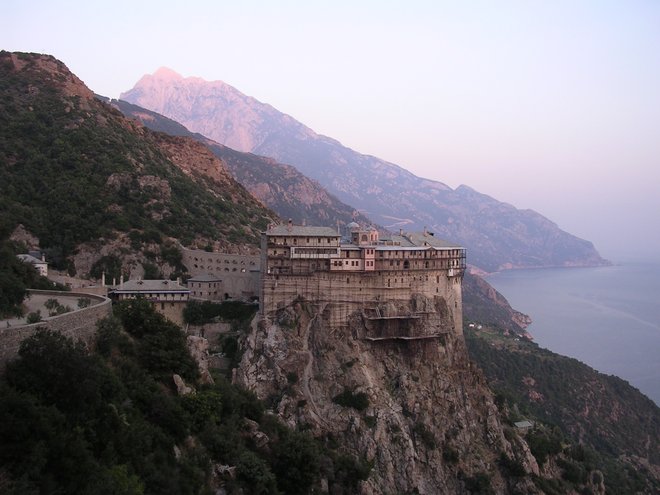 Russian Orthodox monks have maintained a presence on Mount Athos, a mountain on its namesake Greek peninsula, for 1,000 years. Known as the Holy Mountain, Athos has been the spiritual home of Orthodox Christianity since the year 1054. Today, it's a UNESCO World Heritage site and home to around 1,400 monks. To ensure celibacy, women were (and still are) banned from the peninsula and the 20 monasteries, including the Simonos Petras monastery, which gazes out at the Aegean Sea from atop an 800-foot rock. This has sparked quite a bit of controversy over the years. Beyond its gorgeous scenery and spiritual roots, Mount Athos has an artistic side. Many incredible works — some from the 13th century — decorate the monastery walls. Note: Visitors have to apply for entrance far in advance and request accommodations in a monastery.
Related Stories:
All products are independently selected by our writers and editors. If you buy something through our links, Oyster may earn an affiliate commission.