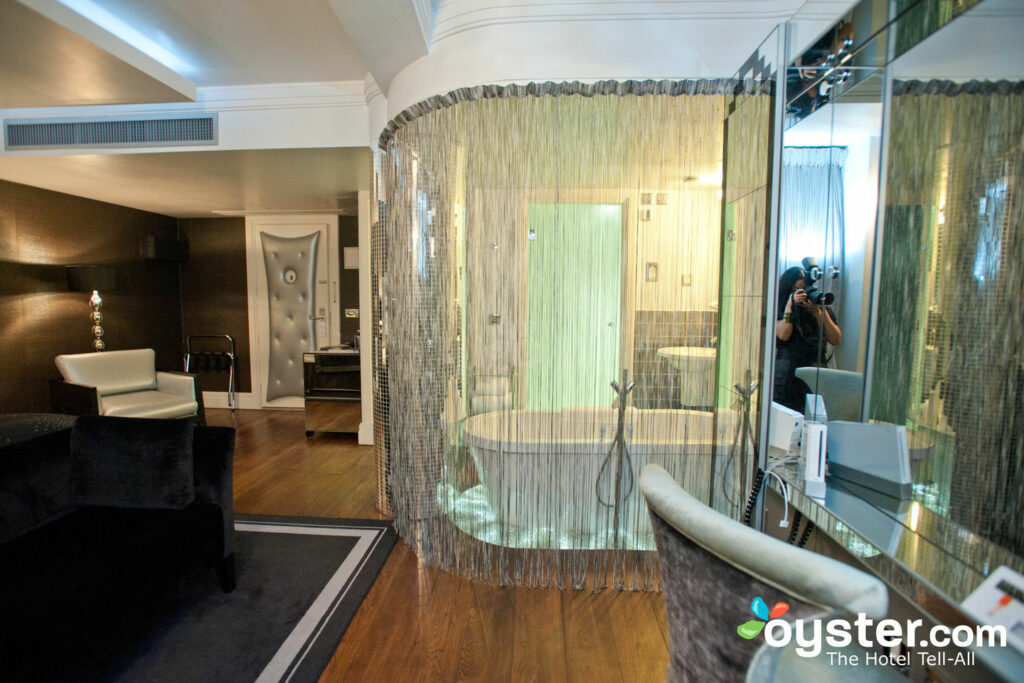 Sex and hotels have always been the perfect bedfellows (wink-wink) -- so it's only a natural progression that venues are taking a more overt role in the erotic liaisons of their guests. For some, a simple night away from children/work/etc is enough of an aphrodisiac. For others, the titillating packages, fantasy rooms, and erotic offerings of various hotels provide the real incentives for a night spent out of town.
With those latter folks (and those former folks who are now intrigued), we've compiled a list of eight hotels that are not afraid to help you get your sexy on -- starting right now.
The antithesis to most people's own homes (an idea which is sexy in itself), The Five Hotel is an ultra modern boutique hotel that aims to please with sexy decor that not so subtly hints at the idea of sex from the get-go. The hotel is adults-only and has its own "love capsule bar" serving champagne (naturally)and an enticing range of soft-core literotica. And if you need any more help getting things started, just ask for the "Sensory Box."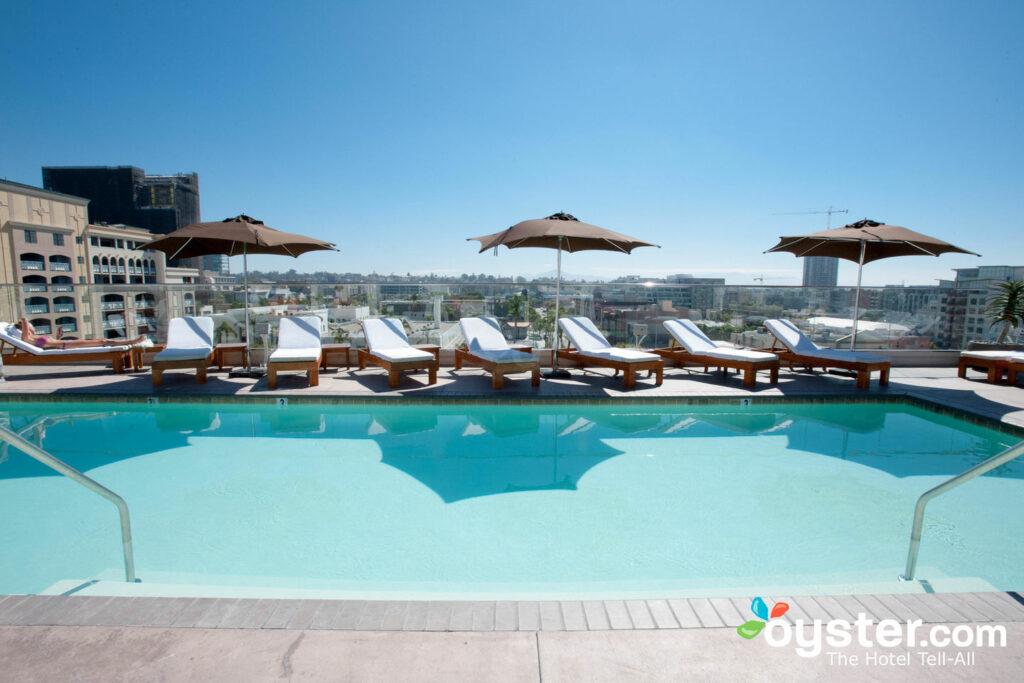 Andaz San Diego may be as undeniably kinky as it is undeniably hip. Group showers, leather lined walls, stripper polls, and mirrored ceilings all find a place in its sexiest suite. For the sexiest available experience, opt for the Star Suite and its 1,275 square feet of fun. After the necessary, er, "breaking in" of the room, guests can enjoy stunning views from the exclusive Andaz Rooftop Bar.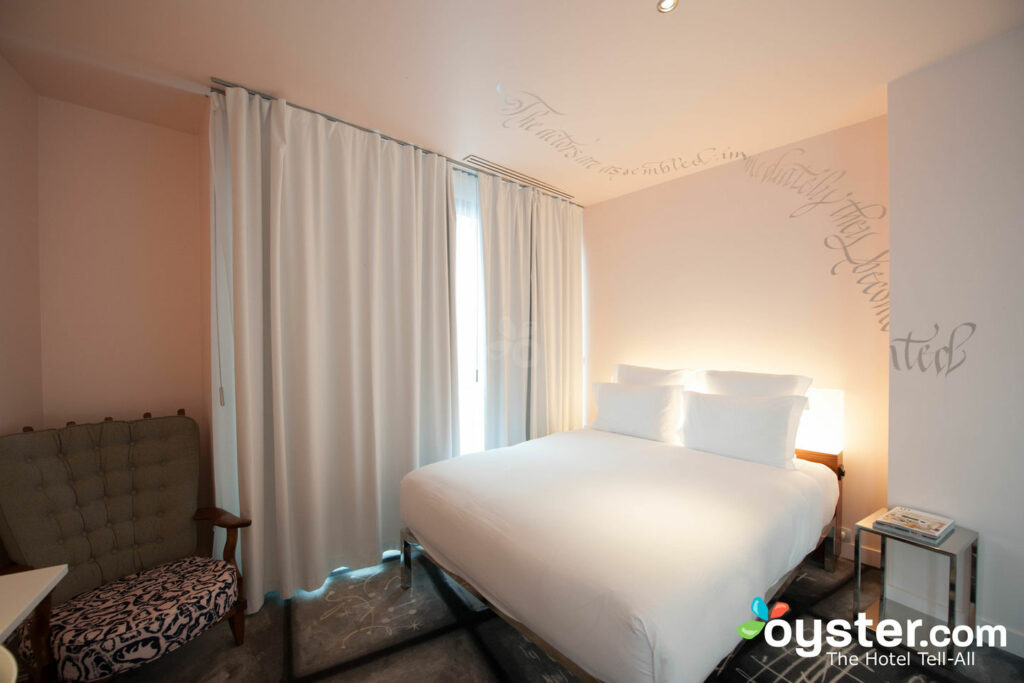 The Mama Shelter brand has a range of affordable boutique hotels spread throughout Europe, and it certainly doesn't seem shy when it comes to embracing the sexier side of hotel life. Designed by Philippe Starck, Lyon's Mama Shelter features quirky, urban decor that appeals to a contemporary crowd. Guests can spark the romance with a Sexy Mama Box of adult toys, feather ticklers, and erotic dice. And if you want to get really weird, you can incorporate the complimentary cartoon masks and free on-demand XXX movies that come with every room.
While Hotel Urban in Madrid has its own sweet little museum containing a number of antiques, its main galleries are the bedrooms where the hotel's "Stay and Pleasure Suite" package is designed to get you in the mood. Included in the package is accommodation in a suite with its own private sauna, as well as an "Intimate Pleasure Box" from adult company Lily Blossom that gives you the opportunity to "Tie, dominate, play and enjoy the incredible feel of leather on your skin."
Not only does The Line Hotel in Los Angeles have two hip restaurants, its own popular nightclub, an outdoor pool inside an atrium, and a stylish location in Koreatown, its minibars are stocked with Intimacy Kits to enhance your sexual stay. But that's not the hottest thing about The Line — up the sex appeal with a stay in one of the rooms featuring floor-to-ceiling windows and views of the Hollywood sign; we hear they're a favorite among exhibitionists.
You can keep your antique claw-foot bathtubs — when its time to get kinky, we'll take a gigantic champagne glass hot tub instead. All the suite rooms at Cove Haven Resort in the Pocono Mountains Region have a romantic fantasy theme, but the Champagne Tower Suite is the most obvious for amorous coupling thanks to its one-of-a-kind champagne glass tub. If fantasy whirlpools don't float your boat, there's also indoor tennis, racquetball, basketball, and roller-skating to get you sweaty.
The upscale Sanctum Soho Hotel in London has electric guitar rentals, diamante-studded door handles, and its own 24-hour rooftop bar with a whirlpool — but what we're really interested in is what goes on in the BXG Suite. Guests who opt for the sexy, secretive suite can purchase the key to a locked "Toy Cupboard" full of innovative adult toys, restraints, and accessories for the curious to experiment with; the suite must be enquired about prior to booking, so we can only assume that's to allow the hotel to judge potential couples' capacity for sexual adventure.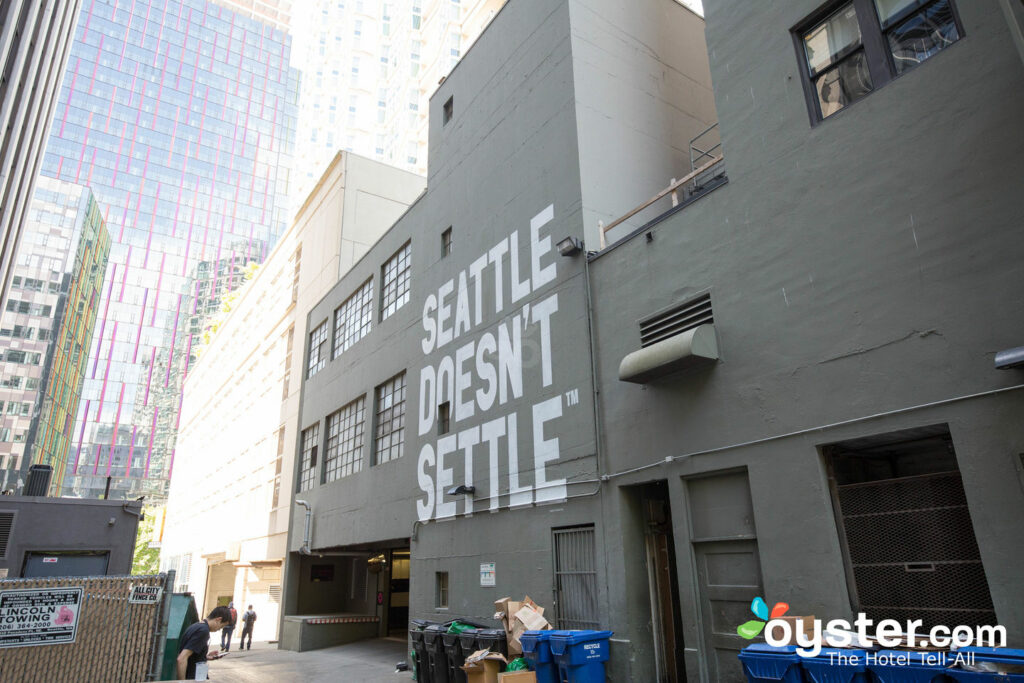 When a hotel has a "get it now" button in its rooms, you can be sure it has a playful side. From a Magnum of champagne at 6 a.m. to a fresh toothbrush to prepare for an impromptu date, the Hotel Max will provide you with whatever your heart desires. Located close to Pike Place Market in Seattle's downtown, the Hotel Max has a hip, tasteful vibe — a vibe that can be shifted to a naughtier place with one of its "Sweet Surrender" packages, each of which includes a feather tickler with honey body dust, a vibrating toy, rose petals for the bed, and a 10-foot satin blindfold.
Related Links:
All products are independently selected by our writers and editors. If you buy something through our links, Oyster may earn an affiliate commission.