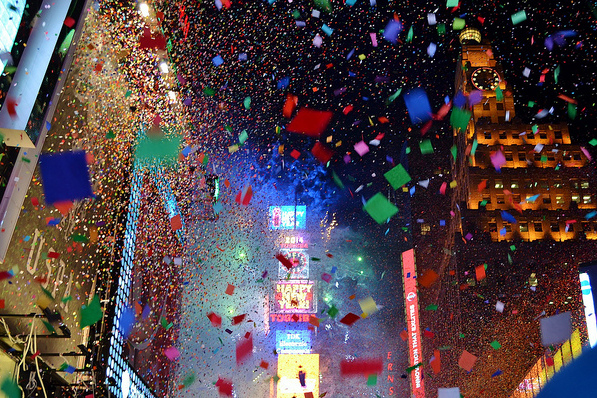 Love it or hate it, New Year's Eve happens every year. And we, as New Yorkers -- with the American epitome of a NYE celebration happening right here in Times Square -- definitely have a love-hate relationship with this holiday. While every single American may hate the scramble to find the best party, and pressure to find that perfect someone to kiss when the clock strikes twelve, we can usually all agree that we love the New Year's promise of a new leaf, the free-flowing champagne, and the glitter that this out-with-the-old, in-with-the-new holiday brings with it. So, slap on your hats, and grab those noise makers, bowls of black-eyed peas, and flutes of bubbly as we take a tour around the world, to see how nine other countries ring in their new year!
Been abroad to celebrate? Tell us your tales in the comments!
While we're collecting noise makers, sparklers, and glitter hats stateside, celebrators down in Mexico are writing down all of the things that didn't go so great in the last year so they can promptly toss all that negativity in the fire at midnight, to watch it go up in flames and disappear. Mexicans also decorate their homes with colors that represent their intentions for the new year, so hopefully there's less and less on that fire-bound slip each year. It should be no surprise that red represents love (and lifestyle), yellow is for work improvements, green stands for money, and white represents better health.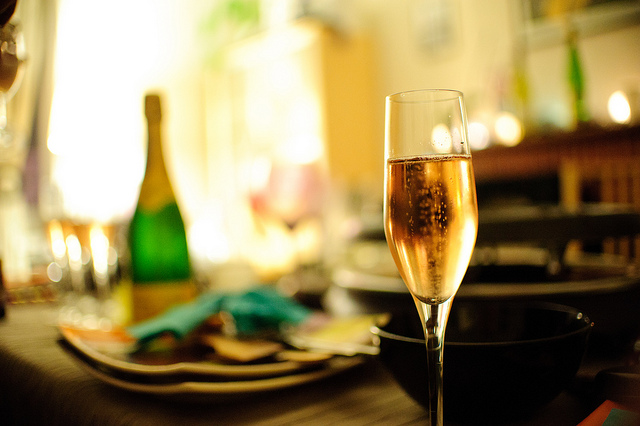 Belgium throws large public parties in the streets and cafes with live music, fireworks, and friends. It's similar to what we have here, except — and we love this — many areas of the country offer free bus services and taxis to ensure that everyone gets home safely! In the French-speaking areas, it can be a much calmer family affair (though everyone tends to still watch fireworks). Families gather together and listen to a variety-type show that comedically goes through the events of the last year, while family members toast well-wishes to one another with champagne, including to those family members who aren't present.
Another Belgian NYE tradition we love? It's common for Belgian farmers to wish their animals a Happy New Year. How cute!
Hotel Pick: If you ring in the New Year in Greece, we recommend a stop Andronis Luxury Suites, the top luxury hotel in Santorini.
The Grecian New Year's Eve celebration involves baking a small wrapped coin inside of an almond-flavored cake called King's Pie. At midnight, after a family celebration of gift-giving and dinner (which is served with a side of jewelry to incite prosperity in the new year), the cake is cut up. Whomever gets the slice with the wrapped coin is said to be blessed with good luck for the coming year!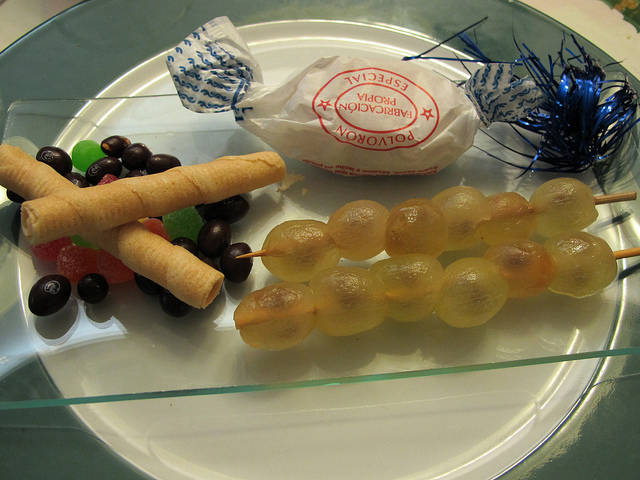 People in Spain start their New Year's Eve off at home with family, while New Year's Day (including the very early hours) is spent with friends. On New Year's Eve, families enjoy a nice meal until the striking of midnight. During this time, most families watch a countdown on television together, impressively popping a grape in their mouth for each stroke till twelve (trust us, it's a lot harder than it seems to shove a grape in your mouth each second). Sparkling wine, champagne, or cider usually makes the rounds as do well wishes, and then everyone goes out to party. It's a late night, with parties lasting well into the morning of January 1st.
If you need any more excuses to stuff your face over the holidays, then head to Estonia where New Year's Eve is celebrated with a feast — or 12. It's not uncommon for Estonians to eat specifically seven, nine, or 12 times throughout the day and night, though each meal should have a few bites leftover for the ancestors and spirits that swing by in the evening. Seven, nine, and 12 are considered lucky numbers in Estonia and in the case of New Year's Eve dishes, they represent a growth in strength (in number of men) for diners in the following year.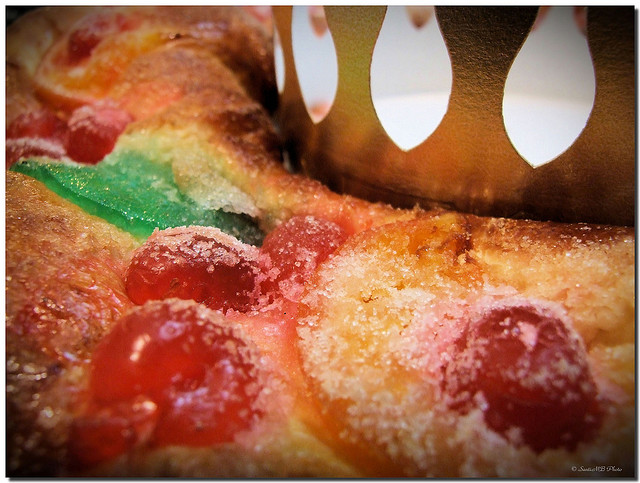 Over in Portugal, New Year's Eve is a big deal with lots of tradition — and a secret. While celebrating, the Portuguese drink loads of champagne and nibble on 12 raisins, one for each month of the year. A wish is made for each raisin, with hopes for the New Year. There's also a slightly more dangerous tradition that was actually banned for safety reasons, though we are sure it still finds its way into some homes. Like in Greece, here there's a cake baked, also called the King Cake. This white cake with raisins, nuts, and crystallized fruit, traditionally, has both a broad bean and small metal toy baked into it. Whomever finds the bean in their slice has the un-luck of paying for next year's cake, while the person with the toy gets good luck for a year — as long as they don't choke on it!
Hotel Pick: The Baia Grande is a solid upper-middle-range resort hotel overlooking the Atlantic, two miles from the center of Albufeira.
Whiskey-lovers should flock to Scotland for New Year's, where tradition has you gifting friends and family with whiskey for the New Year (and sometimes some coal). Scotland, or Edinburgh specifically, is also home to one of the world's largest and most famous NYE celebrations called Hogmanay. This celebration lasts from December 28th to January 2nd and includes a massive — we mean massive — street party with the firing of castle canons, tons of fireworks, and lots of drinking in the streets. It's so big that Scots are given an extra day to recover since banks, offices, and schools are all closed through January 2nd. Small towns here still do it big with celebrations that involve swinging large balls of fire down the town's main street. Goodness gracious!
While back in the day it was tradition for Italians to throw unwanted items from their windows, these days, Italy has opted for the much safer (and sillier) act of wearing red underwear on New Year's Eve. Just before midnight, the Italian president will address the country, and later, as each bell rings toward twelve, a spoonful of lentil stew is consumed at each chime. The lentils are meant to represent coins and therefore bring good fortune to the stew-eaters!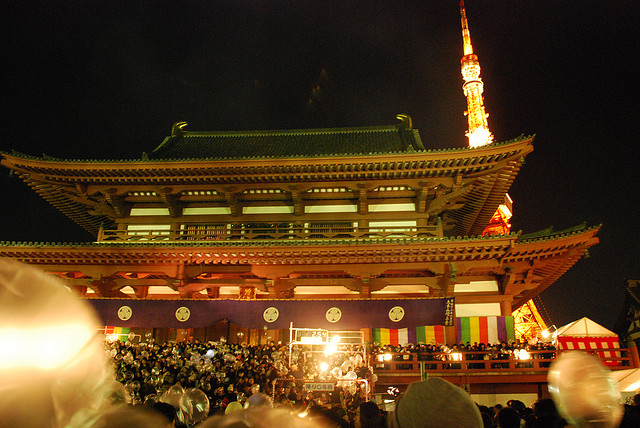 In Japan, public celebrations in the cities are very similar to what you'll find in America; lots of parties, streamers, hats, and noisemakers, and streets filled with party-goers, music, and events. But a unique tradition you'll find here are the 108 bell rings coming from the Buddhist temples throughout the country. Sure, you may not hear them amidst all the dancing and music in the cities, but each bell represents the one of the 108 mental states that can lead people to take negative actions.
Hotel Pick:Tokyo is a lively spot to ring in the New Year, and the Conrad Tokyo is one of the most luxe spots to do it.
Related Links:
All products are independently selected by our writers and editors. If you buy something through our links, Oyster may earn an affiliate commission.