If the upcoming holiday season is already stressing you out, a) we're glad we're not the only ones and b) we've got just the thing to make that anxiety melt away: A spa weekend with no relatives allowed. Before you stuff the turkey or fill the stockings, book a little you-time with a Swedish massage and maybe even an herbal facial add-on. After all, your entire Christmas bonus doesn't have to go towards the kids -- you've been good this year, too! Check out a few of our favorite stateside spas for holiday de-stressing -- and then buckle-up for your in-laws' visit!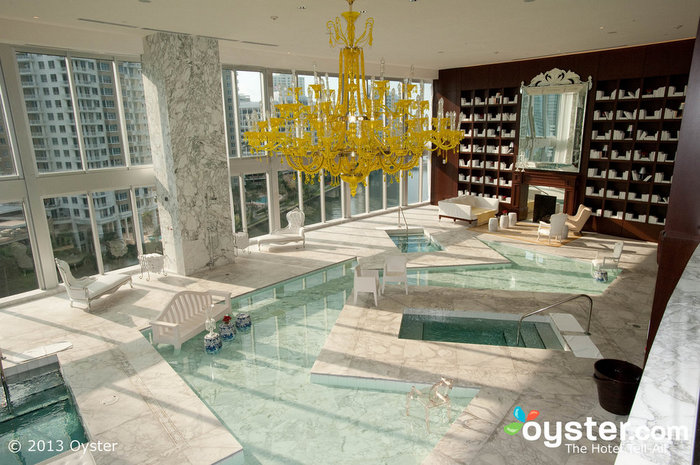 The stunning design of the Viceroy Miami will make you forget all about holiday stress.
Phillipe Starck was the design mastermind behind the stunning Viceroy Miami spa, a 28,000-square-foot space featuring 10 treatment rooms, redwood saunas, eucalyptus steam rooms, and a media screening room. The spa also boasts a beautiful water lounge with white marble floors, three whirlpools, a shallow foot-deep reflecting pool, white furniture (some of it in the pool), and floor-to-ceiling bookcases.
Oyster's Treatment Pick: The Red Island Body Ritual, inspired by the island of Madagascar (we love anything exotic and travel-related!), which promises to "treat your entire body to a holiday of relaxation and hydration." Now that's the kind of holiday we had in mind.
If this relaxation area doesn't relax you, we don't know what will.
The Terranea's three serene private treatment rooms, called VIP suites, are themed after the elements; the earth suite has a redwood sauna and shower, the fire suite has a fireplace, and the water suite has a copper tub and views of the Pacific. The facility encompasses a whopping 50,000 square feet and has 25 treatment rooms as well as its own pool and outdoor hot tubs.
Oyster's Treatment Pick: El Segundo Blue, which starts with a slow, rhythmic massage, followed by cocoon body treatment of sea blue mineral clay
The adults-only infinity pool offers great views.
The Immersion Spa at The Water Club, spread over two floors, is all about sleak lines, great views, and a tranquil atmosphere — an escape from the hustle and bustle and bright lights of Atlantic City. The main feature is the sexy, adults-only infinity edge lap pool.
Oyster's Treatment Pick: Rock Your Senses, which combines hot stone therapy, Swedish massage, and the use of warm towels
Chestnuts roasting on an open fire? We'd rather be by the one at the Mandarin New York!
The stunning spa at the Mandarin Oriental New York is one the Big Apple's best, with six treatment rooms, a Thai Yoga Suite with deep soaking tub, and a VIP Suite with fireplace and private steam room. The Asian-accented décor is sure to keep you in full Zen mode throughout the holiday chaos, especially once you enter the Oriental Tea Lounge.
Oyster's Treatment Pick: The Personalized Ocean & Earth Body Wrap, which includes therapist-selected wraps and oils, and an Oriental head massage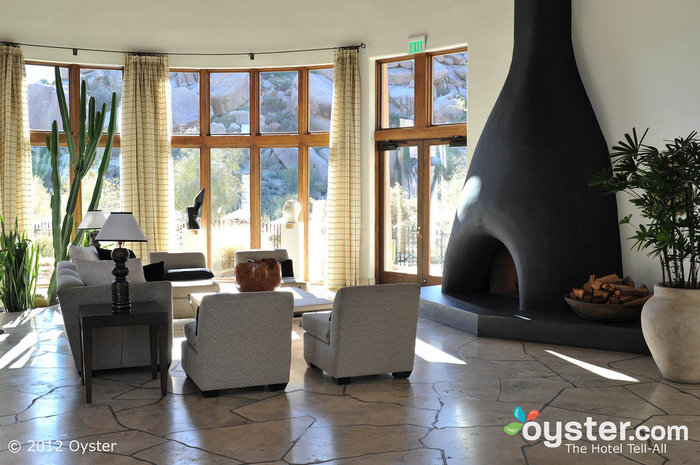 We could de-stress at this Phoenix spa all year long
The Waldorf Spa is an expansive 33,000 square-foot facility with 24 treatment rooms, a pool, a cafe, and a signature tranquility labyrinth accessed by a scenic pathway. There are also New Age therapies such as astrological soul readings and group shamanic experiences.
Oyster's Treatment Pick: The Spirit of the Southwest indulgence package, with stone therapy, a turquoise wrap, and a Golden Harvest facial
Relax by taking in a gorgeous view? You can at the Ritz-Carlton Lake Tahoe
The spa at the Riz-Carlton overlooks the beautiful mountains and valleys of Lake Tahoe. With 17 treatment rooms and a heated lap pool, the spa is the perfect spot to find release after a day on the slopes — or a day of intense holiday prep work.
Oyster's Treatment Pick: The Lake Tahoe Stone Massage, which uses pinyon pine nut and arnica oils to relieve tension
Aqua-vana is just a bonus at Canyon Ranch Miami
Canyon Ranch is synonymous with health and wellness, and the Miami outpost boasts the largest spa in Florida at a whopping 70,000 square feet. All treatments at the spa are top-notch, but for a truly soothing (and luxe) experience, you can book the renowned Aquavana suite, which uses healing waters inside a thermal cabin to enhance any treatment.
Oyster's Treatment Pick: Canyon Ranch's signature massage, which is customized for each guest
If California's laid-back style isn't soothing enough, Rancho Bernado has you covered
Located in a quiet residential neighborhood in San Diego, the Rancho Bernado's peaceful location gives the spa an added dose of calming bliss. Facilities at the spa include a lovely garden with water features, temperature-controlled casitas, a saline pool, and private cabanas.
Oyster's Treatment Pick: Sweet Orange and Honey body buff with honey oat buffing grains and essential oils — it sounds just as satisfying as our favorite Thanksgiving desserts!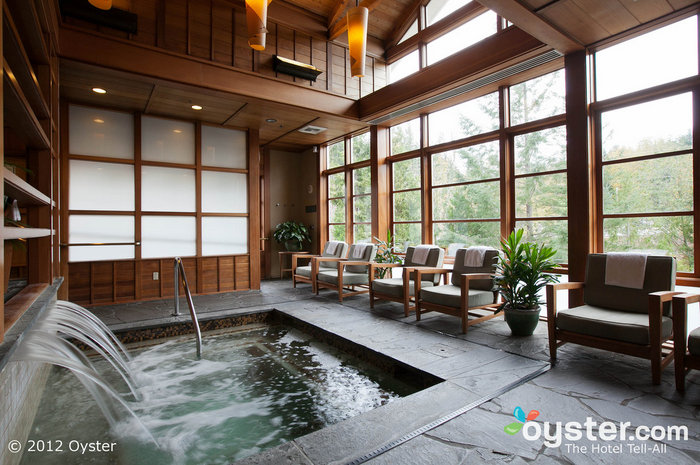 Spas like the one at the Salish Lodge make us wish the holidays lasted all year long
Surrounded by gorgeous natural scenery — including the Snoqualmie Falls — the Salish Lodge and Spa is the best spot near Seattle to indulge in some serene alone time. The spa area features a eucalyptus steam room, a dry sauna, several pools, and some pretty incredible views.
Oyster's Treatment Pick: The Salish Signature Rosemary and Mint Body Scrub includes an exfoliating mixture of delicious ingredients—all before your holiday feast even begins.
RELATED LINKS:
All products are independently selected by our writers and editors. If you buy something through our links, Oyster may earn an affiliate commission.