As the weather starts to warm up, many of us are itching to strip off those winter layers and take a dip in the water. While any pool would likely put a smile on your face at this point, there are some spots worth a trip (and a long flight) to lounge poolside. This spring, it's not just about updated amenities like underwater sound systems and in-pool bartenders (which we're seeing more and more of), but also the jaw-dropping views that make hotel pools truly spectacular. Some prefer taking a swim amid a jungle or soaring mountains, while others have their sights set on views of cityscapes or an endless ocean. Whatever your pleasure, there's certainly a pool to suit your favorite view. Here are 10 amazing ones around the world.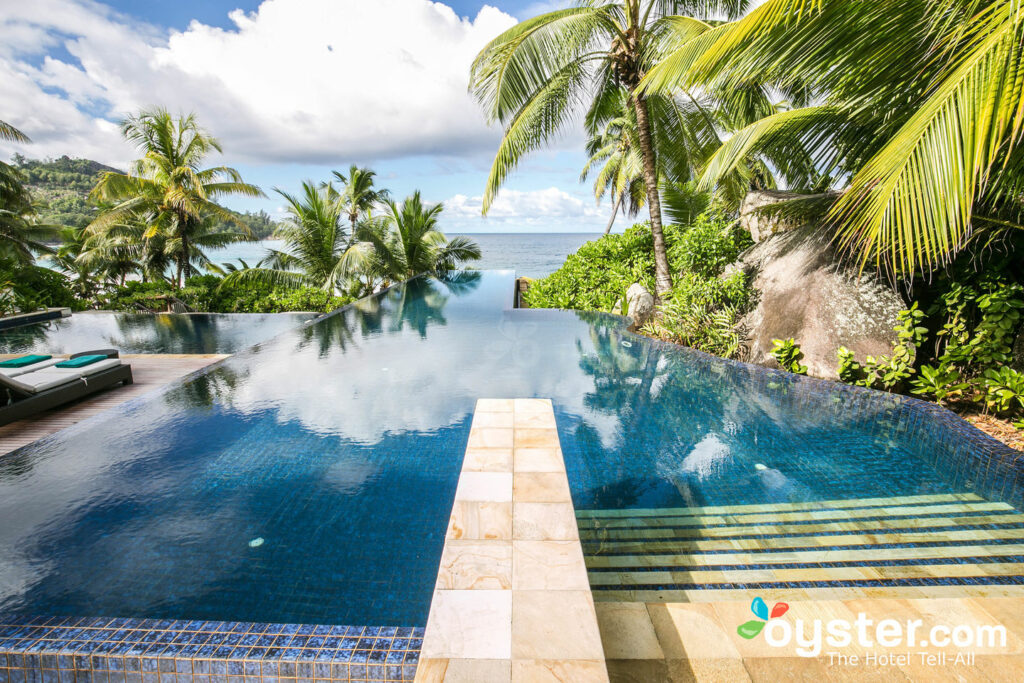 Even though every one of the resort's 60 villas has a private pool with bay views, the main pool at the resort is otherworldly. Palm trees sway above the dark-blue infinity pool and guests get uninterrupted views of Intendance Bay below. The atmosphere is so relaxing — and blends in so well with the natural surroundings — you may think you're actually floating in the sea below.
Flanked by private cabanas and lounge chairs, this 130-foot-long fresh-water, black-tiled pool directly faces the Pacific Ocean — making for an incredible lounging spot. It's a "see and be seen" gathering locale where guests can listen to the beats of the resident DJ as well as international DJs. There's also an indoor-outdoor restaurant that serves playful dishes in an "oceanfront sandbox" setting.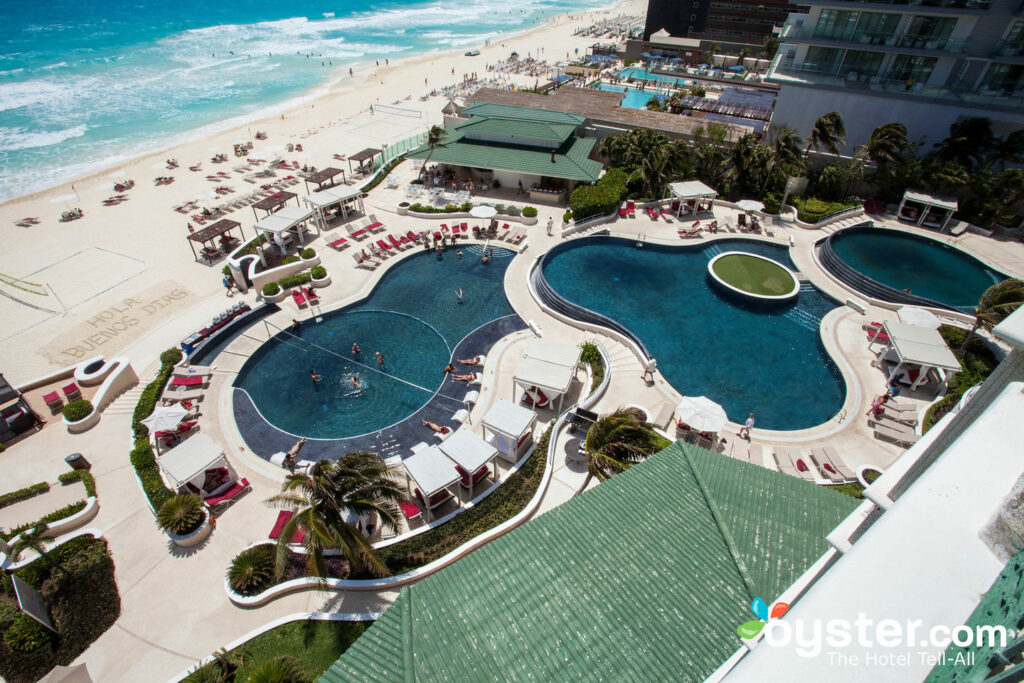 What's better than an infinity pool? A three-tiered infinity edge pool with a convertible "island" for live musical performances — that's what. Each tier is a different temperature and the deck is surrounded by gorgeous Balinese lounging beds. In addition to enjoying the stunning stretch of Caribbean Sea in view, guests never have to leave the comfort of the pool because the resort offers in-pool bar service. No, not a swim-up bar; the bartenders actually come into the water to take and serve your order.
Nestled between the Pacific Ocean and a 1,100-acre tropical rainforest, this ocean-side pool boasts views not only of Herradura Bay's sandy landscapes, but also its golf course that's comprised of five rainforest microclimates — complete with sloths and lush plant life. There's nothing like taking in a little nature from the comfort of a luxurious pool area.
This hotel pool is about the the sights and the sounds. Privately nestled off the coast of Puerto Rico, this retreat has an infinity pool featuring an underwater sound system that streams a custom mix directly through the water. Overlooking the Atlantic Ocean, the two levels are separated by an island of palm trees and offer views of the sea, along with Puerto Rico and Culebra Island on the horizon.
Situated amidst the High Sonoran foothills of the Santa Catalina Mountains, here guests can take advantage of not one, not two, but five pool oases. There's a lap pool, adult pool, children's pool, and two main pools — all of which are treated to breathtaking views of the sun-kissed peaks. A day spent poolside at this Westin could easily make you a fan of the mountains.
You don't have to be on a beach to enjoy incredible views from a pool. This downtown L.A. hotel took advantage of its endless rooftop views and perfectly placed a pool there so you can lounge and swim hundreds of feet in the air. You'll feel as if you're floating among the skyscrapers while simply floating in the water.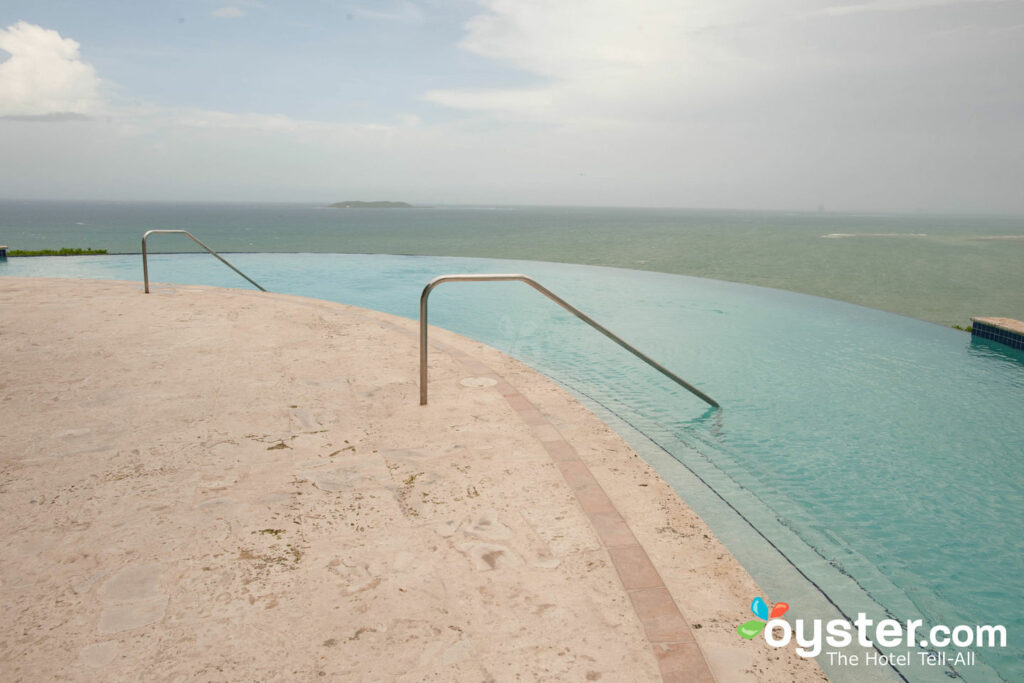 Hello paradise! There's no better place to get a panoramic experience than from a 300-foot cliff overlooking the converging waters of the Caribbean Sea and Atlantic Ocean. The views from this pool are endless and guests can even see the resort's 100-acre private island, Palomino Island, in the distance. Take it all in while enjoying the bonus of 24-hour butler service.
Who needs the beach when you have the jungle? You'll feel as if you're swimming in the treetops at this hidden hotel pool as it's surrounded by the lush green landscape. In fact, the animals might outnumber the guests making the intimate setting perfect for that feeling of a true hideaway. If you need more privacy, certain villas come with their own private plunge pools that offer the same stunning views.
Related Stories:
All products are independently selected by our writers and editors. If you buy something through our links, Oyster may earn an affiliate commission.