An ideal opportunity to sample new things -- local delicacies, cultural pastimes, lively festivals -- is while vacationing. If you're looking for something exhilarating to get the adrenaline pumping, whether from excitement or sheer fright, there are some cities that are perfect for engaging in heart-racing ventures. From scenic hot air ballooning to swimming with sharks in the Bahamas, these eight activities range in danger level, but all will give you a serious rush!
Cliff Diving in Jamaica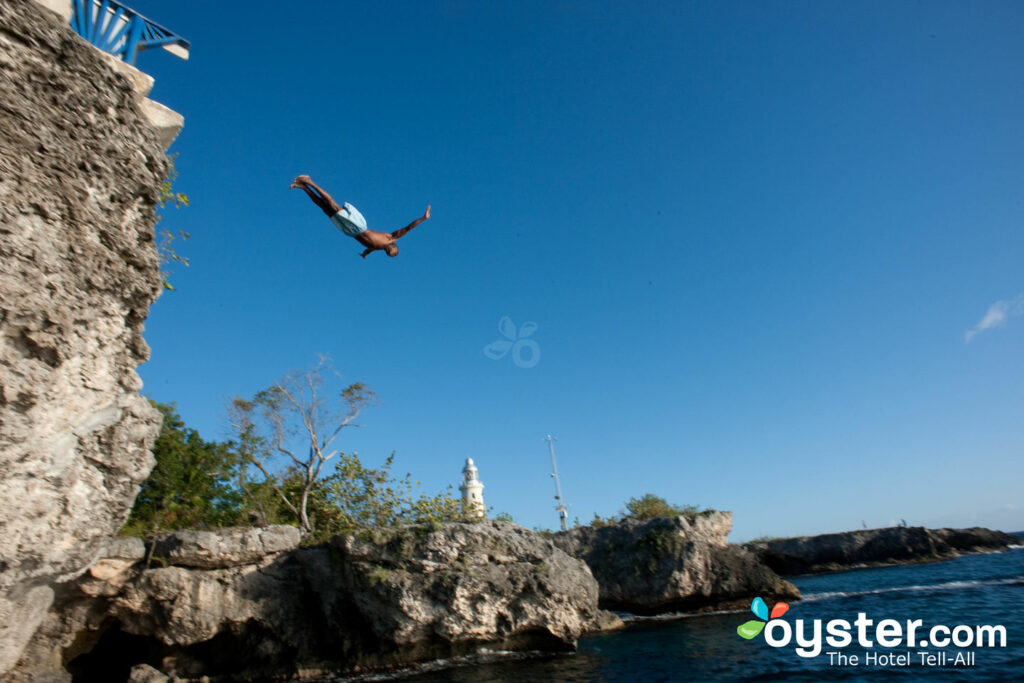 Maui, Hawaii, Polignano a Mare, Italy, and Krabi, Thailiand are all great spots for cliff jumping, but we particularly love Jamaica. At The Caves in Negril, you don't have to leave the property to get your adrenaline fix; there's a 30 foot ledge that guests can dive or jump from. There's no sandy beach area and the pool is small, but rooms are private, the restaurant serves fresh dishes, and the staff's hospitality is superb. We recommend enjoying the resort's signature cocktail, the Cliffhanger, after your dive.
Volcano Boarding in Nicaragua
Cerro Negro (Black Hill) is a volcano in Nicaragua, about 35 minutes away from Leon. It's the youngest volcano in Central America, born in 1850, but it's erupted 23 times since — the most recent in 1999. Daredevils don jumpsuits and goggles before making the roughly hour-long hike up the active volcano, at which point they can enjoy gorgeous views from the top. Much like snowboarding, visitors are given a board to slide down the sandy black ash, which takes around 10 minutes; note that you pick up serious speed. After the thrilling descent, head to the Hotel El Convento in Leon, a charming boutique hotel that's a converted convent. It has a renowned restaurant, flower-filled courtyard, and basic rooms.
Hang Gliding in La Jolla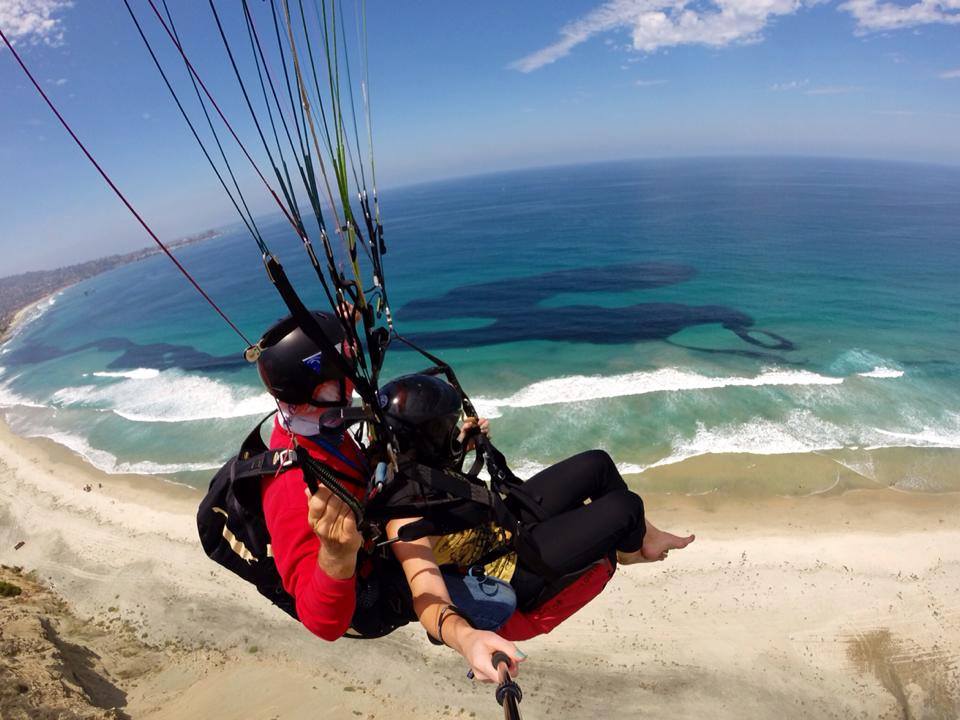 Though aviation enthusiasts have been perfecting hang gliders for over 100 years, modern technology has made the sport more recently widespread. Anywhere with stunning vistas that can easily be navigated will make for an incredible hang gliding experience, which is why La Jolla, California is one of the top spots. The Torrey Pines Gliderport has been a foot launched flight site since 1930, offering both lessons and tandem gliding. For nearby accommodations, the Hilton La Jolla Torrey Pines is a quick five-minute drive away. It has elegant rooms, an outdoor pool, and gorgeous views for when you're not soaring through the air.
Whitewater Rafting through the Grand Canyon
Views of the mile-high Grand Canyon are spectacular both from above and at its base. An exciting way to see the national park is with either a one day or multiple day river trip along the Colorado River. Both professional or self-guided rafting is available and ranges from difficult rapids to relaxing stretches of water. For serious whitewater rafting, visitors can take a roughly 14-day trek along the entire 280 miles of the Grand Canyon's river. If you're not camping on site, the BEST WESTERN PREMIER Grand Canyon Squire Inn is just two miles from the South Rim entrance. It has a pool, free breakfast, multiple dining options, and spacious rooms.
Swimming With Sharks in the Bahamas
A favorite among shark enthusiasts are the waters of the Bahamas; Nassau, Cat Island, and Tiger Beach are all excellent spots to go face-to-face with the deadly predators. Each spot has specific shark species more common to that area: Oceanic Whitetip sharks in Cat Island, tiger sharks in Tiger Beach, and Caribbean reef sharks in Nassau. Though sharks are generally nonthreatening, thanks to films like Jaws and the occasional attack, this will likely be one of your most terrifying swims. After you've knocked that off your bucket list, relax at the adults-only Sandals Royal Bahamian Spa Resort & Offshore Island; rooms are elegant, pools are big, and there are several dining options.
Hot Air Ballooning in Cappadocia
Though hot air ballooning may not be the most intense activity, those with a fear of heights will have their hearts pumping as they go up on average 1000-3000 feet in the air. Hot air balloon rides are particularly popular in Cappadocia, Turkey; travelers get a chance to see the amazing and well-preserved rock formations the city is known for from a bird's eye view. Erosion and volcanic eruption left soft structures that people carved into over the centuries to form houses and churches, creating underground systems that give them a honeycomb appearance. One of the best value properties in the area is the 13-room, family-run Caravanserai Cave Hotel; rooms are simple, there's a delicious free breakfast, and terraces have great views of the city.
Ice Climbing in Colorado
If rock climbing doesn't cut it for you, try ice climbing, a tricky, dangerous, and thrilling winter activity. Climbing frozen waterfalls or rock slabs covered with ice requires specific gear like ice axes, harnesses, and ice screws to scale the mountain. Some of the best spots for ice climbing include Norway, Switzerland, and the Canadian Rockies. Ouray, Colorado has an Ice Park designed for people of all experience and age levels to hone their ice climbing skills. The more than 100 ice and mixed (ice and rock) climbs can be done with or without a hired guide. There are many hotels in Ouray, or you can drive an hour to Telluride. If you need to soak your muscles and relax after climbing, The Peaks Resort and Spa has a huge spa facility and modern, upscale rooms.
Skydiving in Queensland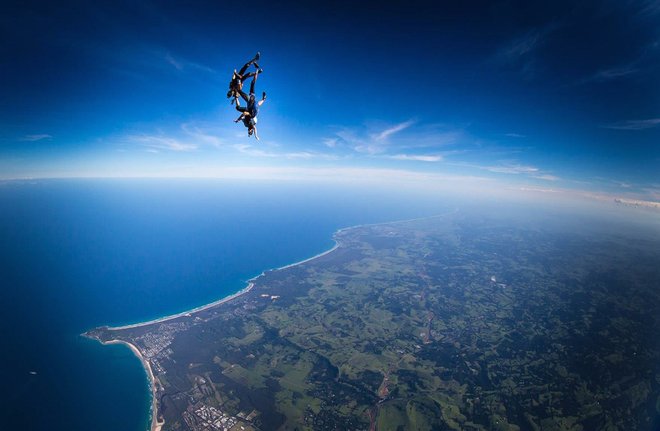 Skydiving, or parachuting, is one of the most vitalizing activities that people have on their bucket list. Unless professionally trained, people have a tandem jump (strapped to an expert) from a plane at anywhere from 3,000 to 13,000 feet in the air. After a short free-fall, a parachute is deployed and the descent takes several more minutes. There are skydiving centers throughout the world, but Byron Bay in Australia is particularly visited for the remarkable vistas; the gorgeous beaches, lush rainforest, and city are all within view. The Artique Surfers Paradise is located about an hour from Byron Bay, in Surfers Paradise, Gold Coast. The upscale property has modern apartment-style rooms, an outdoor pool, and spa facility.
All products are independently selected by our writers and editors. If you buy something through our links, Oyster may earn an affiliate commission.