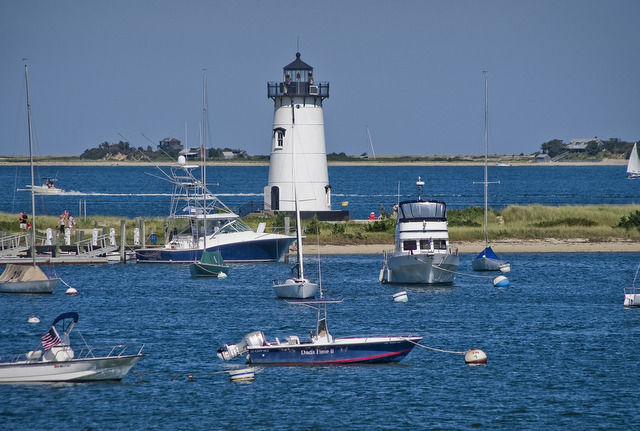 Looking for an idyllic East Coast vacation spot this summer and umming and ahhing between Cape Cod and Martha's Vineyard? Ripe with fresh seafood, stunning beaches, natural beauty, quaint main streets, wild parties, and plenty of lighthouses, the two locations could combine to make the ultimate summer spot. But, split them up and which is better -- the Cape or the Vineyard? We decide by taking into account factors like accessibility, parties, food scene, beaches, and more. Let the (goodnatured) battle begin!
Easiest to Reach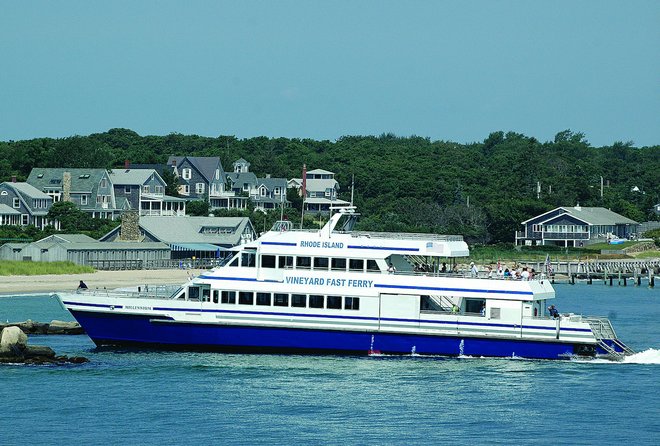 Mike Hogan, innkeeper at Cape Cod's Platinum Pebble Boutique, has a point with his take on getting to Martha's Vineyard: "Why waste time messing around with a ferry, weather cancellations, and the chance of getting stuck on the island?" But while the seven-mile ferry journey to MV can be a pain, when you're in the mother of all traffic jams on the way up the Cape, there are times you'd swap your last wicked-good lobster roll for a single minute of that sweet sea air in your face. Route 6A offers one of the only ways up the Cape and when it's busy — it's busy. Plus, for us at least, taking a ferry just feels like you're on vacation.
And the winner is… Martha's Vineyard
Hotel Pick: The Platinum Pebble Boutique Inn
The upscale Platinum Pebble Boutique Inn is a quintessential Cape Cod bed-and-breakfast, in a quiet neighborhood near wooded walking trails. Its eight rooms range from small but elegant, to big, stylish spaces embellished with fireplaces and rock 'n' roll iconography. Rates tend to be more affordable here than at luxury competitors, since the inn is not on the water. But the location a three-minute drive to the beach is still convenient for tourists, and West Harwich can be a good base for exploring other parts of the Cape.
Attracts the Most Visitors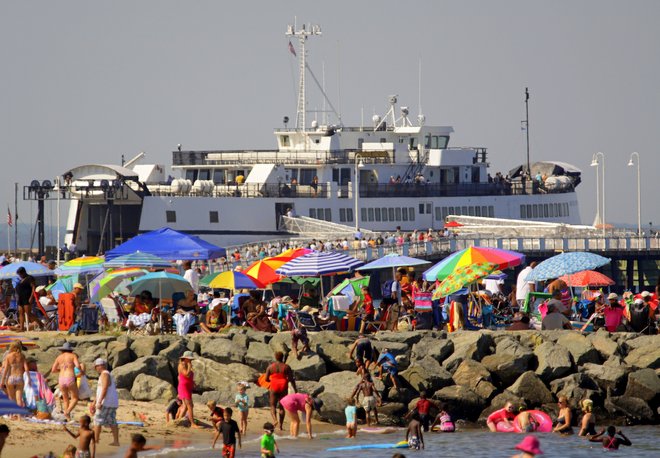 Cape Cod attracts 3.2 million visitors whereas Martha's Vineyard brings in about 2.1 million, with figures coming from each location's respective Chamber of Commerce. This may seem that Cape Cod is more crowded, but it is four times larger than MV. Still, while people cram onto the smaller island of Martha's Vineyard, the laid back, low-key way of life there keeps things tranquil. On the other hand, while there's more space to be found on the Cape, people are drawn to its destination towns, so things get wild (and packed) at the height of summer, when it feels a bit like the entire populations of New York City and Boston are in town. So the winner here really depends on your style — but here's our take:
And the winner is… Martha's Vineyard
Has the Most Family Appeal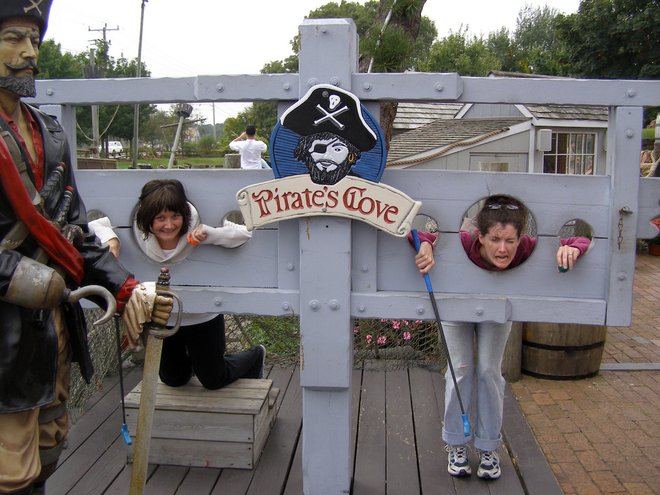 With plenty of beaches, whale-watching, mini-golf, a drive-in cinema, and a local baseball league to get involved in, Cape Cod provides a wider range of activities for the whole family. One of the best activities to do as a group is to take the historic Arts Dune Tour — essentially an off-road scramble by 4×4 along the Cape Cod National Seashore, followed by a clambake dinner at sunset — if you're lucky!
And the winner is… Cape Cod
Attracts an Adult Crowd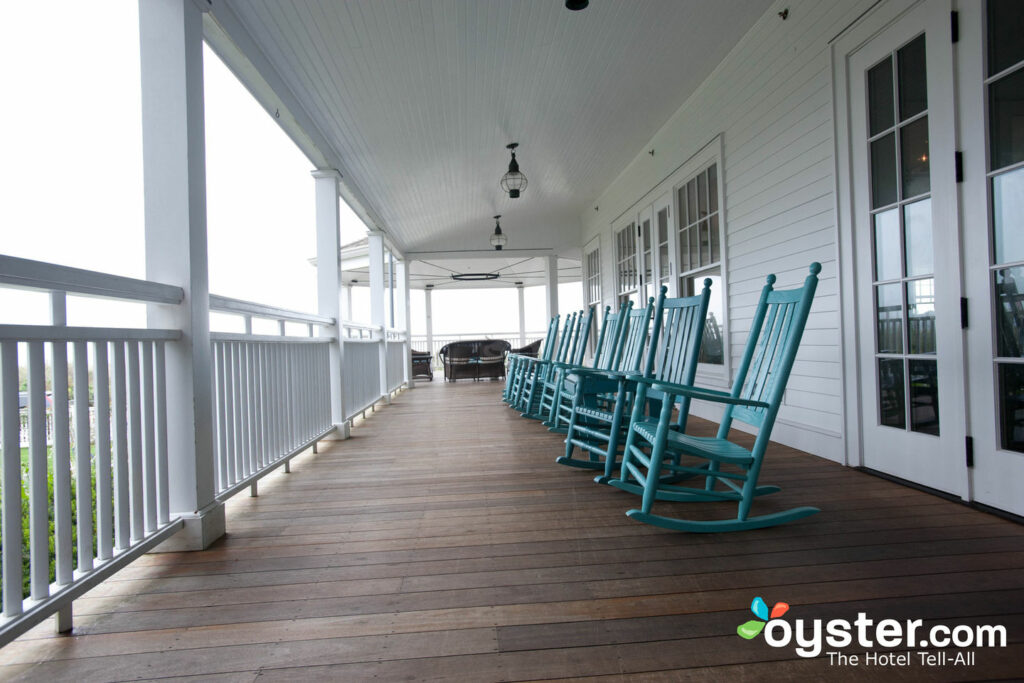 While the Cape is geared towards families and younger people, the laid-back, slow-pace of life on Martha's Vineyard holds appeal for an older crowd, with the Massachusetts Office of Travel & Tourism suggesting the majority of visitors to Martha's Vineyard are 35 years and older. Andrew Bartlett, general manager of Harbor View Hotel, sums up the Vineyard vibe by saying, "A bike ride around town, a bite to eat at Lighthouse Grill, and catching up on a good book on the porch in one of our custom rocking chairs sounds like the perfect Vineyard afternoon to me."
And the winner is… Martha's Vineyard
Built in 1891, The Harbor View Hotel was one of Edgartown's first luxury properties, and has an excellent location within walking distance of Main Street, but removed from the tourist season noise. The expansive 114-room property offers stunning harbor views, a seasonal outdoor pool, delicious on-site dining options, and beach-chic rooms with modern amenities such as free Wi-Fi and flat-screen TVs.
Has the Best Beach Scene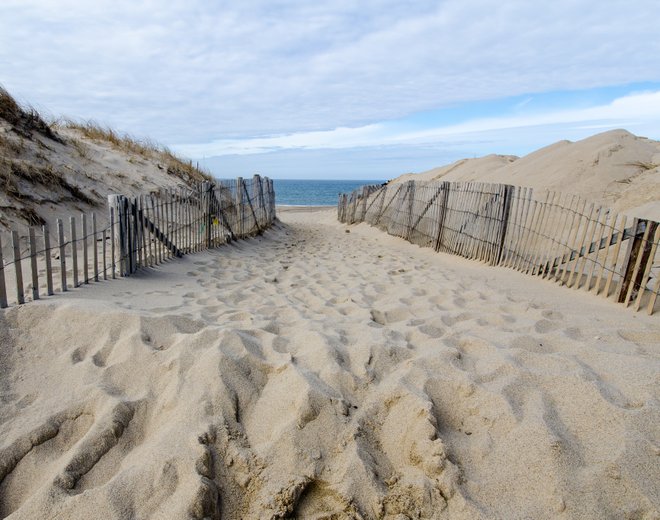 This one isn't going to be easy. While the Cape may be home to the Cape Cod National Seashore, the beaches on Martha's Vineyard are equally appealing. There's the Joseph A. Sylvia State Beach, with its mellow waves and views of the Cape and Nantucket, the secluded East Beach, and the colorful cliffs of Moshup Beach to sample (note: there's a clothing-optional sectional on Moshup). The only problem is that many of the beaches on Martha's Vineyard are privately owned and access is restricted, so while the up-island beaches may be some of the most beautiful in the country, when you can't use them it makes them kind of irrelevant.
And the winner is… Cape Cod
Easiest on the Wallet
Massachusetts Office of Travel & Tourism put Cape Cod's 2014 visitor spend at $956.6 million, which accounts for a whole lot of people dipping into their pockets for fresh clam strips. If you're on a budget, you'll find that — while the Cape is no bargain — compared to Martha's Vineyard your money should stretch further. Simon Hunton, Innkeeper at the Nobnocket Boutique Inn, agrees, "Martha's Vineyard is very laid-back, relaxed, and unassuming. It's also noticeably more expensive. This is the kind of place where farmers and celebrities rub shoulders and share coffee at places like Alley's General Store."
And the winner is… Cape Cod
Snug Cottage is a quaint B&B with an excellent location and some great perks. The eight rooms are rustic and cozy, and feature fireplaces as well as modern amenities like flat-screen TVs, iPod docks, and free Wi-Fi. Free afternoon treats such as wine, lemonade, and cookies, a delicious free daily breakfast — and free parking in Provincetown (a rarity) — make this a stand-out option.
Best for Foodies (AKA Has the Best Lobster Rolls)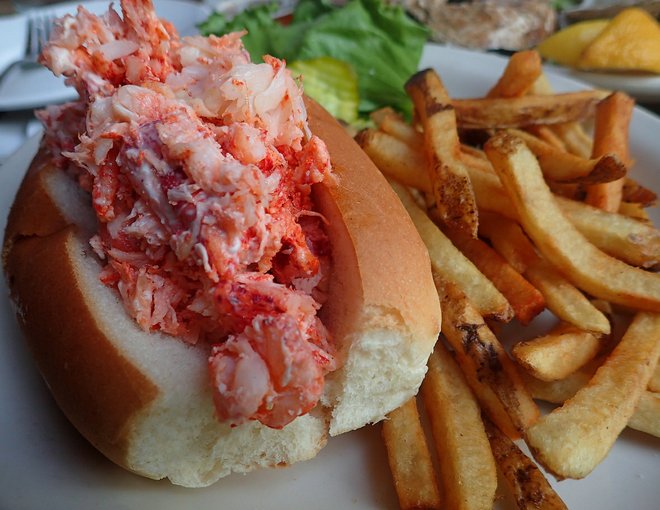 With a bunch of shared specialties and a sweet line in clam shacks, it's difficult to split Cape Cod and Martha's Vineyard when it comes to food. Martha's Vineyard may have more fine dining appeal but the Cape has plenty of taverns where the home-cooked chowder will make you a loyal customer. We say just order seafood and plenty of it. Check out the Raw Bar in Mashpee for one of Cape Cod's best lobster rolls and the Lookout Tavern in Oak Bluffs for Martha's Vineyard's finest.
And the winner is… Martha's Vineyard
Best for History and Culture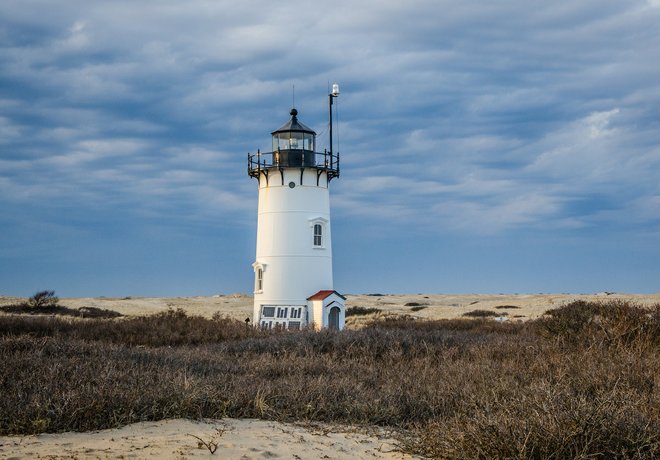 Both have whaling histories and come with a presidential seal of approval, but only one of these two destinations is home to the oldest artists' colony in the United States — and it's Cape Cod. Londoner and longtime loyal Cape Cod visitor Sally Griffiths makes an appealing case for the Cape's cultural merits and why she travels the 3,000 miles to visit: "Almost every village has a historical society — plus, there are art galleries, independent craft shops, glassmakers and potters, bookshops, and museums and theaters." Not that Martha's Vineyard is a slouch for culture, as you can check out the beautiful architecture of its five lighthouses to connect with the island's maritime history. But really, Cape Cod has lighthouses too…
And the winner is… Cape Cod
Knows How to Party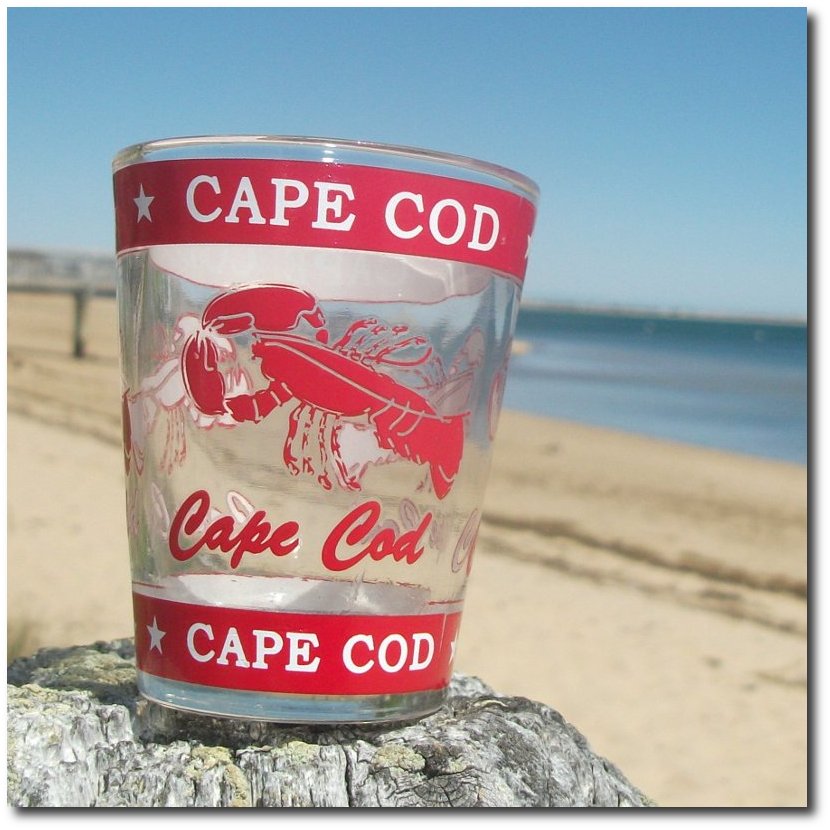 Not that alcohol is an essential ingredient for summer bonhomie or anything, but any island that's partially dry immediately sets the alarm bells ringing — and not in a "ding-ding-ding, it's time to P-A-R-T-Y!" kind of way. The alcohol ban that affects parts of Martha's Vineyard perpetuates the island's serene image, which is appealing to many. So, if you want to party, head for Provincetown or Hyannis on the Cape where it is more than encouraged.
And the winner is… Cape Cod
Hotel Pick: Surfside Hotel & Suites
The 88-room Surfside Hotel & Suites is a pet-friendly value property on a private beach. Breakfast is served in the lobby where there's also an indoor bar.
Biggest Nature and Outdoors Appeal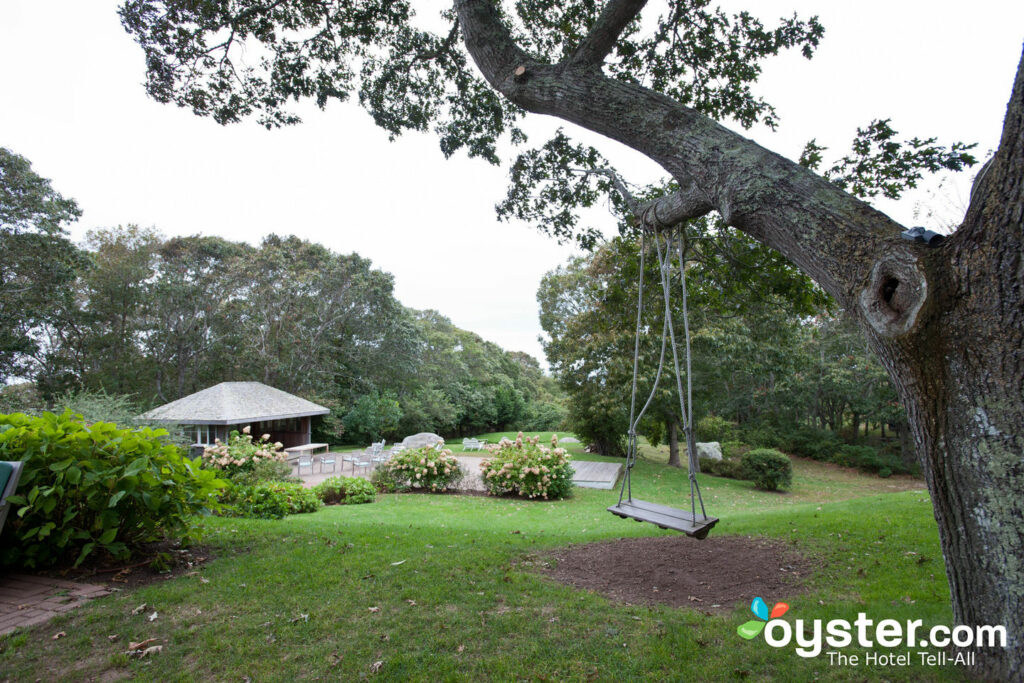 The truth is both Cape Cod and Martha's Vineyard have natural beauty in abundance and plenty of outdoors adventure. From the Rail Trail that offers 22 miles of paved path snaking through the Cape, to the lush, greenery of Manuel F. Correllus State Forest on the Vineyard, both locations attract visitors specifically for the quality of their hiking and biking.
And the winner is… Tie
The Result
We end up with five to four in favor of Cape Cod, with the one tie failing to even things up. Martha's Vineyard couldn't quite reel in the Cape, but it shouldn't feel too bad — each location offers its own charm depending on the type of vacation you're looking for.
Bask in those New England vibes and grab a jumpsuit from Everlane to complete your look.
Related Links:
All products are independently selected by our writers and editors. If you buy something through our links, Oyster may earn an affiliate commission.