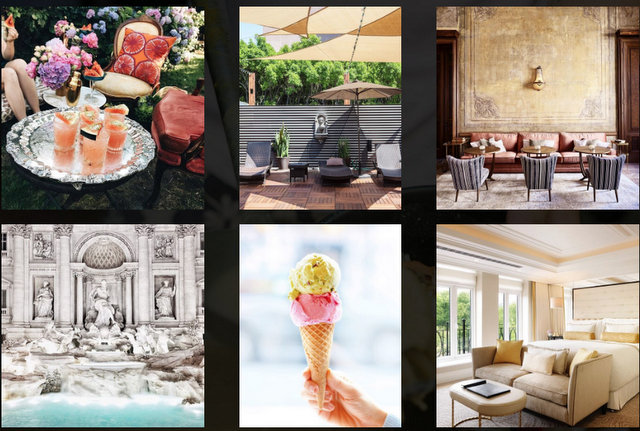 When Airbnb launched into (and partially created) the Sharing Economy space in 2008, no one was quite sure how it would affect the hotel and hospitality industry. Now, nearly a decade later, the numbers are in, and, according to a 2015 report commissioned by the Hotel Association, it's estimated that hotels "lose approximately $450 million in direct revenues per year to Airbnb." The home-sharing service's biggest breadwinners are New York, Los Angeles, San Francisco, Miami, and Boston. Between October 2014 and September 2015, travelers spent $2.4 billion dollars on Airbnb bookings, with 55 percent being in these five cities.
Aside from avoiding notoriously high hotel prices in some spots, Airbnb users are drawn to the idea of "living like a local" while traveling. It doesn't get much easier to "step into a local pair of shoes" than staying in a real local's home and calling it your own, if only for a few days. Add to this the fact that many hosts provide either firsthand written or spoken guides to their neighborhoods and cities, and you've got something that seems fairly untouchable for hotels -- even those with top-notch concierge services.
Well, maybe until now.
Finding and Filling a Void in the Hotel Industry
The best ideas are usually born out of a want for something that isn't there, but is desperately needed. The difference is whether or not the person noticing is proactive or savvy enough to actually put this idea into fruition.
After spending years traveling as a food and travel writer, Caitlin Zaino says that no matter which unique boutique she was staying in, there was always something that remained the same. "I felt like when I walked out the door, I had no idea where to go." Small boutiques don't always have a dedicated concierge service, and while the staff can no doubt give out great local recommendations, they don't always have the time. It's something we've all probably experienced at one time or another — and Zaino decided to do something about it. In 2014 she co-founded Porter & Sail, a digital concierge app that is taking the hospitality scene by storm. Today she serves as CEO.
Her mission: To bring in all the ideas of a great concierge in a way that makes sense to the modern traveler.
What It Does for Guests
Porter & Sail is a sleek and sexy app that acts as the digital extension of a hotel's concierge — that is, if your hotel's concierge team is made of musicians, fashion designers, filmmakers, actors, and travel and food editors.
The main idea behind Porter & Sail is simple: talk to a bunch of influencers about the cities they know best — where they live, work, and let loose. For Porter & Sail's purposes, these people are called "insiders." Zaino says that the best insiders are those who possess "credibility, authenticity, expertise, and a certain swagger." Soak up the lowdown on these insiders favorite places to eat, drink, and be merry and then share it exclusively with guests who are staying at the app's partner hotels in an easily accessible and easy-to-digest way. No paid-position marketing, no random peer ratings — just bonafide suggestions from credible sources.
In addition to recommendations that run from "haute to hole-in-the-wall," guests using the app can book reservations, buy show tickets, and bookmark "favorites" through the app. In the future, the Porter & Sail team plans to have the app act even more like a personal, 24/7 concierge for its users, with the app acting as a reliable liaison between the hotel and guest. The idea is that the app will be able to provide personality and preference profiles on the users that can then be better served through the app thanks to the specific data points. But for now, Zaino feels the app's top feature is its ability to put "a sense of wonderment [back] in travel that is fueled by this powerful tech product" — though she is quick to point out that the easy design of the app doesn't feel tech-y at all.
What It Does for Hotels
In fact, the design and content is what first called the attention of Norma Alavedra, General Manager at Yurbban Trafalgar Hotel in Barcelona. For her, the value of the app's insider content is unquantifiable for a hotel, saying "it adds prestige to your brand." She believe that providing intimate recommendations for her guests from Porter & Sail's Spanish filmmaker insider Isabel Coixet Castillo "is a major value point."
Before the guests at Yurbban arrive, they are sent an email introducing them to Porter & Sail, and when they check-in and log onto the internet, the app automatically starts to download onto their device.
When we asked why a hotel with a concierge would need to use the app, Norma explained that not every guest wants to talk to the concierge, and that sometimes, staff in hotels without a dedicated concierge (like most of the hotels P&S approach) unfortunately don't have the time to chat with each individual guest about the perfect places for them to go.
"We can't fight technology", she says. And it seems that the 250-percent growth of Porter & Sail in the first six months of 2016 proves just that.
While there's no telling right now whether something similar could pop up for overnighters and hosts using AirBnB, for the time being it looks like Porter & Sail may just be the magical ace up the hotel industry's sleeve in this battle.
What's Next
Things are moving fast. Porter & Sail's incubation stage took place throughout 2014, and in 2015, the app launched into its beta year with 10 hotels. Though numbers show that the European markets are much more open to the type of service Porter & Sail is offering, it doesn't seem to have stunted growth; the concierge app more than doubled their partnerships to 35 hotels just in the first six months of 2016. Their goal for the next six? To make it 100 or more.
Currently, the digital concierge service is available in London, Barcelona, Singapore, Miami, Berlin, Madrid, and Los Angeles. New York City, Sydney, and Amsterdam are launching soon.
Also, be sure to download the new Oyster.com app!
Related Links: