New York City is a one-of-a-kind town. So it only seems right that your stay in the Big Apple be one-of-a-kind as well. Forget chain hotels with cookie cutter appointments: In NYC, there is a new and exciting hotel waiting to be discovered on nearly every street corner (you just probably haven't noticed them before). Whether you want to stay in a classic brownstone that doubles as an art gallery, or you prefer a high-design, budget-friendly hostel, New York City has it all -- and Oyster has been lucky enough to have seen them all in our travels. Here are a dozen of our favorite unique hotel stays in New York City.
This charming, cozy inn is a hidden gem — quite literally. There is no hotel sign at all, and from the street, the two 19th-century, red-brick townhouses that make up the property could be mistaken for residential homes. And it's this — coupled with an attention to detail and old-world charm — that sets this quaint boutique hotel apart from the rest of the city's smaller stays. The Inn at Irving Place's 12 rooms have been individually decorated with period antiques and fireplaces, and feature modern amenities, such as flat-screen TVs, iPod docks, and free Wi-Fi. The property lacks most of the amenities of larger hotels, including a fitness center and a full restaurant — but it does offer an elegant tea salon (the famous Lady Mendyll's), a central location a block from Union Square, and an intimate feel that's hard to come by in bustling New York City.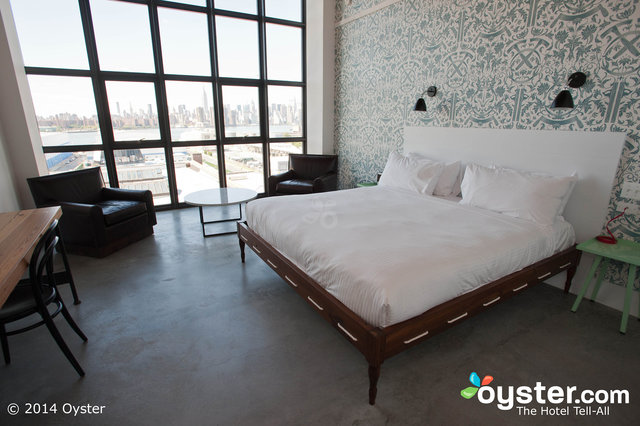 With a hopping rooftop bar boasting jaw-dropping views of Manhattan, a wonderful restaurant, and cutting-edge industrial design, the Wythe Hotel is a destination unto itself. It's located near the subway as well as dozens of restaurants, bars, and shops in the heart of trendy Williamsburg, across the river from Manhattan in Brooklyn. Rooms are spacious and have high pine ceilings, reclaimed wood furnishings, and great amenities including flat-screen TVs, local, hand-made toiletries, free Wi-Fi, and radiant floor heating. If you're looking to explore the outer boroughs and want a truly unique, "like the locals" experience, the Wythe is an excellent option.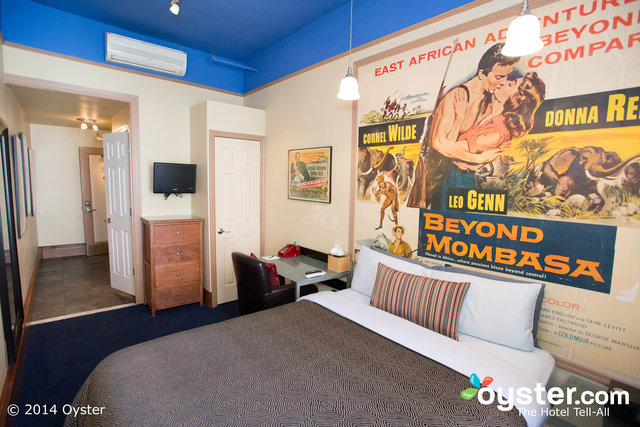 This urban, 23-room bed-and-breakfast has an understated entrance located at the crossroads of three distinct (and cool) NYC neighborhoods — Chelsea, the Meatpacking District, and the West Village. The Chelsea Pines Inn opened in the mid 80s, and it has become well-known for its genuine hospitality, thanks to owner Jay and his hand-picked staff. A film theme pervades, and guests will find original movie posters — some perhaps strategically designed to distract guests from the five-floor walk-up (there's no elevator) — classic movie-star-themed rooms, and a cat aptly named Charlie Chaplin. Free Wi-Fi, an impressive breakfast spread with Jay's homemade bread, and baked goodies in the afternoon add to the value — and the homey, personal vibe.
La Maison d'Art is a true hidden gem, located on a brownstone-lined street in Harlem. This individualized boutique has just five rooms, and each one is beautifully curated — much like the gallery space housed on the first floor of the property. An ever-changing array of paintings and sculptures line the walls, making even repeat stays unique. The gallery itself is open to the public and also hosts art-centric events throughout the year. The rooms are sumptuously decorated, and feature kitchenettes or full kitchens. There are no other amenities on-site, nor is there an elevator, but the homey, artistic vibe and welcoming staff make this property worth seeking out.
This Upper East Side gem essentially acts as a home away from home for its guests. All of the Marmara Manhattan's 108 guest rooms are either studios or one- or two-bedroom apartments with full kitchens that even include dishwashers. Some of the hotel's rooms might lack flat-screens, but it's still a clean, comfortable, pet-friendly option — way up in a less-touristed part of the Upper East Side, within walking distance of Central Park and the Guggenheim museum.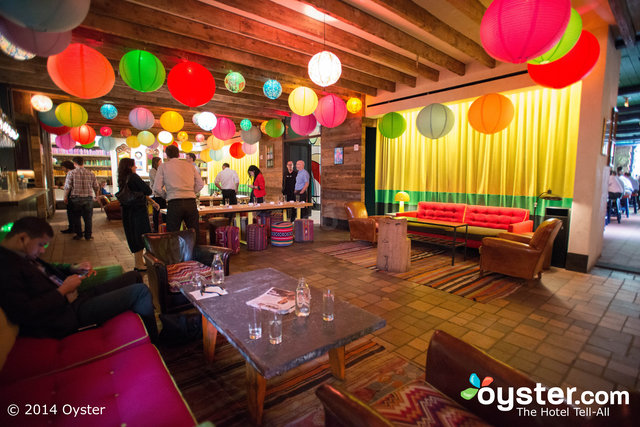 The idea of the 366-room Pod 39 hotel is to offer very small rooms (even by New York City standards) for low prices (again, by New York City standards). Rooms range from 55 to 140 square feet, and prices start at $119 per night. The smallest rooms, or pods, only fit one person, but all have private bathrooms and smart design touches, like storage under the bed, train-inspired coat hooks, double flat-screen TVs for guests in bunk beds, and both outlets and a "cell phone" close to the pillows. There are three seriously cool — and colorful — public spaces: a fun Mexican restaurant, a rooftop bar with unique architecture, and a hangout space called the Playroom.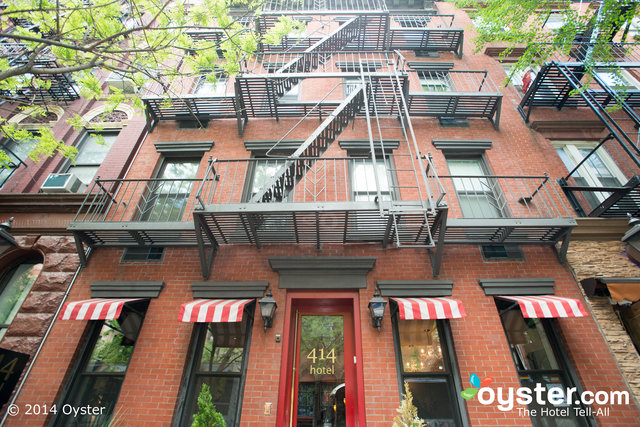 The 414 Hotel is a 22-room boutique in Midtown West, situated along a quiet, tree-lined stretch of Restaurant Row (a popular area for pre-theater diners). Times Square and its eight subway lines are a short walk away, as are Broadway's main shows, making this a convenient stay for tourists. But the hotel also feels miles away from the hustle and bustle of NYC — a vibe created by the homey nature of the hotel. Rooms in the two historical townhouses that comprise the hotel are bright and airy, with flat-screen TVs, iPod docks, and mini-fridges. Many face the hotel's charming courtyard, where guests can enjoy the hotel's free continental breakfast in warmer months.
European chain Yotelis known for its hip atmosphere and affordable rates. This Midtown West outpost is certainly hip, featuring three bars (including two on an enormous rooftop terrace), a Latin-Asian fusion restaurant, and a funky, outer space-like design. And it's usually affordable, at least for the area. Rooms are tiny, and the location on quiet 10th avenue is a bit out of the way, but the cool factor will make this a worthwhile option for a young, hipster set.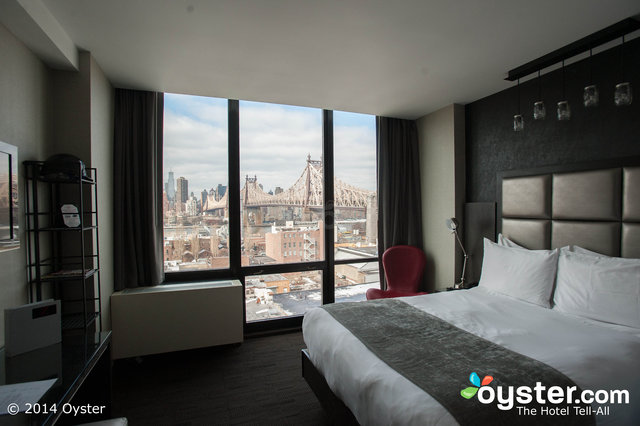 The Z is a hip boutique in the up-and-coming neighborhood of Long Island City, Queens. Stylish rooms have dark gray accent walls with funky murals, floor-to-ceiling windows offering sweeping Manhattan views, and tons of fun details. The attractive, industrial-chic lounge is the meeting point for guests day and night, and offers a solid drinks and tapas menu well into the evening. The hotel's location (a short walk from seven subway lines and one stop on the E train from Midtown); outstanding freebies (Wi-Fi, hourly shuttle to and from Manhattan, loaner bikes, and phone calls); and reasonable rates (cheaper than Manhattan hotels) make it a great value. It's a chic option for those who don't mind staying in a quieter part of the city.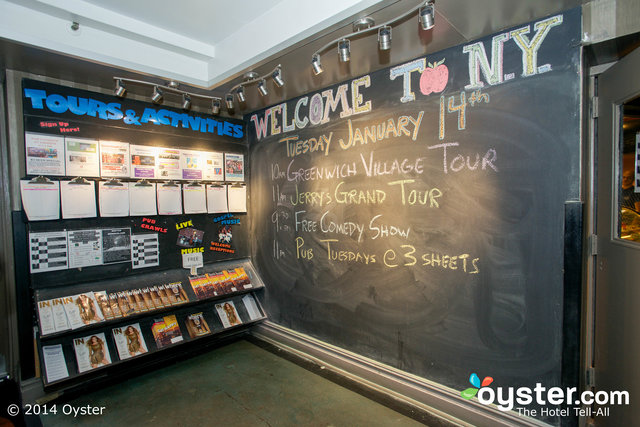 Catering towards international travelers and groups, the Hostelling International – New York is a well-run budget property with numerous on-site features, including a theater, large business center, and several lounges, all of which are equipped with free Wi-Fi. Guests can opt to spend a bit extra on private rooms with amenities such as flat-screen TVs, coffeemakers, mini-fridges, and private bathrooms, or choose the very budget-friendly dorm rooms with small bunk beds, which can fit up to 12 guests. There is no fitness center and some find the Upper West Side location removed from major sights, but the hostel is within walking distance of Central Park and the subway, and free daily offerings include guided tours and pub crawls. It's a great idea for the adventurous traveler looking to get out and about to soak up all of New York City.
This stylish urban boutique in New York's Garment District is located in a historic building that was once a tea salon and hat factory. The property's past inspired its present industrial-chic design, and small details such as decorative milliner's tools pay homage to the building's former function. In the lobby, cool white stone and Gothic arches are contrasted against colorful contemporary art, while in the rooms, a minimalist black-and-white motif is warmed up by the oak hardwood floors. Features include a fitness center, a lobby bar (named for the historic tea salon's owner), the Parker & Quinn bistro, and a cool rooftop bar. The location is within walking distance of popular sights such as the Empire State Building, Bryant Park, and Herald Square.
The 200-room Jane Hotel once provided temporary lodging to surviving crew members of the Titanic, and was later turned into an apartment cooperative. In 2008, hoteliers Sean MacPherson and Eric Goode (of Bowery and Maritime Hotel fame) restored the handsome West Village landmark into a cute and quirky micro hotel. Fans tout the hotel's stylish and unusually inexpensive rooms, free Wi-Fi throughout the building, polite and friendly staffers, and easy access to the West Village and the Meatpacking District. Some rooms are just 50-square-feet, so pack wisely — and get a glimpse into the true value of NYC real estate.
To learn more about Kristina Fazzalaro, visit her on Google+
RELATED LINKS:
All products are independently selected by our writers and editors. If you buy something through our links, Oyster may earn an affiliate commission.