Popping up all over London are an increasing amount of Jamaican eateries, from trendy chain restaurants like Turtle Bay, to family-run cafes serving dishes made with recipes handed down through generations. It's clear we Brits are developing a taste for Jamaican cuisine! So why not spice up your travels and combine culture and sunbathing with some local produce and authentic dishes? With some hotels championing classics like jerk chicken and plantain chips, and others opting for more dynamic fusion cuisine, sightseeing and sampling local eats in Jamaica has never been a more attractive proposition. Offering fresh seasonal ingredients, these hotels are home to some of the best restaurants, and with food this good on-site you may never want to venture out!
Half Moon in Jamaica serves food fit for a King…. Or at
least a Queen and a Prince! With the likes of Queen Elizabeth, Prince Philip, and
Prince Harry all having stayed here, Half Moon has an impressive history of
hosting the British Royal Family. Prince Harry is said to have stayed at the
resort during his first official Royal Tour and feasted on sumptuous meals
prepared by resort staff. These meals included Jerked Smoked Chicken Breast and Ackee
and Saltfish with Green Bananas and Steamed Callaloo. If that isn't enough to
tempt you (really?!), Half Moon is situated in stunning surroundings, with a two-mile beach, swim-up bar, award-winning cuisine, and plenty of activities such as
golfing and horseback riding. Oh, and it's only a 15-minute cab ride from Montego Bay International Airport!
Moxons Beach Club benefits from its personable staff and intimate
pool and dining areas, with fantastic ocean views and direct access to the
beach. Whilst the rooms may be basic and the location remote, the authentic
Jamaican food served here is the resort's saving grace. The cocktails are said
to be great too, definitely worth sampling one — or two!
If you're searching for a romantic getaway with phenomenal
food, excellent service, and an unrivalled setting, The Caves in Negril is your
best bet. A cliffside setting and private cottages and suites nestled in
between garden paths are part of what gives The Caves its breath-taking beauty.
In addition, The Caves is renowned for the its local produce with a focus on
quality and seasonality.
Round Hill Hotels and Villas probably has more culinary
awards than it's served hot dinners. (This might be a slight exaggeration but you get the idea.) The Executive Chef, Martin Maginley, is a James Beard award-winning chef committed to showcasing the best the region has to offer, with local
ingredients and cultural influences taking precedence. Breakfasts are described
as "hearty, healthy" experiences and include fresh Jamaican fruit, made-to-order omelettes, and custom-blended smoothies. For lunch, fresh salads, wraps,
burgers ,and pastas are on offer. For those missing their home comforts, have no
fear: Afternoon tea is available…cucumber sandwiches included!
How does a private beach with drinks service, ocean-fronted
canopy beds, and a fantastic golf course with no green fees sound to you? Add to
that the varied and exceptional quality of the restaurants — Sandals Royal
Plantation ticks a lot of boxes!
Eight restaurants
and five bars are sure to whet any appetite at this Montego Bay resort, and if you're looking for some
entertainment pre/post-meal — why not head to the theatre? Or perhaps the spa, which is equipped with hot and cold pools as well as a salon and juice bar, making it the perfect place to end the day. The more adventurous can try their hand at water sports or
head to the dive centre.
The Rockhouse prides itself on paying homage to Jamaica's
rich cultural history; as a result the cuisine is a melting pot of various culinary
influences, all using the best local and seasonal ingredients. Another nice
touch is the use of the on-property organic farm to create the much talked
about cuisine the hotel offers. With a Rockhouse Restaurant, Rum bar, and Pool
Grill and Bar, there are plenty of options.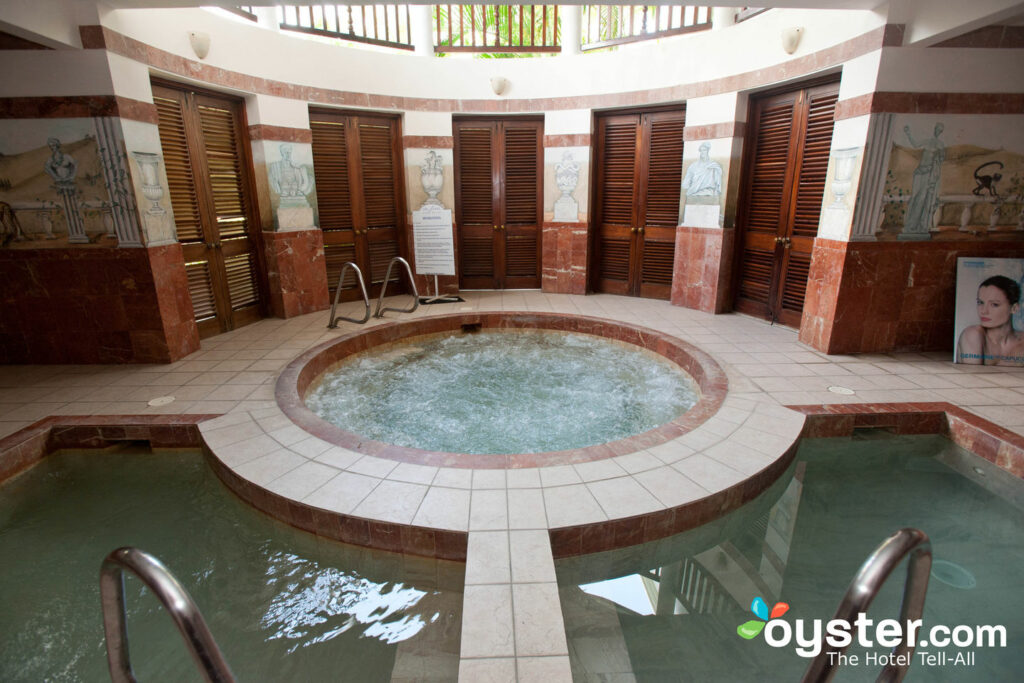 The Jewel Dunn's River Beach Resort and Spa has a
significant amount of facilities including a full-service spa, two pools, six
bars, six restaurants, and a multitude of activities. However, with 250 rooms,
some parts of the property have not benefitted from the revamp
undertaken in 2010. With plenty to do and plenty of places to eat, The Jewel is
still good value overall.
All products are independently selected by our writers and editors. If you buy something through our links, Oyster may earn an affiliate commission.