With October comes pumpkin spice, autumn skies, golden leaves, and excitement for the coming holidays. However, it also brings with it chilly weather and even snow in some parts of the world, which doesn't always make for ideal vacations. Granted, there are plenty of tropical destinations that are hot year-round such as the Caribbean and places like Indonesia and Thailand. But even outside of these literal hot spots, there are many places in the Northern Hemisphere where temperatures are pretty high in October, providing a wonderful, hot vacation. So check out our list of vacation destinations where you can still enjoy summer-like climes in the fall -- and be sure to pack the sunscreen!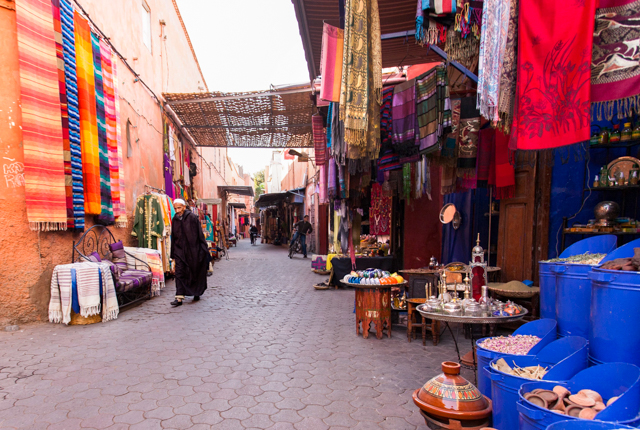 Located between Spain and Algeria is the beautiful country of Morocco, which remains pretty warm through the month of October. The highs generally fall around the mid-80s, while lows at night are around the mid-50s, so the weather is much more amicable for hiking in the beautiful mountain ranges, and isn't scorching hot along the beaches. We recommend making your home base Marrakech, one of the country's most beloved cities filled with gardens, palaces, and lovely mosques — October brings budget-friendly hotel prices and nice weather for exploring the medina's many shops and narrow alleyways.
A Luxury Hotel Pick: La Mamounia Marrakech
With a rich history, a long list of celebrity and noble guests, and over-the-top design and architecture, La Mamounia is Marrakech's grandest and most famous hotel. The luxury property is a blend of Moroccan and Art Deco style with intricate zellige tile work, carved and painted cedar wood, stretches of marble, and a carefully curated collection of antique furnishings.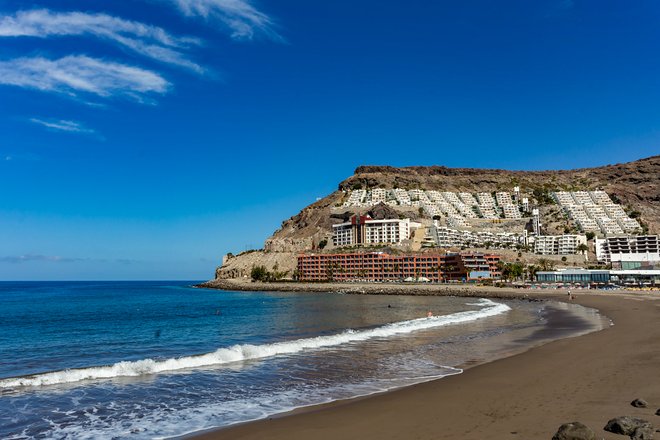 Just off the coast of Spain and Africa are the Canary Islands, best known for their volcanic origins and black- and white-sand beaches. In October, temperatures are generally in the high 70s and low 80s, allowing for a relaxed and comfortable island getaway. Though all of the islands are wonderful in their own way, consider a trip to Gran Canaria. Here you can find more than 37 miles of beaches, the famous dunes of Maspalomas, a biosphere reserve, a charming coastal village, and historic attractions like the Painted Cave.
An All-Inclusive Hotel Pick: Meliá Tamarindos
Melia Tamarindos is a family-friendly, beachfront resort hotel with three pools (heated, unheated, and children's), direct access to a sandy beach, well-manicured gardens, a spa, live entertainment, and activities like a kids' area, mini-golf, and squash and tennis courts.
There are many reasons to visit Santa Barbara, California, in October that go well beyond the fact that the weather is generally balmy (read: in the 70s) during the day. For one, Santa Barbara is well-known for its popular beaches, especially East Beach. It's close to the Ynez Mountains and the local hiking favorite of Inspiration Point. Wine lovers will also appreciate the numerous wineries that allow for tours and tastings in the area. And don't forget the shopping and attractions on State Street; some have said it provides a European market atmosphere, all in the warm and comfortable climate of California.
A Romantic Hotel Pick: Belmond El Encanto
El Encanto is a gorgeous historic landmark in the hills overlooking Santa Barbara and the ocean beyond. It underwent a long, expensive renovation that preserved its character while adding modern perks to luxury bungalows, like automatic espresso machines and bathrooms with heated floors. The spa is beautifully done, and even the fitness center has aesthetic appeal with cardio machines set under an arbor on a brick patio.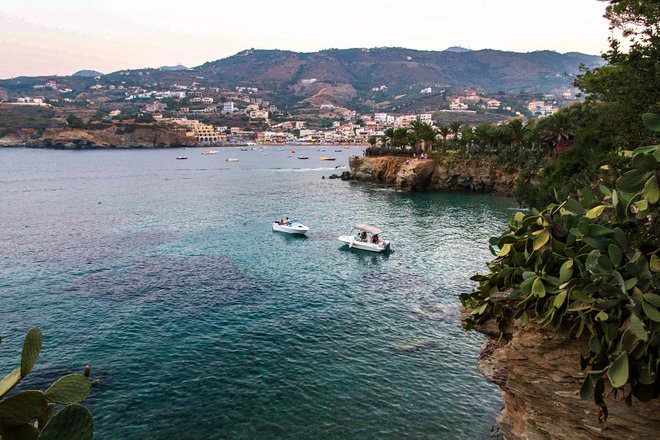 The Mediterranean is known for having hot summers and mild winters, and nowhere more so than the islands around of Greece. For instance, the temperatures in Crete in October range between the 70s and 80s — a more favorable climate for many compared to the high 90s weather of summer. Crete is characterized by beautiful blue seas, great mountain ranges, and small charming villages. As the largest of the Greek islands, Crete has a variety of lodgings here from high-end resorts to low-key local boutiques and bed-and-breakfasts. With beaches, historical landmarks, great food, and outdoor activities, it's no wonder that Crete is the place to visit in October.
A Luxury Hotel Pick: Blue Palace, a Luxury Collection Resort & Spa
Blue Palace, a Luxury Collection Resort & Spa, is a luxury resort overlooking the Aegean Sea and Spinalonga Island. The 251 rooms, suites, and villas are loaded with Mediterranean, breezy style and many have private pools and balconies with sea views. Other features include three outdoor swimming pools, an indoor pool, a full-service Thalassotherapy spa, and several restaurants and bars.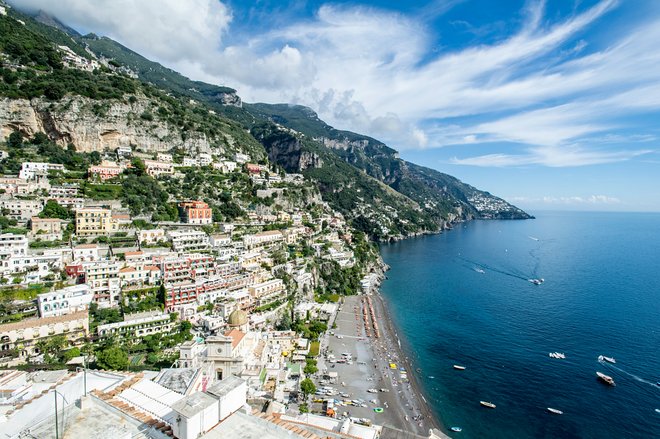 Though it's not as warm as Crete in October, the Amalfi Coast of Italy still draws plenty of tourists with its low 70s temperatures in October. The Amalfi Coast is attractive for its stunning cliffs, turquoise ocean, lovely beaches, and small towns along the rugged coast. The historical cities and attractions, not to mention the beaches, make for a romantic atmosphere. It's definitely got that authentic Italian vibe that many travelers wish to experience.
A Boutique Hotel Pick: Hotel Onda Verde
The three-pearl Hotel Onda Verde is a romantic destination hotel that's a favorite of couples celebrating honeymoons and anniversaries. The family-run, boutique hotel is carved into the rugged Amalfi coast cliffs directly above the majestic Mediterranean, in the quiet village of Praiano.
Sedona, Arizona, has a mystical quality that draws travelers year-round, especially in October when the weather is just right — generally in the high 70s. There's a lot that mesmerizes visitors of Sedona, starting with the beautiful landscape of red mountains and natural stone structures. More interestingly, perhaps, is that Sedona is said to sit on energy vortexes creating a perfect atmosphere for spiritual development. The lay of the land and the city's reputation as a center for wellness, healing, and spiritual growth, has created a tourist industry focused on outdoor activities like hikes, yoga, spas, and spiritual programs. However, there's more to Sedona than just that. There are also golf, wineries, and a community of artists and art galleries.
A Luxury Hotel Pick: L'Auberge de Sedona
L'Auberge de Sedona has one of the most stunning natural settings in not just the Southwest, but the country, with the picturesque Oak Creek running underneath shady trees, and Sedona's soaring red rocks suspended in the background. The 87 guest rooms and woodsy cottages are spread across 11 acres, allowing guests plenty of privacy, and most come with fireplaces and private decks.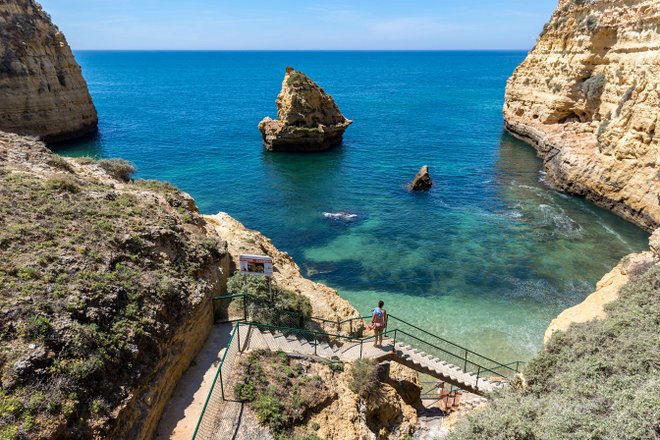 Beach lovers don't have to long for a warm day on the sand in October — you can just head to the Algarve Coast in Portugal. It's located on the south side of the country and is known for the Mediterranean-like weather, great golf courses, and stunning cliffs. October along the Algarve Coast sees wonderful temperatures in the 70s and 80s, allowing for a pretty great day along some of the most beautiful beaches of the country, like Praia Dona Ana or Praia da Marinha. The beaches are more than enough to keep visitors entertained with cool backdrops and fun caves to explore, though many towns provide off-beach entertainment.
A Kid-Friendly Hotel Pick: Salgados Dunas Suites
The Salgados Dunas Suites is an upscale complex characterized by chic, minimalist design set on immaculately landscaped gardens overlooking the dunes of Salgados Beach. The relatively secluded location means there's little within walking distance, except of course a lovely wide stretch of golden sand. Its 155 rooms and suites are spartan yet stylish, with many featuring sea views.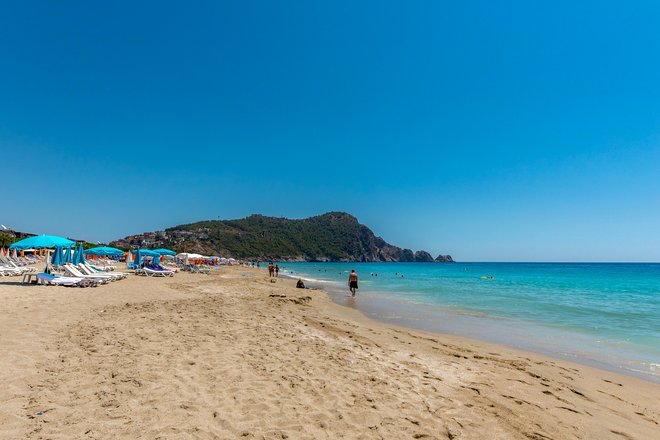 Though some parts of Turkey are starting to turn a little chilly in October, the Mediterranean part of the country still has warm temperatures in the 70s and 80s. There are plenty of wonderful cities along the coast to choose from, however, Alanya, Turkey, has made our list for a few reasons. First, it's home to Cleopatra Beach, said to have been where the famed queen enjoyed a swim. Second, the Alanya Castle and Kizil Kule are great historic attractions to explore. And third, the Damlataş Caves are reputed to heal those with asthma. (Even if that's not true, they're still beautiful to see.)
A Beachfront Hotel Pick: Xperia Saray Beach Hotel
For a gorgeous oceanfront stay in Alanya, Xperia Saray Beach Hotel will meet all your needs. The hotel itself is in a perfect location to get around for excursions of all sorts on your stay, and it sits perfect on the beach.
When a location calls for heat, it almost always calls for a swimsuit. Be sure to pack up one of Reformation's gorgeous sustainable swimsuits for your October trip.
You'll Also Like:
All products are independently selected by our writers and editors. If you buy something through our links, Oyster may earn an affiliate commission.