Sure, you can jostle the hordes of tourists in any of the restaurants lining Old San Juan's charming streets. But the city of San Juan -- one of the most cosmopolitan in the Caribbean -- has a vibrantly mixed culture, and dining there can be a wildly flavorful blend of local traditions, mouth-watering trends, and plenty of style if you find the right places. The seven "locals only" spots on this list of great restaurants in San Juan reveal just a hint of how any visitor can eat like a local when they're in town. From cocina del barrio dishes at La Casita Blanca to high-end seafood at Oceano and celeb-worthy tables at Santaella, the city is firmly putting itself on the foodie map -- though it might be smart to pack a slightly larger bathing suit, in case the indulging gets out of hand.
Down-Home Meets Up-Market at Santaella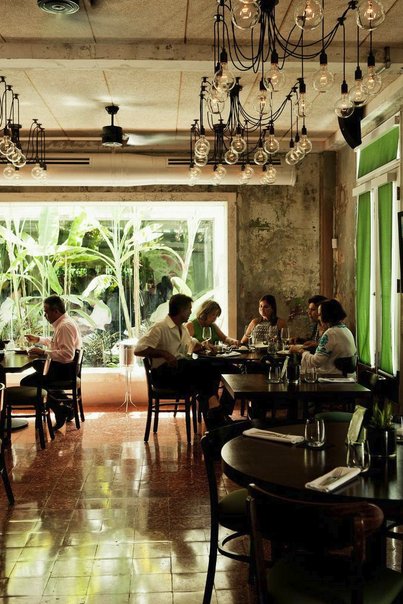 Santurce is one of San Juan's current "It" neighborhoods,
though it's far enough off the tourist track to still feel like a discovery for most travelers. Chef Jose Santaella has won countless honors and
awards, published a wildly popular cookbook ("Cocina Tropical"), and has worked
alongside international celebrity chefs like Eric Ripert. His menu takes criollo home cooking to elevated levels, drawing on a diverse array of traditions from French gastronomy to pub fare. Menu
highlights include alcapurrias, which are a type of fritter, lobster mofongo,
and lechon, or suckling pig. From Thursday to Sunday, head to La Placita after your meal, which is just
across the street. The area is a collection of bars and restaurants surrounding
an old market that bumps with live music, crowds, dancing, and amazing
people watching.
Santaella is located at 219 Calle Canals, San Juan.
Seafood and a View at Oceano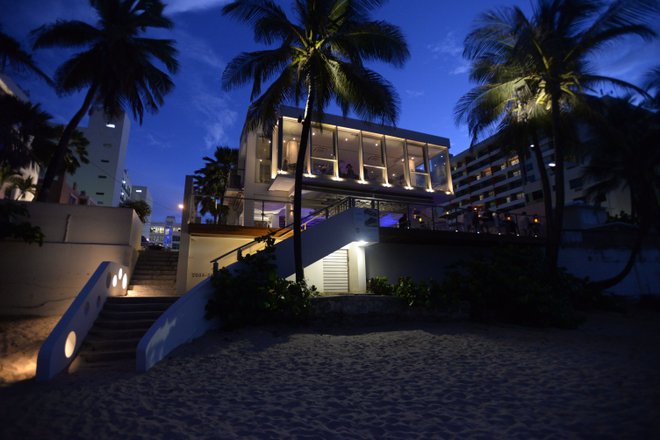 Who doesn't like a pretty view with their meal? The Condado neighborhood is
San Juan's answer to South Beach and Oceano fits perfectly within the neighborhood's
posh vibe. The restaurant occupies a glimmering glass
building that sits next to the palm trees lining Condado's gorgeous
beach. Pulling items from local purveyors, chef Eric Gonzales goes big on
seafood, and the presentation is pure drama and Caribbean flair. Flavors
incorporate Mediterranean, Asian, and Caribbean influences, and the restaurant
draws plenty of well-heeled guests to its outdoor terrace and sleek bar. And vegetarians are also in luck: This is one of the more veggie-friendly spots in the city, which can be a challenge in meat-happy Puerto Rico.
Oceano is located at 2 Calle Vendig, San Juan.
Authentic Eats at La Casita Blanca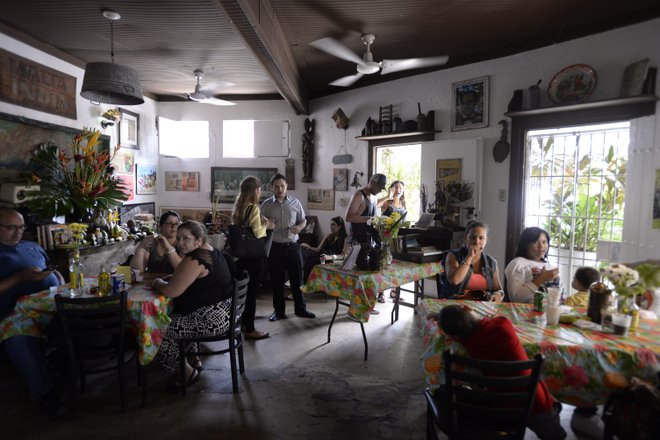 Don't miss this gem, which has been cranking out down-home
plates of local food for over 80 years. There are no major hotels nearby, and
it'll require an expensive cab ride to reach it from most parts of the city, but
the traditional criollo dishes are worth the trek. This perpetually busy and utterly
charming restaurant is about as authentic as it gets, and you'll be rubbing
elbows with plenty of locals — from business types to families to groups of friends — in
the open-air dining room. There's a massive tree growing out one window,
and the decor is part vintage living room, part tropical bungalow. The restaurant
uses herbs and vegetables grown on its rooftop to create vinegars and hot
sauces that accompany cocina del barrio
dishes like bacalaito (cod fritters), patitas (pork trotters), and arroz con
pollo. The daily menu is written on a portable chalkboard and it's especially popular at lunchtime — so expect a wait.
La Casita Blanca is located at 351 Calle Tapia, San Juan.
Puerto Rican Flavors and Asian Flair at Budatai
"Iron Chef" contestant Roberto Treviño's Asian-Latin fusion restaurant
sits just above Condado's poshest strip, Avenida Ashford, and has prime views
out over Ventana al Mar, a lovely plaza next to the crashing waves of the Atlantic
Ocean. This restaurant's wildly eclectic menu and swish interiors would be
right at home in Miami, as would its see-and-be-seen vibe. Unlike most trendy dining establishments, though, the food and drinks are anything but an afterthought at Budatai. Wash down dishes like
crab and chorizo shumai, lo mein with chicken chicharron, and pork and black
truffle dumplings with white or red sangria, or any number of chic cocktails.
There's also live entertainment throughout the week.
Budatai is located at 1056 Ashford Avenue, San Juan.
Inventive Brunches and Tons of Tea at Waffle-era Tea Room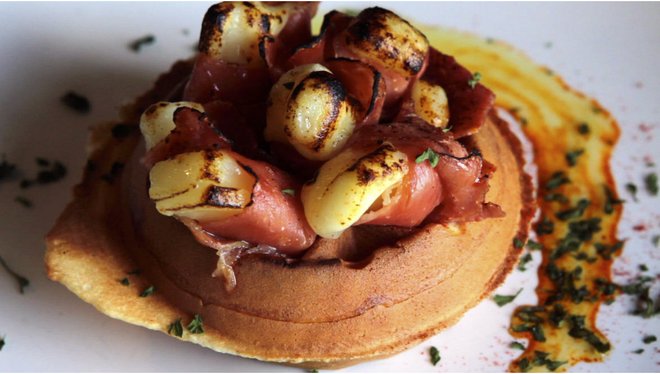 Waffle-era Tea Room sits within walking distance of the cruise terminals in Old San Juan, so while it's firmly inside of the tourist trail, it would be remiss to pass over on a culinary tour of San Juan. Waffle-era rides the Belgian pastry craze that's swept plenty
of cities across the U.S., and the restaurant serves a sprawling menu of sweet and savory
waffle-based dishes. Try the Big Breakfast, with prosciutto, Manchego cheese,
and eggs, as well as a dessert waffle with tamarind and ice cream. The
restaurant is only open for breakfast, brunch, and lunch, and has an impressive
selection of hot and cold teas, including a coconut-infused brew that's
perfect on a warm afternoons.
Waffle-era is located at 252 Calle San Jose, San Juan.
Classic Steaks with a Twist at Sage Steak Loft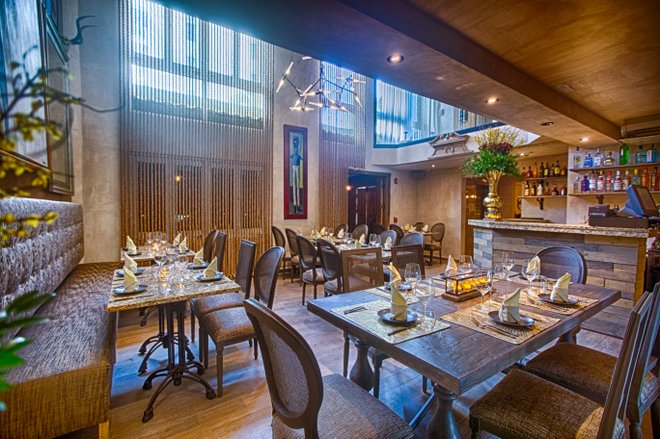 Nestled inside of the ever-charming Olive Boutique Hotel,
this steakhouse is a newcomer to the San Juan dining scene. The restaurant serves a hearty menu that features prime cuts
and seafood. Chef Mario Pagan, one of San Juan's top chefs and a former "Next
Iron Chef" contestant, serves classic comfort foods like mac 'n cheese and
gnocchi made from blue yucca alongside perfectly grilled meats with sauces
incorporating French, Caribbean, and Asian influences. Indulgent ingredients
like burrata and bone marrow also find their way into the elegantly composed
dishes. The dining room is chic and rustic, with an intimate area
that could be great for larger, private dinners. Head upstairs to the rooftop at the
Olive for the perfect after-dinner drink and view.
Sage Steak Loft is located in the Olive Boutique Hotel at 55 Aguadilla Street, San Juan.
Small Plates at Cocina Abierta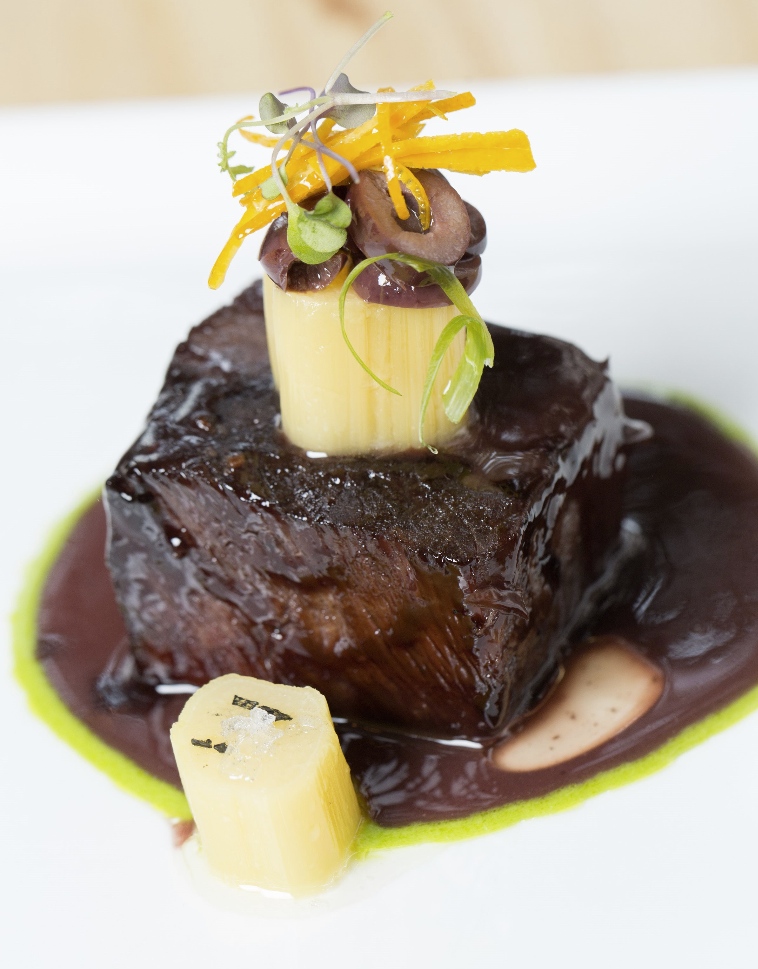 Argentine chef Martin Louzao is laying down solid roots in
San Juan, and his trendy outpost in Condado is an omnivore's delight. It's hard
to label exactly what he does at Cocina Abierta, but it's a satisfying blend of
Latin American and Caribbean culinary traditions with a few dashes of Asian
flavors for good measure. The menu has an eye towards current trends in dining — think small plates, adventurous pairings, and eye-catching presentations alongside killer cocktail and wine lists. The stylish dining room has a
bright, almost industrial look, with glazed concrete floors and colorful mod
furniture. There's also an outdoor terrace.
Cocina Abierta is located at 58 Calle Caribe, San Juan.
You Might Also Like:
All products are independently selected by our writers and editors. If you buy something through our links, Oyster may earn an affiliate commission.