With summer in full swing, now's the time to plan a road trip. And who better to turn to for inspiration than author Jack Kerouac, whose adventures with the gang -- Allen Ginsberg, William Burroughs, and his muse Neal Cassady -- paved the way for "On the Road," a novel which he penned in a three-week, drug-addled frenzy. While we can't time travel to experience the Beat Generation first-hand, we can pay tribute to the author and revisit the cities he wrote about from 1947 to the 1950s. To help you hit the road, we've compiled a roadmap with seven spots frequented by the Father of the Beat Generation himself. Of course, this road trip (unlike in the '50s) will have 21st-century comforts, so bring your iPad and smartphone. You dig?
In July 1947, the Cold War had already begun. Kerouac had $50 of veterans benefits in his pocket and dreams of heading West. You can retrace his journey and get caught in a rainstorm by Bear Mountain Bridge in upstate New York or drop a rose in the Hudson River and "think of all the places it journeys by as it goes out to sea forever." But you'll likely have more fun visiting Kerouac's and Greenwich Village haunts.
Grab an "Original Cappuccino" at Caffe Reggio, Kerouac's old hangout, or swig a margarita — another Kerouac favorite after his Mexico travels — at White Horse Tavern. You can also catch a show at Birdland, where Kerouac saw jazz pianist George Shearing play. After a night of debauchery, visit the author's place of solace, St. Patrick's Cathedral, in Midtown.
Our Hotel Pick:
It was 1949 and the Chicago Railroad Fair was in full swing on the Lake Michigan shore. "On the Road" characters Sal Paradise and Dean Moriarty sped 17 hours from Denver to Chicago to check out the "hootchy-kootchy joints" and hear bop on the Loop, which is now the city's central business district.
You can't rent a one-night stay at YMCA like Kerouac did when he first came to Chicago by Greyhound, but you can hear jazz and bop on the Loop at Andy's, a small venue founded in 1951. Musicians like guitarist Larry Coryell, saxophonist Von Freeman, and organist Joey DeFrancesco have all played here.
Our Hotel Pick:
3. Des Moines
On your drive west from Chicago, indulge in pie and ice cream like Kerouac did throughout his life on the road. Order the pie shake in a malt cup from Hamburg Inn No. 2, a comfy diner that's been open since 1948. Before you hit the road again, take in the sights. After all, "the prettiest girls in the world live in Des Moines," Kerouac wrote.
In the Beatnik days, Kerouac spent his nights listening to jazz in Five Points and stumbling along Larimer Square with the "old bums and beat cowboys." Today, there's no Windsor Hotel, where Cassady once lived with his drunken father. And what's left of Larimer Square, once a 36-block street with bars and pawn shops, is now the trendy Lower Downtown area filled with eateries and boutiques.
"It was a wonderful night" when Kerouac saw the lights around the Central City Opera, where you can catch a performance. Looking for a place to imbibe? Throw back a few cocktails at Kerouac's old hangout, My Brother's Bar. A framed letter from Cassady still hangs in bar, claiming that he owes $3 or $4 in drinks.
Our Hotel Pick:
Sal Paradise was 3,000 miles from his aunt's house in New Jersey when he arrived by bus in the Tenderloin district in San Francisco. "I wandered out like a haggard ghost, and there she was, Frisco — long, bleak streets with trolley wires all shrouded in fog and whiteness," he said
Beatnik aficionados can get their fill of history in the North Beach area of San Francisco. A good starting point is the Beat Museum, which features exhibits packed with beatific memorabilia. In the same area, visitors will also find the mural-covered Jack Kerouac alley that leads to the City Lights bookstore (another Kerouac hangout back in the day). Finally, cap off the day with the Jack Kerouac cocktail that's mixed with tequila and rum at the nearby Vesuvio Cafe.
Our Hotel Pick:
The end of America — that's what Kerouac called when he arrived in 1947. In "On the Road," Sal Paradise wandered the streets of downtown L.A. with Terry, a girl he met on the bus ride from Denver. Kerouac also dug the celebrity-hungry tourists on Sunset and Vine. At that time, the intersection was home to the ABC and NBC studios as well as the Hollywood Plaza hotel, which is now an apartment building.
The Hollywood landscape has dramatically changed in the last six decades, but the area is still a central tourist hub — especially at the TCL Chinese Theatre on the historic Walk of Fame. For an old-school Hollywood dining experience, make your way to Musso and Frank Grill, a popular spot in the 1930s for studio heads who would wine and dine writers.
Our Hotel Pick:
7. Lowell, Massachusetts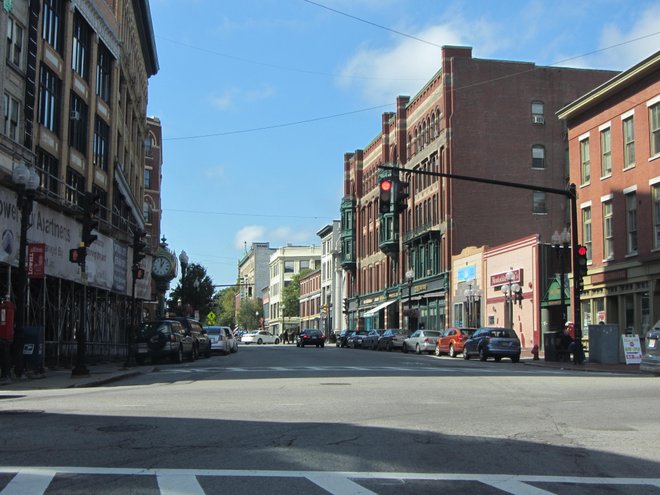 On March 12, 1922, Jean-Louis de Kerouac was born in Lowell, Massachusetts — a town 30 miles outside of Boston. Forty-seven years later, he died from an abdominal hemorrhage, and today, his hometown continues to honor him.
Five of Kerouac's novels were inspired by Lowell. It was at Lowell High School that he honed his football skills, earning a scholarship to Columbia University. Today, he's buried in Edson Cemetery with a simple plaque that reads "He honored life." If you can't find the grave marker, ask the office for printed directions. Make sure to also visit Kerouac Park and read the poems engraved in granite slabs throughout the outdoor space. Last but not least, before you hit the road, stop by the author's old bar, Worthen House Cafe, for one last cheers to the Father of the Beat Generation.
Our Hotel Pick:
Related Stories:
All products are independently selected by our writers and editors. If you buy something through our links, Oyster may earn an affiliate commission.