Since it was signed in 1906, the United States Antiquities Act has conserved millions of acres across 58 national parks. These protected areas encompass some of the country's most extraordinary landscapes, which has unsurprisingly prompted growing tourism numbers in the most popular parks. Competing with throngs of tourists while visiting America's natural wonders is far from ideal. With that in mind, we've assembled a list of less crowded, yet equally scenic, alternatives to America's most popular national parks.
1. If You Like Grand Canyon National Park, Try Bryce Canyon National Park Instead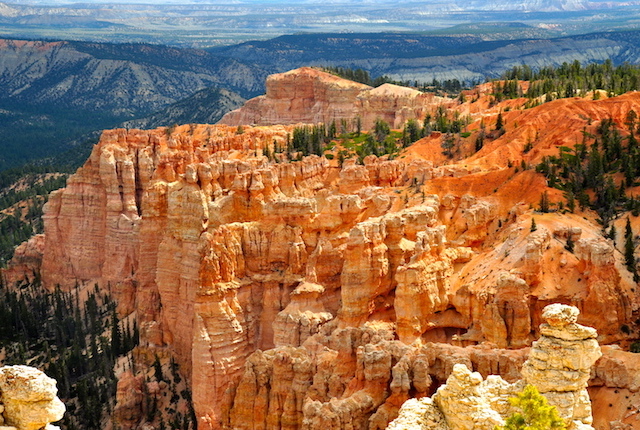 Known as one of the Seven Natural Wonders of the World, the Grand Canyon is a bucket-list destination for travelers worldwide. This recognition comes at a cost, though, with 6.38 million arrivals to the park in 2018. If you've already been or have some time to spare, consider heading due north to Bryce Canyon National Park. Situated along the edge of the Paunsaugunt Plateau, the park's terrain has been shaped and eroded by the harsh high-altitude elements. The resulting stone pinnacles (known as hoodoos), jagged formations, and massive horseshoe amphitheaters are an astonishing sight to behold. Bryce Canyon's extensive trail network is sure to satisfy any type of hiker. Leisurely options include a portion of the 11-mile Rim Trail or the one-mile hike to Mossy Cave, which offers views of the multi-hued hoodoos and a waterfall before reaching the cave. More determined hikers can brave the 23-mile Under-the-Rim Trail and overnight at one of eight backcountry campsites. The park's elevation ranges between a lofty 8,000 to 9,000 feet above sea level, making for milder summer temperatures compared to the Grand Canyon. On top of the remarkable geology, Bryce Canyon's high desert ecosystem is home to diverse wildlife, including elk, black bears, marmots, pronghorn antelope, and numerous bird species. `
2. If You Like Great Smoky Mountains National Park, Try Shenandoah National Park Instead
A whopping 11.4 million people visited the Great Smoky Mountains National Park in 2018. Heading six hours north along the Appalachian Mountains, hikers and drivers can find equally scenic roadways, stunning mountain vistas, and epic trails at Shenandoah National Park. Though it's not exactly an off-the-beaten path destination, Shenandoah's 1.2 million visitors in 2018 are a mere trickle compared to its southern neighbor. Spanning 105 miles between the Front Royal and Rockfish Gap entrances, winding Skyline Drive allows visitors to leisurely enjoy the park's scenery from their car and choose from numerous trailheads for day hikes. In the heart of Shenandoah, the one-and-a-half-mile Dark Hollow Falls Trail departs from Skyline Drive's mile marker 50.7 and traces a magnificent series of waterfalls and cascades. The less-trafficked neighboring trail, Rose River Loop, passes both Rose River and Dark Hollow Falls, but tacks on another two-and-a-half miles to the trip. Shenandoah's highest point, Hawksbill Mountain, can be reached via the Upper Hawksbill Trail. After scrambling a little over two miles from the trailhead off Skyline Drive, hikers are rewarded with unobscured views from the rocky summit. Additional hiking options abound, with over 500 miles of marked trails, including a substantial section of the famed Appalachian Trail.
3. If You Like Rocky Mountain National Park, Try Great Basin National Park Instead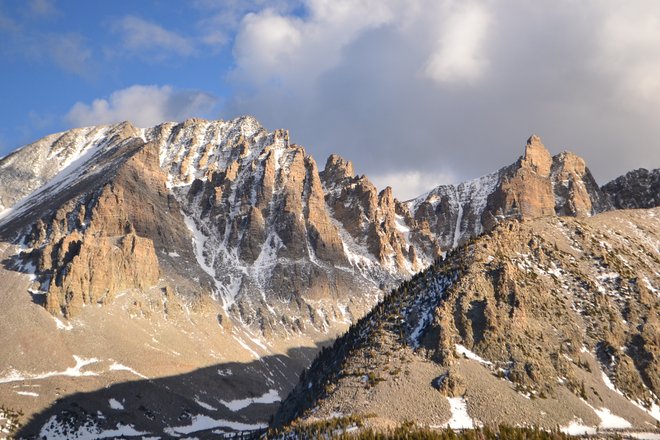 Rocky Mountain National Park's popularity is on the rise, setting a new record of four-and-a-half million visitors — up 42 percent since 2012. Due west, in the remote desert on the Utah-Nevada border, Great Basin National Park receives a modest 90,000 annual visitors despite its comparable alpine terrain. Though the park may not cover a vast area, its dramatic elevation gain above the desert landscape fosters diverse ecological zones in a relatively compact area. Great Basin's highest point, Wheeler Peak, can be summited in a little over eight miles round-trip. There are plenty of vantage points along the trail, so that hikers can admire the glacial lakes, thousand-year-old bristlecone pines, and expansive desert below. Pack plenty of water and extra layers, as the 3,000-foot ascent can get chilly and requires stamina. For a more leisurely option, consider the Alpine Lakes Loop Trail, which starts at the main road and circles both Stella and Teresa Lakes in just 2.7 miles. Before departing, be sure to take a guided tour of the Lehman Caves. The subterranean limestone has formed massive stalactites and stalagmites, as well as other more fantastic, dreamlike shapes.
4. If You Like Zion National Park, Try Capitol Reef National Park Instead
Zion's famed Narrows and towering cliffs are a nothing short of breathtaking. If you're craving more solitude among southern Utah's geological wonders, consider heading three hours northeast to Capitol Reef National Park. The highlight of visiting any national park is getting out into nature, but Capitol Reef's Scenic Drive takes in some of the most picturesque stretches of the park. Frequent pullouts permit plenty of stops for photos or embarking on a day hike. Turn down Grand Wash Road to hike a quarter-mile to Cassidy Arch, where Butch Cassidy was rumored to have camped out. The Grand Wash Trail departs from here as well, and goes for approximately three miles before connecting with Highway 24. A shorter ravine hike awaits at the end of the Scenic Drive at Capitol Gorge. A low-impact one-mile trail navigates the winding canyon, where the names of 19th-century settlers are inscribed into the red rock, known as the Pioneer Register. The most conspicuous reminder of settlers is at Fruita, where orchards and a few restored buildings serve as the last remnants of the Mormon town of 50. Depending on the season, visitors can pick their own fruit, including cherries, pears, and apricots.
5. If You Like Yellowstone National Park, Try Theodore Roosevelt National Park Instead
Yellowstone's wealth of attractions — unique wildlife, spouting geysers, volcanic landscapes, and churning rivers — are unmatched by any single national park. For similar wildlife spotting opportunities away from the crowds, head east to the lesser-known Theodore Roosevelt National Park, which sees just 600,000 annual visitors compared to Yellowstone's 3.8 million. Theodore Roosevelt occupies a sizable expanse of North Dakota's Badlands. Twenty-nine American bison were reintroduced here in 1956, with herd numbers today totaling several hundred between the park's north and south units. For the best chance of seeing bison, make your way around the Scenic Loop Drive in the south unit, but be sure to maintain a respectable distance from these massive creatures. Fortunately, bison prefer to graze the nutritious grasslands surrounding prairie dog communities, and thus, you may spot both species. Although there are several communities throughout the park, the prairie dog town located just off East River Road near the Skyline Vista is the most accessible. Beyond the park's critters, there is an abundance of scenic views and impressive rock formations to enjoy. Visiting at sunrise or sunset is an ideal time to appreciate the multitude of colors emanating from bands of minerals in the rugged rock face.
6. If You Like Yosemite National Park, Try Kings Canyon National Park Instead
Although Kings Canyon's natural beauty and recreation opportunities rival its northerly neighbor, it only received 692,000 visitors in 2017 compared to Yosemite's four million. Kings Canyon's scenery is dominated by giants. The imposing North Palisade mountain, which rises 14,242 feet above sea level, is visible throughout much of the park, while General Grant holds the title as the world's second-largest tree. Head to Grant Grove to see this massive 1,600-year-old sequoia, which stands at 267 feet tall and 107 feet around. Be sure to pay respect to General Grant's fallen friends at the park's entrance, where massive stumps remain from thousand-year-old trees logged in the late 1800s. Many of Kings Canyon's other top sites can be reached on the scenic byway (Highway 180), which features hairpin turns and rugged terrain. Both Roaring River Falls and Grizzly Falls are a short walk from the byway. There are lots of longer day hikes options, too. Take the eight-mile Mist Falls Trail to refresh yourself under a 100-foot cascade, or scamper up the steep, two-mile Buena Vista Peak Trail to admire the panoramic view of Redwood Canyon and sequoia forests. Sandwiched between Yosemite and Sequoia in the Sierra Nevada mountains, Kings Canyon can easily be tacked on to a trip to either park.
7. If You Like Acadia National Park, Try Fundy National Park Instead
Located on Mount Desert Island along Maine's central coast, Acadia National Park offers the perfect mix of mountains and sea. As the only national park in New England, Acadia is a popular getaway for families and urbanites, bringing in 1.6 million visitors in 2018. A few hours up the Atlantic coast and across the Canadian border, Fundy National Park sees a fraction of the visitors, with approximately 368,000 entries in 2018. Fundy's 60 miles of trails take hikers past dozens of waterfalls, through dense pine forests, and along the rocky shore. The park abuts the Bay of Fundy, which experiences the highest tides in the world. During low tide, visitors can explore tide pools along the half-mile of exposed ocean floor and marvel at striking sandstone formations created by millennia of erosion. Those who visit in September can have the unique opportunity to snorkel with park biologists and First Nation leaders in the Upper Salmon River to witness the migration of the Inner Bay of Fundy salmon. Applications for limited spots begin in May.
8. If You Like Olympic National Park, Try North Cascades National Park Instead
Known for its lush rainforest, glacial peaks, and coastal landscapes, Olympic National Park continues to be one of the most remarkable wilderness areas in the contiguous United States. This natural beauty is certainly well-appreciated, given that the park brought in over three million visitors in 2018. Meanwhile, a hardly-trafficked area of stunning, rugged wilderness sits across the Puget Sound in North Cascades National Park. This is one of the least-visited national parks in the United States, with just 30,085 visitors in 2018. The park is largely protected as wilderness, meaning that there are limited facilities and and minimal road access into North Cascades. Adventurers and outdoor enthusiasts will be glad to know that camping sites can be reached by hiking, horseback, or boat. The park is home to diverse landscapes, including peaks over 10,000 feet, 300 glaciers, gushing waterfalls, old-growth forests, and the third-deepest lake in the country — Lake Chelan. The most popular day hike (relatively speaking) is the Cascade Pass Trail. This seven-and-a-half-mile round-trip trail rewards hikers with panoramic views of the surrounding mountains. Another worthwhile trek departs from the North Cascades Institute parking lot and heads to the emerald waters of Diablo Lake. The seven-mile trail is suitable for both beginners and experts, with plenty of waterfalls and serene forest settings to inspire the weariest of legs.
You'll Also Like:
All products are independently selected by our writers and editors. If you buy something through our links, Oyster may earn an affiliate commission.