Thailand, arguably the most traveler-friendly country in southeast Asia, offers great food, gorgeous beaches, and tons of cultural opportunities. While travelers could easily spend months exploring the "Land of Smiles," most people don't have quite as much vacation time to do just that. However, even if you only have a week to explore the country, you'll still find your trip rewarding. Here's an itinerary that will help you get the most out of your getaway.
While most travelers arrive straight in Bangkok, there are plenty of reasons why you might prefer to start your journey in instead. First of all, it's smaller and easier to navigate than the Thai capital, making it a great introduction to the country for first-time visitors. From a logistics standpoint, because Thailand is a long country, it's easier to start in the north and make your way south, especially if your time in the destination is limited to a week. Use this first day to relax and acclimatize to being in Thailand. If you feel energetic, head out to try some of the region's most famous meal, khao soi, a noodle dish drenched in curry and topped with meat and vegetables.
Chiang Mai Hotel Pick:
Spend your second day exploring the wats (temples) of , including Wat Chedi Luang, Wat Phra Singh, Wat Chedi Liam, and Wat Suan Dok. Many temples also have traditional Thai massage centers attached for those who want a good stretch. Be sure to also pay a visit to the nearby Wat Phra That Doi Suthep, located on a hilltop overlooking the city. The highlight of a visit to this 14th-century temple (which was originally a Buddhist monastery) is its enormous golden stupa. Just be prepared for a hike—getting to the temple requires climbing up 300 steps, though there is an elevator up to the top for a fee.
If you happen to be visiting during a weekend, make sure to spend at least some of your evening at the the Saturday Night Market on the city's main "Walking Street." Here you'll find everything from Thai wooden sculptures to excellent street food—even fried crickets are on offer!
Day 3: Ayutthaya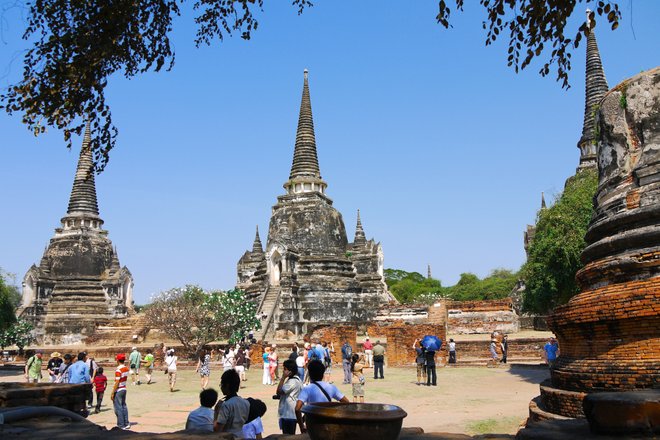 Spend your third day heading south towards Bangkok, making a point to stop off at Ayutthaya, about 60 miles north of the capital. This 14th-century city is filled with beautiful ruins of old temples and shrines, most of which are located in the old island section of the city, at the confluence of three rivers. While exploring the old temples and their gorgeous Buddha statues can easily take up an entire day, those interested in understanding the historic significance of the area may want to stop by one or more local museums first, such as the Ayutthaya Historical Study Center or the Chao Sam Phraya National Museum.
Although plenty of travelers prefer skipping over big cities in favor of beach vacations or culturally immersive experiences in more rural locales, even those who prefer the quiet of the countryside to the bustle of big cities should make a point of staying in the Big Mango, as Bangkok is occasionally called, for a couple of days at least. Along with plenty of shopping opportunities, with everything from electronics to knock-off fashion items available on the city's many busy tourist streets, Bangkok offers a ton of great restaurants, historic temples, and wild nightlife activities. After getting settled on your first day in town, head out for some local street food—classic noodle dishes such as pad Thai and pad see ew are popular options, as are desert items like freshly sliced mango served up with sweet coconut milk-infused sticky rice. Then, make your way over to Grand Palace, the former residence of the Thai royal family and home to the glorious Temple of the Emerald Buddha, which houses an enormous Buddha hewn from a single piece of green jade. From here, it's a short tuk-tuk ride to the National Gallery, a publicly run art museum with a solid collection of traditional and modern masterpieces housed in the building of the former Royal Mint. Make sure to give yourself plenty of time to get to Wat Arun—also known as the Temple of Dawn—well before sundown. Despite its moniker, this stunning complex, which is known for its gorgeous architecture that's decorated with porcelain and glass, is at its most majestic at sunset. After your visit, hop aboard a dinner cruise on the Chao Phraya for delicious Thai food and great views of the city at night.
Bangkok Hotel Pick:
Start your second day in Bangkok with an early-morning visit to one of the floating markets, in which vendors in small canoes buy and sell colorful fruits, vegetables, and wares without ever docking. Most of these markets are located outside of the city, but nearly every hotel in the city can help you book a seat in one of the many private tours that visit the markets (just be prepared for an early wake-up). The most famous of these is Damnoen Saduak, but it's also far away and a little too touristy for some people's liking, as is Amphawa, another popular option. A much closer alternative is Taling Chan Floating Market, but it's small and doesn't offer the same ambience as some of the further-afield mainstays.
After your visit, you might want to take a nap before heading over to The Jim Thompson House, a museum located in the former home of an American businessman. Here, you'll find the former owner's extensive collection of Thai arts. Alternatively, visit Wat Pho, also known as the Temple of the Reclining Buddha for its 150-foot-long Buddha statue.
As the sun starts to set, head over to one of the major nightlife hubs of the city. The best known is Sukhumvit, where a good chunk of the city's tourist hotels are located. Here, you'll find all sorts of clubs, bars, and restaurants, particularly in the Soi 11 area. It's also home to a few of the city's best-known red-light districts, including the notorious Nana area. If you're after a backpacker scene, make your way up to the Khaosan area, where most of the city's budget hotels and hostels are located. The main drag here, Khaosan Road, has plenty of restaurants, street vendors, and roadside massage parlors (most of which are legitimately therapeutic) as well as a few nightclubs and lots of bars.
Although southern Thailand has plenty of amazing islands to visit, those who are looking to experience the most of the country with a limited amount of time are best off heading to Koh Chang (Thai for "elephant island"), a large island in the Gulf of Thailand (and the closest visit-worthy island to Bangkok). Getting here requires a four-hour drive or bus ride to nearby Trat, followed by a ferry over to the island (there are also flights to Trat for those who don't want to spend too much time on the road). The island itself is characterized by its white-sand beaches and beautiful inland jungles, and has plenty of accommodation options for travelers of all budgets. Fortunately, the island is free of major development, due to its protected status as part of the Mu Ko Chang National Park. Spend your first day here getting settled or maybe getting a massage on the beach before heading out to check out the nightlife and dining options in and around the main tourist hub of Klong Prao.
Koh Chang Hotel Pick:
It's easy to spend a full day just relaxing on the beach in Koh Chang, though travelers who prefer more active pursuits won't find themselves short of things to do. The island has a ton of trails to hike and waterfalls to visit, including popular Klong Plu Waterfall. Getting here requires taking a taxi or songthaew (shared truck) to the nearby parking lot and then hiking about 10 minutes to the falls themselves. There's a large pool at the base of the falls that features refreshingly cool water and lots of little fish. Diving and snorkeling are also major activities on the island, with plenty of opportunities to take inexpensive boat trips and explore the Gulf's colorful fish before heading back to Bangkok's airport to catch a late-night flight home.
If You Have Three More Days…
If you have three more days, you're best off adding a bit of time to either the culturally rich north or the beautiful and beachy south. If you have three more days in the north and want to spend time outdoors and learning about local culture, sign up for one of the many two- to three-night treks in the hills around Chiang Mai; these can be arranged through travel agents around the city. Most treks involve visits to jungle waterfalls and small villages of Karen hill tribe people, and many stop off at the Maetaeng Elephant Park.
If you'd rather spend more time exploring the south, three more days will give you the opportunity to add a second Gulf of Thailand island to your trip. Popular options include Koh Samui, home to plenty of resorts along with a smattering of quieter backpacker towns with lovely beaches. If you want to party, Koh Pha Ngan is the best option, as it comes with lots of clubs and beach parties, including the famous Full Moon Party held every month.
Koh Samui Hotel Pick:
If You Have Seven More Days…
With an extra full week in Thailand, you can either add on three days in the north and three days in the south using the suggestions outlined above or focus more on one area entirely. Those interested in the north could easily spend a couple of extra days in the region exploring nature reserves such as the Doi Inthanon National Park or hanging out in lovely little towns such as Mae Hong Son or the backpacker haven of Pai. Chiang Rai is another top attraction and its famous White Temple (Wat Rong Khun) is certainly worth a visit for its elaborate sculptures and decorative features.
If you would rather spend an extra week in the south, use this time to explore the beautiful Andaman Coast side of the country. Islands to consider include Koh Lanta, a quiet, relatively undeveloped island that attracts families and older adults. Koh Lipe is another amazing choice, especially if you want somewhere with clear and shallow waters, while those interested in a bit more action may prefer lively Phuket, which also has some of the country's most over-the-top resorts.
Phuket Hotel Pick:
You'll Also Like:
All products are independently selected by our writers and editors. If you buy something through our links, Oyster may earn an affiliate commission.