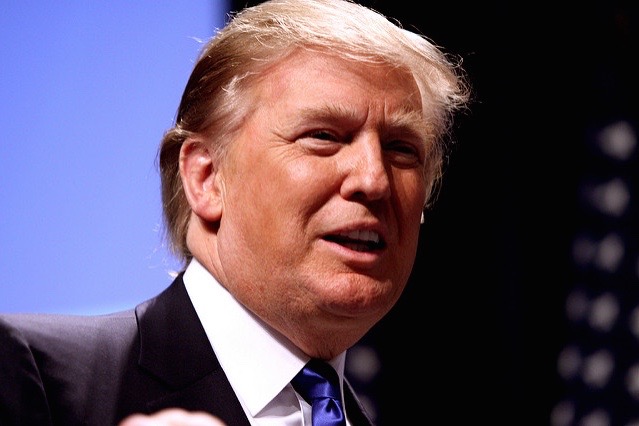 Not surprisingly, the media spotlight on Donald J. Trump is only going to intensify as we near the presidential election. Journalists are delving into all sorts of character-related topics; case in point, The New York Times article printed on May 14, titled "Crossing the Line: How Trump Behaved with Woman in Private."
Gender references aside, content seems to naturally veer towards businesses under the Trump Organization. Yes, Mr. Trump certainly has his hand in a whole slew of entrepreneurial ventures — from bottled spring water to mattresses, golf courses, skin care products, Israeli energy drinks, vodka, modeling agencies, beauty pageants, and wineries. Some of these companies turn out to be very successful, and some — like his attempts at a magazine, airline, and professional football team — failed fairly obviously.
We here at Oyster.com, though, are more interested in hotels, and Mr. Trump has quite a history here, too; just like with his other endeavors, there have been ups and downs along the way.
Trump's Foray into Hotels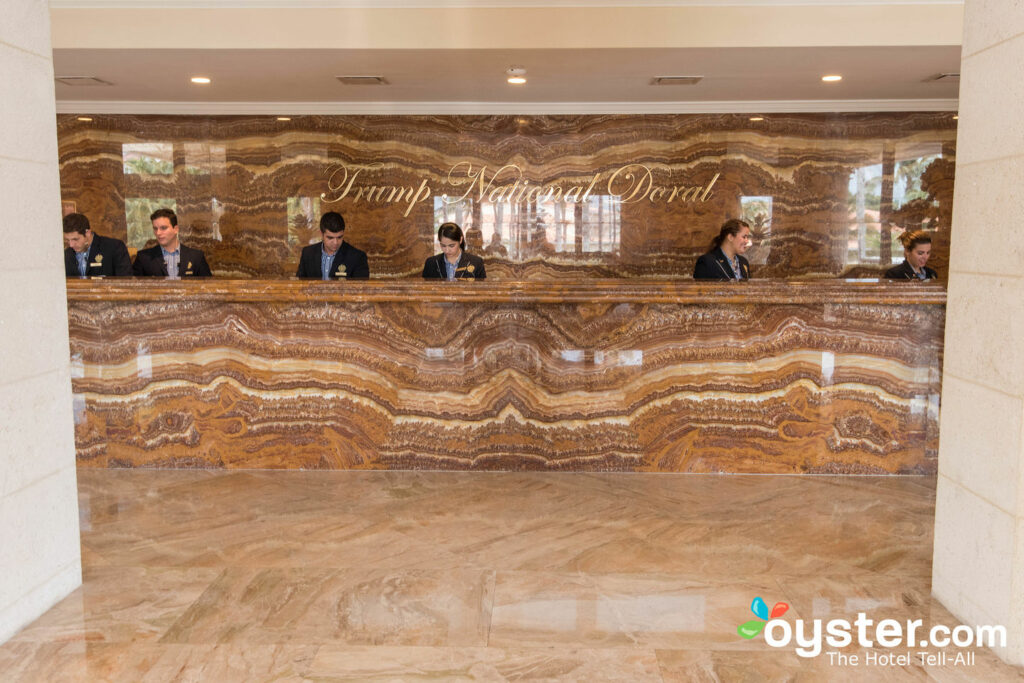 The website lists the group's luxury properties in New York City, Las Vegas, Chicago, Florida, Panama, Ireland, and Waikiki, to name a few. And there are no signs of any slow-down caused by Trump's presidential campaign. Later this year, the hotel group is expected to open a new hotel in Baku, Azerbaijan, as well as a luxury resort in Bali, which would be the group's first resort in Asia.
This third-generation company began as Elizabeth Trump & Son, head by Mr. Trump's grandmother, who found success with developed residential real estate. Donald's father Fred eventually took over to become one of the richest people in America (in 1971), before Mr. Trump started taking on various responsibilities in the company during his studies at the Wharton School of the University of Pennsylvania. The presidential hopeful eventually renamed it The Trump Organization when he took the helm, and continued working on residential projects — but also got his feet wet with New York City hotels like the Grand Hyatt Hotel, the Trump Tower, and Trump Plaza. And in the 1980s, Mr. Trump began to spread his wings outside of Manhattan.
What Happened with Atlantic City
Rumored to have partnered with companies owned by the mafia, Mr. Trump acquired the Taj Mahal Casino in Atlantic City in 1988, which turned out to be a rocky ordeal. Many sources cite that the process involved a great deal of bank borrowing (a casino was built at a cost of nearly one billion dollars) and a year later, Trump was unable to meet loan payments. The hotel declared bankruptcy, but then came out of it in 1991. The property was repurchased in 1996 and consolidated into Trump Hotels & Casino Resorts — which then also filed for bankruptcy in 2004 with $1.8 billion of debt.
In February 2016, the Trump Taj Mahal (with Trump Entertainment Resorts) was purchased by billionaire Carl Icahn, saving the property from closure.
Unfortunately, Taj's Atlantic City sister down the beach, Trump Plaza Hotel and Casino, was not so lucky. In fact, the Plaza was the one of four Atlantic City casinos to go out of business in 2014. According to NJ.com, the owners plan to keep it shut for at least 10 years as a tax-saving measure. Like with the Taj Mahal, Trump cut his ties with the Plaza when The Trump Organization sold its share in Trump Entertainment Resorts, so the property is also owned entirely by Icahn.
Trump's Success in New York City
One of Mr. Trump's most successful hotel projects of the 1990s was the Trump International Hotel and Tower in New York City's Columbus Circle — and it's still going strong. Opened in 1997, the 52-story luxury hotel and residential building was designed by the famed architect Philip Johnson, and is said to be one of only three in the country to have received a double Mobil Five-Star rating for both the hotel and its restaurant, Jean-Georges. Trump gave his name and expertise to the building's owner for a fee totaling $40 million. In 2010, the penthouse apartment sold for a cool $33 million.
And His Investments in Vegas
In 2008, The Trump International Hotel & Tower Las Vegas opened its doors to reveal a 64-story luxury hotel, condominium, and time share with 1,200 hotel rooms and, yes, 24-carat gold windows. (One may remember a season of "The Apprentice" dedicated to this project.) Trump may have spoken too soon, though, when he announced that a second, identical tower would be built next door; the recession put the expansion plan on indefinite hold.
That being said, in 2015, Trump's son Eric spoke hopefully of the project, saying "I think in time it's a very good possibility."
Success in the U.S. and Beyond
In 2012, Mr. Trump saved South Florida's Doral Resort & Spa by pulling it out of bankruptcy for $150 million. He put in an additional $250 million for renovations and the gamble paid off: The 800-acre resort eventually re-opened as the Trump National Doral Miami, an elegant property with 700 rooms, four golf courses, and an enormous spa. Though Doral has no beachfront, real estate experts estimate the current value of the land alone could exceed $1 billion.
In what appears to be another clean success, the opened in 2011 as a stunning 70-story waterfront condominium tower in Panama City. Designed by Colombian architects, the private beachfront setting offers direct views of the Pacific Ocean and Panama Bay. The building was developed by Mr. Trump and Mr. Roger Khafif, President of the K Group (a local resort development group). The tower is mostly private condos, but also includes 369 hotel rooms, retail shops, a casino, a spa, a gym, and meeting and event spaces.
And Abandoned Projects
Initially called the Trump International Hotel & Tower Fort Lauderdale, another beachfront property from Trump didn't fare as well. It originally had a completion date of 2007, but it never saw the light of day due to a defaulted $139 million loan (and eventual foreclosure). In 2010, Mr. Trump stated he was no longer affiliated with the project, but the building, designed by Michael Graves — with 108 luxury condominium residences and 181 condominium hotel units — was saved by Hilton's luxury brand. It's set to open as the Conrad Fort Lauderdale Beach later this year.
Further south, Trump Ocean Resort Baja Mexico, a project announced in 2006, was meant to be a 526-unit hotel condominium in Playas de Tijuana (30 minutes from San Diego), but the project collapsed due to financial issues. It was a joint venture between the Trump Organization and Los Angeles-based real estate development company Irongate (the two also joined to create the more successful Trump International Hotel and Tower in Honolulu). Investors claimed they were led to believe that Mr. Trump was supervising the project — however, he was simply licensing his name for the development, and subsequently also sued the company, which is another story in itself. The resort, not surprisingly, is yet to open.
As Well As Recent Controversies
Even some of Trump's successes have experienced similar tensions, particularly since Trump hit the campaign trail. A project valued at $1.2 billion, the 92-story Trump International Hotel & Tower Chicago opened in 2008, and Condé Nast Traveler named it the "hottest new hotel in North America." But a local craft brewery, 5 Rabbit Cerveceria, made headlines in the Chicago Tribune last year when it pulled its beer from the Trump Tower's mezzanine-level bar, Rebar, citing Mr. Trump's derogatory comments toward Mexican-American immigrants during a recent campaign speech: "(Mexico is) sending people that have lots of problems, and they're bringing those problems with us. They're bringing drugs. They're bringing crime. They're rapists. And some, I assume, are good people."
In fact, this wasn't the only severed relationship based on those comments. Last year, The Washington Post reported that Chef Jose Andres dropped out of a deal to open a David Rockwell-designed restaurant in the brand-new Trump hotel in Washington D.C., slated to start taking room reservations in September (Mr. Trump is now suing Mr. Andres for $10 million). Ironically, Mr. Trump may be relying on undocumented workers to finish the $200-million hotel.
And when Mr. Trump called for a temporary ban on Muslims entering the U.S., Trump Hotel Waikiki spokeswoman Alyssa Hui said "Our hotel welcomes all guests" and "is not in any way affiliated with the campaign." Only time will tell how Mr. Trump's two new properties — opening Azerbaijan and Indonesia, predominantly Muslim countries — will be received.
Also troublesome is the HBO documentary series "Vice," which aired an episode showing migrant workers living in horrifying conditions, being paid less than they had contracted for, and having their passports held hostage by the developers.
How Trump's Political Views Affect Travelers' Choices
All the negative press is certainly making an impact on young travelers. Billy Peck, a 23-year-old concierge at a new hotel opening in Williamsburg, Brooklyn said: "I wouldn't stay at any Trump hotel because I refuse to put any kind of money back into a man whose views are so racist, and so sexist, and so chauvinist. I believe that even the quality of his properties are not [indicative] of the best properties on the market, either."
Will the Trump Collection of Hotels suffer any great losses based on Mr. Trump's views, or the outcome of the campaign? Perhaps, or perhaps not — but as The Washington Post reported, financial disclosures show that his businesses have continued to boom, and even grow, throughout the campaign. As one 34-year-old Forbes Travel Guide Inspector, who asked to be kept anonymous, put it, "I hate Donald Trump, but his hotels are nice."
Related Links:
All products are independently selected by our writers and editors. If you buy something through our links, Oyster may earn an affiliate commission.