The weather in New York City sure can be unpredictable. [Editor's note: Last week I sat on my couch wrapped in a blanket as Mother Nature dropped a foot of snow and ice on the streets outside. That was less than two weeks after the temperatures hit a unseasonably high 70 degrees in February.] But don't let this deter you from the plethora of activities the city has to offer. Whether you're here in the middle of a winter snowstorm or a late summer heat wave, there is always something new and exciting to see and do. Here is a list of what weather you can expect each month, and the variety of events and sights the city has to offer.
January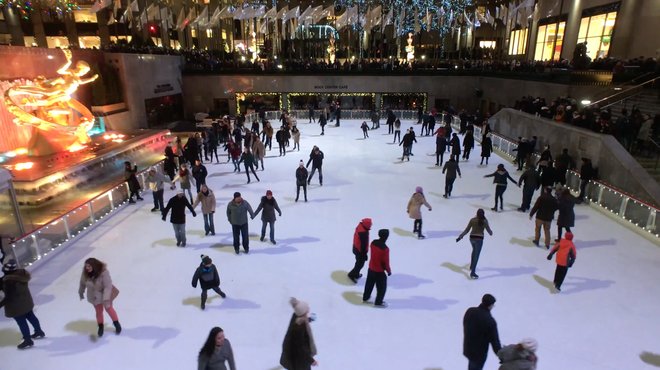 After a long night celebrating New Year's, the most adventurous travelers can participate in the annual New Year's Day Polar Bear Plunge at Coney Island. There's no fee, but a suggested donation goes to Camp Sunshine, a retreat for kids with life threatening diseases. And the temperature will likely be above freezing, with the average high in January being 39 degrees. January is also an excellent time to visit for those looking to save some money with the celebration of Hotel Week, Broadway Week, and Restaurant Week all happening during the month. For visiting sports fanatics, the Knicks, Nets, Rangers and Islanders are all in season, providing ample games to chose from in various boroughs. Families will have plenty of options with the Rockefeller Christmas tree still up through the first week in January, multiple ice skating rinks around Manhattan, and many museums to warm up in on those extremely cold days.
Where to Stay in January: The Knickerbocker is right in the Times Square, so you won't have to walk far to see major sights. Plus, nearly every subway line stops nearby, making it a perfect hub to get around the whole city — while staying warm underground.
Video: What to Do in NYC in the Winter
February
https://www.instagram.com/p/BLJ_2gcDBye/
True winter hits New York City in February — it averages the most snowfall of any month of the year, with temperatures fluctuating between the 20s and 40s. Despite the snow, February in NYC is chock full of events. Start the month with the end of Winter Restaurant Week, and continue your month of good food with Super Bowl parties, Valentine's Day celebrations, and Mardi Gras festivities with jazz music and cajun food. For those looking to spend their time in New York doing something other than eating tons of great meals, February is home to the first of New York's two fashion weeks. While tickets to the fashion shows aren't available to the public, that doesn't mean you won't get a chance to run into some of fashion's elite. Visitors looking to take in some of the culture New York City has to offer can pick up tickets to the Metropolitan Opera or the New York City ballet, both at Lincoln Center.
Where to Stay in February: Stay right near Lincoln Center at The Empire Hotel, so it's just a quick walk to the opera and ballet. The Upper West Side is filled with great restaurants and bars where you can take advantage of the month's offerings.
Read More: 19 Quintessential NYC Winter Experiences
March
While March brings with it the start of spring, that doesn't mean winter has left the building. Expect at least one late season snowstorm at some point during the month, but aside from that, the average temperature should have a high around 50 degrees, perfect for those looking to venture outside after a cooped up winter. The St. Patrick's Day parade turns the entire city into a sea of green and is one of the biggest events in March. Women's History Month provides a variety of events, from specials at beauty salons to all-female jazz performances and comedy shows. For those cold days still hanging on, hockey and basketball are still in full swing, with March Madness playing on the screens in almost every sports bar around the city. And Holi, the Hindu festival of colors comes to New York with live music, tinted powders, and great food.
Where to Stay in March: If you make the Peninsula your home base on St. Patrick's Day, you might be able to catch the parade from your room — the hotel is right on 5th Avenue.
April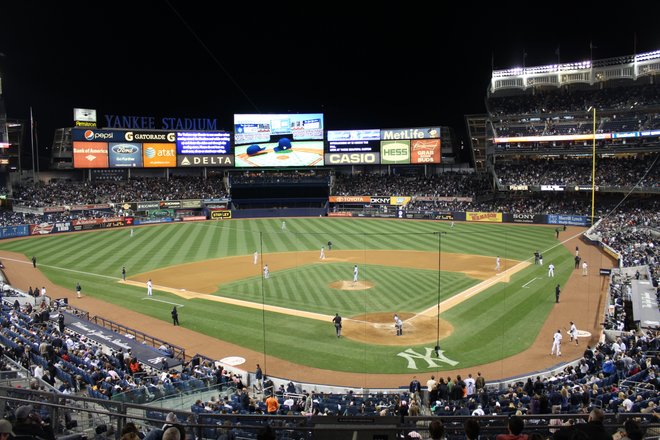 By the time April rolls around, spring is in full bloom. As the average high is 60 degrees, New Yorkers will find any excuse to be outside. First off, baseball is back! So for sports fanatics, Yankee Stadium and Citi Field are must-see destinations. Second, the Smorgasburg food market returns to its two outdoor locations starting the first weekend in April. It's in Williamsburg on Saturdays and Prospect Park on Sundays, so head to Brooklyn to try some of New York's best food all in one place. Easter weekend in New York is great for families — dress in your Sunday finest, grab a bonnet, and join the parade up 5th Avenue. If you happen to be in New York during a rainy day (which happens rather often in April), hope it falls during the Tribeca Film Festival and snag some tickets to some of the greatest Indie films of the year.
Where to Stay in April: If you're up to staying in Brooklyn, try the William Vale, which is right near Smorgasburg's Saturday location in Williamsburg.
May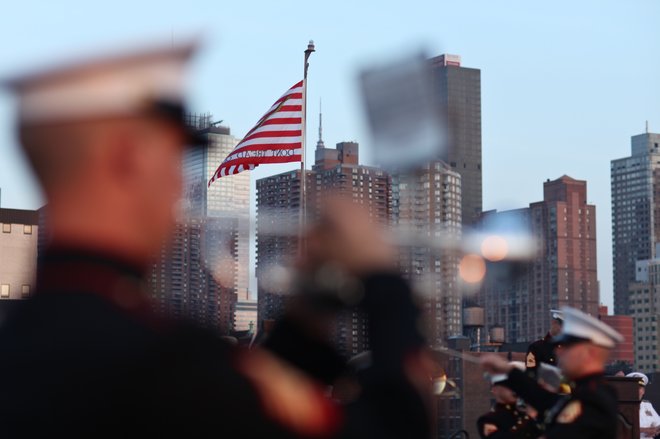 May is a great month to seize the temperate weather (68 degrees on average) before the oppressive summer heat arrives. The ever-expanding Citi Bike program around the city makes exploring fun and exciting — while sneaking in some exercise! Many restaurants around the city have Mother's Day brunch specials if you want to spoil mom. While many New Yorkers escape the city during Memorial Day weekend, it's a great time to check out the parks in full bloom without the crowds. Each of the five boroughs has its own Memorial Day parade to check out, and with the end of Fleet Week coinciding with the three-day weekend, there will be plenty of ways to show your support for the troops. For culture seekers, the month of May also marks the beginning of the Shakespeare in the Park season at Delacorte Theater in Central Park. If you're looking to just walk around, May is a great time to explore the Highline.
Where to Stay in May: The Standard is right on the Highline!
June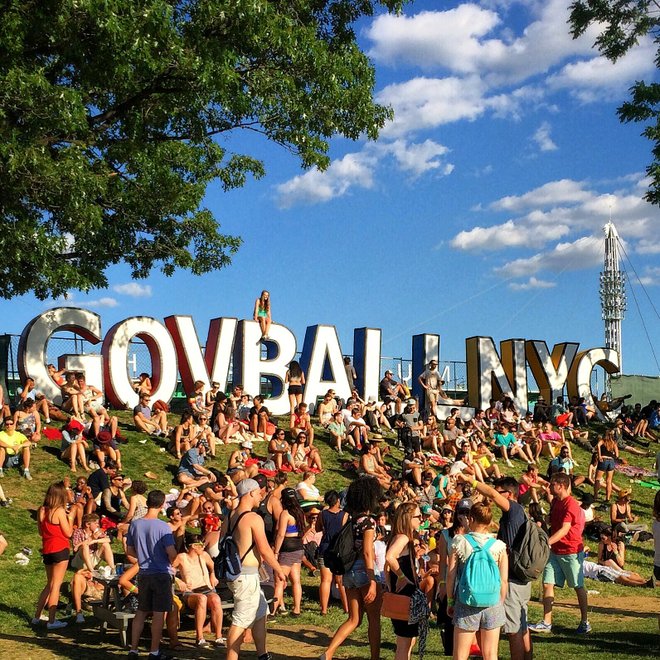 Outdoor events are a plenty during the month of June — average temperatures spike up to 80 degrees — with every and all types of concert occupying spaces in each of the boroughs. The first weekend hosts New York's only true major music festival event, with Governors Ball taking over Randall's Island. Jones Beach's summer concerts start in June, and Summerstage is a free concert series around the city. If you're looking to pair some dancing, classic cocktails, and 1920s frocks with your music, check out the annual Jazz Age Lawn Festival on Governor's Island. Celebrate culture with Gay Pride week and the Puerto Rican Day Parade. If you're looking to relax and enjoy some food, try one of the many dinner or brunch cruises that sail around the island of Manhattan. Sports fanatics can cheer on the final leg of the Triple Crown in the Belmont Stakes in Queens.
Where to Stay in June: The Dumont NYC, an Affinia Hotel, is located just a few blocks away from the ferry that whisks music lovers off to Governors Ball.
Read More: The Best NYC Rooftop Bars for Summer
July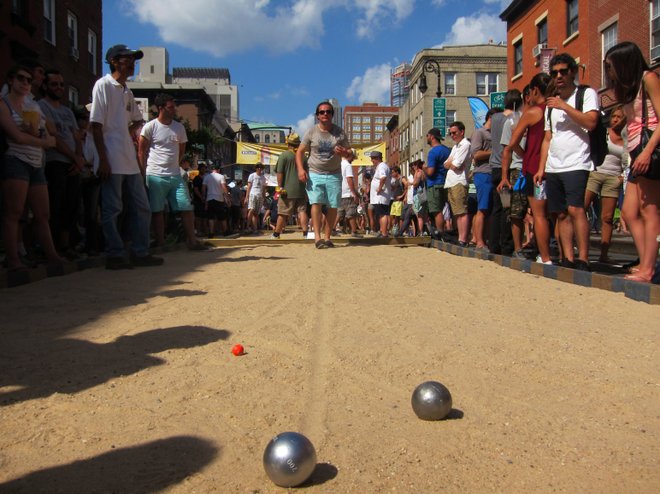 Kick off the sweltering month (temperatures are firmly in the mid 80s) with BBQs, hot dogs, and picnics to celebrate Independence Day. If you have time, check out Nathan's annual hot dog eating contest in Coney Island. Just make sure when the sun sets, you're in a place to watch the Macy's Fourth of July Fireworks. There are tons of fun events the rest of the month as well. Those with an interest in culture should check out the Bastille Day celebrations. Every July 14th, Smith Street in Brooklyn's Boerum Hill closes down for a French-inspired street fair with food, music, drinks, and petanque, a game similar to bocce. For those looking to dance and party, you have several options, too. Check out Mister Sunday parties for daytime drinking and dancing to hot DJs, or for the more tame crowd Midsummer Night Swing is a three week event at Lincoln Center that includes dance lessons and music. After a long day of exploring the city, once a week Bryant Park opens up its lawn to those looking to lounge, picnic and take in a classic film under the stars.
Where to Stay in July: Want to beat the heat? Stay at the James, which has a rooftop pool. It's conveniently located in SoHo.
Read More: What to Do in NYC This Summer That Only Locals Know About
August
https://www.instagram.com/p/BG5dP02Ppm_/
You'll feel that summer sun when the hot month of August rolls around, with temperatures averaging a high of around 88 degrees. Make sure to enjoy summer exclusive events like Summerstage, the Bryant Park Film Festival, and Shakespeare in the Park before they're gone for the winter. The second weekend of the Jazz Age Lawn party takes place in August, so if you missed it in June, you get a second chance! During the first three Saturdays in August, be sure to take advantage of Summer Streets, where the city closes off nearly seven miles of Park Avenue from Brooklyn Bridge to Central Park for everyone to play, walk, run, and bike without worrying about traffic. If you're sick of baseball by the time August rolls around, the U.S. Open comes to NYC just in time — end your summer by checking out some tennis greats in Queens.
Where to Stay in August: The Omni Berkshire Place is only two blocks over from Park Avenue, so you'll be in prime position to take advantage of Summer Streets.
September
https://www.instagram.com/p/BRB0tvlgiN6/
Kick off the month with the last long weekend of summer with Labor Day celebrations around the city. Take a day trip to Rockaways or Brighton Beach and enjoy the dog days of summer with your toes in the sand and the waves crashing nearby. (Temperatures are still in the high 70s for most of the month, so you can still enjoy the beach, hopefully with less crowds.) For EDM lovers, Labor Day weekend means the Electric Zoo music festival takes over Randall's Islands. Continue to enjoy the rest of the U.S. Open during the first weeks of September, but don't let it distract from the return of football season! The Giants and Jets return to the Meadowlands in New Jersey, and with the heat of summer still hovering, BBQs and football take over Sunday afternoons. For two weeks in September, beer halls and gardens all around New York City will be celebrating Oktoberfest, so don a lederhosen and drink some beer. For pork lovers, September means the annual Pig Island festival in Red Hook with more than 20 chefs serving up their best pork belly, pork pizza, and bacon covered dishes. The San Gennaro festival takes over Little Italy for a week with pizza, sausage and pepper sandwiches, and a cannoli-eating contest. September also means the return of Fashion Week to NYC, so be on the lookout for models and designers.
Where to Stay in September: You'll be right near Little Italy for San Gennaro if you stay at the Nolitan Hotel.
October
https://www.instagram.com/p/BLhRsC7Bwl_/
For baseball fans, October means postseason, and where better to watch games than in the city that is home to the team with the most World Series wins? Plus, instead of sweating at the summer games, you can enjoy cool temperatures that average 64 degrees during the day and 50 degrees at night. Aside from baseball, football season is still going strong, and NBA and NHL pre season starts, making October a great month for the check out the eight teams in the city. Not into sports? Get ready to let out your inner geek during New York Comic Con, which attracts over 150,000 visitors each year. For the foodies out there, New York Food and Wine Festival hits the city with over 100 food events featuring some of the world's most recognized and celebrated chefs. Film buffs should check out the New York Film Festival during the first two weeks of the month. If that's not enough, Open House New York is a weekend where some of the famous places around the city are open to the public for behind-the-scenes tours. If you're looking to get in some winter activities before the crowds arrive, the ice rink at Rockefeller Center opens in October. The second half of the month is overrun with Halloween events, including parades, ghost hunting, and pumpkin-carving contests. Make sure to take advantage of the last few weeks of warm-ish weather by checking out the changing foliage in the parks, and hitting Smorgaburg's last few outdoor weekends before it heads inside for the winter.
Where to Stay in October: Stay just a 15-minute walk north of the Javits Center at the Kimpton Ink48 during Comic Con.
November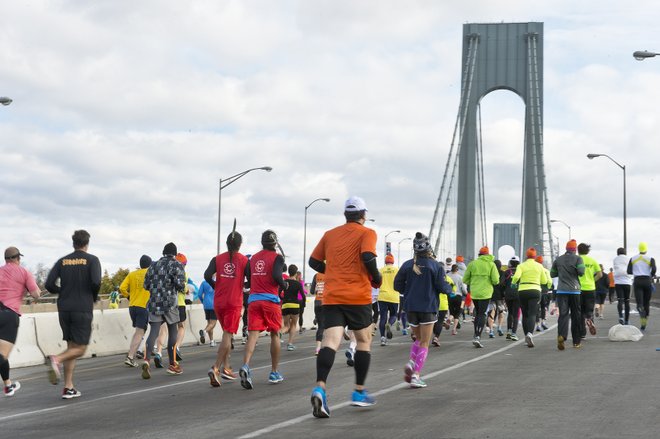 The first weekend of November brings the New York City Marathon, which is a fun event for runners and spectators alike. As the weather starts to cool down (average highs are in the mid 50s), many New Yorkers start to head inside, which makes November an excellent month to check out the many museums around the city. Whether you're looking for science and history at the Museum of Natural History, art at the MoMA or the Met, or more niche topics at the Museum of the Moving Image or the Intrepid Sea, Air and Space Museum, there are endless options. The Radio City Christmas Spectacular returns to the stage in November for those looking to check it out before the holiday crowds hit. If you're in New York during Thanksgiving weekend and willing to deal with the cold and crowds, the annual Macy's Thanksgiving Day Parade is great for kids, with balloons old and new, floats, marching bands, and more marching up 6th Avenue.
Where to Stay in November: If you stay at the Mandarin Oriental on Columbus Circle, you'll have a great view of the Macy's Thanksgiving Day Parade.
December
The holidays arrive full force in December, and temperatures are still relatively warm — an average high of 43 and a low of 32. Depending when Thanksgiving falls, the Rockefeller Christmas Tree lighting either happens the last Wednesday in November or the first in December. Holiday windows will be on display in multiple stores along Fifth Avenue, including Bloomingdales, Barneys, and Saks Fifth Ave. Bryant Park Winter Village not only has an ice rink, but also more than 100 shops and food vendors to explore, tasting samples and picking out the perfect gifts. Other ice rinks around the city include the famous ones in Central Park and Rockefeller Center, but also one outside Brookfield Place in the Financial District, one at the Standard Hotel, and one at the South Street Seaport. Sports lovers are in luck; hockey, basketball and football are still in season, so check out some of New York's famous stadiums and arenas. Brave visitors can test their strength and tolerance by spending New Year's Eve in Times Square with millions of others in 30 degree weather.
Where to Stay in December: If you're going to brave Times Square on New Year's Eve, you'll want to stay close by — try the Renaissance New York Times Square. Plus, you can see the entire affair from the hotel's R Lounge, if you pay for a ticket.
What to Bring to New York:
If you're planning your New York City trip during the colder months whether it's to see the tree or watch the ball drop, do NOT underestimate the city's cold. Although the summer can be stifling, the winter is truly opposite. Bring along a nice winter jacket, like this Fur Trim Down Parka from Canada Goose to stay warm.
Considering black is NYC's unofficial uniform, stay on theme with this super cute little black Desert Dress for your summer nights out in the city. The style not your jam? No worries, Reformation offers a slew of different black dress styles all over their site–the choice is truly yours.
Read More: Tour the Holiday Window Displays on NYC's Fifth Avenue
You'll Also Like:
All products are independently selected by our writers and editors. If you buy something through our links, Oyster may earn an affiliate commission.