It has been two weeks since the U.S. presidential election, but emotions are still running high. So much so that many of us may be thinking we should get away from the chatter in the neighborhood (and the office and the supermarket) to clear our heads. While we can't promise you'll escape the news, we do know where you can get a new perspective. In the spirit of unity, we're voting for a vacation to the other side. Meaning: Democrats, think about visiting a state that tipped red this year. You too, Republicans. Head to a state that went blue. Full disclosure: we're suggesting states that are slightly more under the tourist radar, and thus, would more likely be a fresh discovery. (That's why you won't see traditionally blue states, like California and New York, for example). Now, pack up for a non-partisan vacation. You may just meet people who aren't anything like you thought they'd be. Hooray for red, white, and blue!
Blue: New Mexico
Albuquerque's recreation scene centers on mountain biking, hiking, and skiing around Sandia Peak. A 50-mile urban bicycle loop has also just been installed, and is popular with locals. Valles Caldera National Preserve, one of the world's few supervolcanoes, is the newest national park designated by the National Park Service. It's unique in its preponderance of historic cabins and prehistoric rock carvings alongside wild turkeys and elk.
A burgeoning trend in Albuquerque is pairing a culinary indulgence with fitness — a form of guilt-free fun. Prime examples include: YogaRitas at El Pinto; Wine and Pilates at Casa Rondena Winery; and the New Mexico Chile Bike Tour and Brewery Bike Tour offered by Routes Bicycle Tours & Rentals.
Big annual festivals are also a thing in southern New Mexico, especially the Albuquerque International Balloon Fiesta (October) and the Festival Flamenco Internacional de Albuquerque (June), the largest flamenco festival outside of Spain. Can't get there in October for the hot air balloon excitement? For the next best thing, stop at the Anderson-Abruzzo Albuquerque International Balloon Museum to see specimens of every shape and design. The exhibits use the latest technology to give visitors the feeling of being airborne during history's biggest balloon and zeppelin launches.
For more than a few people, however, the highlight of a trip to this area is hugging an alpaca. Skip and Stacie Chavez — he's a former Long Islander and she's from Maine — have cultivated a slice of furry heaven at Sky Ridge Alpacas, a working ranch that opens itself up to tours. These folks can tell you everything you want to know about alpacas — and a few things you didn't think to ask. (No, they're not the same as llamas). Believe it or not, a few of them are so tame, they even pose for selfies.
Where to Stay:
Blue: Washington
Head to the northwestern corner of the country and you'll find Mount Rainier and Olympic National Park. Both of these gorgeous attractions sit in Washington, a state that features a rugged coastline and houses residents who embrace an outdoorsy lifestyle. Get a taste of that fresh-air sensibility on a guided hike or canoe tour at Mercer Slough Nature Park in Bellevue, which lies 20 minutes east of Seattle. This wetland area is home to 170 species of wildlife as well as a blueberry farm. Park rangers answer your questions along the way.
If you drive further east, it's easy to find craft food and drink plus friendly people to serve it up. Meet "Mercantile Max" at the Country Mercantile in Pasco. This gourmet specialty food shop off Highway 395 is popular among travelers searching for real local flavor. Country Mercantile features homemade chocolates and ice cream, a bakery, Mexican food, and fresh produce. Max Uriostegui, the store manager, is known for greeting every customer personally and offering out-of-towners his insider tips to Washington's wine country.
Bale Breaker Brewing Company in Yakima is owned by siblings Patrick Smith, Meghann Quinn, and Kevin Smith, who hand-brew their ales to show off the unique hops harvested in the Yakima Valley. Their great-grandparents first planted hops there in 1932, the year before Prohibition ended. Talk about good timing. The 27,000-square foot facility features an on-site taproom with a beautiful outdoor patio and lawn area (outside food is welcome for a picnic).
You can start or finish your trip to Washington by stopping at the Space Needle in Seattle. The iconic landmark houses SkyCity, a restaurant that serves Pacific Northwest cuisine at 500 feet high. Tip: At CityPASS.com, visitors can buy tickets to the top attractions in Seattle at a discount. And with those tickets, you can also skip most main entrance ticket lines.
Where to Stay:
Sure, there's great skiing in Colorado, but there's also so much more that might lend itself a bit better to getting to know a few locals. Colorado, and Denver in particular, is having somewhat of a renaissance when it comes to food, given that one of the top trends is urban food halls with local treats. Cases-in-point: the just-opened Central Market in Denver's hip River North (RiNo) neighborhood; the Stanley Marketplace, a community hub with a beer hall and several restaurants; and the historic Jessup Farm, an artisan village in Fort Collins that's full of locally-sourced products. So how do such places help you meet people? Most feature community tables. Plus, you'd have to almost try not to chat with any of the multiple vendors who are passionate and knowledgeable about how food and drink is sourced in Colorado.
Colorado is also having a boom in women's adventure programs throughout the state. Chicks Climbing & Skiing gets females climbing in the Ouray Ice Park through their various clinics. Backcountry Babes is an outdoor education program that specializes in cultivating women's leadership in the outdoors through yurt trips. This winter, Colorado Parks & Wildlife's Women Afield Program will teach women basic skills in hunting, shooting, sports, and angling.
Iron Mountain Hot Springs in Glenwood Springs offers 16 mineral hot springs, soaking pools, and a large freshwater pool. People travel to these springs from all over the state, so it's a great way to engender camaraderie in a calm atmosphere as you all soak.
Where to Stay:
This midwestern state's most popular tourist destination is probably Cedar Point, dubbed the "Roller Coaster Capital of the World." So while you might connect amusement parks with Ohio, it may not jump to mind when you think of rock and roll. Cleveland, located on the southern shore of Lake Eerie, is home to the Rock & Roll Hall of Fame and Museum. Further south in Dayton lies another stellar attraction, the National Museum of the U.S. Air Force, which is always free. The recently expanded Presidential Gallery, which houses planes used by Roosevelt, Truman, Eisenhower, and more, is a good place to think about commanders in chief separate from their Republican or Democrat labels.
Craft cocktail bars also continue to pop up in Cincinnati, such as the apothecary-themed Sundry and Vice and — attention Stephen King fans — Overlook Lodge, a bar inspired by the hotel in "The Shining."
Another surprise about Ohio: it has islands. Just head north to the coast of Lake Erie and take a ferry ride to either Kelleys Island or South Bass Island. The former offers a tranquil, secluded getaway, while the latter is home to Put-in-Bay, which draws families during the day, and those looking for nightlife, well, at night. Put-in-Bay also happens to have Perry's Victory & International Peace Memorial, which represents peace and an undefended border with Canada. How apropos is that?
Where to Stay: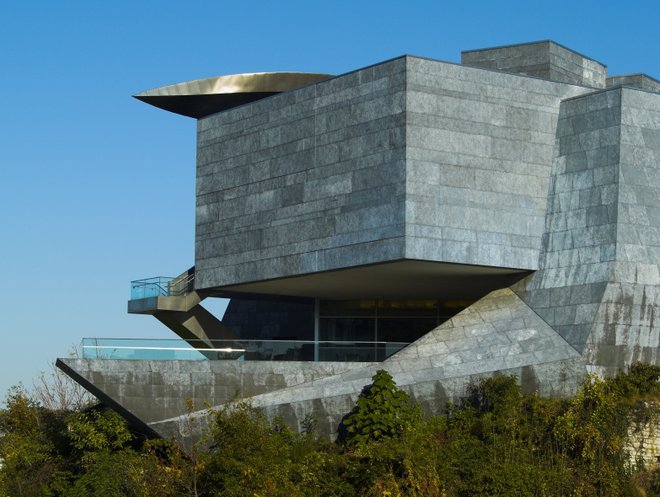 Chattanooga, Tennessee, for those who haven't been, is an outdoor adventure mecca. Always a hub for rock climbing and hang gliding, it now has the new, three-mile stretch of the Tennessee Riverpark to thank for a boom in running. The older, 10-mile stretch meanders through wetlands and woods, while this new tract traverses a big chunk of the city's industrial heritage.
Chattanooga is becoming a southern hub for Ironman, Stumpjump, and triathlon races after hosting three previous events. They'll host the 2017 Ironman 70.3 World Championship in September 2017.
Ready to head indoors? The imposing Hunter Museum of American Art, which sits atop a cliff, displays virtually all forms of art from colonial days to today. They often host short-term exhibits with local artists. Currently, it's Verina Baxter, who creates minimalist — even utilitarian — works in stone and metal.
Chattanooga's entertainment district continues to grow with the opening of Station Street. The low-traffic street, which includes patio access to The Comedy Catch, Stir, The Terminal Brewhouse, and the Revelry Room, has a stage for regular outdoor performances.
Where to Stay:
Come summer, Alaska is often seen from the deck of a cruise ship. There's nothing wrong with that, except that it's hard to really see the destination, let alone get a feel for the locals, that way. Those traveling to Juneau in the winter can follow Kelly "Midgi" Moore, owner of Juneau Food Tours, on a Prohibition-themed progressive dinner that explores the city's food scene. Beginning in December, the three-course, three-drink, three-location dining experience teaches guests about the history of Alaska. Each stop along the way features signature cocktails or wine pairings. History buffs who really want to set the mood can wear a period costume.
Visitors to Alaska's interior can see the state sport, dog mushing. Whether watching one of the short-distance races that take off from downtown Fairbanks or the Yukon Quest International Sled Dog Race, a 1,000-mile trek between Fairbanks and Whitehorse, you can get close to the action. Visit one of the mushing kennels and meet the musher to find out what it's like to raise and train a dog team. Then, take the reins (literally) yourself.
A ride on the Alaska Railroad, which operates year-round, shows off snow-covered peaks and offers a chance to see the aurora borealis during the winter. The Railroad travels between Anchorage and Fairbanks, passing through the scenic Matanuska-Susitna Valley and Denali National Park and Preserve. Riders can stop at the quaint town of Talkeetna for a pie-making lesson at the historic Talkeetna Roadhouse. The session is led by Trisha Costello, the proprietor, who has been a stickler for the perfect crust for more than 20 years.
Where to Stay:
Related Stories:
All products are independently selected by our writers and editors. If you buy something through our links, Oyster may earn an affiliate commission.