Rome is the third most visited city in Europe, just behind Paris and London respectively, and this comes as no surprise. After all, the "eternal city" a) is beautiful and b) has a rich history dating back to 753 BC, with so many historical sites that seeing them all is nearly impossible. (Might we suggest an extended stay?) Some of the top iconic structures in Italy's capital include the Colosseum, Pantheon and Roman Forum. Gorgeous architecture and sculptures are at every turn, and the city is a must-visit for art history lovers -- the Sistine Chapel, Pietà in St. Peter's Basilica, and Trevi Fountain are just a few of the astounding works there. In between visiting museums and iconic sites, travelers can enjoy all the gelato and pasta they can scarf down, because, well, "when in Rome!" Whether you're looking for a bed-and-breakfast experience outside the city center or a luxury hotel within easy reach of monuments like the Spanish Steps, these 12 hotels run the price and amenity gamut. And after you browse, you can also check out the over 100 hotels in Rome we have on the site. Now that's bellissimo!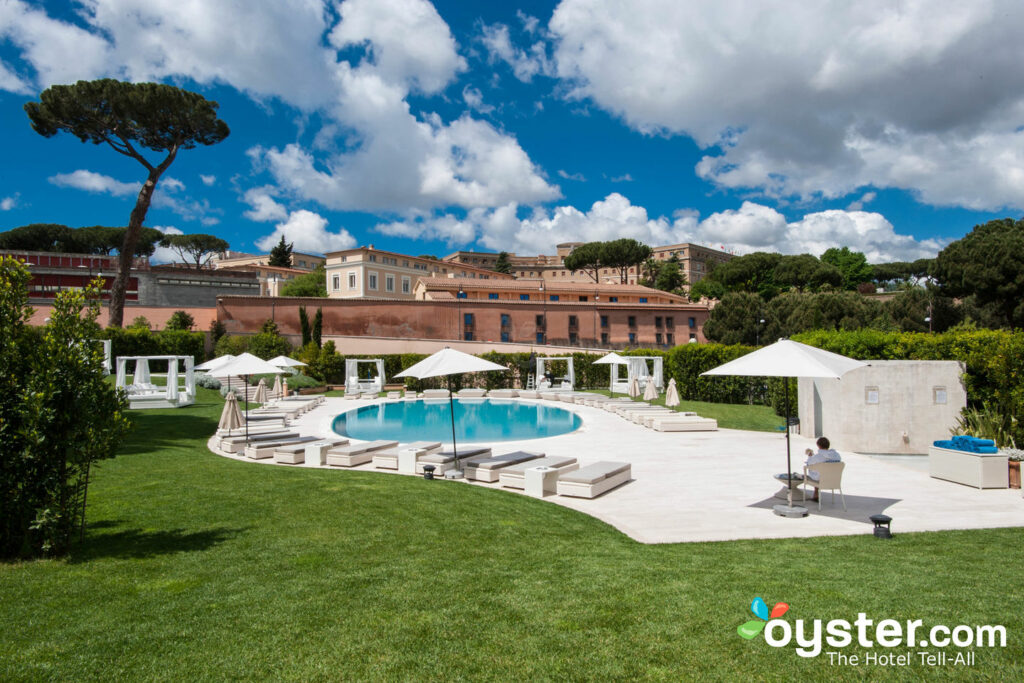 The upscale Gran Meliá has significant historical relevance as it was built on the ruins of the ancient Roman villa of Emperor Nero's mother. Many archaeological relics were found during the building of the hotel, which are displayed in the public areas. Now a chic resort, the property is a unique, luxury oasis within the center of Rome. Located next to Vatican City, the Gran Meliá has the rare fortune of being surrounded by lush, beautiful gardens and multiple outdoor areas. It is also one of the only hotels in Rome to have a pool. Additional amenities include a spa, two bars, a restaurant run by one of Italy's most famous chefs, and a library/tea room. The 116 rooms are incredibly modern and sleek, with state-of-the art appliances.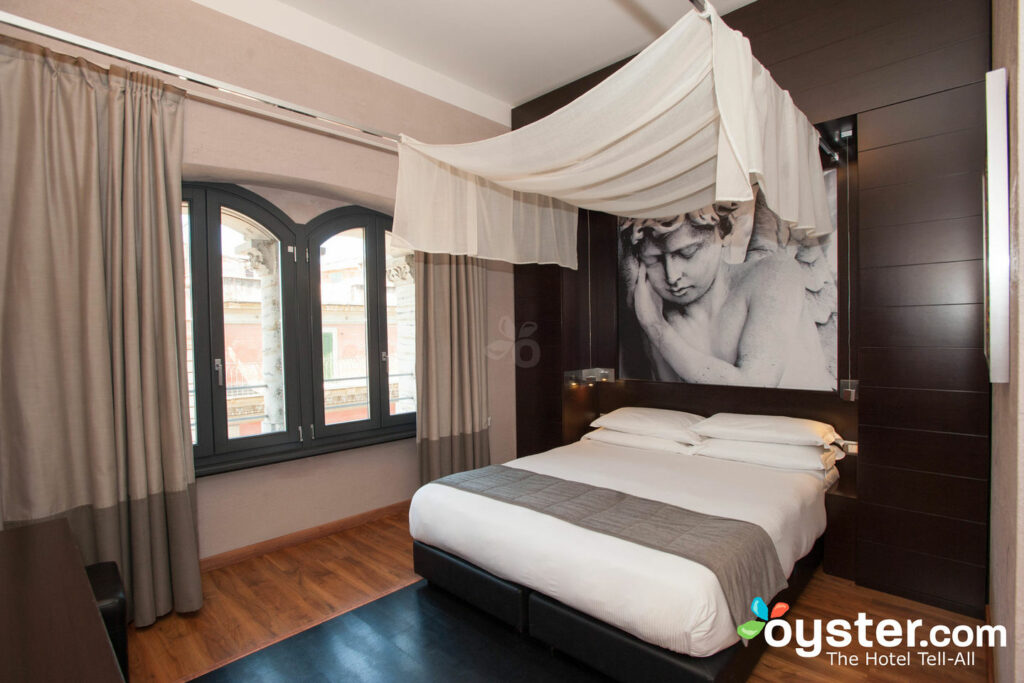 Spread out over two floors of a 19th-century office building off the Via Nazionale, the 17-room mid-range Hotel Dharma displays boutique style and service at prices that are low for this neighborhood. Its soundproof rooms, ranging from Doubles and Triples to Select Suites with hot tubs, balconies, and Turkish baths, all come with air-conditioning, free Wi-Fi, flat-screen TVs with international and premium channels, and minibars. Breakfast, taken at the hotel's Cotto Restaurant next door, is included in the room rate.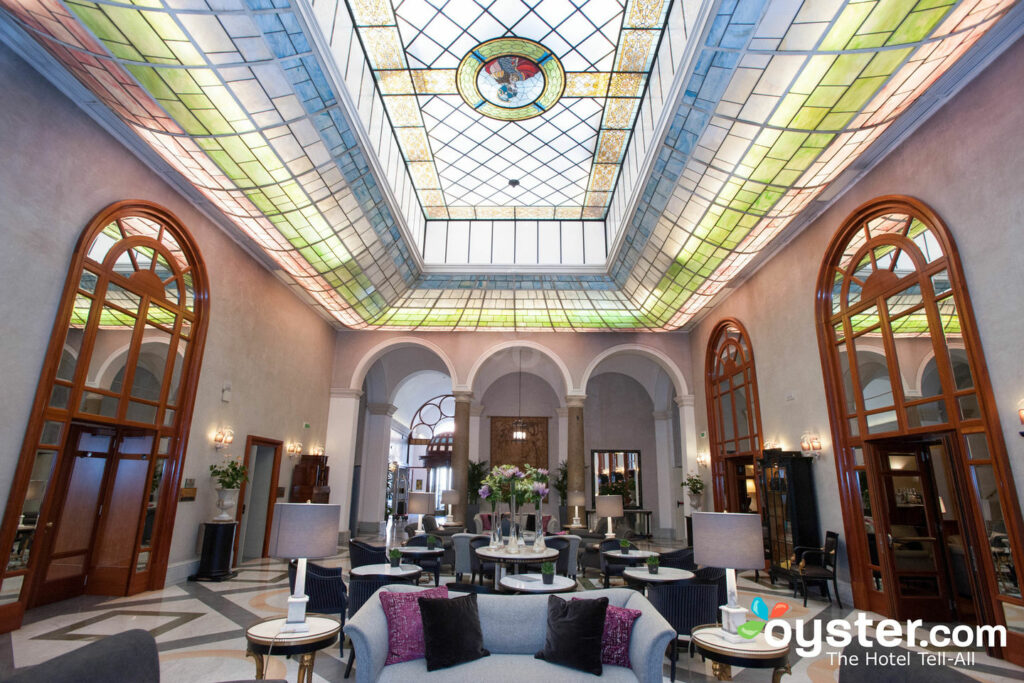 The Grand Hotel de la Minerve is an upper-mid-range, elegant hotel in the heart of Rome, a two-minute walk from the Pantheon. The 134 rooms and suites are classically furnished, and all come with minibars and free Wi-Fi, and have beautiful marble bathrooms with tubs. Breakfast is included with some packages. There's no fitness center or pool, but there's plenty of meeting spaces, and a rooftop garden with great views of the Pantheon. Prices are high, mostly due to the location.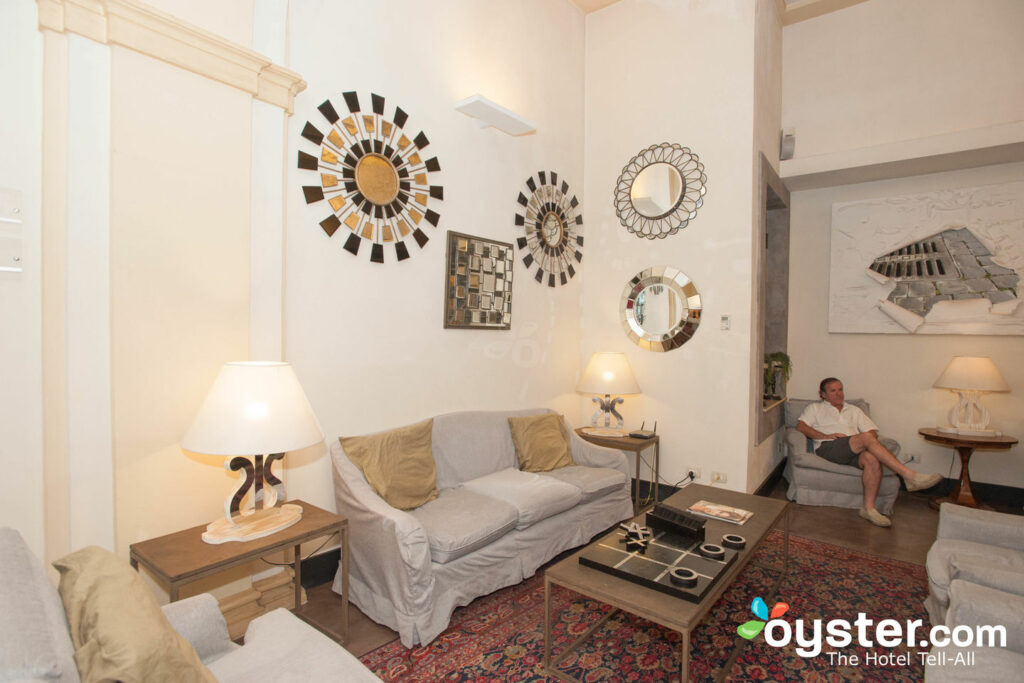 The family-run and budget-friendly Hotel Adriano, with recent updates, is hip and comfortable, although rooms are quite small. Its location is its best feature, ideal for travelers wanting to stay in the city center and walk to attractions, visiting one monument after another. It also has a lovely breakfast room with substantial buffet and a gin bar and lobby lounge area. Comfortable rooms are sophisticated and include creature comforts like flat-screen TVs and Wi-Fi. All in all, it's a great hotel for anyone wanting to explore the center of Rome, including couples and families, and its small meeting room and presentation room also make it a good choice for business travelers.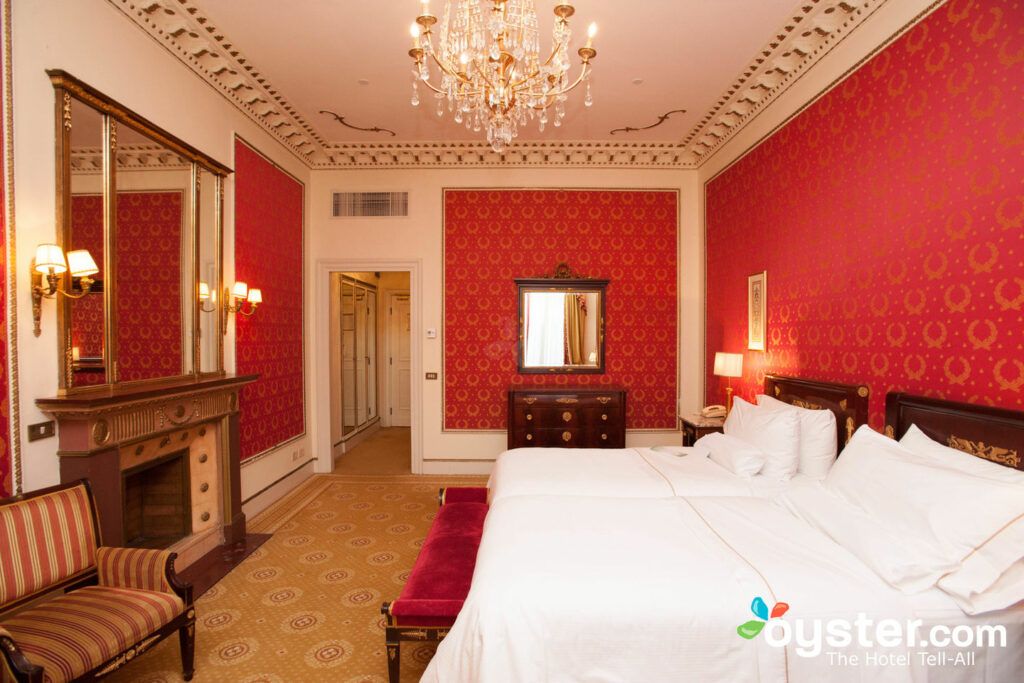 This Beaux Arts property has occupied prime space on the celebrated Via Veneto since 1906, and was made famous by Federico Fellini's 1960 movie "La Dolce Vita." The elegant hotel, rebranded by Westin several years ago, has hosted celebrities and statesmen, and also has the distinction of having the largest suite in Europe, the nearly 12,000-square-foot Villa La Cupola. The Doney Restaurant, with a sidewalk patio right on Via Veneto, serves Italian food, and offers a Mediterranean buffet at lunch. The hotel has two bars, one inside and one outside the lobby. There's a spa with a small indoor pool, as well as a sauna, Turkish bath and whirlpool, and a large fitness center with personal trainers available.Rooms are nicer than at the nearby (and often similarly priced) Rome Marriott Grand Flora, though those looking for a more boutique experience may want to consider The First Luxury Art Hotel.
This charming, upper-mid-range property is a former private residence that was originally built in 1910. It's located in the San Lorenzo neighborhood of Rome, next to a university, so the area is very young and lively, with many restaurants, pubs, and bars. Removed from the city center, the hotel isn't within walking distance of the main monuments but is just a short drive away. The 39 guest rooms are elegant and decorated in Baroque style with private balconies. In addition to a charming patio garden, the hotel also has a chic rooftop terrace with sunbeds, cushioned wicker chairs, large umbrellas, and vine-covered walls.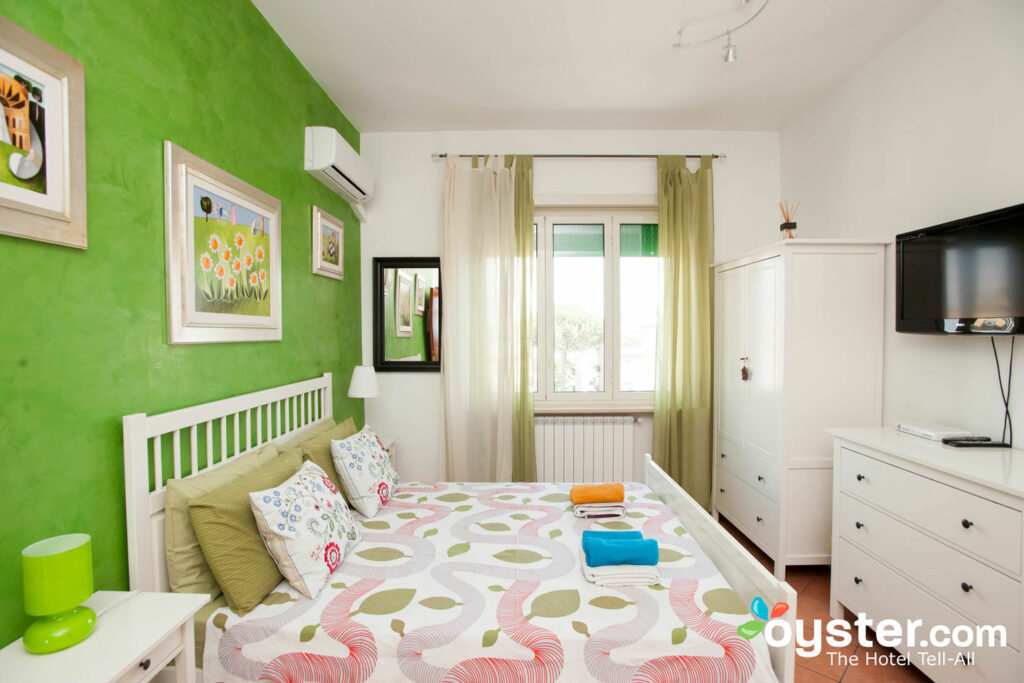 The expression "when in Rome …" truly applies at La Duchessa, given that it is a budget-friendly, small bed-and-breakfast in a residential apartment complex outside of the city center. With a beautiful park within walking distance and reliable trams taking visitors to the city center in 20 minutes or less, this warm home with three guest rooms isn't a great value when compared with hotels right in the city center, but it is a great choice for travelers who want to live as the Romans do, if only for a few days. It has a lovely outdoor terrace and breakfast is included.
The four-pearl Artemide's prices are higher than those of its nearby competitors, but with the higher rates comes a renovated spa, complete with indoor pools, a sauna, and a massage room. There's a large free breakfast, a popular rooftop bar and restaurant, and free minibars in the stylish rooms. This property is also smack in the middle of central Rome, within walking distance of the Piazza Della Repubblica and Termini Station, making it convenient and decidedly upscale.
Designed for travelers who prefer a quiet, peaceful oasis to the busy city, the budget-friendly but nonetheless upscale Villa Duse is a small, posh, and romantic gem in a high-end residential area outside of Rome. Although the center's historic attractions are a 20-minute bus or 15-minute cab ride away, there are a few good restaurants, parks, and shops within walking distance. Individually decorated rooms filled with antiques are truly special. There's a lovely terrace with seating and a free breakfast buffet that includes decadent cakes and pastries.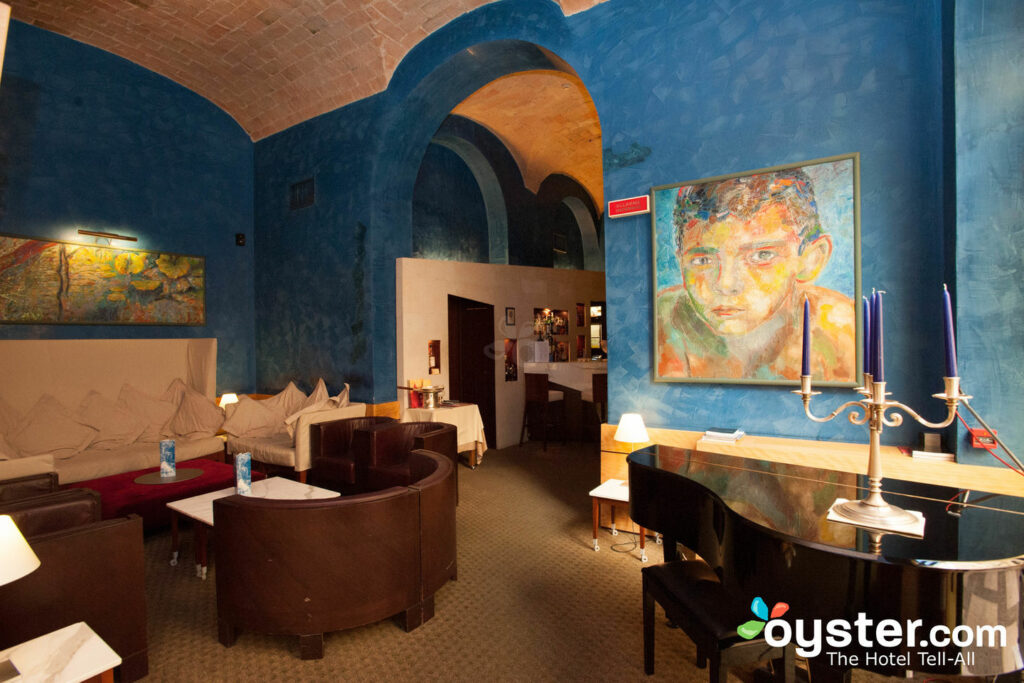 Although its expensive-sounding name and four-pearl status might confuse hotel seekers, the Empire Palace has surprisingly reasonable rates, especially for its central, mid-city location. It's surrounded by several great restaurants and shops, and is near the lovely Villa Borghese Gardens. An actual palace from the late 1800s that was inhabited by a Venetian family until it was converted into a hotel in 2000, the Empire maintains a regal feel in its swooping, arched ceilings and gilded columns. Although some rooms are small and all could use some updating, breakfast and Wi-Fi are included in the room rate, and the hotel is equipped with a large meeting and presentation space. It's a good choice for tourists who want to explore Rome and don't mind a slightly longer walk to such attractions as the Colosseum, and for business travelers who need a space to hold meetings or events.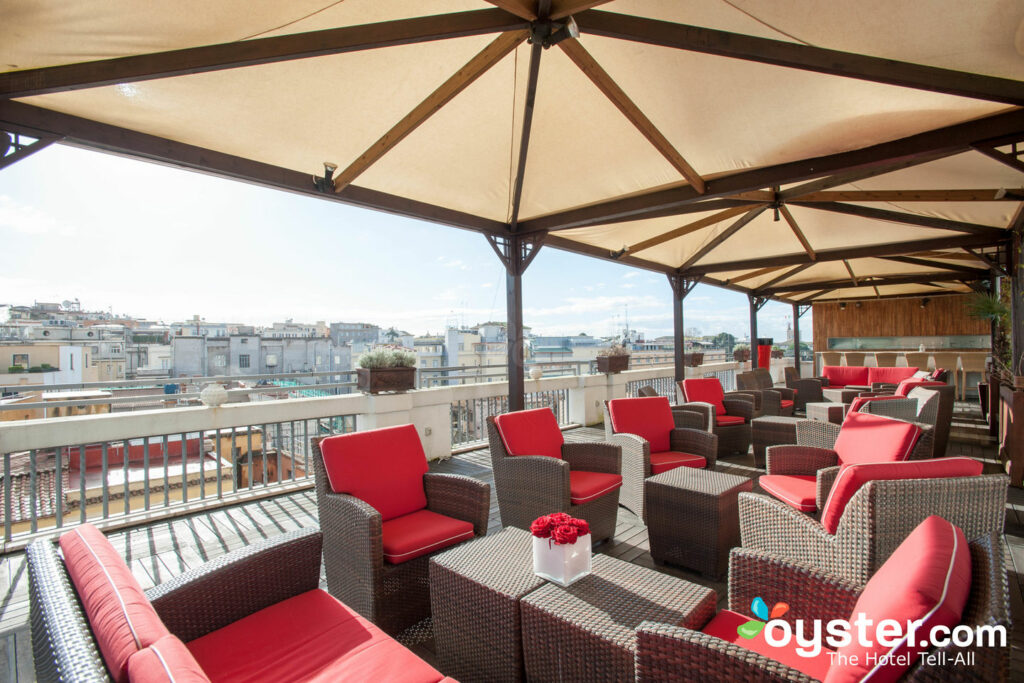 This 96-room Boscolo Aleph near the Piazza Barberini is both luxurious and a bit eccentric, with a playful heaven and hell theme; the public areas and restaurants are decked out in dramatic reds. Attractive rooms have Murano glass fixtures and artful black-and-white photos of Roman street life; some have terraces. The heaven-inspired spa features an indoor pool in a Roman bath style, a whirlpool area (that lacks seats), a sauna, and a hammam. Additionally, there's a bright fitness center and a rooftop terrace bar with panoramic city views. Just note that the Wi-Fi requires a code for each login, the breakfast is a bit pricey, and showers are not fully enclosed.
Rich in character and detail, the budget-friendly,14-room Villa Pirandello is a small, intimate hotel located outside the city center in an upscale residential neighborhood that's convenient to public transportation. A converted convent, it's ideal for tourists seeking to escape the urban chaos at the end of the day but still wanting to be within easy reach of the city center. Rooms are simple and have flat-screen TVs and minibars. There's a welcoming outdoor veranda where guests can enjoy the free breakfast buffet of delicious fresh cakes and seasonal fruit. The hands-on owner even cultivates art and culture with regular events like book presentations and cocktail socials.
All products are independently selected by our writers and editors. If you buy something through our links, Oyster may earn an affiliate commission.