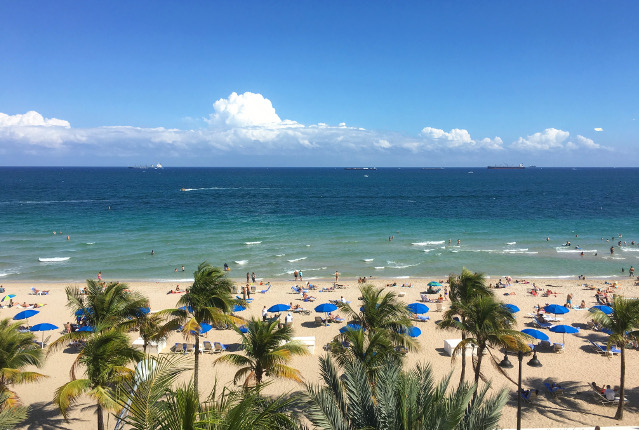 Last weekend I had brunch with Neil Patrick Harris and David Burtka at the Ritz-Carlton Fort Lauderdale. Seriously! I mean, it was me plus dozens of others, but still. The A-List duo hosted a Bloody Mary brunch for the South Beach Wine and Food Festival (SOBEWFF), which, as you might have guessed, is not limited to just South Beach in Miami. In fact, there's a whole range of events as part of the Taste Fort Lauderdale series. You might not think Miami's neighbor to the north to be a major food destination, but you'd be surprised. It's not every day a food event can draw the likes of NPH and Burtka (not to mention Anne Burrell, Amanda Freitag, and Geoffrey Zakarian, among others). But SOBEWFF is like the Art Basel of food and drink—everybody from locals to celebrities are here to eat, imbibe, and see and be seen.
https://www.instagram.com/p/BQ_CUhoDOsg/
But it's not just the talent that draws the hungry crowds (though I did hear that someone flew in from Ohio just to meet NPH). The core of the series is, of course, food, and Fort Lauderdale has made strides in the foodie scene. In recent years, the city has jumped on a bunch of cuisine-related trends, from craft cocktails and local brewing to farm-to-table restaurants. Take, for instance, Stache, which is a cocktail bar inspired by speakeasy mastermind Charles William Stache (yes, that's his real name). Libations include such drinks as South of the Border, a mezcal and gin concoction with lemon juice, cane syrup, kale juice, celery bitters, and chili olive oil. They were one of many local cocktail joints that partook in the inaugural Taste Fort Lauderdale cocktail event, DRINK Fort Lauderdale: A Time Machine Experience, which took guests' tastebuds on a wild ride through the decades. On the food end, we've got spots like One Door East, a global tapas restaurant housed in a former garage that sits, appropriately, one door east from its sister eatery, the fine-dining Valentino Cucina. In fact, the range of delectable dining isn't limited to Fort Lauderdale proper. Head south to Hollywood, where Geoffrey Zakarian opened a new restaurant, Point Royal, at the just in time for SOBEWFF. There's also the popular Hyde Beach Kitchen + Cocktails just down the road in Hallandale, where diners can sit on a terrace overlooking the azure waters.
https://www.instagram.com/p/BLRQj4HBRpq/
With so much development in Fort Lauderdale—seriously, there's construction everywhere—there's only going to be more and more growth in the culinary scene. Sure, Fort Lauderdale has already established its presence as a major beach destination and cruise port, but when you book your next trip to the Venice of America, consider leaving the sun and sand for a tasty dining experience.
More Restaurants to Try
Louie Bossi Pizza, pasta, and a piazza with bocce. What more can you ask for?
Market 17 Taste farm-to-table options on the menu, or trick your senses with their popular "Dining in the Dark" experience.
Burlock Coast Want a fresh catch? Look no further than this waterfront seafood spot in the Ritz-Carlton Fort Lauderdale.
Kuro The Seminole Hard Rock in Hollywood is home to this innovative Japanese restaurant.
PizzaCraft Artisan Pizzeria Don't rush through this eatery to get to the speakeasy hidden inside. Stay for a pizza pie.
Boatyard Head to the canalside of Fort Lauderdale to enjoy seafood and steak as you watch the yachts sail by.
More Bars to Try
Rhythm & Vine Part beer garden, part warehouse lounge, this hot spot near FATVillage serves drinks out of an old Airstream. There's a food truck for late-night munchies, too.
Apothecary 330 Capitalizing on the speakeasy trend, Apothecary is tucked away behind PizzaCraft Artisan Pizzeria. Expect red leather banquettes, dazzling glassware, and inventive libations.
Kreepy Tiki Bar & Lounge Fort Lauderdale is still a beach town at heart, so there needs to be a tiki bar somewhere. Enjoy contemporary takes classic tiki cocktails.
Funky Buddha Brewery Drop by the taproom to sample their latest brews, or take a tour of the brewery on weekends.
Mai-Kai There's room for two legendary tiki joints in Fort Lauderdale. Mai-Kai opened in 1956 and has been a mainstay ever since.
You'll Also Like:
All products are independently selected by our writers and editors. If you buy something through our links, Oyster may earn an affiliate commission.