Best Value Hotels in Oranjestad, Aruba
Take a look at the best value hotels in Oranjestad.
See All Oranjestad Hotels
1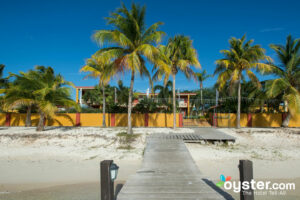 The family-owned, three-pearl Surfside Marina is a beachside boutique hotel that's a welcome alternative to the bustling megaresorts fighting for space on Aruba's jam-packed beaches. With only six suites, it's a tiny place, but there's enough to like to make this one of the area's nicest mid-range hotels -- guests get abundant breakfasts delivered daily to their private balconies, which feature views of Surfside Marina and the beach. The rooms are modern and homey, with a mix of hardwood furniture and bright accent colors keeping them cheerful. Flat-screen TVs, air-conditioning, and free Wi-Fi all come standard, and it's a 15-minute walk to the center of Oranjestad. Compare this hidden gem with Talk of the Town Hotel Beach Club just across the street, which has and on-site pool and only slightly higher rates.
2
Arubiana Inn is a two-pearl hotel close to Eagle Beach. While the property is pleasantly removed from the hustle and bustle of the island's busy beachfront strip -- it's a 15-minute walk to the beach -- there are still a number of restaurants and shops found within walking distance. The 18 guest rooms are simple and inviting, and all have small terraces overlooking the picturesque courtyard. It may be worth comparing rates and amenities with Carinas Studio Apartments.
3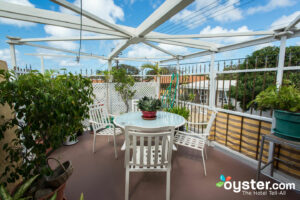 With its hospitable owners and charmingly mismatched style, the value A1 Apartments offer an authentic and homey slice of Aruba. Its seven rooms are air-conditioned units with full kitchens, shared terraces, and flat-screen Smart TVs. Decor is dated, however, and reflects its budget status. There are also no extra features on-site. Still, the well-equipped rooms make this a solid, affordable choice for long-term travelers or those who want to be within walking distance of downtown Oranjested. Another alternative to consider is the nearby Camacuri Residences with brighter, modern suites, an on-site pool, and a location closer to Surfside Beach.
4
There's something about the budget Camacuri Apartments Aruba that gives it a surprising charm, despite its modest apartment-style rooms and simple amenities. Maybe it's the hotel's grounds, which have a bit of Caribbean romance, including an interior courtyard that's dotted with street lamps and leads to a tropical pool area. Each of the 39 rooms have kitchens and modern amenities like flat-screen TVs, though the style is dated. While the most popular tourist sights require a drive to reach, the nearest beach is a 12-minute walk from the hotel, though the proximity to the airport means noise can be an issue. This is a safe bet for independent travelers, though Bubali Bliss Studios is closer to the most famous beaches and is more modern, though rates are higher.
5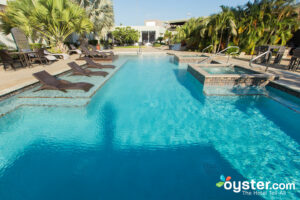 Talk of the Town Hotel & Beach Club is a three-pearl hotel located across the street from Surfside Beach in downtown Oranjestad, one of the island's busiest entertainment hubs. The location is perfect for guests who like to be in the center of the action, but it could be too crowded for others. The hotel's 62 rooms and suites feature sleek decor and balconies or terraces, and some have kitchenettes and separate living areas. The outdoor pool and courtyard area is pretty, and a free daily buffet breakfast is included in the room rate. Travelers seeking a hotel with a quieter location, closer to some of the island's main beaches might consider the Brickell Bay Beach Club instead.
6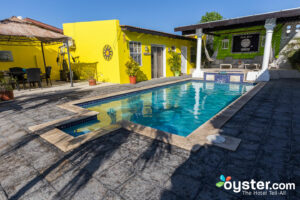 Solar Villa is a two-and-half-pearl hotel a short drive from downtown Oranjestad. The hotel's seven guest rooms are quaint and colorful, with some featuring kitchens, sofa beds, and separate living areas. The dining and entertainment of downtown Oranjestad is a 20-minute walk away, and the beaches are even farther, making this hotel best for guests with their own transport or those who don't mind relying on the bus to get around. Budget travelers might also want to consider Beach House Aruba, which offers the same intimate ambiance along with easier access to the beach.
7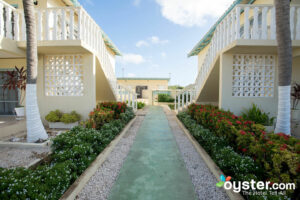 The two-and-a-half-pearl Vistalmar Apartments is a mixed bag -- on one hand, rates are reasonable and dive companies are just down the street in Varadero Caribe marina. On the other, rooms are dated, there are no common features, and the airport-adjacent location feels abandoned. That being said, rooms are spacious and impeccably clean, and they also include full kitchens and breezy balconies. As such, this is a fine choice for unfussy budget travelers or scuba divers looking for a simple, no-frills place to crash -- provided that they have there own cars (it's a 10-minute drive into Oranjestad). Those looking to socialize, or to be closer to popular spots like Eagle Beach, should consider Sasaki Apartments, which has a lovely pool and similar rates.
8
For its budget status, two-pearl Perle D'Or offers a surprisingly solid set of amenities less than a 10-minute drive of Eagle or Palm Beaches. The bright, mid-size pool and pretty garden, along with affordable food at tasty Pam Pam Restaurant, draw the mostly young Dutch students who stay here. The hotel doubles as temporary housing for international students, which usually generates a lively vibe and may explain the austere, dorm-like rooms. Despite having mini-fridges, air-conditioning, and flat-screen TVs, the rooms are worn and unpleasant, and lack of hot water -- strange even for such a cheap hotel. The simple rooms here are brighter but much smaller in size than at comparably priced Aruba Blue Village.
9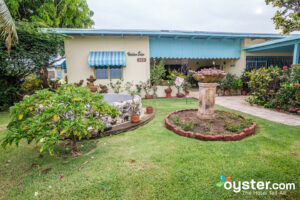 Hidden Eden is a budget bed-and-breakfast set in the residential neighborhood of Oranjestad. The hotel's four rooms are cozy and clean; some offer kitchenettes with microwaves. Garden grounds are beautiful, and free hot breakfasts served on the hotel's lovely patio are a thoughtful extra. The closest beach is a mile away and there are limited dining options within walking distance, making this hotel ideal for those with their own transportation. Guests might also want to consider Beach House Aruba, which offers the same down-to-earth atmosphere, along with easier access to attractions.