Best Kid-Friendly Hotels in Oranjestad, Aruba
Take a look at the best kid-friendly hotels in Oranjestad.
See All Oranjestad Hotels
1
Located on the northern edge of J.E. Irausquin Boulevard's Low Rise hotel zone, the 449-room La Cabana Beach Resort and Casino is across from Eagle Beach and walking distance to restaurants, shops, and bars. This upper-middle-range time-share resort packs in a lot of features from a casino, to a spa, to a large health club, and even a little chapel. Rooms are spacious with impressively equipped kitchens featuring garbage disposals and dishwashers -- plus private outdoor space. It's a social spot, so if you're looking for a romantic vacation, you might want to check next door at the Amsterdam Manor.
2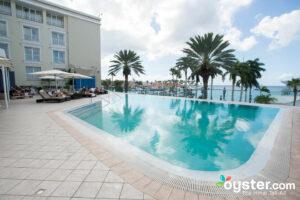 Located in Oranjestad's bustling cruise port, the upscale Renaissance Aruba Resort & Casino is packed with features not many Aruba hotels can match. Stand-out features include two casinos, eight bars and restaurants, two pools, and a luxury mall. The hotel is actually a massive resort complex with two distinct properties inside: the adult-only Renaissance Marina and the family-friendly Ocean Suites. All 556 rooms are impeccably modern, with a blend of sophisticated and retro decor plus coffeemakers, MP3 players, and flat-screen TVs. While the lagoon beach is a little underwhelming, it's hard to beat the hotel's private island (and visiting flamingos), and the beach there is more relaxed than the one at the similarly priced Holiday Inn Resort Aruba.
3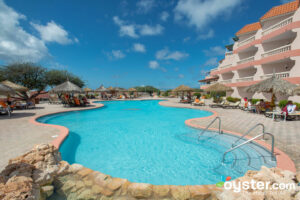 There's a lot to like about the three-pearl Paradise Beach Villas, and the hotel's familiar, social, and easygoing vibe are first among them. The 80 apartment-style rooms are pleasant, but decor is spartan and a bit dated. They include flat-screen TVs, air-conditioning, and full kitchens, and many have separate bedrooms. Two huge pools and Eagle Beach -- just across the street -- are nice-to-have perks, and there are three restaurants plus a spa. Wi-Fi is only free in the lobby, and the restaurants aren't cheap either (breakfast is not included in room rates). Travelers can also consider nearby Divi Village Golf and Beach Resort for more services, though it will come at a higher price tag.
4
Arubiana Inn is a two-pearl hotel close to Eagle Beach. While the property is pleasantly removed from the hustle and bustle of the island's busy beachfront strip -- it's a 15-minute walk to the beach -- there are still a number of restaurants and shops found within walking distance. The 18 guest rooms are simple and inviting, and all have small terraces overlooking the picturesque courtyard. It may be worth comparing rates and amenities with Carinas Studio Apartments.
5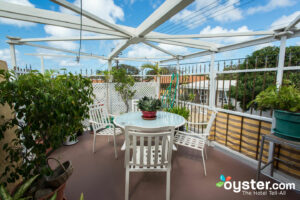 With its hospitable owners and charmingly mismatched style, the value A1 Apartments offer an authentic and homey slice of Aruba. Its seven rooms are air-conditioned units with full kitchens, shared terraces, and flat-screen Smart TVs. Decor is dated, however, and reflects its budget status. There are also no extra features on-site. Still, the well-equipped rooms make this a solid, affordable choice for long-term travelers or those who want to be within walking distance of downtown Oranjested. Another alternative to consider is the nearby Camacuri Residences with brighter, modern suites, an on-site pool, and a location closer to Surfside Beach.
6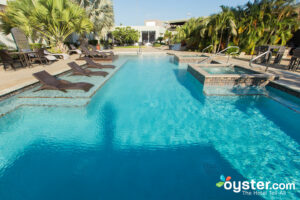 Talk of the Town Hotel & Beach Club is a three-pearl hotel located across the street from Surfside Beach in downtown Oranjestad, one of the island's busiest entertainment hubs. The location is perfect for guests who like to be in the center of the action, but it could be too crowded for others. The hotel's 62 rooms and suites feature sleek decor and balconies or terraces, and some have kitchenettes and separate living areas. The outdoor pool and courtyard area is pretty, and a free daily buffet breakfast is included in the room rate. Travelers seeking a hotel with a quieter location, closer to some of the island's main beaches might consider the Brickell Bay Beach Club instead.
7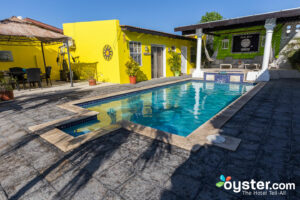 Solar Villa is a two-and-half-pearl hotel a short drive from downtown Oranjestad. The hotel's seven guest rooms are quaint and colorful, with some featuring kitchens, sofa beds, and separate living areas. The dining and entertainment of downtown Oranjestad is a 20-minute walk away, and the beaches are even farther, making this hotel best for guests with their own transport or those who don't mind relying on the bus to get around. Budget travelers might also want to consider Beach House Aruba, which offers the same intimate ambiance along with easier access to the beach.
8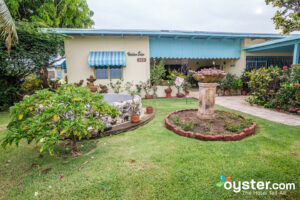 Hidden Eden is a budget bed-and-breakfast set in the residential neighborhood of Oranjestad. The hotel's four rooms are cozy and clean; some offer kitchenettes with microwaves. Garden grounds are beautiful, and free hot breakfasts served on the hotel's lovely patio are a thoughtful extra. The closest beach is a mile away and there are limited dining options within walking distance, making this hotel ideal for those with their own transportation. Guests might also want to consider Beach House Aruba, which offers the same down-to-earth atmosphere, along with easier access to attractions.