Best Value Hotels in Athens
Take a look at the best value hotels in Athens.
See All Athens Hotels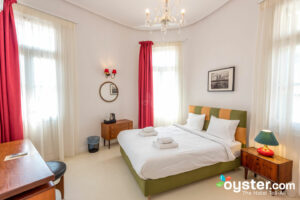 Hip interiors match the hip Psirri location at the budget-friendly City Circus Athens, where upbeat decor and cleanliness make it one of Europe's best-rated hostels. Near Monastiraki and the metro, it's well-placed amid bars, restaurants, and cafes, and the Acropolis is walkable. The 19 brightly colored rooms come in dorm or private setups, and though basic, all have AC, free Wi-Fi, and shared or en-suite bathrooms. Circus themes here mean plenty of eccentricity and color, and good features include a rooftop terrace, great chill-out spaces, and a restaurant serving breakfast. For lower rates, check out the AthenStyle Hostel, which still offers rooftop action, but less impressive design and cleanliness.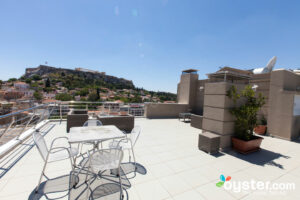 Located in the hustle and bustle of Athens, Plaka Hotel is a mid-range property with 67 guest rooms in an excellent location for sightseeing. Both the Parthenon and Acropolis can be reached in less than 15 minutes by foot. The rooftop lounge is the highlight of the hotel with its comfortable seating and stunning views of the Acropolis. Guest rooms are on the small side however and some still have tube-style TVs. The free breakfast buffet offers Greek items like feta cheese and olives. There's no pool or fitness center, and guests looking for posher accommodations may want to check out the similarly priced Y Hotel, which has chic guest rooms and a fitness center but no rooftop bar.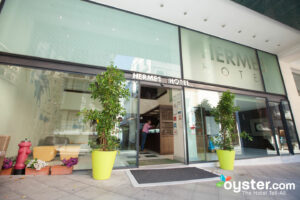 This mid-range, 45-room hotel is a clear favorite for families, couples and older travelers desiring a quiet, safe and convenient location. Rooms are modern and clean. Common areas include a library, a small rooftop deck, and a cute children's' playroom with a Little Tykes house, toys, books and markers. The location in the heart of Plaka is excellent, and within a 15-minute walk to the Acropolis. Younger travelers looking for a slightly trendier vibe may want to consider the similarly priced Athens Center Square.
Not far from downtown Athens, the 16-room value Marble House is a friendly, family-run hotel ideal for tourists on a budget. It's situated near a metro station and bus stop, plus many of the city's sights can be reached on foot. There are almost no amenities to speak of, but the property's peaceful cul-de-sac location and quaint terraces with plenty of greenery are appealing. A classic theme is found throughout the public spaces, while colorful rooms are more simply decorated. All rooms have flat-screen TVs, safes, and mini-fridges, but some share bathrooms or lack balconies. Note that in-room air-conditioning and the continental breakfast require fees, but Wi-Fi is free. It's worth comparing rates with Athens Studios, which offers free breakfast and a sports bar.
The mid-range, 21-room Periscope Hotel, is in the posh Kolonaki neighborhood, about a 12-minute walk to Syntagma Square and Mount Lycabetus. The hotel is modern, sleek, and minimalist with a shades-of-gray color scheme, and its rooms come with aerial ceiling photographs of Athens, Tempur-Pedic mattresses, well-stocked minibars, free Wi-Fi, and flat-screen TVs. Some rooms have hot tubs and terraces. The trendy restaurant serves fusion food all day, and is a chic gathering spot for in-the-know locals. There is 24-hour concierge service, and room service (hours are limited). Guests also get free access to the nearby Holmes Place Health Club.
Centrotel is a clean and friendly two-pearl budget hotel in a not-so-great neighborhood in Athens. Young couples looking to save money and stay near the Victoria metro station choose this hotel for its spacious rooms (some with nice balconies and whirlpool tubs) and helpful staff. There is a nice breakfast buffet, but it isn't included in the rates. But the rates here are super affordable -- the slightly more sophisticated (and nearby) Areos Hotel costs a bit more for the same vibe and features.
The clue is in the name at the Acropolis View Hotel, where views of Athens' iconic monument are as good as its proximity to it. This lower-middle-range property offers 32 rooms with flat-screen TVs, free continental breakfasts, a 24-hour lobby bar, and a lovely rooftop terrace with panoramic views. Excellent positioning a stone's throw from the Acropolis, Parthenon, and Filopappou Hill makes it a winning pick for sightseeing travelers, and low rates are attractive. Interiors are a basic mix of dated and contemporary, but all considered, it's an excellent value choice. A touch pricier, the Acropolis Hill Hotel adds in a pool.
The 50-room, mid-range Philippos Hotel has an exceptional central location right below the Acropolis. Restaurants, bars, and public transportation surround this family-run property. The air-conditioned rooms come with mini-fridges but have somewhat dated carpeting and colors. While some rooms have balconies with wonderful views, others lack light. Wi-Fi and breakfast are free, and there's also an extremely modest business center with two laptops, and meeting rooms. Guests might want to check out the Philippos' sister property, Herodion, which has a fresher decor and more amenities.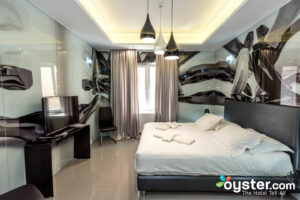 This boutique budget property has location in particular going for it, as it's situated right in the Plaka neighborhood, and most of Athens' main attractions are within walking distance. Interiors tend to look like a futuristic art installment, with boldly painted glass walls in rooms, and LED lighting and hanging white baubles by the front desk. The abstract aesthetic isn't for everyone, and the 16 rooms are on the small side, but clean fixtures, free Wi-Fi throughout, and jetted massage features in the showers are universally appealing. There's no pool, gym, business center, or parking here, but the top-floor restaurant offers great Acropolis views, a bar, and a breakfast buffet. For a similar location, but a more understated elegance, guests may prefer the nearby Sweet Home Hotel -- though rates are higher.
Just across from a small mountainside, the Acropolis Hill Hotel is a stylish, modern mid-range property in a peaceful downtown location. The 36 rooms are chic, but on the small side and come with mini-fridges and flat-screen TVs. Some have Acropolis views and balconies. The hotel has a lobby bar and an outdoor pool with a wood deck. Breakfast (included in the room rate) is served in a bright room with outdoor seating in the summer. Guests may want to compare rates at the Acropolis Ami Boutique Hotel, a three-pearl property with Acropolis views.
The mid-range Athens Habitat combines the amenities and services of a hotel with the autonomy and comfort of a spacious apartment. Located one block away from Kifisias Avenue -- a street full of offices and business buildings -- this is a popular pick for business travelers. The location is miles away from the Acropolis and other tourist hot spots; if you want to explore the ancient ruins of Greece, this is an inconvenient base. The rooms and suites are modern and bright and deliver on the details, from the contemporary kitchenettes to the furnished balconies. Reflexology and Reiki are on offer to wind down business-frazzled minds (reservations are necessary). It is worth checking out Elements Hotel Apartments, a similarly priced hotel with access to a swimming pool, only 10 minutes away by car.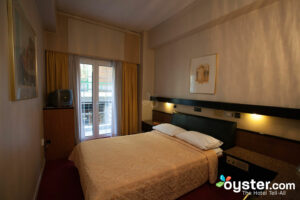 The Victory Inn is a charming, value hotel with 34 rooms on a residential street in central Athens. The small, air-conditioned rooms, which can't accommodate more than two guests, have a mostly '70s scheme, but they are well-maintained and come with mini-fridges containing free bottled water. Some rooms have balconies or terraces with seating. Bathrooms are tiny, with showers only, but there are nice little perks, such as robes. Several shops and sights are within walking distance, as well as such attractions as Pedion Areos Park, the Hellenic Motor Museum, and the National Archaeological Museum of Athens. Breakfast comes with a fee but can be taken in the rooms, and there is free Wi-Fi throughout.
This small, value-driven, 54-room boutique hotel has an emphasis on design. The trendy lobby is outfitted with big platform sofas framed by thick, white columns beneath a two-story ceiling. Guest rooms are stylish and comfortable and some have great views of the Acropolis. The big bonus here is the rooftop bar with fabulous views of the city. While the neighborhood is not conducive to late-night strolls, it is very convenient to Plaka, the Acropolis, and the metro. Those traveling with kids may want to consider Hotel Hermes, which is in a quieter area and has a kids playroom available.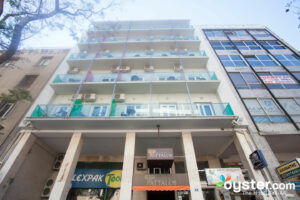 The 80-room, mid-range Attalos Hotel is in the heart of Athens' Plaka district, a 15-minute walk to the top of the Acropolis and near most of the historic sites, as well as popular flea and food markets. This family-run hotel is neither flashy nor opulent, but it is clean and well-maintained, with smallish rooms that offer a good base for tourists or business travelers, and a charming, spacious rooftop bar with panoramic views of the city. Aside from this and a basic breakfast (for a fee), there are few on-site amenities.
Katerina Hotel is a mid-range property located near a metro station in Metaxourgeio, but it is far from sightseeing attractions. It's close to some run-down neighborhoods that not all travelers would be comfortable in. The hotel's 51 rooms are slightly dated and have small showers, but adjoining rooms that can accommodate up to four people are available. A tasty breakfast buffet is included in the room rate, and the hotel has a bright cafe/bar area. Guests might want to check out the Plaka Hotel, a three-pearl property with a seasonal rooftop lounge that's within walking distance of the Acropolis, but has slightly higher rates than the Katerina.