Most Romantic Hotels in Eixample, Barcelona
Take a look at the most romantic hotels in Eixample.
See All Eixample Hotels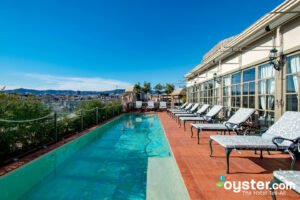 The Palace oozes elegance and Old World charm. Housed in an early 20th-century building a few blocks from the Gothic Quarter, the hotel is popular among well-heeled families, couples, and business travelers. The property boasts a Michelin-starred restaurant, Caelis; car service to the airport and major attractions; and a small but modern fitness center. The exclusive spa features the only Temazcal sauna in Spain, Anne Semonin products, and traditional Maya treatments. Classic, elegant rooms have upholstered walls, plush beds, and modern bathrooms with separate showers and tubs. Some even have Roman bath-style tubs. Updated in-room amenities include flat-screen TVs, minibars, DVD players, and free Wi-Fi. But there are no coffeemakers in the rooms, and you should expect to pay a hefty price for breakfast.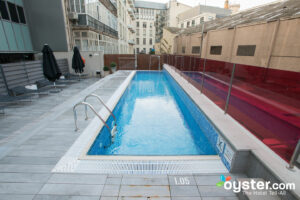 This 58-room boutique hotel in the heart of Barcelona has a relaxed, soothing vibe. The upscale hotel is close to most major attractions, and it's within short walking distance of Old Town and more modern shopping districts. Many rooms have views of the nearby hills. The proximity to the subway system will be convenient for some -- but annoying for others since the train rumblings can be heard from some rooms. The Sheraton Barcelona Diagonal is another good option and is equally well located for tourists wanting to be within walking distance of attractions.
At the 128-room Olivia Balmes Hotel, design is king. Almost every inch of this upscale hotel exudes sleek minimalism, giving it a sophisticated, contemporary vibe. Located in the heart of Barcelona's bustling, tree-lined Eixample neighborhood, high-end shops, trendy restaurants, and the city's historic areas are all within walking distance. Though the views are better from the rooftop terrace at the Royal Passeig de Gracia a few blocks away, the rooftop here has a pool. Other facilities include Seventeen Restaurant, with a local, seasonal menu. This is a terrific upscale option for the price, but if it's booked, the Hotel Pulitzer Barcelona is also stylish and similarly priced (though its pool and fitness facilities are at a health club off-site).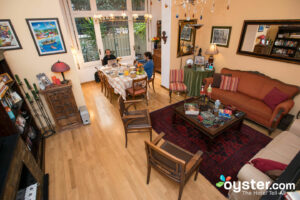 Housed in an elegant 19th-century Modernist building, BarcelonaBB is a charming and intimate bed-and-breakfast in the heart of the Eixample. Gaudi masterpieces and the metro are right nearby. Its five rooms (four share two bathrooms) are appealingly decorated and quiet. The free continental breakfast is plentiful and delicious, and the proprietors friendly and helpful with sightseeing information. This bed-and-breakfast is a terrific value, and a great fit for travelers who wish to forego a big hotel experience.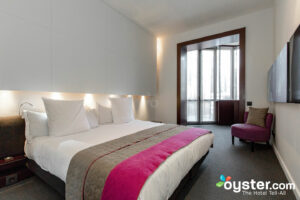 The SixtyTwo Hotel is a boutique option where old meets new. This stylish hotel is located in a historic building on the fashionable Passeig de Gracia in the center of Barcelona. Rooms are sleek with modern furniture and sexy open bathrooms that are large for Barcelona standards. Additional room perks include iPod docks, flat-screen TVs, and Nespresso machines. Beyond the inviting design and a free wine tasting for guests every Wednesday, the highlight of this hotel is its location in the upscale Eixample neighborhood, within walking distance of numerous attractions. However, the hotel does not offer a fitness center and there is a pesky fee for Wi-Fi.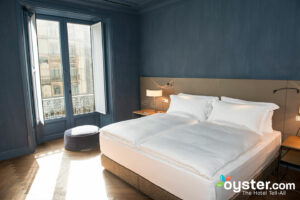 A smartly designed luxury boutique hotel, the seven-floor Alma Barcelona has 72 quiet, upscale rooms with flat-panel TVs and free Wi-Fi. Unlike the nearby Claris and Majestic, the pool here is indoors, so weather will never spoil your swim. The rooftop terrace has first-rate views of the Eixample and Sagrada Familia. Style here has a starring role: design elements include fingerprint swiping instead of room keys, and architectural features such as a minimalist light-filled atrium. The Alma is a chic and serene spot for travelers who want Barcelona cool and an Eixample location a half block from Passeig de Gracia shopping.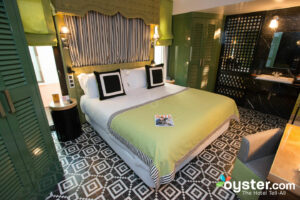 Room Mate Anna is a design explosion in the heart of Barcelona's Eixample. It's a two-minute walk to top shopping and Gaudi's Casa Batllo, and 10 minutes to busy Las Ramblas. The 81 stylish rooms are compact but offer decent amenities for a three-pearl hotel including minibars and electric kettles, and high-end rooms have balconies. There's a rooftop terrace with good city views and a small seasonal rooftop pool. The glam restaurant serves a well-received breakfast buffet plus a small room-service menu, and there's a chic meeting room. It's an intimate hotel with a dramatic style that might not suit everyone, so travelers looking for a more traditional hotel could take a look at Catalonia Eixample 1864 which is located nearby -- though rates can be higher and there's no pool.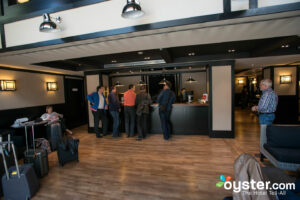 A clean, contemporary 10-floor hotel in the heart of the Eixample, the 150-room EuroPark is conveniently situated one block from the Girona Metro and four blocks from the Passeig de Gracia and Casa Batlló. Unlike some nearby hotels such as the Praktik or Catalonia Berna, the EuroPark has a swimming pool. It also offers a small but adequate fitness room and business center. Contemporary rooms are decorated in chic black and white stripes and come with free Wi-Fi and flat-panel TVs. All in all, the EuroPark is a good solid value for those seeking a convenient, well-located hotel with a wide range of amenities and facilities.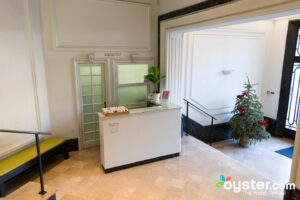 The two-and-a-half pearl, Barcino 147 is a homey bed and breakfast spread between two buildings in the leafy Eixample district of Barcelona. Conveniently located near the city center and many tourist attractions, the B&B is great for low-key, independent tourists looking to explore Barcelona. Owned by an artist and art collector, Barcino 147 is filled with richly colored decor and Romantic-era paintings. While many of the hotel's 12 guest rooms share bathrooms, there are also suites and full apartments for more privacy.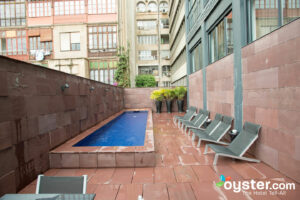 Business and leisure travelers alike may enjoy the extra space afforded by these 41 apartment-style guest rooms at the upper-middle-range Barcelona's Suites Avenue. The luxury hotel also has a hard-to-beat location opposite Gaudi's La Pedrera and within walking distance of Plaza Catalunya and Las Ramblas. The surrounding area is filled with shops and restaurants. Having so many dining options nearby is particularly helpful, since the Suites Avenue lacks an on-site restaurant. It's a good choice for travelers who will be spending more than a few days in Barcelona and want the comforts of home not typically found in a hotel. Kitchens with refrigerators, ovens, stovetops and coffeemakers are all included, and some rooms have small balconies. Travelers should know that many of the bathrooms lack doors, causing a lack of privacy within the guest rooms that can be an issue for some. Property features include a small rooftop pool and a fitness center.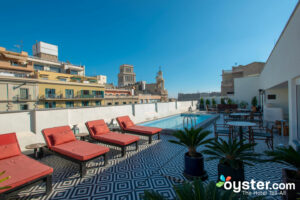 The 85-room H10 Metropolitan is an upscale hotel with an outstanding in Barcelona's posh Eixample, just a half-block from Plaza Catalunya. Barri Gotic and El Raval are within an easy walk, and there are shops and restaurants in every direction. Compact rooms have a fresh vintage-contemporary look and some offer private outdoor spaces with lounge chairs. Two outdoor pools include one on the rooftop with views of the city, plus a courtyard pool with a bar for drinks and light fare. An excellent breakfast buffet is served, but it's quite expensive, and dining is limited to light fare in the hotel's Eden Bar. For a similarly priced hip hotel, travelers could check out the sexy, LGBT-friendly Axel Hotel Barcelona, which has a spa.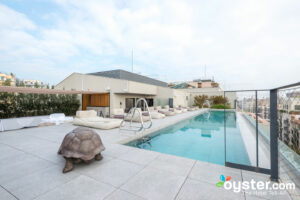 The four-pearl Ohla Eixample is a well-designed boutique hotel in the Eixample, a short walk from the metro and luxury shopping at Passeig de Gracia. Its 94 guest rooms have an on-trend, urban look, and all come with 55-inch flat-screen TVs, well-stocked minibars, kettles, and free Wi-Fi, and some boast private furnished balconies. Ohla Eixample is among the city's handful of hotels with a rooftop pool, and this property's is a standout, with a wide deck, sunbeds, and city views. Other highlights include a full-service spa, fitness center, a Michelin-starred restaurant with innovative Catalonia cuisine, and breakfast for a fee. Travelers seeking a luxury boutique property in heart of the Eixample can check out Alma Barcelona.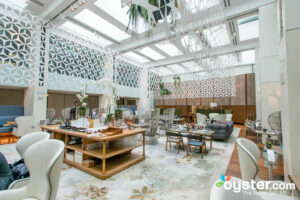 The 120-room and suite Mandarin Oriental is one of the most luxurious hotels in Barcelona, and certainly has one of the most recognizable hotel brand names in the city. It has a great location on Passeig de Gracia, and offers all the high-end amenities one would expect from the chain, including a rooftop dipping pool, a beautiful spa, and numerous restaurants (one has two Michelin stars). All-white rooms are sleek, and some have balconies, but layouts can be a bit awkward. While the service is excellent, some guests complain about street noise and there is a pesky fee for Wi-Fi.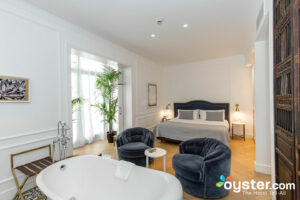 Three-and-a-half-pearl Hotel Midmost is located right in the heart of Barcelona, within a five-minute walk of Las Ramblas and Plaza Catalunya. It's a historic property that blends traditional and urban styles, and the common areas have a pleasantly serene atmosphere that's a welcome contrast to the busy streets outside. The rooftop terrace is a particularly great space to kick back, with a pool and tapas bar, and the hotel's breakfast is popular for its variety. The 56 rooms have a velvety classic style, plus coffeemakers, air-conditioning, and free Wi-Fi. There are meeting rooms and a cozy lounge with internet access, and spa treatments can be arranged. Travelers looking for a more thoroughly modern finish could check out Olivia Plaza Hotel nearby, which has similar facilities.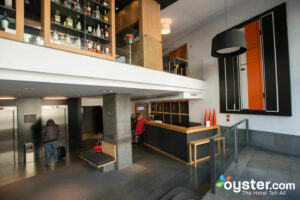 Located on the vibrant Carre Pelai a short stroll from La Rambla, the Hotel Jazz reflects the energy of its surroundings in its look and feel, with stylish and colorful decor and a buzzy vibe. The contemporary rooms feature comfy beds, flat-screen TVs, and free Wi-Fi. The centerpiece amenity is a rooftop, year-round outdoor swimming pool and sundeck with good city views, a cocktail bar, and a lounge. A stay here suits travelers who want a prime spot near La Rambla, in a cool, modern upper-middle-range hotel that doesn't break the bank with its nightly rates.