Best Luxury Hotels in Willemstad, Curacao
Take a look at the best luxury hotels in Willemstad.
See All Willemstad Hotels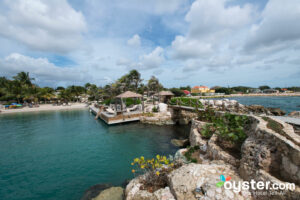 This 23-room luxury boutique hotel is a Balinese-inspired paradise in Curaçao where the details make the difference -- hand-carved teakwood pieces, gift bags left on the beds, and candles lit all around the property are just a few examples. The highlights of the resort are the elegant rooms and villas, some with private pools, the excellent fine-dining restaurant, and a lovely (though man-made) stretch of tranquil beach. This is the top luxury resort on Curacao, without contest. Those looking for a larger luxury property with an all-inclusive option might prefer the Santa Barbara Beach & Golf Resort, however.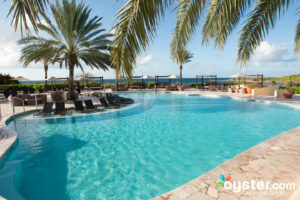 This sprawling, immaculate 350-room luxury resort draws both couples and families with its lovely spa, tennis lessons, kids' camp, and three pools. With an 18-hole golf course and meeting rooms, the hotel is also popular with business and corporate guests. The wide, white-sand beach and protected swimming area are also highlights. Though it enjoys a quiet location with natural beauty, the Santa Barbara Beach and Golf Resort is far from town and no other restaurants or hotels are anywhere close by. Still, it's easily one of the island's top options -- the Baoase Luxury Resort is nicer, but also significantly pricier, making this a terrific luxury value.
Papagayo Beach Hotel is a fashionable, four-pearl property located on Jan Thiel Beach. The hotel's 155 guest rooms have clean lines and trendy decor, and all feature roomy balconies, flat-screen TVs, electric kettles, mini-fridges, coffeemakers, and free Wi-Fi. There's an infinity pool with striking ocean views, and guests have access to extensive facilities at the neighboring Papagayo Beach Club and Papagayo Beach Plaza. Unfortunately, the hotel has a handful of issues that prevent it from feeling like a luxury property. Also, guests with limited mobility should be aware that there's no elevator. Families looking for a stay with more kid appeal can check out Royal Sea Aquarium Resort.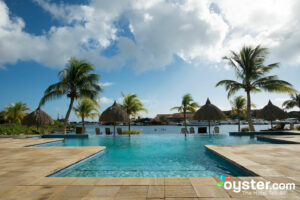 La Maya Beach Luxury Apartments is a serene property featuring 34 luxury two-bedroom apartments, all with views of a harbor known as the Spanish Water. The modern, upscale apartments have beautiful kitchens and decks facing out onto a lovely pool. However despite the hotel's name, the beach area is underwhelming and the murky water is not great for swimming. There is no restaurant, fitness room, or other amenities on the property. Guests should rent a car in order to access lots of dining and nicer beaches close by, as nothing is within walking distance. Those who prefer to stay a nicer beach should consider the similarly priced Santa Barbara Beach & Golf Resort, Curacao, though its rooms lack La Maya's kitchens and space.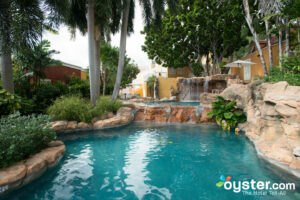 This 82-room upscale resort is more than hotel – it is an entire restored 18th-century village, complete with cobblestone alleyways and courtyards peppered with sculptures. The beautiful European and colonial architecture allows guests to feel like they've stepped back in time. It's conveniently located in downtown Willemstad, an area with lots of dining and shopping that also happens to be a UNESCO World Heritage Site. The hotel offers two lovely pools, two restaurants, a spa and an excellent museum. Art lovers, culture hounds, and history buffs will appreciate this property, though note that no beach is on the premises or even close by; for that, consider the similarly priced Kura Hulanda Lodge & Beach Club.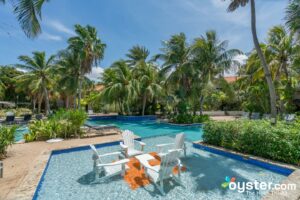 The Floris Suite Hotel is a sleek, modern adult-only resort that caters to couples and friends who are looking for chic relaxation. This 72-room, upscale hotel makes a statement with its crisp, all-white decor. The excellent pool area is a definite highlight, while there are two nice beaches close by, but not directly connected to the property. Those who prefer to be right on the sand might consider the Avila Hotel, though its beachfront can get crowded.