Best Kid-Friendly Hotels in Gatlinburg
It's no wonder Gatlinburg is a popular destination for traveling families; it has kid-friendly museums, an aquarium, and easy access to the Great Smoky Mountains National Park where fishing, horseback riding, and tubing are popular pastimes. We visited the city's top hotels to see how they stacked up — all with children in mind. So if you're heading to Gatlinburg and want to bring the kids along, you've come to the right place. Check out the best kid-friendly hotels in Gatlinburg and start planning your family getaway!
See All Gatlinburg Hotels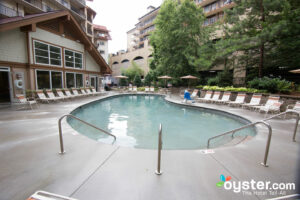 Renovated in 2013 from a previous time-share property, the Holiday Inn Club Vacations Gatlinburg is still a condo time-share. It has large, well-decorated condo-style rooms, but they vary in cleanliness, partly because of the infrequent housekeeping. The condos have full kitchens -- a necessity here since there is no on-site food other than what can be found in the market-style gift shop. The location is convenient for all things Gatlinburg though, and is within walking distance of most restaurants. It's also quieter than some other downtown hotels since it's not right on the main road. Its two pools, daily children's activities, and group excursions (many of them free) make it a popular family destination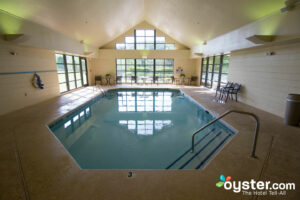 The three-pearl Bent Creek Golf Village is a time-share property situated on an 18-hole golf course set in a forested landscape. Features include indoor and outdoor pools, a hot tub, a gym, a game room, barbecues, and basketball and volleyball courts. The hotel offers 84 apartment-style units and cabins with flat-screen TVs, fireplaces, kitchens, and forest views from balconies or screened porches. Some also have whirlpool tubs. Note that daily housekeeping isn't included and cell phone service can be spotty, as can the property's free Wi-Fi.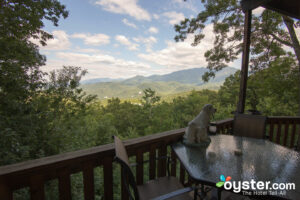 The rustic Chalet Village consists of private cabins in the gorgeous foothills of the Smoky Mountains. Close to ski resorts, golf courses, and hiking trails as well as attractions like Dollywood, these cabins allow guests to comfortably stay in or go out and enjoy what Gatlinburg and the nearby towns have to offer. Ranging from one to eight bedrooms, all units are differently styled but remain consistent in their charming, cozy feel (although some find it a bit kitschy).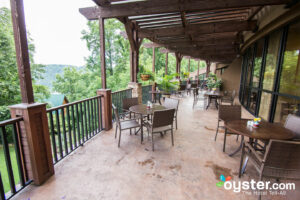 This secluded hotel is high up in the hills of Gatlinburg, close to area attractions and with great views of the Smoky Mountains. The Park Vista's 312 rooms are spacious with elegant, contemporary decor and narrow private balconies. The venue offers many amenities, including a unique indoor pool, restaurant, gift shop, fitness center, and game room as well as meeting spaces for corporate travelers. Some rooms show wear and tear, but overall it's a solid mid-range pick.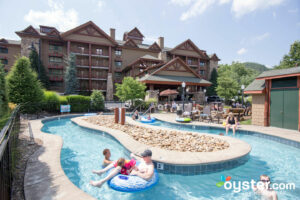 The Bearskin Lodge's location right outside the entrance to the Great Smoky Mountains National Park distinguishes it somewhat from other hotels in the Gatlinburg area, and means it's slightly quieter than hotels right on the main strip. There are even hiking trails that start practically at the hotel's doorstep. The outdoor pool and lazy river, while they might attract families, are small and crowded. Many of the "mountain stream views" offer little more than views across to another hotel's balconies, with the stream largely out of sight in the narrow ground below.
On the border of Smoky Mountains National Park, the 112-room Best Western Twin Islands is a laid-back two-pearl property popular with families. Rooms are old-fashioned and have thin walls, but come with riverside balconies, microwaves, mini-fridges. Suites have kitchenettes and some even have fireplaces. A barbecue picnic area and playground add to the laid-back atmosphere, and there are an outdoor pool, a hot tub, a kids' pool, a breakfast lounge, and a laundry room.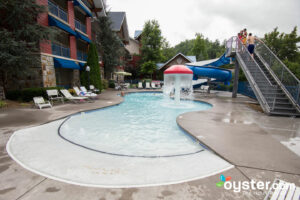 The hotel is on the outskirts of the busy Gatlinburg Parkway, so while it's a bit removed from the heart of town, it's also quieter, and guests can avoid some of the traffic that plagues the main strip during tourist season. Most of the town's action is just outside of walking distance of the hotel, but there are a few restaurants nearby. There's also a convenient trolley stop at the hotel and mini-golf right next door. The two pools and water slide make this a family-friendly spot, though the average rooms may not be large enough for groups.