Best Boutique Hotels in Hollywood, Los Angeles
Take a look at the best boutique hotels in Hollywood.
See All Hollywood Hotels
1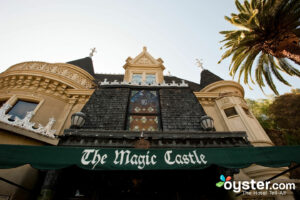 Located steps from Hollywood Boulevard, the Magic Castle is a quirky, unpretentious 40-room hotel with simple, spacious rooms, an exhaustive list of free perks (Wi-Fi, breakfast, minibar treats), access to the exclusive Magic Castle club next door, and exceptional service. Overall, it's a terrific value and one of L.A.'s hidden gems.
2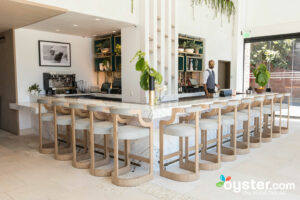 Located just south of Hollywood Boulevard, Dream Hollywood is a trendy, four-pearl property with plenty of high-style flourishes. The hotel's 178 rooms and suites are luxe and contemporary, decked out with Smart TVs, iPads, and lavish minibars. But most guests aren't drawn to the property for its rooms, rather they come for the fun nightlife scene thanks to its popular bars, nightclubs, and restaurants attracting a glam crowd of locals along with guests. A large gym and rooftop pool round out the on-site features. Travelers may want to compare rates and amenities with W Hollywood, which has a similar party-centric vibe and stylishly modern rooms.
3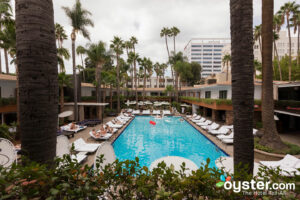 This 300-room Hollywood Roosevelt Hotel, literally an L.A. landmark, combines the shimmer of silver-screen history with a cutting-edge party scene centered around its multiple bars and massive pool. A terrific casual restaurant is open 24 hours, and service is surprisingly good. The rooms, though well designed, are smaller than average for L.A.
4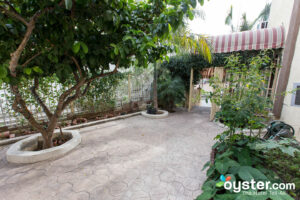 The Trylon Hotel is a simple budget hotel in Hollywood, a 15-minute walk from most of the area's main attractions. With an interesting mix of modern and regal (but in our opinion, a bit gaudy) aesthetics, the hotel provides a simple, comfortable place to stay. The rooms are clean and well-decorated, if a little on the small side, and Wi-Fi is free throughout. Parking is available at a gas station across the street, but the hotel lacks amenities such as a pool and free breakfast. The nearby Hotel Hollywood offers free breakfast and has microwaves in rooms.
5
The 39-room Moment Hotel is an ultra-modern sleek boutique hotel with some high-end amenities at budget prices. Brightly colored with geometric shapes, the property has a distinct urban design. The roof deck lounge and sundeck, private patios, 46-inch flat-screen TVs, Vive bath products, and Keurig coffeemakers are just a few of the extras here. Rooms have custom built wood-veneer furnishings, Caesar Stone Quartz, and stainless steel fixtures. While bathrooms are efficiently designed, they're cramped and too small for bathtubs. The hotel offers free Wi-Fi, and has a business center and an orange, white, and gray breakfast room that also serves as a bar and restaurant, and room service. Near the heady nightlife of Sunset Strip, the Moment is probably more suited to leisure and business travelers than families.
6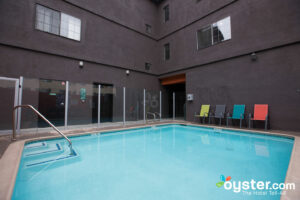 The 62-room BLVD Hotel & Suites is a value hotel that sits on popular Highland Ave, within walking distance of the TCL Chinese Theatre, Hollywood Walk of Fame, and Hollywood Bowl. Rooms are modern with wood floors, mini-fridges, coffeemakers, and large flat-screen TVs, and suites have additional square footage. The on-site Archive Lounge and Cafe serves cocktails and snacks, and the small outdoor pool is a nice perk. Free Wi-Fi runs throughout, and limited on-site parking is available for a fee. Many guests mention the hallway and traffic noise, so while this is a conveniently located property, it's best-suited to younger travelers keen on experiencing the local nightlife.
7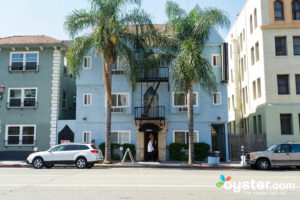 Located off a quiet back street amid some of Hollywood's most congested areas, the 33-room Hotel Hollywood began taking reservations in 1927. Since opening its doors, the hotel has had its fair share of famous guests and residents, including Marilyn Monroe, James Dean, Henry James, and Orson Wells. All the tiny rooms come with memory foam mattresses, microwaves, mini-fridges, and flat-screen TVs, and a free breakfast is included in the low rates. This hotel is a deal for tourists looking for an intimate, personalized experience without the bells and whistles of a resort or luxury hotel because -- with no full restaurant, gym, or pool -- there really are none. Owned and operated by an apartment rental service, the hotel also does short-term rentals, so a mix of semi-permanent residents and tourists is likely.
8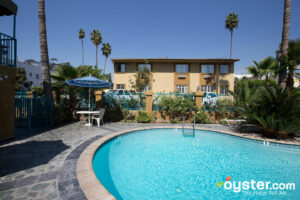 While not much to look at from the outside, the 44-room Hollywood City Inn is a clean, well-kept budget hotel in the heart of Hollywood. The hotel is within walking distance of the Walk of Fame and a short drive from many other attractions. Rooms are simple -- with up-to-date technology -- if a little garish in their color palate; another downside is that noise can carry from room to room. The hotel offers free parking and Wi-Fi, and has patio with a pool. Breakfast is also included in room rates, but it's limited to a small selection served in the cramped reception area.
9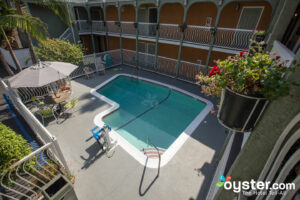 The 27-room Rodeway Inn is a straightforward budget motel in the heart of Hollywood. It's just a short walk from the Chinese Theater, the Hollywood Walk of Fame, and other Hollywood Boulevard attractions, but the neighborhood can feel seedy. Rooms are moderately sized, bright, and clean, though the furniture is obviously not new. The motel has a small pool, (a somewhat meager) free continental breakfast, and free Wi-Fi.
10
The Redbury at Hollywood and Vine is a bohemian-chic boutique with 57 homey, eclectically designed suites. Guests can cook in their in-room kitchen, pop downstairs to Cleo, the Middle Eastern restaurant, walk half a block for sushi at Katsuya (both menus can be ordered for 24-hour in-room dining). The location is ideal for seeing the Hollywood Walk of Fame and TCL Chinese Theater (formerly, and more famously, known as Grauman's Chinese Theater), but the neighborhood is continuing to evolve, and some parts are still seedy. Guests wanting a pool (something The Redbury lacks, along with a spa) could try The Hollywood Roosevelt, which has one of the largest pools in L.A.