Best Value Hotels on Oahu
Budget travelers who don't think Oahu is in their price range should think again. The island is exotic, sure, and the airfares can be steep from certain parts of the U.S. But it has hotels that fit within almost any budget — especially in Waikiki, where competition results in refreshingly low rates.
See All Oahu Hotels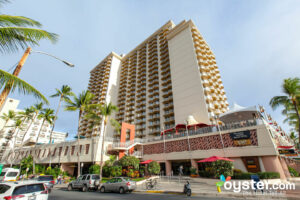 Location, location, location -- the age-old motto certainly holds true in Waikiki, where mega resorts have tried to edge each other out for the choicest beachfront spots. Yet this affordable hotel managed to squeeze its way in; the family-friendly Kuhio section of Waikiki Beach is right across the street. Back in the room, guests will find fun tropical decor, flat-screen TVs, and in most cases an ocean view. And a free, daily, hot breakfast adds another nice perk.
This 72-room boutique offers designer style with sample-sale price tags. Recently renovated rooms fashioned by San Francisco designer Jiun Ho are some of the most stylish on the island, yet you can usually get them for reasonable rates. The hotel is lacking in amenities, but it offers a number of handy discounts for services ranging from rental cars to gym passes to museum tickets.
If all you're looking for is a clean, cheap room, the Aqua Waikiki Pearl can do you one better -- it's clean rooms are among the least expensive in Oahu, but they're also spacious and recently renovated. The catch? No pool or gym, and the beach is a 10-minute walk. All in all, it's still a great value.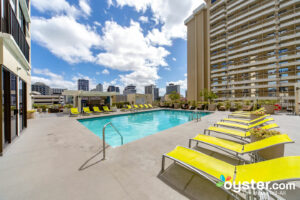 Guests with a small budget but luxury tastes will appreciate this affordable 297-room property near the beach, which has signing privileges at its luxurious sister Halekulani across the road and houses a branch of haute Japanese eatery Nobu (where guests enjoy discounted prices). Although rooms can feel a little worn, they do have high-def, flat-panel TVs, and some offer spectacular ocean views.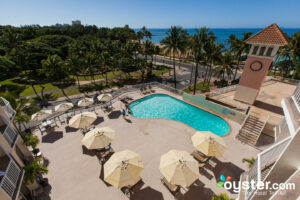 It's surprising that a hotel with some of the island's best views also has some of the island's most affordable rates, but that's the case at the Park Shore, where some rooms look toward the ocean and Diamond Head volcanic crater. Consider an upgrade from the standard rooms; the partial ocean view rooms usually cost just $10 to $20 more per day, and have been updated with flat-screen TVs and new carpets, bedding, and paint.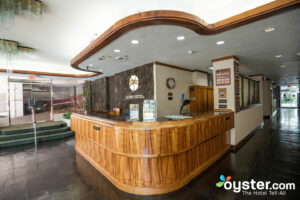 The Ilima is a classic do-it-yourself hotel. You'll save plenty on your vacation by cooking in the full kitchen in the large, condo-style rooms and parking your car for free. It's pretty bare bones in terms of features, but for around $130 a night, it's a solid choice for groups and families on a budget.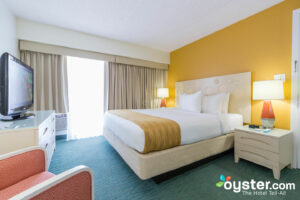 For a hotel that only costs about $130 a night, the Best Western packs in a ton of style and lots of freebies to boot. The lobby and guest rooms have a funky style that's rare in Hawaii, decked out in vibrant greens, blues, and reds. The hotel is a 10-minute walk from the beach, but a free breakfast buffet, free Thursday evening cocktails, and free Wi-Fi make the trek worthwhile.