Best Kid-Friendly Hotels in Taipei, Taiwan
Take a look at the best kid-friendly hotels in Taipei.
See All Taipei Hotels
1
This sleek and modern mid-range hotel offers stylish, contemporary interiors near the airport in an area well serviced by public transportation. Guest rooms, though a bit small, feature tasteful minimalist decor, plush beds, and a variety of conveniences like flat-screen TVs, mini-fridges, electric kettles, and free Wi-Fi. There's not much in terms of on-site features, as the hotel lacks a restaurant, bar, and fitness facilities, but there is a bright and spacious common room that's decked out with plenty of seating, a large flat-screen TV, computers, and a kitchenette with free hot beverage machines, a microwave, and a mini-oven. Free self-service laundry facilities are another perk. As an alternative, the Ambience Hotel offers a free daily breakfast buffet as well as afternoon tea, but it's far from public transportation.
2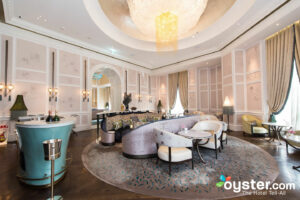 Its business district location near Taipei Songshan Airport puts Mandarin Oriental, Taipei a bit outside of the city's major shopping, sightseeing, and nightlife, but sumptuous interiors, an excellent array of facilities, huge and lavish rooms, and superb service make this five-pearl hotel one of the city's finest. A 20-meter, year-round outdoor pool, full-service luxury spa, and several well-reviewed dining and drinking venues (including innovative Italian and Chinese restaurants and a Champagne bar) are on-site. The 303 huge guest rooms all come with plush beds, 46-inch flat-screen TVs, stereos with iPod docks, and marble bathrooms with separate showers and soaking tubs, but a fee is assessed for Wi-Fi for most bookings. The Regent Taipei is a bit less luxurious than the Mandarin, but it's in a better location for sightseeing and shopping -- and rates are much lower.
3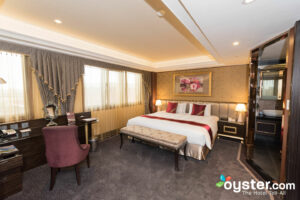 Three-and-a-half-pearl Cosmos Hotel Taipei offers a convenient location and excellent amenities for a great value. The drawback is that common areas look dated, and some may find guest rooms' decor stuffy. However, the property is well-maintained, and its 226 units are tidy and comfortable. All have flat-screen TVs, DVD players, minibars, kettles, bathrobes, slippers, and free coffee/tea and bottled water, but some rooms lack windows. Bathrooms are equipped with shower/tub combos and bidet toilets. There's no pool, but the hotel does have several on-site restaurants, a top-floor cocktail lounge, a gym with a sauna, and a spa. Travelers willing to spend more for a luxurious stay with a swimming pool might consider Okura Prestige Taipei.
4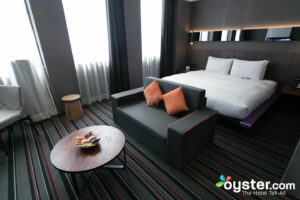 The Westgate is a three-pearl hotel close to the Ximen MRT subway stop in Ximending shopping district. Decor is sleek and contemporary, though a little on the dark side, while minimalist, intelligently designed rooms maximize space. All 121 rooms have free minibars, and some have Nespresso coffeemakers and pleasant views, but other rooms lack windows and many have odd bathroom setups. The breakfast buffet is excellent (costs extra), and lunch, afternoon tea and drinks are available, but dinner isn't. There are limited gym facilities, a laundry room, and free Wi-Fi. The comparatively priced Taipei Garden Hotel has a larger gym, a spa, and a rooftop garden with hot tubs.
5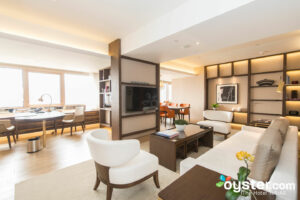 Towering next to Mall 101 in Xinyi District, the five-pearl Grand Hyatt Taipei is a gigantic business hotel with 853 rooms, all with sleek -- if generic -- interiors and marble bathrooms; many have excellent skyline views. The hotel, near the convention center, is geared toward business travelers, with multiple meeting places and free parking and Wi-Fi. It also has 10-odd restaurants and bars, and a top-notch fitness center complete with a heated outdoor pool (it's open to non-guest club members, so the space risks getting crowded). Travelers looking for something a bit trendier might want to check out the five-pearl W Taipei, which caters to a less corporate crowd.
6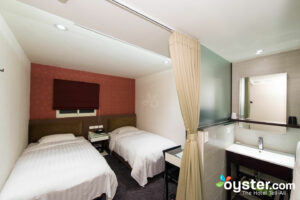 Hotel Puri is a value property that's conveniently located for the subway, restaurants, and shopping. There are 57 rooms; many are tiny. Some lack windows and most have small bathrooms separated from the sleeping areas by a curtain and frosted glass wall. Reviews suggest some housekeeping issues, and walls are well soundproofed to the outside, but poorly between rooms. Guests get free data SIM cards (deposit payable), free refreshments, basic cooking equipment and a computer in the lobby, and self-service laundry facilities, plus free Wi-Fi -- but no breakfast or other meals. Three-and-a-half-pearl CityInn - Taipei Station Branch III has more modern rooms, a bright lobby, and only slightly higher rates.
7
Taipei M Hotel Main Station is a large, comfortable, if somewhat generic, upper-middle-range choice with practical amenities. The 283-room property features reasonably sized doubles, triples, and family rooms for up to four guests. Amenities are good -- mini-fridges, electric kettles, big flat-screen TVs, and free Wi-Fi -- but some entry-level rooms lack windows. Extra property features are mostly bundled into one large room, where, oddly, a gym shares space with the breakfast area. Breakfast is free with a decent selection of Eastern standards, plus coffee, tea, and juice are free all day. The hotel also has a small business center, self-service laundry, and an outdoor terrace with sitting space. The bustling Zhongzheng area is well-connected to public transit, and abounds with similar properties. For a little more style, consider the Roaders Hotel.
8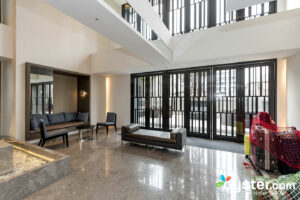 The 430-room Hotel Midtown Richardson is a decent mid-range property whose top selling point is its location across the road from Ximending shopping area and around the corner from Ximen MRT station. Contemporary rooms are well-equipped -- with free Wi-Fi, mini-fridges, and electric kettles -- but walls are thin and many rooms lack windows. The on-site Japanese restaurant serves tasty hot pot dishes at reasonable prices, and the breakfast buffet offers a wide array of Chinese and international options for a fee. There is little else in the way of amenities, aside from coin-operated laundry facilities, but those wanting to stay within easy access of most major attractions may find this to be a decent pick for the price. Still, it's worth considering the better-maintained Westgate Hotel, located right across the street.