Best Value Hotels Near the Eiffel Tower
Within walking distance of the Eiffel Tower, these affordable hotels have great Left Bank locations for sightseeing (and for tapping into the city's famous cafe culture).
See All Paris Hotels
1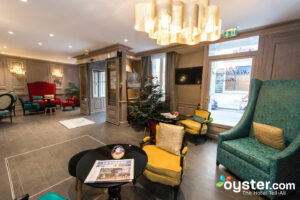 Within a 15-minute walk of the Eiffel Tower, the Invalides, and the Rodin Museum, this 40-room boutique hotel has a quiet residential location on the Left Bank. Some of its cozy rooms -- all of which come with flat-screen TVs, air-conditioning, and free Wi-Fi -- have splendid views of the Eiffel Tower. Breakfast, which incurs an extra cost, is served in an attractive sitting area covered by a glass skylight ceiling and adjacent to a patio garden. Ecole Militaire, the nearest Metro stop, is two blocks from the hotel.
2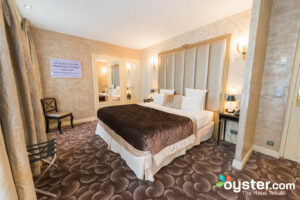 Hotel de l'Empereur is a comfortable, classic boutique property with jaw-dropping views of the imposing Hotel del Invalides. Like many small, centrally located Parisian hotels, there aren't many common areas to speak of: The small lobby leads directly into a breakfast room and out into a tiny courtyard. The 31 rooms (which can accommodate two to four guests) have amenities like AC, flat-screen TVs, and free Wi-Fi (no mini-fridges or coffeemakers), as well as modern bathrooms with rainfall showers and heated towel racks. Some rooms even have balconies with city views. Breakfast isn't included in the nightly rate, but the views and location, within walking distance of the Eiffel Tower and other sights, make this hotel a solid mid-range pick.
3
Hotel Eiffel Turenne occupies part of a handsome six-story corner building with wrought-iron detailing that's typical of the neighborhood. Updated throughout in 2016, this mid-range hotel features a fresh and contemporary combination of warm woods, funky retro-style seating, and playful design touches. The hotel's 34 rooms are small but stylish with useful tech such as USB ports and excellent free Wi-Fi, plus loaner tablets are available to guests. Breakfast is served just off the lobby or in-room, both for a fee, though there's no on-site restaurant (not such a great loss with so many nearby). Rates are reasonable for the prime location.
4
The 43-room Derby Eiffel Hotel is a small, mid-range property with a classic mahogany bar and lounge, a charming breakfast room with stone walls, and Eiffel Tower views. Rooms -- which can be tiny -- have flat-screen TVs, minibars, and, in some, whirlpool tubs, and views of the hotel's quaint courtyard or the Eiffel Tower. Rates are affordable; however, there is a pesky fee for Wi-Fi.
5
The 41-room, mid-range Hotel du Cadran has an excellent location in the 7th arrondissement near the Eiffel Tower, just off the bustling pedestrian shopping street Rue Cler and an easy walk to the metro. Rooms, like many in Paris, are tiny, but they're stylish and equipped with flat-screen TVs, minibars, free Wi-Fi, and modern bathrooms. (All rooms are for two people, though connecting rooms are available; Hotel Valadon Colors, Cadran's sister hotel right down the block, has more spacious suites.) Property features here are limited, but one memorable asset is the on-site chocolate and macaroon shop. The vaulted-cellar breakfast room is also striking, and the breakfast buffet is solid, though it may cost an extra fee.
6
Anyone walking by might assume this hotel is a cozy bed-and-breakfast because of its location on a small side street and unassuming facade. But it's actually a rather contemporary property, especially in the lobby, lounge, and restaurant. The 81 rooms are functional, comfortable, and well-lit; some have windows and balconies with Eiffel Tower views. The hotel also offers a breakfast buffet and underground parking but, like with many hotels in Paris, there is a daily fee. The overall atmosphere is quiet, relaxed, and polished.