One of the coolest cross-country trips a traveler can take is along I-40. The third longest interstate in the United States, the route runs all the way from Barstow, California to Wilmington, North Carolina (that's a 36-hour drive from end-to-end, in case you're wondering). Yet, it's not the length that makes I-40 appealing for travelers. Rather, it's the amazing and unique sights that decorate this stretch of highway. To make sure you have a truly epic journey, we've rounded up ten of our favorites -- plus, nearby hotels to help break up those long hours on the road.
1. Meteor Crater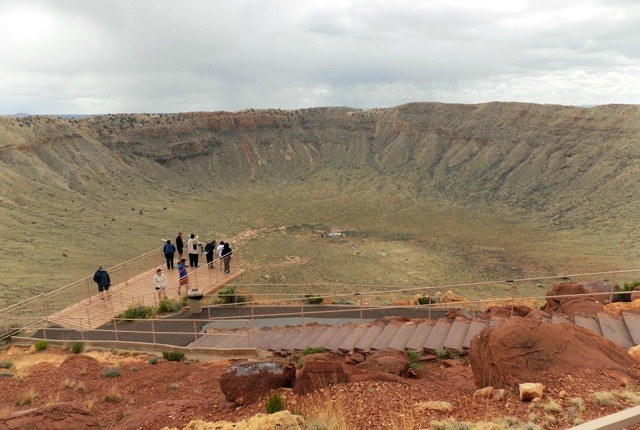 If Superman had fallen from Krypton to Earth, Arizona's Meteor Crater might have been his point of impact. Comic book fiction aside, this is the most well-preserved meteor impact site in the world. Clocking in at one mile across, nearly two-and-a-half miles in circumference, and 550-feet deep, travelers will feel like they've landed on the moon as they stand along the crater's edges. To put things in perspective, the High Roller Ferris Wheel at The LINQ Hotel & Casino in Las Vegas — the tallest observation wheel in the world — is as tall as Meteor Crater is deep. Beyond snapping non-stop pictures, there's also a small on-site museum with interactive displays, a small theater, and exhibits that tell the story of the asteroid that hit Earth 50,000 years ago, leaving its mark forever.
Our Hotel Pick:
2. Mystical Sedona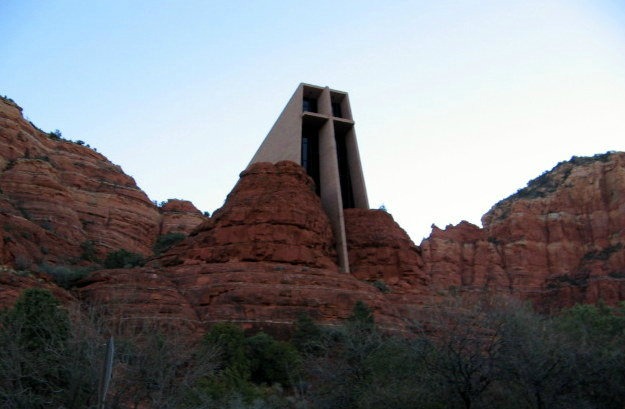 Sure, Sedona is surrounded by a gorgeous red rock-filled landscape, but it didn't make the list for its beauty. In the 1980s, the discovery of the city's vortexes (or concentrations of spiritual energy), led alternative medicine peddlers, psychics, and vortex tour companies to set up shop here.
So what do you do at a vortex? Sit, reflect, and meditate. These high energy spots are supposed to bring enlightenment, self-awareness, serenity, and possible healing. If you prefer to have some guidance or historical insight into Sedona's New Age industry, book a mystical tour. Beyond the vortexes, the city also boasts legends and ghost stories, making for a truly entertaining visit.
Our Hotel Pick:
3. Sandia Peak Tramway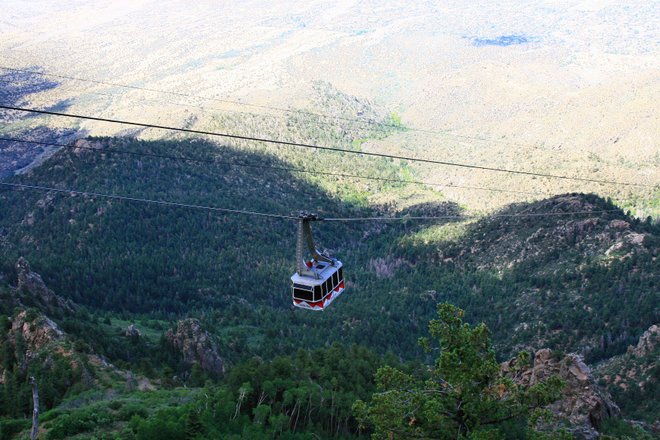 I-40 runs through New Mexico's largest city, Albuquerque. Beyond exploring Old Town, an area with adobe structures that date back to the 1700s, travelers should make a pit stop at the Sandia Peak Tramway, which transports riders across nearly three miles of beautiful mountains to the Sandia Peak of the Cibola National Forest. The trip is only about 15 minutes, but prepare for stunning panoramic views. Pro tip: The best time to hitch a ride is around sunset.
Once you've reached the top, take a hike on one of the trails in the summer or hit the slopes for skiing during the winter. When it comes time to fuel up, grab a bite at Sandiago's Mexican Grill or High Finance Restaurant before descending back down the mountain.
Our Hotel Pick:
4. Blue Hole, Santa Rosa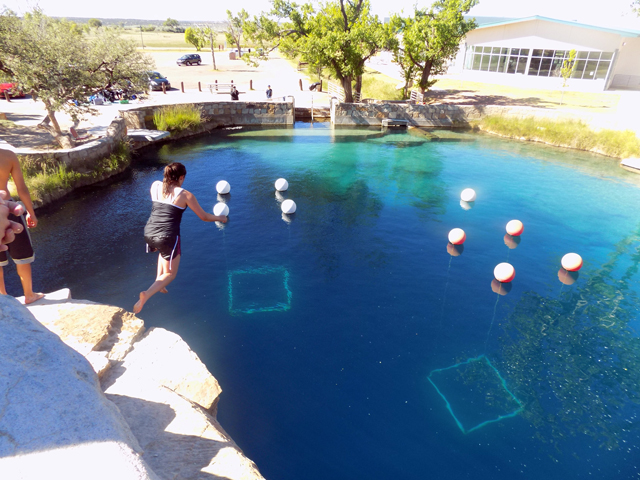 Arizona and New Mexico may seem like an endless desert, but road trippers will be glad to know there's a must-see water-filled oasis off I-40 in Santa Rosa. The Blue Hole, a small sapphire-colored lake, renews itself every six hours thanks to an underground water system. Open for swimming, it attracts all types of travelers from around the country, including scuba divers. With bathrooms nearby, travelers can slip into their bathing suits before jumping off one of the rocky ledges into water that remains a cool 62 degrees year-round.
Our Hotel Pick:
5. Cadillac Ranch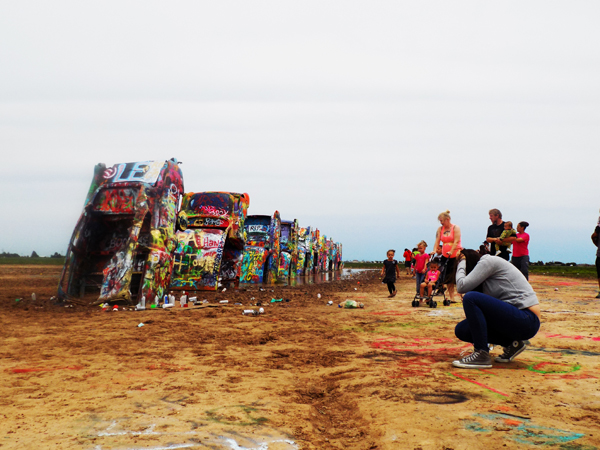 You don't have to be Cadillac lover to appreciate the spectacular Cadillac Ranch, located just outside of Amarillo, Texas. Billionaire Stanley Marsh enlisted the help of artsy hippies from San Diego to create the installation, which showcases a line of ten Cadillacs half-buried and covered in graffiti by travelers who stop by to see them. It's one of the most random, yet intriguing artistic roadside displays found in the country. Bring a spray can or two, but if you forget, don't worry. There's usually some lying around for the next person to use.
6. Oklahoma City National Memorial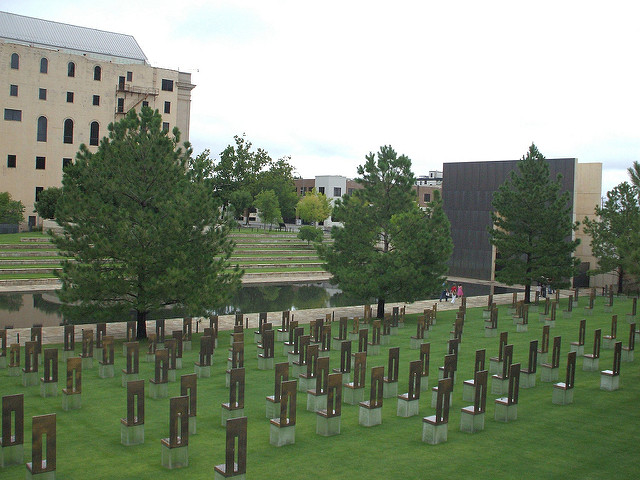 Besides taking in a Thunder game, exploring the Paseo Arts District, or gallivanting around Bricktown, I-40 road trippers must make a stop at the Oklahoma City National Memorial, which honors all who were affected — victims, survivors, rescuers — by the Oklahoma City bombing on April 19, 1995. There's a museum, which features an interactive exhibit that explains what happened the day-of as well as the aftermath, plus an outdoor memorial with a reflecting pond and 168 chairs to represent the victims of the attack. The outdoor memorial is open at night and lit, always giving travelers an opportunity to reflect.
7. Graceland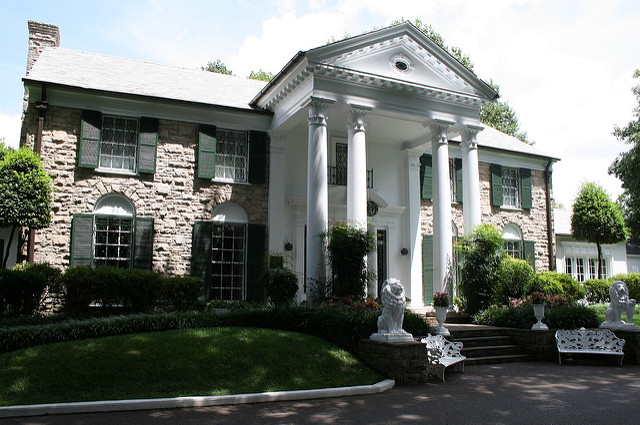 You can't drive through I-40 without making a stop at the home of the King of Rock and Roll, Elvis Presley. One of the most popular attractions in Memphis, travelers can tour the music legend's private mansion on an iPad tour, the Racquetball Trophy Room, which holds awards and memorabilia, and last but not least, his own grave site.
8. Grand Ole Opry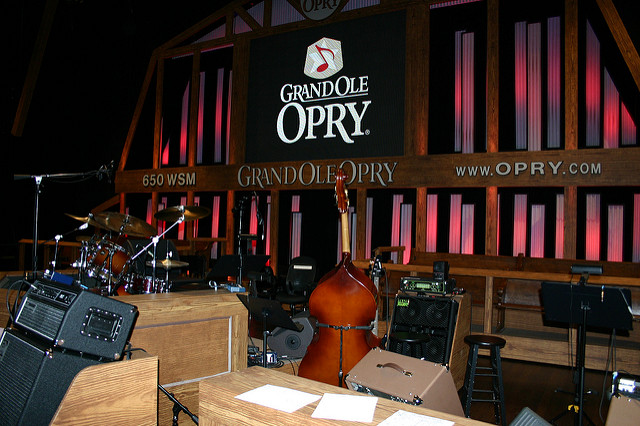 Nashville is the country music capital of the country, so it's no surprise that the Grand Ole Opry makes the list of I-40 stops. Opened in 1925 as a simple radio broadcast show, the site has since evolved into a live entertainment venue where every country music singer hopes to perform. Catch a show or book a daytime or post-performance tour to learn more about the history of country music and the role the Opry played in it.
Our Hotel Pick:
9. Biltmore Estate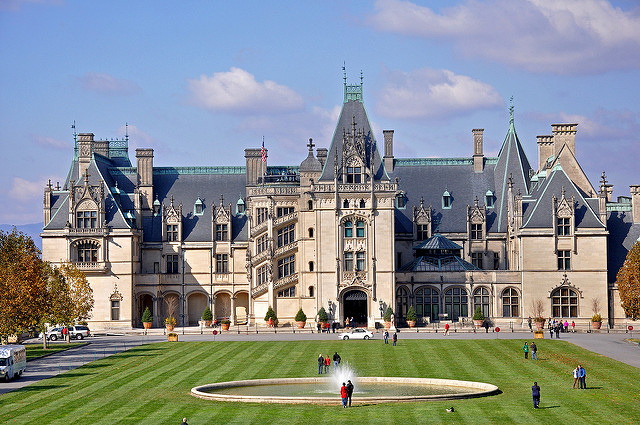 You might think you've somehow driven to the English countryside when you pull up to the gates of the Biltmore Estate. Built by George Vanderbilt in 1895, the 8,000-acre property includes a 250-room chateau and gorgeous gardens. Travelers are welcome to explore the home and grounds on a self-guided tour for a fee. Check the schedule beforehand to attend a concert, wine tasting, guided hike, or other on-site events. It'll cost you the big bucks, but if you feel the urge to splurge, make it an even more memorable experience and spend the night on the estate.
Our Hotel Pick:
10. Sliding Rock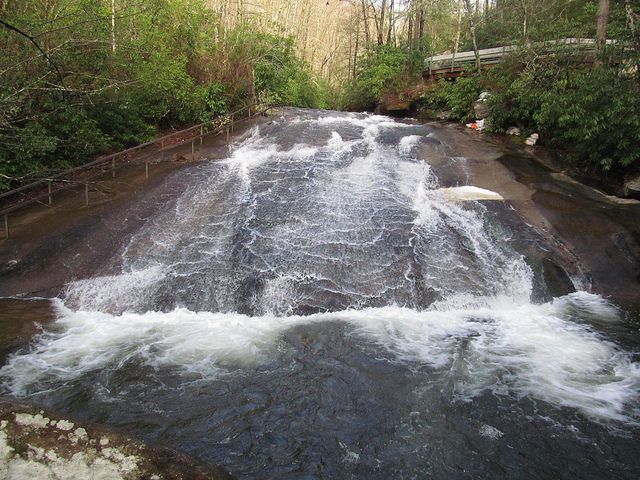 Although it's about an hour drive from I-40, Sliding Rock is worth the short detour. Located in Pisgah National Forest in North Carolina, the 60-foot natural rock waterslide attracts both kids and adults. With 11,000 gallons of water rushing down its slick surface each minute, sliders are left in an eight-foot deep wading pool. It's a popular destination for North Carolinians, but don't let the long lines deter you — with temperatures between 50 and 60 degrees, the water offers a refreshing way to cool off in the summer.
Our Hotel Pick:
Related Stories:
All products are independently selected by our writers and editors. If you buy something through our links, Oyster may earn an affiliate commission.