Cherry blossom season is a short and sweet affair that only lasts around two weeks, though many people spend months anticipating the beautiful and delicate blossoms. While most blooms are typically a pale pink or snow white hue, there are more than 600 varieties of cherry blossom trees that burst in colors such as bubble gum pink, purple-pink, white with pink centers, and borderline magenta. The goal is to catch a grove when it's at mankai (or full bloom). During the season, many throw down a blanket, have a picnic, and drink until their cheeks are pink. Others are content with simply strolling along riverbanks or ponds as the confetti-like blossoms float on trees all around. And while you may associate one or two destinations (ahem, D.C. and Japan) as the ultimate spots to catch this spectacle, there are plenty of places to get your fix -- some of which you might not expect (we're looking at you number four). In addition to compiling a list of top spots to view cherry blossoms around the world, we've added in the best time to find the trees in full bloom, though that is weather depending.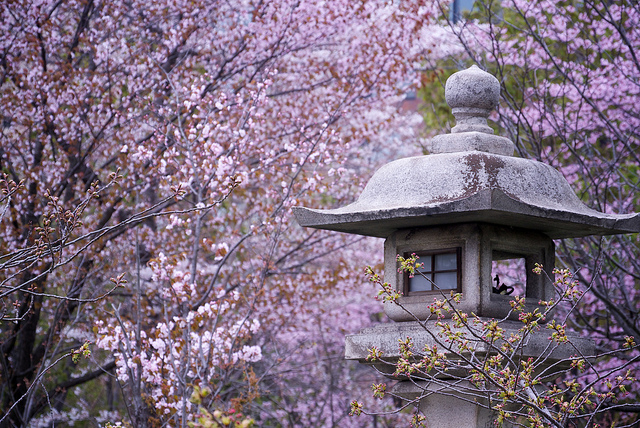 From Okinawa to Hokkaido, cherry blossom season in Japan is magical. The Japanese view the short-lived blossoms as a reminder of the impermanence of beauty and life — a bittersweet and poetic symbol that reached its peak during the hanami (a.k.a. flower-viewing) season following the devastating 2011 earthquake. In Hokkaido, expect a double dose of blossoms, as the plum and cherry trees tend to flower at the same time.
When to Go: Starting from the south, you can expect blossoms to start in early- to mid-March, while spots around Nagoya and Tokyo are typically two weeks behind. More northerly locations can hit full bloom as late as May, depending on weather.
Where to Stay:
Three thousand cherry blossom trees were given to the U.S. back in 1912 as a gift from Japan. Some of these were planted in Manhattan's Sakura Park, while the majority found a new home along the banks of Washington D.C.'s Tidal Basin and East Potomac Park. Every spring, the city throws a month-long celebration with the help of the Japanese Embassy. The National Cherry Blossom Festival brings tons of tourists for free and ticketed events, tours, and performances. Local restaurants, shops, and even museums get in on the action with cherry blossom-themed dishes, art shows, and products. Much like in Japan, you'll find people picnicking under the trees, but no booze is allowed.
When to Go: Although this year's five-week festival takes place from March 15 to April 16, full bloom is supposed to occur in late March. This is due to a mid-March cold snap, which also sadly killed off trees that were already in late stages of blooming.
Where to Stay: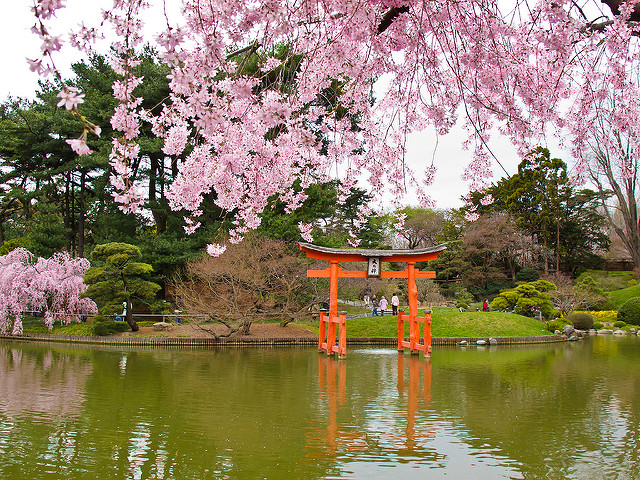 The Brooklyn Botanic Garden is a can't-miss spot, no matter the time of year (okay, perhaps not in the dead of winter). Not only is it famous for its spectacular and vibrant tulips in the spring, but it's also home to 42 different species of cherry blossom trees, from the same gifted lot in Washington, D.C. no less.
When to Go: The different species take turns blooming from late-March to mid-May. However, if you want to join the celebration, the Brooklyn Botanic Garden throws a popular cherry blossom festival, called Sakura Matsuri, usually during the last weekend in April. You can follow along with the flowering blooms at Brooklyn Botanic Garden.
Where to Stay:
4. Macon, Georgia
There's a lot of excitement around Washington, D.C.'s National Cherry Blossom Festival, and for some, it's considered the best place to view cherry blossoms in the U.S. However, did you know that America's largest collection of cherry trees can be found (and viewed) somewhere a little more inconspicuous? With a whopping 300,000 cherry trees, Macon, Georgia earns its impressive — and surprising — title as the "Cherry Blossom Capital of the World."
When to Go: Macon usually rolls out their 10-day International Cherry Blossom Festival in late March. This event is a great way to check out the blossoms and even partake in a tea ceremony.
Where to Stay:
Amsterdamse Bos park's 400 cherry blossom trees were a gift from the Japan Women's Club in 2000 (one tree to celebrate each year of ties between the two countries). Their special section of the park can be found in Kersenbloesempark. Plus, it's the only cherry blossom park where the trees are individually named. Two hundred trees have female Dutch names, while the other 200 were given female Japanese names.
When to Go: Take a stroll with these ladies in early April when the park hosts its annual cherry blossom festival.
Where to Stay: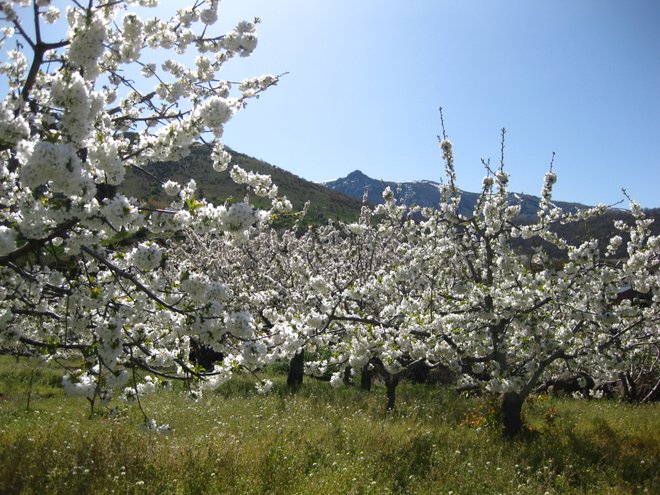 The two million all-white cherry blossom trees covering Spain's Jerte Valley make for a spectacular sight without all the city commotion. During full bloom, the hills look like they are covered in a blanket of snow — and a sort of magic fills the air.
When to Go: This magical faux-winter wonderland tends to bloom around the middle of March, though the village's Fiesta del Cerezo en Flor can kick off anytime in March or early April.
Where to Stay:
The oldest of China's cherry blossom trees are WWII-era beauties planted during the Japanese occupation of China from 1937 to 1945. Normally, the area where the trees are planted doesn't offer much to look at, but come cherry blossom season, the dam becomes lined with gorgeous pink and white blooms, and the crowds follow. It's one of the best spots in China to view blossoms, though folks can also experience them in more trafficked places like .
When to Go: Longwangtang Cherry Blossom Park is located in the small port city of Dalian. Here, the blooms usually come out around late April.
Where to Stay: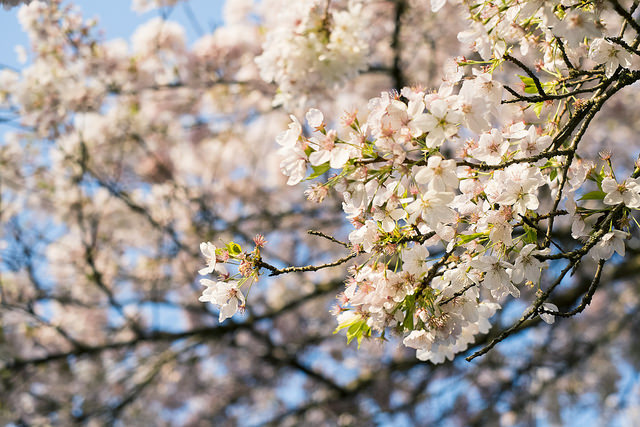 Vancouver has 40,000 different cherry trees, many of which were a gift from Japan back in the 1930s. Queen Elizabeth Park has several varieties that bloom within a two-month stretch, so it's definitely one of the more reliable spots to catch a glimpse. The Vancouver Cherry Blossom Festival started in 2005 as a (slightly delayed) way to show thanks. The festival celebrates these beautiful bursts of pink and white as well as hopes to inspire local artists and visitors.
When to Go: Blooms flower in intervals between early March through late April.
Where to Stay: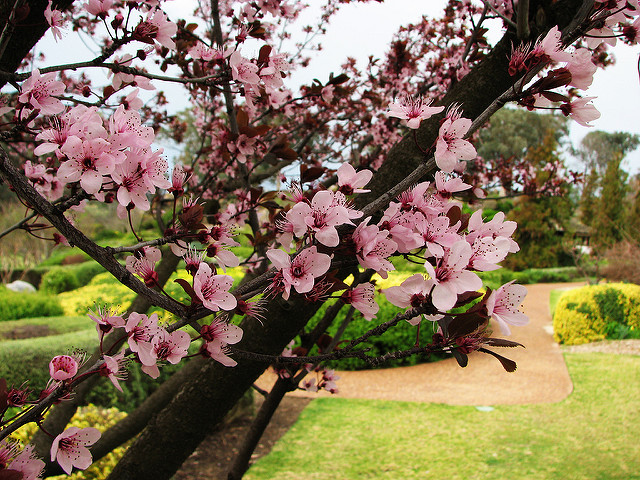 Cowra Japanese Garden in New South Wales is the largest Japanese garden in the Southern Hemisphere. Proposed as a celebration and reminder of the link between Australia and Japan during World War II, the 12-acre, Edo period-style space opened in the late '70s.
When to Go: Cowra Japanese Garden holds an cherry annual blossom festival in September, but you can usually catch late-bloomers flowering until October.
Where to Stay: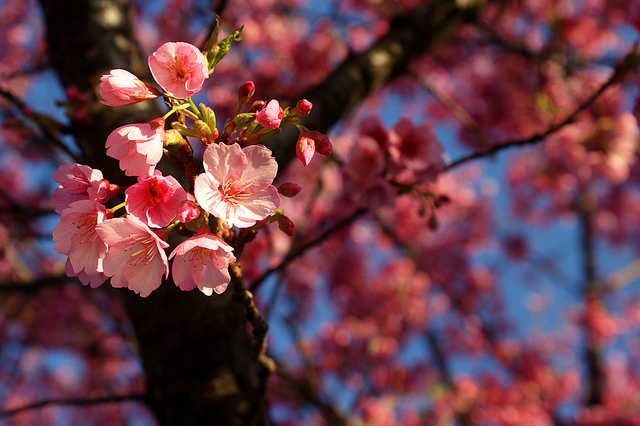 The trees at the Botanical Garden of Curitiba may have only been planted in the 1990s, but cherry trees are no stranger to this region in southern Brazil. About 110 years ago, when the Japanese began immigrating to Brazil, they brought along their cherished cherry blossom seedlings. (Fun fact: Brazil has the largest population of Japanese people outside of Japan.)
When to Go: Unlike many others on this list, the Brazilian cherry trees bloom during the Southern Hemisphere's winter, usually in July.
Where to Stay:
A day trip to these cherry tree orchards just six miles south of Paris is a must. Here, you'll find two separate orchards — one with all pink-blossomed trees and another with 150 all white-blossomed trees. Be sure to bring your camera. However, if you can't bring yourself to leave the City of Lights, stroll over to Parc du Champ de Mars near the Eiffel Tower to take in a few rows of blossoming trees.
When to Go: Head here in late April to experience the full bloom.
Where to Stay:
NOW WATCH: 6 Best Places to See Cherry Blossoms in Japan
https://www.youtube.com/watch?v=lOocIZiU7Uo
You'll Also Like:
All products are independently selected by our writers and editors. If you buy something through our links, Oyster may earn an affiliate commission.