Thanks to our friends at the Captivate Network, you can catch this story in your office elevator this week! And don't miss Captivate's Summer Fridays Sweepstakes!
Traveling green doesn't mean you have to sacrifice on the quality of your hotel. If eco-friendly lodging makes you think of a tent in the woods, think again -- these gorgeous properties are luxurious and LEED-certified.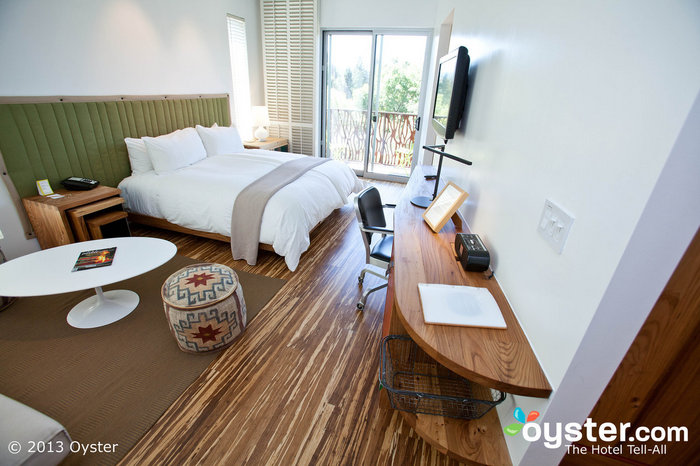 This 36-room boutique hotel in the heart of Healdsburg in Sonoma County is a good pick for eco-conscious folks looking for something convenient to wineries with a modern, hip, relaxed vibe. With a LEED Gold certification, the H2 features green amenities such as loaner bicycles, lots of open spaces, and a green roof.
Crosby Street Hotel, SoHo, New York City
One of the first LEED Gold-certified hotels in New York City, the luxurious Crosby Street Hotel is an eco-friendly option in the trendy SoHo neighborhood. The building itself is new construction, so the designers and were able to incorporate some ambitious eco-friendly features such as a "green" roof (for growing some of the restaurant's fruits and vegetables).
Viceroy Snowmass, Snowmass Village, Colorado
This LEED Gold-certified hotel includes eco-friendly amenities such as low-flow faucets (which saves about 1.35 million gallons of water per year), environmentally-friendly cleaning products, and free parking for guests who arrive in high-efficiency vehicles.
Hyatt at Olive 8, Seattle, Washington
A completely "green" property, the Hyatt at Olive 8 was the first LEED-certified hotel in Seattle. It is top-to-bottom eco-friendly, with everything from a sustainable-foods restaurant and recycled writing pads, to a non-chlorinated saline lap pool, water-reducing shower heads, and energy-efficient light fixtures.
Hotel Andaluz, Albuquerque, New Mexico
Gorgeous and hip, Hotel Andaluz is a downtown boutique housed in a historic building with a luxe vibe and eco-friendly focus. Originally built in the late 1930s by Conrad Hilton (making it one of the first Hilton hotels in existence), the Andaluz is one of the few historic hotels in the country with a Gold LEED-certification.
All products are independently selected by our writers and editors. If you buy something through our links, Oyster may earn an affiliate commission.