Rivers have attracted travelers for their beauty, their bountiful supply for fishing, their fun and engaging rapids for water rafting, their leisure flow which makes for fun days of tubing—the list goes on and on. However, for most, a river experience is usually above ground. And that's a shame because the world is filled with beautiful underground river systems that you can explore. We've put together a list of subterranean rivers from all over the world that provide incredible travel experiences through a dark world that's both stunning and mysterious.
1. Rio Secreto, Mexico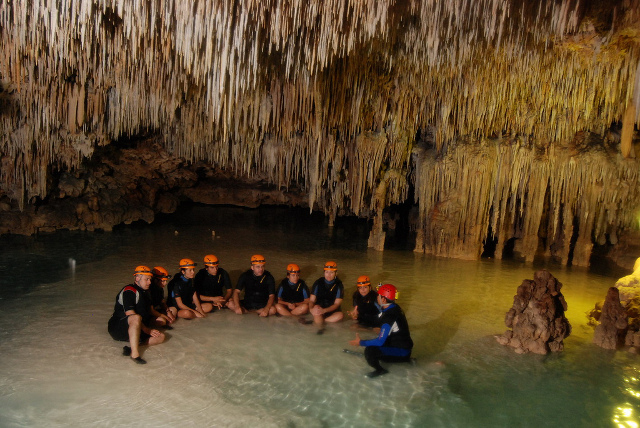 There's nothing quite like Rio Secreto in the world. This underground river, located just a 13-minute drive outside of Playa del Carmen, features turquoise waters and stunning stalactites and stalagmites. The shallow river is explored on foot with tour guides and can be slippery and arduous, so the tour is recommended for fit individuals. Travelers aren't allowed to bring their own cameras or phones to take pictures for safety reasons, though the tour company does provide pictures of your exploration for purchase.
Where to Stay
2. Tham Khoun Xe River, Laos
https://www.instagram.com/p/BGbvYsCF8Nh/
If you're looking for a unique experience to have in Laos, you don't want to miss a chance to explore the four-mile subterranean Tham Khoun Xe river. This waterway is thought to inhabit the world's largest river cave, which has majestic passageways that are 393 feet tall and 654 feet wide. The Lao people have known about the river for centuries and used it for fishing, however, it wasn't open to travelers to explore until 2005. Exploration of the cave is done by kayak and is best experienced in the dry season when the water is blue. But no matter what time of year you visit, it's a stunning experience indeed.
3. Rio Camuy, Puerto Rico
https://www.instagram.com/p/BBsp5PQw6wf/
Puerto Rico may attract travelers for its beaches, but visitors will want to ditch the sand for a day to explore the Rio Camuy, the third largest subterranean river in the world, which carved beautiful caves one million years ago. Visitors can explore the caves on a walking tour—one that doesn't actually involve getting into the river but walking alongside it on carefully maintained pathways. Beyond slippery paths, low-hanging stalactites, and bat guano on hand rails, it's a truly memorable experience.
Where to Stay
4. Puerto Princesa River, Philippines
https://www.instagram.com/p/BQulCwQhpGJ/
Located on the southwestern part of the Philippines, just northwest of Puerto Princesa, is the Puerto Princesa River, a UNESCO World Heritage Site. This five-mile underground river has created eye-catching formations in caverns and is unique in that it empties out into the sea. To maintain the beautiful underground river and the biodiversity of the area, only 600 people are allowed to visit per day. Tours of the Puerto Princesa River are taken via canoe, covering one mile of the river on a 45-minute expedition. Beyond just stalactites and stalagmites, visitors might also see a range of animals like crab-eating monkeys, Tabon birds, and white-bellied sea eagles.
Where to Stay
5. Labouiche River, France
https://www.instagram.com/p/6vALDIu2T7
Take a break from croissants and the Eiffel Tower on your trip to France, and experience Europe's longest navigable underground river—the Labouiche. Located in the heart of the Pyrenees, the Labouiche river was first explored in 1906 and is available to tour from April to November. The excursion is one hour and 15 minutes long, covers about one mile, and is led by a tour guide. Visitors will learn about geology and witness gorgeous formations of the caves that the Labouiche river carved out long ago.
Where to Stay
6. Punkva River, Czech Republic
https://www.instagram.com/p/BOpotdOBmL2/
The Punkva River in the Czech Republic was first explored in 1723, but wasn't open to the public until 1909. Today, travelers can explore this underground river in the Moravian Karst area on a part walking, part boat tour. During the sailing portion of the tour, travelers will visit the Masaryk Cave, one of the most beautiful in the area.
Where to Stay
7. Xcaret River, Mexico
https://www.instagram.com/p/BEeAr-DsO-X
For a family-friendly adventure in Mexico, visit the underground Xcaret River system. This freshwater river has three parts—the Blue River, Manatee River, and the Maya River—all of which flow into the ocean. Wearing life jackets, of course, visitors float down the river, exploring Mayan ruins and beautiful caves. Snorkeling equipment is available to rent and can add a different experience on this underground river trip.
Where to Stay
8. Myst'ry River, Indiana
https://www.instagram.com/p/7-c28SQiya/
In Corydon, Indiana, travelers can visit the Bluespring Caverns, home to America's longest underground river, the Myst'ry River. The world has known about the cave and underground river since the 19th century, but it wasn't until 1940 that it was opened for exploration. Today, it's just a 35-minute drive from Louisville, Kentucky, and guests can take an hour-long boat ride along three miles of the river to see fascinating cave formations and wildlife like bats and salamanders. Take note that during the wet season, the river is sometimes not accessible.
Where to Stay
You'll Also Like:
All products are independently selected by our writers and editors. If you buy something through our links, Oyster may earn an affiliate commission.