Although Croatia didn't clinch the World Cup title, the country can still boast being home to some of the most beautiful islands in the world -- over 1,000, to be more specific. Croatia's islands lure travelers with their beautiful coves and inlets, historic villages, scenic vineyards, impressive ruins, and plenty of sunshine. Some are perfect for island-hopping in comfort, while others are great for those who wish to get off the beaten path. However, with so many options to choose from, it can be tough to narrow things down. That's why we've compiled a list of Croatia's seven most alluring islands.
Located off the Dalmatian coast, Hvar has become one of the most popular destinations in the Adriatic. Well-heeled travelers seek out the island's mix of historic charm, vibrant nightlife, and sun-soaked coves and beaches. Hvar's three main villages — Hvar Town, Stari Grad, and Jelsa — can all be reached in just one to one-and-a-half hours by ferry or catamaran from Split. Hvar Town is certainly the most upscale of the three, and has plenty to do day or night. The central town square dates back to the 13th century and still impresses visitors today with the ornately adorned St. Stephen's Cathedral and open-air cafes facing the harbor. The medieval Fortica castle sits just outside of town, providing outstanding views of the harbor and neighboring Pakleni Islands. Visitors can also head to the famous Carpe Diem nightclub, which attracts revelers from dusk to dawn. For those who are deterred by the crowds and ritzier scene, Hvar's 158-mile coastline includes plenty of vineyards, hidden coves, and villages to explore. An often-overlooked attraction is the Stari Grad Plain, a UNESCO site that comprises an ancient patchwork of agricultural fields in one of Hvar's fertile valleys. The fields and stone walls have remained largely intact for millennia, and appear as a mosaic of colors to anyone who makes the trek.
Hvar Hotel Pick:
The sizable island of Korcula is situated just south of Hvar, and should rank high on any island-hopper's itinerary. Korcula also doubles as the name for the main town on the island, often referred to as Korcula Old Town. The port town has a handful of seaside eateries, a Korcula history museum, and allegedly, Marco Polo's house, though records show it was built a century after his death. Before departing town for the island's impressive beaches, vineyards, and forest, climb the steps of St. Mark's Cathedral for views of the red-tiled roofs, harbor, and outer islets. Most of Croatia's beaches consist of pebbles, but Korcula has two sandy stretches near the village of Lumbarda, on the island's southeastern tip. Korcula is renowned for its local wine, which varies between different villages on the island. Inland Smokvica and Cara produce the Posip grape, which creates a light-bodied white wine, while coastal Lumbarda produces Grk — another white wine variety. Tastings can be had at many hyper-local wineries, most of which have been family-operated for hundreds of years. If you're pressed for time, head to Vinum Bonum, a wine bar in Korcula Old Town to sample an array of the local vintages.
Korcula Hotel Pick:
3. Mljet
This southern Dalmatian island is a nature-lover's paradise. With a sizable section designated as Mljet National Park, Mljet's landscape consists of dense pine forest, limestone cliffs, and two saltwater lakes. The saltwater lakes become popular swimming spots in the warm summer months. The bigger of the two lakes, Veliko Jezero, includes an island with a monastery, which now houses a restaurant. Another natural wonder on Mljet is the Odysseus Cave, situated on the island's southern coastline near the village of Babino Polje. The roughly 100-foot-long tunnel can be accessed via the sea or steep stairs from above. Legend has it that Odysseus took refuge here after being shipwrecked, and ultimately succumbed to the island's beauty and its ruling nymph, Calypso. Mljet is home to several villages, with Pomena and its harbor-front restaurants being the most trafficked. That being said, one doesn't have to go far by foot, boat, or scooter to escape into Mljet's beautiful landscapes. Mljet is most easily reached by the daily catamaran from Dubovnik, car ferry from the Peljesac peninsula, as well as from other islands, such as Korcula.
4. Vis
Vis exists largely in contrast to its chic northerly neighbor, Hvar, except for its similarly stunning coastline and beautifully craggy cliffs. Vis is located further offshore than most of Croatia's islands, and it has been spared from overdevelopment mostly due to a tourism ban during its tenure as a Yugoslavian army base from 1950 to 1989. Today, sleepy Vis serves up laid-back island life, with only two villages on the island: Vis and Komiza. Ferries from Split and Hvar drop visitors in Vis, which consists of a quaint row of cafes and shops on the harbor before giving way to vineyards and the island's rugged interior. Public buses connect Vis to Komiza along the ring road circling the island, but visitors should consider renting a scooter or bicycle to seek out narrow coves and inlets that can only be reached by foot or boat. Once you've made your way around the island to Komiza, find a boat in the harbor to take you to the tiny offshore island of Bisevo. Bisevo is home to just 15 residents, and more notably, the blue grotto — a small sea cave that, during midday, becomes illuminated in a stunning light blue glow. Recent years have seen an influx of day-trippers from nearby Hvar, so try to get there in the late morning, when the sun is high enough to create the blue glow, but early enough to beat the group tours. After returning from the cave, check out one of Komiza's harbor-side eateries and enjoy a local vintage and daily catch.
5. Dugi Otok
Dugi Otok translates to 'long island,' which is a fitting name, given that this island is 27 miles long and two to three miles wide. Dugi Otok lies farther north than the aforementioned islands, just off the coast of Zadar. The southern half of the island is dominated by jagged limestone cliffs and hilltops, including a section designated as Telascica Nature Park. The park includes a couple dozen small beaches along its rocky coastline, as well as an inland saltwater lake that offers therapeutic relaxation in an incredibly scenic atmosphere. The harbor town of Sali lies just outside the park, is the main port of entry, and offers a wide range of dining options. That being said, it's well worth heading north to explore other villages, such as Savar for its charming church and Dragove for its sandy beach. Dugi Otok's topography flattens out a bit as you head north from the central mountain of Vela Straza, giving way to vineyards, sheep pastures, and olive groves. The north is also home to the largest swath of white sand on the island — Sakarun beach — occupying the coastline of a wide bay near the village of Verunic.
Brac is ideally situated for a quick getaway from the coastal city of Split. The island is the largest in central Dalmatia, with amenities catering to all types of travelers. Most visitors flock to the main town of Bol, which has become famous for its neighboring Zlatni Rat beach. This pebble beach has emerged into a premier resort destination with excellent diving, windsurfing, and access to water sports. It also serves as the nightlife hub for the island, with plenty of open-air cocktail bars and house DJs creating a jovial atmosphere in the summer months. The island's interior is home to the highest peak of all Adriatic islands — Vidova Gora mountain. Hiking to the top will reward visitors with panoramic views of the sea, neighboring Hvar, Vis, and smaller islets. Brac is also renowned for its white stone, which can be found across the island. Upon returning to Split by ferry, check out the Diocletian's Palace, which was constructed from Brac's stone quarries.
Brac Hotel Pick:
7. Lastovo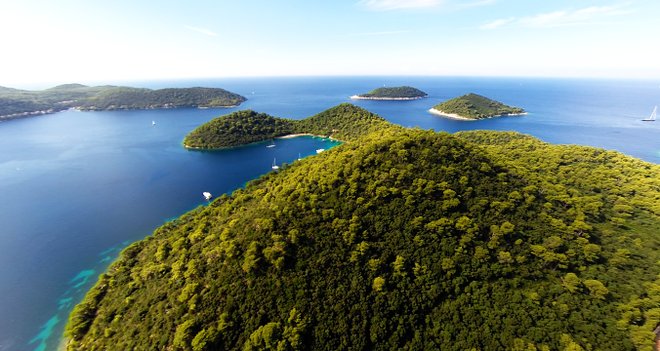 Out of Croatia's thousands of islands, Lastovo and its surrounding archipelago of islets are the most remote. The primary way to reach Lastovo is via a four-hour ferry from Split, with less frequent connections from other islands, such as Hvar and Korcula. The island's 18 square miles of rugged terrain are home to less than 800 residents. Similar to Vis, this island was closed to foreign visitors because of a Yugoslavian military base, which held off development for decades. Today, the island retains an isolated feel, but has enough amenities to vacation in comfort. The interior topography is dominated by pine and oak forests, with some notable caves and rocky limestone outcrops accessible by hiking trails. Just a handful of quaint stone villages and beaches dot the island, so there are plenty of coves and bays to explore without a soul in sight. The main town, also named Lastovo, is scenically situated inland on a hillside overlooking the Adriatic. Here, you'll find a handful of welcoming bistros, cafes, and lovely stone churches. A hike up one of the many neighboring hills will reward you with 360-degree views of the Adriatic and surrounding islands. Then, unwind and enjoy some fresh seafood with a glass (or bottle) of Lastovo Marastina, a flavorful, dry white wine produced on the island. There isn't much else to do on Lastovo, but that's kind of the point. The only hotel is Hotel Solitudo, but several apartments, and a lighthouse on the island's southern coast, offer accommodations.
You'll Also Like:
All products are independently selected by our writers and editors. If you buy something through our links, Oyster may earn an affiliate commission.