In just a week, Chinese New Year kicks off! And we want to give you plenty of notice so you can start planning how — and where — you'll celebrate. Also known as the Spring Festival, this holiday consists of two weeks of feasting, lion dances, lantern lighting, and much more. After all, it is the most important holiday in the Chinese lunar calendar, so festivities necessitate indulgence. Millions of people around the world will celebrate with gorgeous decorations, rich foods, and stunning firework displays — and we here at Oyster can't wait to get in on the action at some of our favorite Chinatowns around the globe. We've got you covered on where to ring in the Year of the Snake, but no matter where you choose to kick things off, Oyster wishes you a prosperous new year or, as they say in Mandarin, Gong Xi Fa Cai!
Nothing matches the vibrancy of the Spring Festival celebrations in Hong Kong. This city, where modernity meets antiquity, offers a truly incredible experience for those looking to celebrate the new year in Asia. Visitors shouldn't miss the night parade, where illuminated floats dazzle, only to be outshone by the city's pyrotechnics display. There are also the flower markets to visit — the right blooms can bring you good fortune throughout the year — and ancient temples to explore where you can pay tribute to deities such as the gods of war and literature.
Parties also tend to crop up along the parade route, as locals sell food and decorations, or join in the dancing and festivities themselves. Keep your eyes peeled for such food stuffs as dried oysters (meant to bring prosperity to the eater), steamed sticky cakes, vegetables with ham (particularly important with business folks, this dish represents a large return on a small investment), and tangyuan, or sweet rice balls, which symbolize reunion, an important theme of Chinese New Year.
Where to Stay: Island Shangri-La
Arguably the most luxurious hotel in Hong Kong, the 565-room Shangri-La features opulent details — including the largest Chinese silk painting in the world. Elegant rooms are outfitted with silk throws, gilded wooden furniture, crystal chandeliers, and stunning views of Victoria Harbour, so taking in the sights and sounds of the festival is made easy here.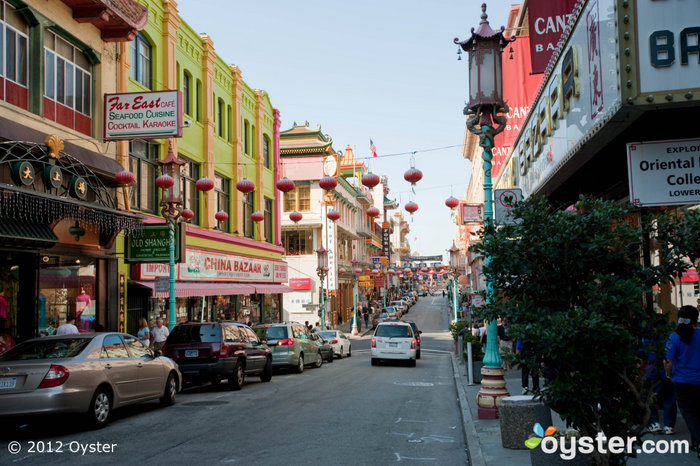 San Francisco's Chinatown is both the largest (outside of Asia, of course) and the oldest in North America, dating back to the mid-1800s. With such a grand reputation to uphold, you can be sure that this neighborhood's new year's festivities will be extravagant. In addition to excellent, authentic restaurants and shopping (there are even herbal shops where visitors can purchase traditional remedies), tourists can look forward to lion dances, a flower market, street fair, and a parade on February 10th. There will also be numerous exhibits and performances pertaining to the history of the holiday.
Where to Stay: Hotel Triton
This casual, pop-themed Kimpton is full of character, with funky furnishings, a great restaurant, and a free wine hour. Its 140 rooms are small, but it is within walking distance to San Francisco's Chinatown, making for easy celebrating during the Spring Festival.
Outside of Asia, the New York City metropolitan area boasts the largest ethnic Chinese population. Though mainly centered in Manhattan's Lower East Side, Chinese culture, shops, and restaurants can also be found in the growing Chinatown in Flushing, Queens, known for its tasty Chinese restaurants. Brooklyn also has an impressive rosters of Chinese shops and restaurants. In Manhattan, February 10th will be marked with a firecracker ceremony, intended to ward off evil spirits, and a cultural festival where dancers, singers, and a dozen lion, dragon, and unicorn dance troupes will perform. There is also a parade showing off elaborate floats and dances, as well as a walking tour of the city and museum exhibit put on by the Museum of Chinese in America.
Where to Stay: Hotel 91
This affordable option in the crowded-by-day, desolate-by-night, heart of Chinatown (just outside the Lower East Side nightlife) offers clean and comfortable rooms, but little in the way of amenities. Its location in the thick of things will certainly appeal to revelers, as it is situated amid a myriad of authentic Chinese stores, markets, and restaurants. But (compared with hectic Canal Street), Hotel 91 offers a calmer home base near Joe's Shanghai — a must visit for its traditional Chinese dumplings.
As Singapore is a predominantly Chinese country, its "Chinatown" is a relatively large area with touristy destination spots selling souvenirs, locally-frequented restaurants, and vegetable and meat markets. There is also the Smith Street night market, as well as traditional herbalists and several Chinese temples to visit. The area has been largely designated a building preservation project, as well as a locale for more upscale shopping and eating. Celebrations in Singapore last for two months and will include traditional fireworks, dances, and foods, such as marinated dried meats and pineapple tarts.
Where to Stay: The Scarlet Hotel
The Scarlet Hotel is a trendy, 80-room boutique in Chinatown, with a cool rooftop restaurant, darkly-lit bistro and bar, and rooms with rich, jewel-toned decor. Creative touches add an element of fun to the rooms, including funky headboards and intricate mirrors. Some of the best shops and restaurants are just a stroll away.
Located in London's West End is Europe's largest Chinatown. The eclectic mix of restaurants, tea houses, medicine halls, and supermarkets attracts over 300,000 people annually for the Spring Festival. Following the city's parade, a traditional eye-dotting ceremony will take place (where the "dragons" who dance through the parade truly come to life). There will also be musical performances and plenty of delicious treats — some eateries in Chinatown are also offering culinary tours of the area from master chefs.
Where to Stay: St Martins Lane
St. Martin's Lane is a prominent design hotel with sleek, cheeky interiors by Philippe Starck and a fashionable A-list bar scene. Luxurious rooms have stylish white decor and adjustable mood lighting. Its central location neighboring Covent Garden is a plus, as is the hip atmosphere. Plus, Chinatown is just a short walk away.
Australia's two largest cities are known to be rivals, so it should come as no surprise that both of their Chinatown areas are lovely, authentic, and incredibly impressive — any way these two can try to one-up the other, they will. Both have been attracting immigrants since the 1850s gold rush and today feature authentic restaurants and shops in gorgeous brick buildings. Melbourne's Chinatown boasts one of the world's largest dragon floats that requires over 200 persons to operate it, while Sydney is renowned for its weekly night markets.
Where to Stay: Pensione Hotel Sydney and the Hotel Lindrum, Melbourne
In Sydney, the Pensione is a great boutique with a historic facade but modern interiors. Each of the 68 rooms are small but clean and filled with character; they feature crisp white bedding, whimsical prints, and sleek bathrooms. In Melbourne, on the other hand, the Hotel Lindrum is a modern boutique located just a short walk from sights such as Federation Square, Melbourne Park, and the Chinatown areas.
Chinese culture is apparent in Vancouver, a Canadian city where many Hong Kong natives moved to in search of work a little over a century ago. Today, the area is rife with restaurants and shops, but also many historical archives and attractions — such as the Classical Chinese Garden, zodiac mosaic, and West Han Dynasty Bell.
Where to Stay: Georgian Court Hotel
This upscale hotel features large and contemporary — if a tad generic — rooms with flat-screen TVs and mahogany accents. It is within walking distance of Chinatown, but for farther flung attractions the hotel provides a shuttle.
RELATED LINKS:
All products are independently selected by our writers and editors. If you buy something through our links, Oyster may earn an affiliate commission.