Palm Springs has evolved into an ultra-hip destination that's no longer just for golfers and retirees. Though this transformation is undeniable, there's one thing about the Palm Springs experience that remains gloriously intact: its terrifically retro spirit. The town was once a hot spot for mobsters, Hollywood stars, and Rat Pack members all looking to escape the limelight of L.A., and the architectural and stylistic panache from that era isn't just alive and well, but rather reigns supreme.
The sunny desert getaway is home to some of the best modernist architecture in the country, and many of its resorts, hotels, and motels are textbook examples (filled with teak credenzas, egg chairs, and tulip tables, of course). These 10 boutique hotels in particular are proof of the unending appeal of midcentury style.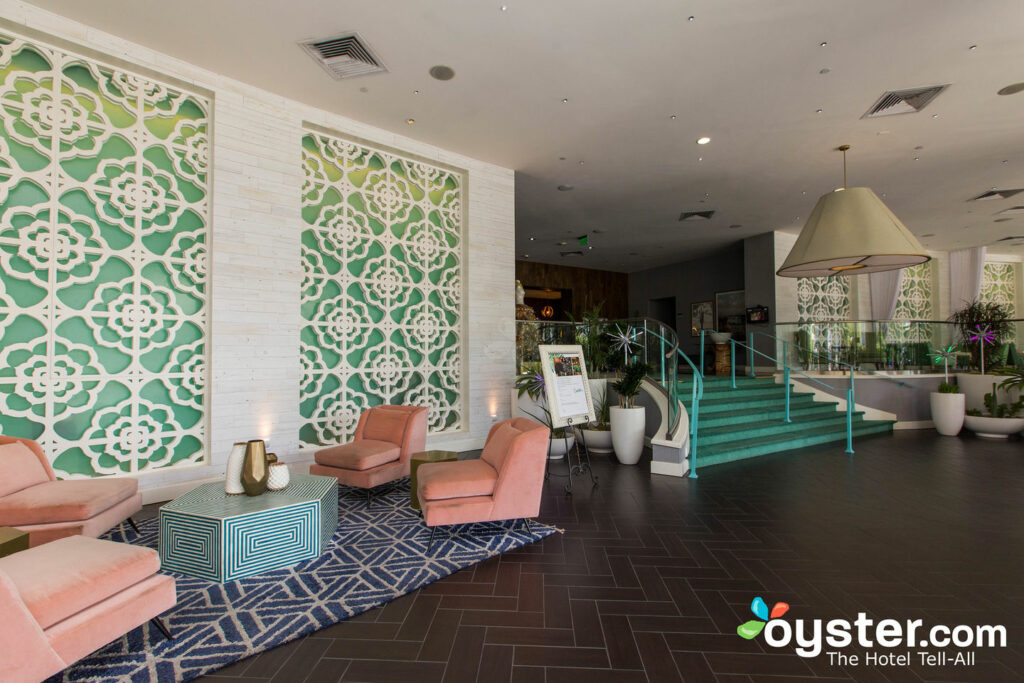 In the swinging '60s, the Riviera was a party playground for Rat Packers, royalty, and presidents. It's unlikely you'll spot celebrities here now, but the hotel's vibe still has a nice touch of Hollywood glam. The reception and lobby encourage lounging, with ambient music, a bright modern bar near check-in, and a hallway of mirrored partitioned spaces staged like upscale living rooms with a rock 'n' roll edge. (Mosaics of former legendary guests, such as Frank Sinatra and Marilyn Monroe, grace the walls.) The cocktail culture really takes off by the puzzle-piece-shaped pool, where cabanas, loungers, fire pits, and a hot tub are perfect posts for carousing, posing, and people-watching. The swanky Starlite Lounge (weekends only) features small bites, classic cocktails, and live entertainment. In the 398 rooms, imagine "Mad Men" style with a color palette straight out of the Brady Bunch abode. The brown and orange color scheme is accented with oversize, quilted leather headboards and hits of hot pink.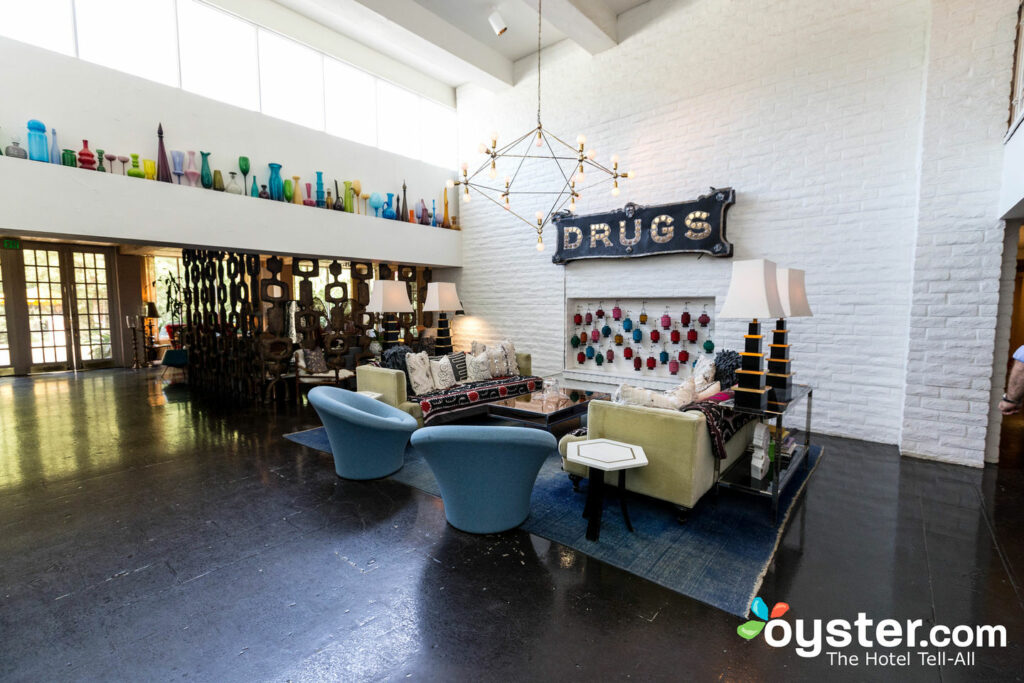 This hotel may have the most major design pedigree in town. Built in 1959 as Palm Springs' first Holiday Inn, it became Gene Autry's Melody Ranch two years later when it was purchased by the famous singing cowboy. In the '90s, it was reincarnated as Givenchy Hotel & Spa (as dreamed up by the French fashion designer himself) before becoming Merv Griffin's Givenchy Resort and Spa. All this is to say that the Parker had to shed some serious bygone style before debuting its own version of eccentric glamour, courtesy of famed designer Jonathan Adler, who helmed the hotel's 2016 renovations. As to be expected, every stylish inch of the hotel looks lifted from a design magazine: Trendy midcentury modern decor is paired with eclectic details like suits of armor and a giant "DRUGS" marquee (maybe don't bring your kids here). Although the upscale hotel is exploding with color and character, it feels peaceful and secluded thanks to its 13 acres of beautiful, green grounds (popular for weddings). Parker offers a host of features, including three pools, two restaurants, a wine bar, a spa, and outdoor activities.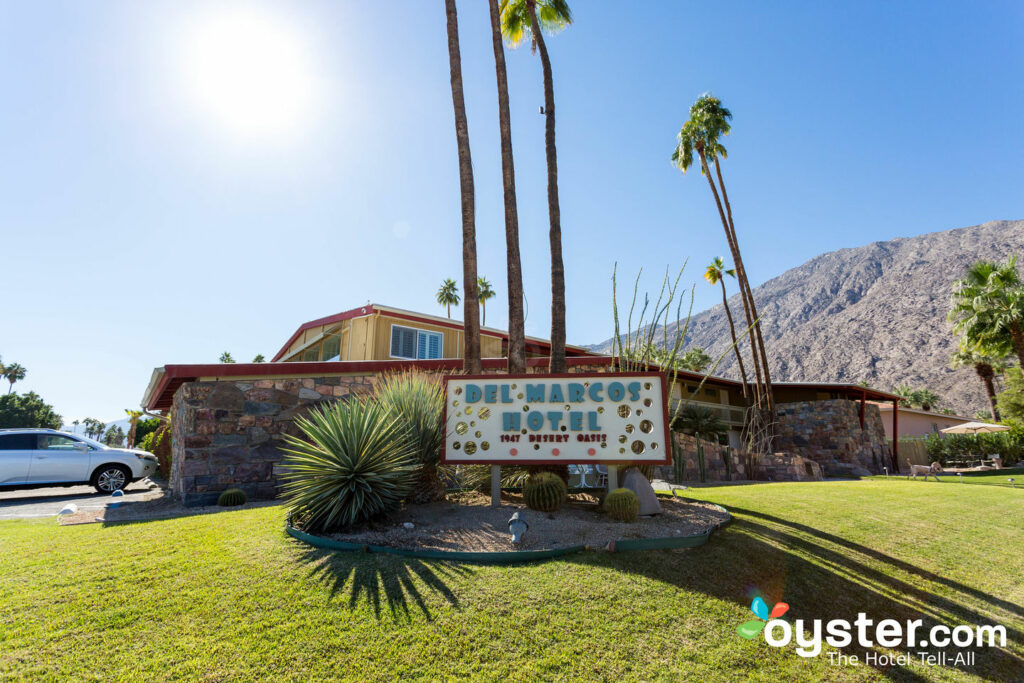 Designed by renowned desert modern architect William F. Cody, Del Marcos Hotel first opened its doors in 1947. At the time of its opening, Del Marcos was one of Cody's earliest works, and today, it is considered a historic landmark. A plaque outside the two-story building describes the structure as representing "informal post-WWII modern resort design with bold-angled roof and walls, stone facade, glass-enclosed lobby, and open breezeway." Though the hotel was completely renovated in 2016, it retains its hallmarks of 1940s style. A patently retro look dominates the airy lobby: terrazzo floors, wide-set wood chairs with tapered legs, a hardwood hutch, and avocado-green wall accents. The building sits in a U-shape around an outdoor pool, where guests frequently lounge. Vacationing couples are regular guests at this adults-only property, and with a daily free happy hour, people tend to get out of their rooms and mingle.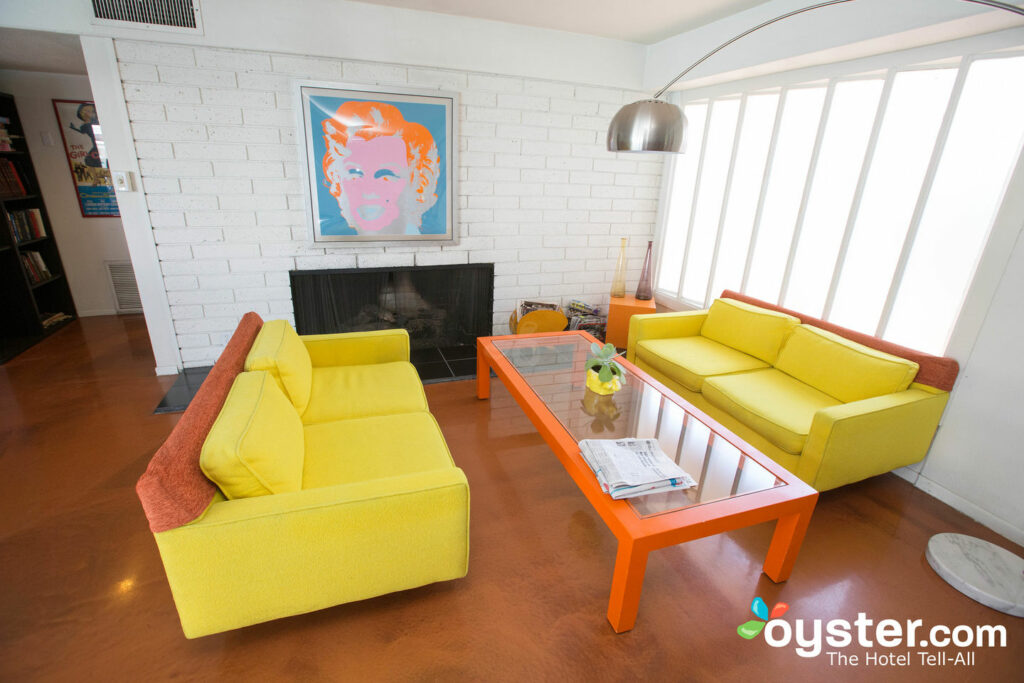 Though the Palm Springs Rendezvous was originally built in the 1930s, it underwent a major renovation in the 1950s, and it is that era in which the hotel blissfully and unapologetically remains. Rendezvous' architecture is fairly typical of Palm Springs (low buildings wrapped around a quadrangle courtyard with a pool and hot tub), but the hotel shines for the meticulously nostalgic decor found throughout. The 10 rooms are impeccably steeped in a variety of midcentury themes: there's the Rat Pack-inspired Crooners room; the Elvis tribute Shake, Rattle & Roll room; and Pretty in Pink, a bubblegum-hued room in which Marilyn Monroe reportedly stayed back in the day. (Monroe, as well as Cary Grant and Dinah Shore all owned homes near Rendezvous' stretch of North Indian Canyon Drive, which is within walking distance of downtown Palm Springs.) The atmosphere is quiet and relaxed, with guests enjoying the poolside cocktails, personalized service, and period-appropriate bicycles to take out on the town.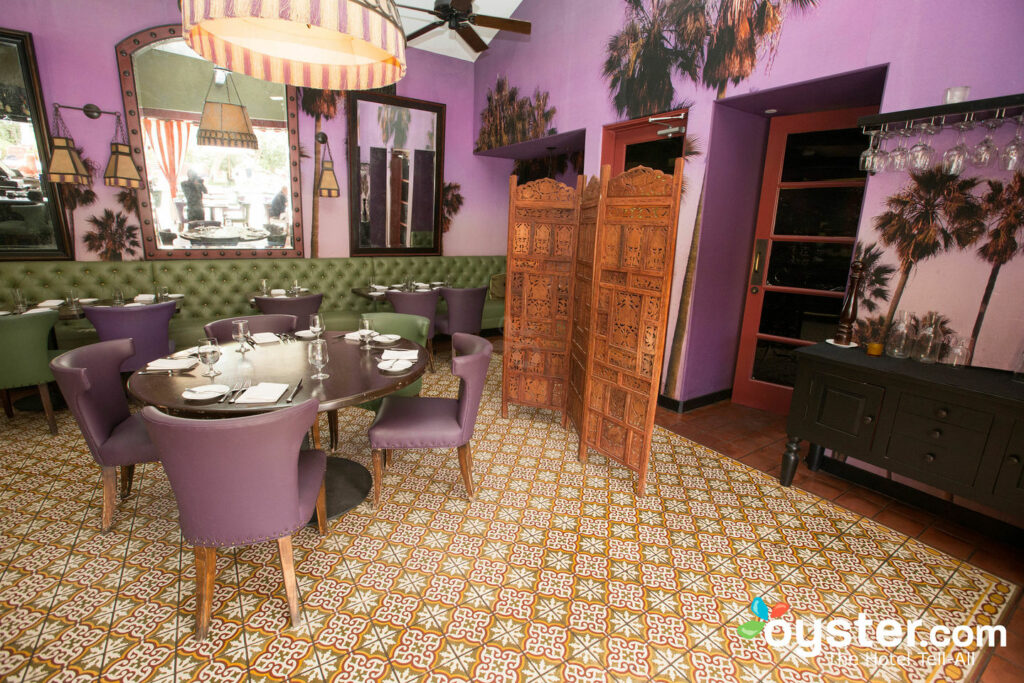 As far as hotel origins go, it doesn't get more wonderfully retro than this: The 1936-built Colony Palms Hotel started out as a gambling den and desert hideaway for L.A. gangsters. Today, the Spanish Colonial-style hotel still retains that exclusive, tucked-away atmosphere. The peaceful boutique hotel combines mosaic tiles, rich fabrics, and exotic wood furniture for a look that's as much "Casablanca" as old Palm Springs. The hotel is surrounded by green space and the scene is dominated by couples lounging with cocktails in the sun.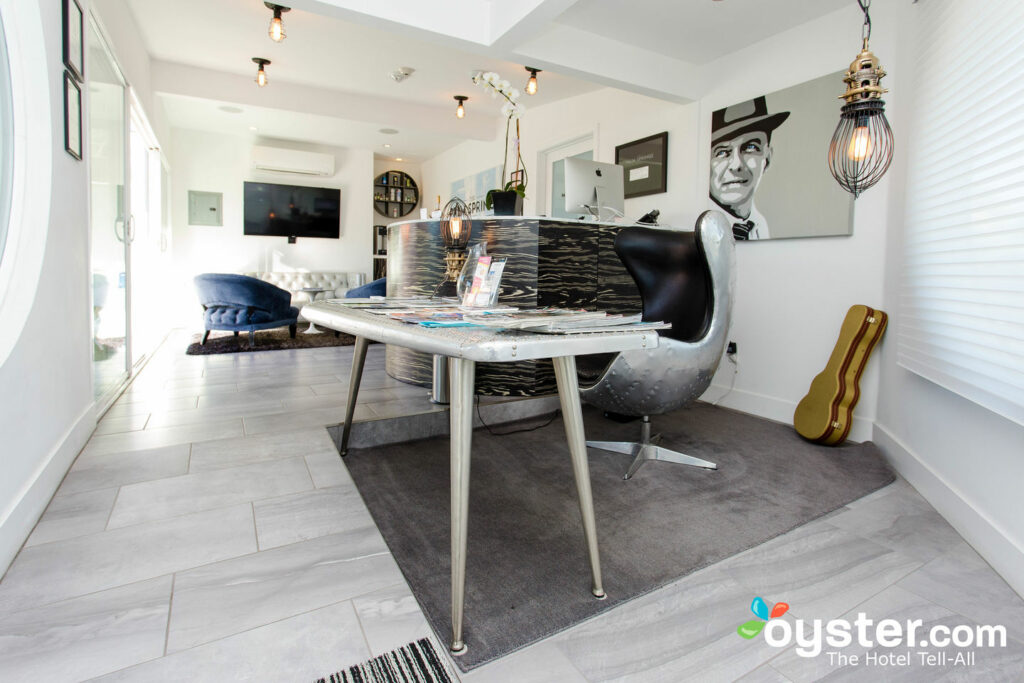 Completely refurbished in 2014, The Palm Springs Hotel is a former motel that holds its own among the slew of hip midcentury properties in the area. The cool white streamlined facade of this single-story building hints at the style to come once you're buzzed inside. The lobby is decked out with swinging mod furnishings, like tufted velour armchairs, shag carpeting, modernistic paintings of Hollywood stars, and hanging vintage Tungsten light bulbs. Named after period celebrities like Frank Sinatra and Elvis Presley, the 15 guest rooms have spacious interiors and roomy bathrooms. All rooms come with 48-inch flat-screens with Apple TV, Keurig coffeemakers, and mini-fridges; some include semi-private patios with mountain or pool views. The Palm Spring Hotel's pool and hot tub are open 24 hours, but this isn't a party hotel. Throughout the hotel, the atmosphere is fun, relaxed, and unpretentious. Guests tend to appreciate the low-key poolside scene and keep the noise level down.
The 7 Springs Inn & Suites is a playful budget hotel with punchy, retro decor and spacious outdoor areas. Its sleek, rectangular facade calls to mind midcentury modern motels, and the lobby stays on theme, with vintage-inspired furnishings like a space-age ball chair. The real lounge space is outside where a big courtyard and landscaped yard offer plenty of nooks for relaxing: poolside lounge chairs, faux wicker couches around fire pits, and picnic areas near big barbecue grills. The 50 rooms can feel busy with wall-to-wall lime-green-and-blue carpeting, striped accent walls, and bold purple furnishings, but the look comes together for a funky, kitschy feel.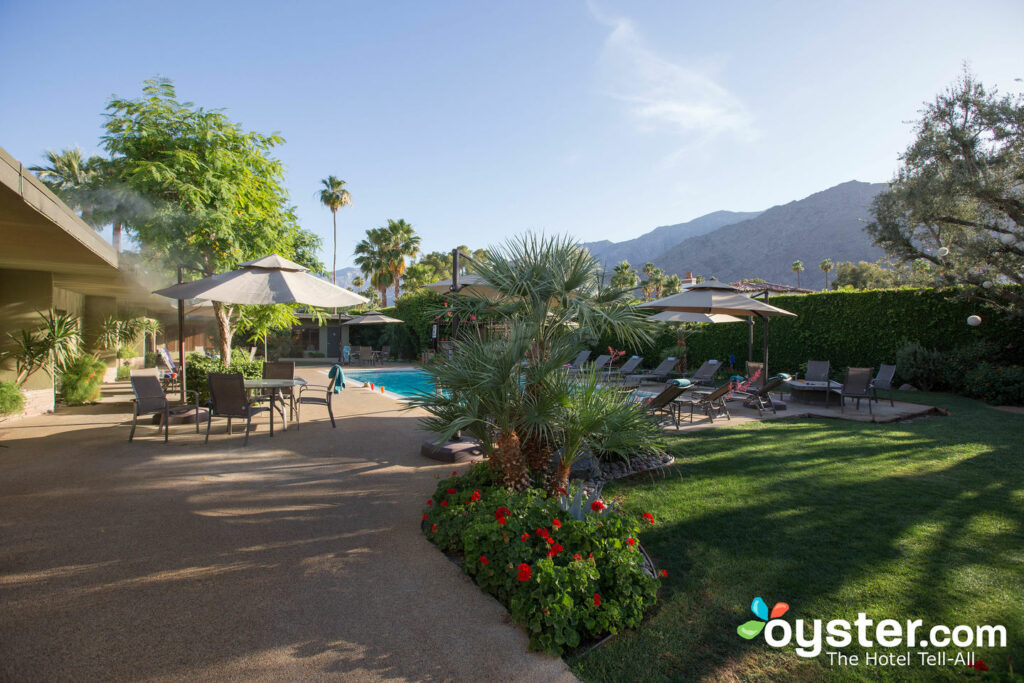 Hidden from the street by walls and hedges, this little adults-only boutique is a renovated 1950s motel and a great value. The updated style is fun and colorful, invoking the period in which it was originally built. Sprinkled throughout the 11 rooms are fun midcentury pieces, like white tulip tables and starburst wall art. Loaner cruisers are parked outside the tiny lobby and the well-manicured lawn and gardens extend to a surprisingly large central courtyard. Though the hotel has a strict noise policy, both the courtyard pool and whirlpool are open 24 hours. Towels and sunscreen are provided poolside and cooling micro-misters are set around the tables and lounge chairs, which are illuminated at night by lights strung in the trees. Next to the pool is a pergola-covered outdoor kitchen with two gas barbecues begging for a party. Plus, the outdoor area has awesome San Jacinto mountain views.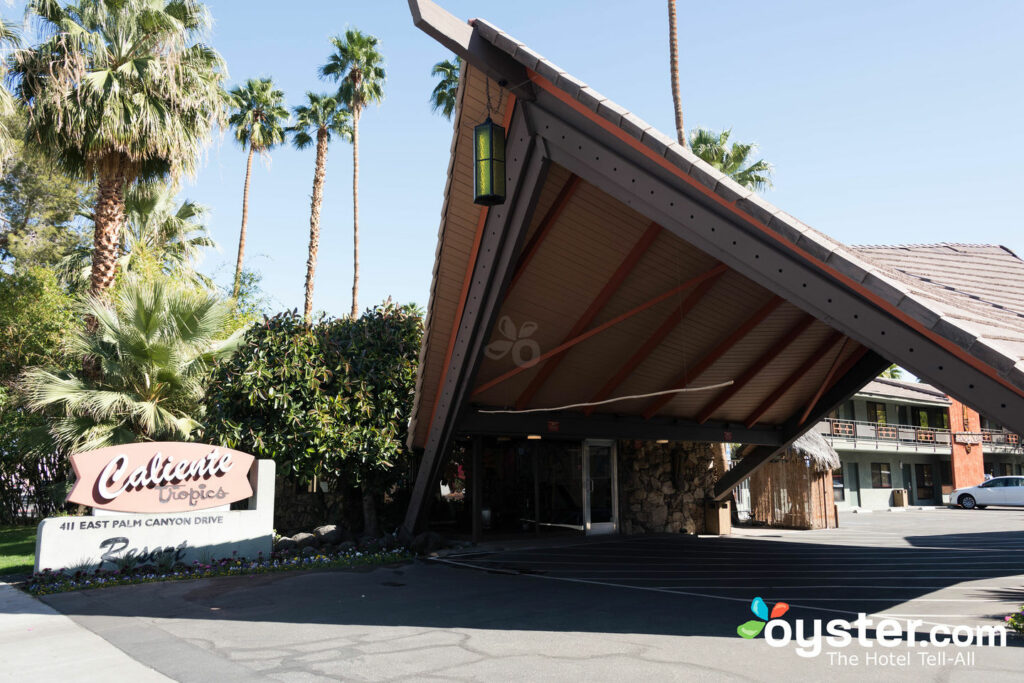 Caliente Tropics Resort is a fun budget motel firmly ensconced in '60s kitsch, with cheap and cheery tiki decor (coconut carvings and Easter Island statues) and midcentury style (a starburst-patterned carpet and egg chairs). Rooms have a standard motel layout with direct outdoor entry. They're decorated in a mix of dated furnishings and tropical knickknacks, like cheeky tissue boxes with Polynesian heads (tissues stick out from the nose) and framed palm tree prints on the walls. The property has a lovely, large outdoor pool and 12-person hot tub, both with beautiful mountain views, plus a palm-lined courtyard lawn with grills.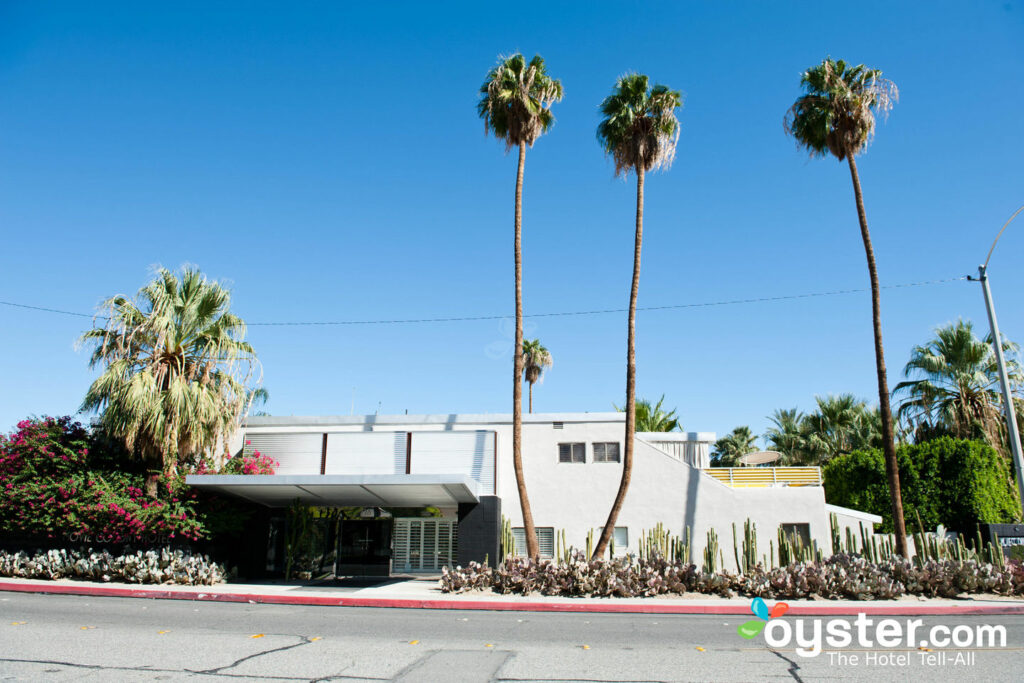 Jim Morrison, Marilyn Monroe, and Frank Sinatra are just a few of the famous folks who once checked into Movie Colony Hotel. Inside the hotel, the decor pays tribute to its '60s heyday (white-leather Eames chairs, low elliptical coffee table, arching chrome floor lamp), but with a decidedly modern and minimalist look. The 17 rooms are spacious and have private terraces; guests can upgrade to a townhouse for more luxury (and space). Free wine by the fire pit at happy hour encourages mingling, but this place is really best for couples looking for a laid-back feel and a central location.
Be the hippest one by the Palm Springs pool with a swanky swimsuit from the sustainable brand, Reformation.
You'll Also Like:
All products are independently selected by our writers and editors. If you buy something through our links, Oyster may earn an affiliate commission.