The quest for "peak experiences" -- the term psychologists use for those moments when we feel on top of the world, invincible, and at our happiest -- is never ending. To be sure, there are plenty of ways to reach these peaks, and Colorado in particular is currently the nation's go-to destination for certain kinds of semi-legal highs (hint, hint). True peak experiences, though, demand more than just a bit of intoxication, more than a slip of THC into the bloodstream...for those moments, these 11 adventures guarantee that you won't want to come down any time soon.
Kite Flying on the Jersey Shore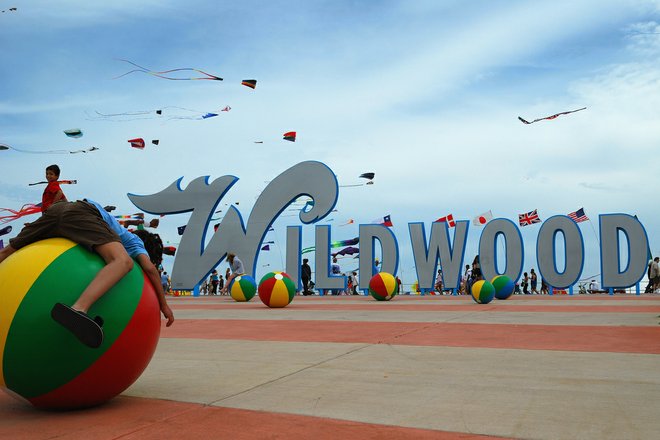 Take a deep breath and relax. Flying a kite is not an adrenaline junkie's dream — but that's the point. Some might say that the relaxed, mellow buzz of watching a brightly colored kite dip and bob on the breeze is reminiscent of other herbal highs, but according to research at schools like the University of California in Irvine, kite flying may actually have a positive impact on mental health and wellbeing because its techniques correlate with other calming tricks like meditation, and it can thereby help to reduce stress. There are plenty of spots to fly a kite in almost any town on earth, but the Jersey Shore is considered
one of the meccas for sport kiting — the kind performed by the two-stringed stunt kites that were invented in 1972 by Peter Powell.
Stay: Wildwood
is home to plenty of seaside kitsch and childhood delights, so take that vibe in stride and rent the
Airstream Trailer at The StarLux.
Ziplining in Puerto Rico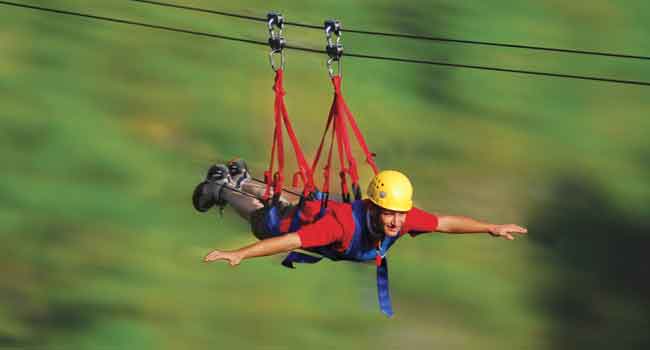 Reaching speeds of up to 65 miles per hour while dangling hundreds of feet above the earth suspended from nothing but a thin metal wire? That's definitely getting high. Toro Verde, nestled in Puerto Rico's forested interior, is one of the world's most well-known ziplining destinations. It's currently home to the third longest course in the world and it's in the process of
constructing the world's longest. The trained staff puts guests through the ropes (pardon the pun) regarding safety and technique, and visitors cross trembling suspension bridges and ascend dizzying towers to courses like The Beast (La Bestia), where zipliners are suspended face down,
853 feet above the jungle floor, on a route that's nearly a mile long.
Stay: There are numerous hotels to choose from in San Juan, just 90 minutes from Toro Verde, but we love the Olive Boutique
Hotel in Condado, San Juan's swish answer to South Beach. It has quaint, stylish
rooms with gorgeous terraces, many of which look out on the Condado Lagoon.
Hang Gliding in La Jolla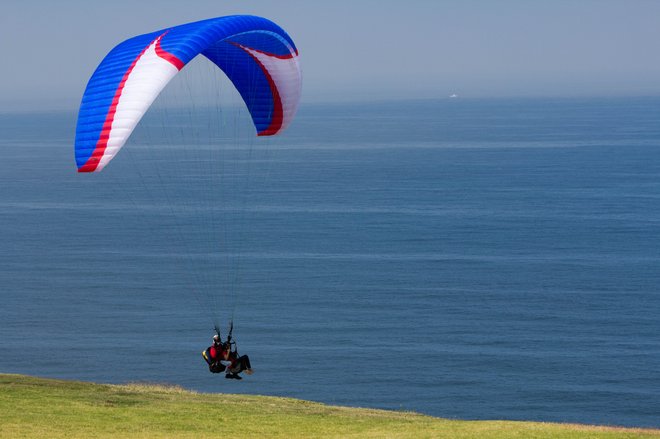 With nothing but an
aluminum frame and some synthetic fabric keeping the glider off the
ground, this sport isn't for the faint-hearted. Novices are taken into the air
on tandem trips, much like they are when sky diving, and those
looking to try this sport should check and make sure that the outfitter is
listed with the U.S. Hang Gliding and Paragliding Association. Southern
California is a hang-gliding hotspot, and the Pacific Ocean cliffs around La Jolla
offer heart-stopping views of crashing surf and sky.
Stay: The Lodge at
Torrey Pines will keep that light-as-a-feather feeling going with an array of
on-site features like a stylish outdoor pool and hot tub, golf course, and
ocean views in a rustically handsome setting.
Falconry at Ashford Castle in Ireland
https://instagram.com/p/n_KIQqtmXe/
At Ireland's Ashford Castle in
County Mayo, Ireland's School of Falconry is home to a variety of hawks and
falcons (as well as owls and other raptors). The school offers 60- or 90-minute
Hawk Walks, which are guided tours through the stunning woodlands that surround
the castle. The falconers are a wealth of knowledge about each species and the individual personalities of the birds that call the school home. Watching
your hawk swoop in from over the waters of Lough Corrib and land on a gloved arm leads to a high of medieval proportions.
Stay: The choice is clear.
After watching your hawk dip and soar above the 13th-century walls
of Ashford Castle, head on up to your room. That's right, Ashford Castle is a
hotel and offers 83 cozy rooms full of history and charm. The hotel serves a wicked afternoon tea as well.
Skydiving at North Wollongong Beach, Australia
https://instagram.com/p/uebvnvrdR8/
Skydiving along the Australian coast just
north of Sydney can add an extra-magical twist to an already breath-stealing experience. North Wollongong Beach has become a
world-renowned skydiving hot spot, especially in May and June, and September through November, when humpback and southern
right whales can be spotted on their migrations. Of course those aren't
the most beach-friendly months in New South Wales, so many also visit in the warmer months, when several skydiving outfitters can actually arrange for a dip in the Pacific Ocean right after a dive.
Stay: For a trendy, boutique
spot right in the heart of Sydney, the 1888 Hotel has vibrant, funky interiors
and industrial chic rooms right on Darling Harbor.
Snowkiting in Skyline, Utah
Yes, you read that
correctly. Snowkiting involves skis or a snowboard, a specially designed kite, and a whole lot of
wind — and Skyline, Utah is the place to put all of those ingredients together. The sport combines elements of parasailing and windsurfing with that natural high everyone gets careening across snowy expanses at high speeds. Skyline's unique geography on the Wasatch Plateau, about 90 minutes south of Salt Lake City, allows for solid snow
coverage from December onward through the winter, plus broad swaths of open, back-country-style terrain and strong winds almost every day of the week.
Stay: For
a simple stay in the heart of cosmopolitan Salt Lake City, the DoubleTree
Suites by Hilton Hotel Salt Lake City is a fine choice with an indoor pool and
hot tub.
Hot Air Balloons in Albuquerque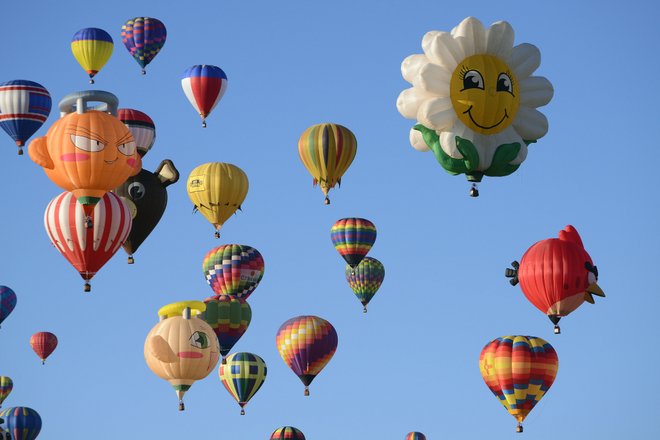 While the Albuquerque International Balloon Fiesta has already taken off and landed for 2015, rooms in New Mexico's
capital book out way in advance for the world's largest event of its kind. The
nine-day bonanza of color started taking flight in 1972 with only 13
participants and this past year saw over 500 balloons fill the skies over the
scenic desert surrounding Albuquerque. The event has turned into a full-on
family entertainment experience, with live music, tons of food, and arts and
crafts. Private outfitters are available and offer pre-booked spots on balloons
during the festival for those looking for an even more scenic vantage point and a bigger rush.
Stay: The Hotel Anadaluz is
our choice for Albuquerque. Situated right in downtown, about 20 minutes from
Balloon Fiesta Park, the cool and vintage boutique property has a popular
rooftop and restaurant.
Parasailing in South Beach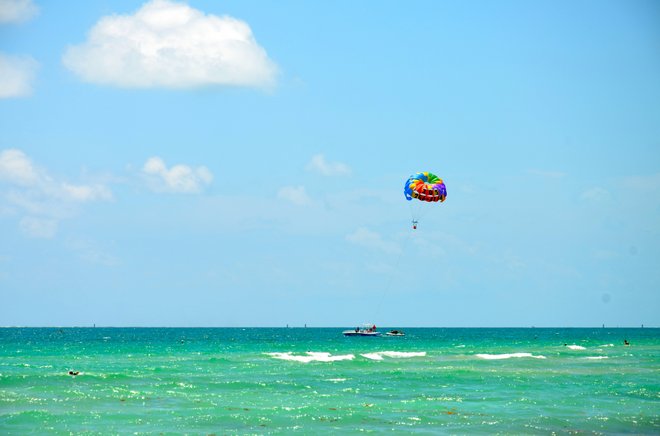 Sure, flying a kite is fine enough — but imagine being strapped to the kite and flying high
over the open turquoise waters off of Miami. America's most famous beach getaway is a parasailer's paradise. Brave visitors are harnessed to a large, kite-like
device that's attached to a boat and as the boat picks up speed they fly higher and higher into the sky. What makes Miami such a great place for this? The stunning
skyline certainly isn't hard to look at, neither is the blue ocean crashing
on the beach. And South Beach's notorious club scene is the perfect nightcap to a day spent in the sky.
Stay: To be near the clubs, but not in the clubs, check out the
Mondrian South Beach. It's not right on the beach, but it packs all of the style of its Collins Drive brethren several blocks east, without the noise.
Landsailing in Nevada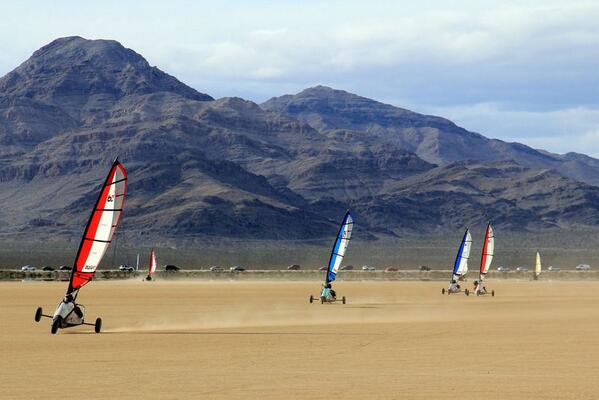 Dry lake beds make for
fine landsailing (or land yachting, as it's also known), and no state is
better suited for this high-speed pursuit than wide and parched Nevada. To reach insanely high speeds, the sport uses what look like miniature sailboats crossed with wheeled bobsleds. The town of Primm, just 40 minutes south of Las Vegas, is the gateway to America's Landsailing Cup, which takes place in Ivanpah, just
over the Californian border. In fact, the record speed for landsailing was set in
Primm, Nevada, with the pilot reaching 126 miles-per-hour. Several tour
operators operate out of Las Vegas, and
2016's cup in Ivanpah is set for March.
Stay: With a high like
landsailing, go big or go home when it comes to where you crash afterward.
The Mandarin Oriental is about as opulent as it gets, right on The Strip.
There's no casino, but you'll trip over them when walking in any direction just outside the
hotel's front door.
Windsurf Costa Rica's Lake Arenal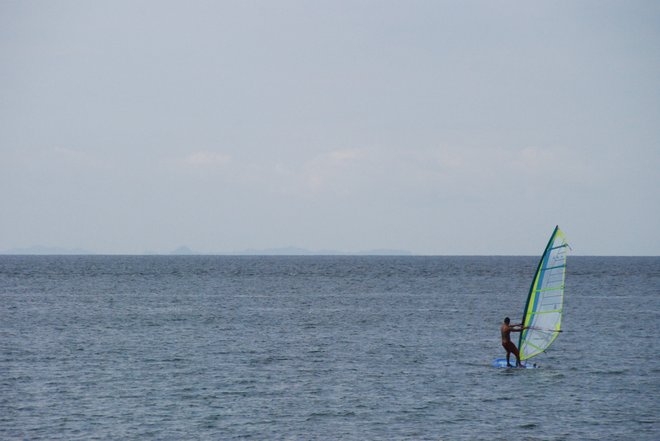 For dramatic
scenery while you're catching the breeze, Lake Arenal in Costa Rica takes the
cake. Set right next to Costa Rica's Arenal volcano, the peaks surrounding the lake channel the wind
into a mighty stiff breeze, especially at the northwestern tip of the lake, where there are several launch sites. Take care, though, as this windsurfing spot is most suitable for experienced windsurfers as it can be dangerous.
Stay: Nayara Springs in La Fortuna (a one-hour drive
from the launch sites on Lake Arenal) takes rustic luxury to a whole new level, with stunning
villas and rooms that draw plenty of VIPs. For a more budget-friendly, homey
vibe, Lost Iguana Resort & Spa is even closer to the action.
Fly in a Stunt Plane in Lakeland, Florida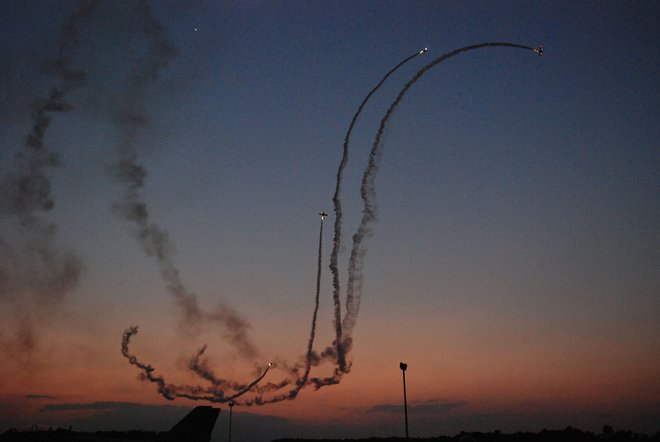 Those who like to watch daredevils soar will have plenty to marvel at during Lakeland's Sun n' Fun Fly-In International, east of Tampa. The festival offers everything from
fly-bys to acrobatic, firework-rigged planes that perform in the evening, as
well as an antique plane show and hot air balloon rides. Those who want to get their pulse racing with a first-hand experience can even find the chance to
join one of the stunt pilots in the air.
Stay: Just
40 minutes west of Lakeland by road, the upscale Epicurean Hotel is a fine
complement to all of the high-flying fun. The rooms are chic and, as a bonus, the hotel has an excellent wine program for a buzz of another kind.
Dig This Story? Then You'll Love:
All products are independently selected by our writers and editors. If you buy something through our links, Oyster may earn an affiliate commission.