Packed with rugged good looks and natural elegance that extends far beyond the celebs of Hollywood, California is one of the most geographically diverse states in the United States. From the iconic Golden Gate Bridge and stunning redwood trees to the picturesque beaches and rugged desert, there's beauty to be found everywhere in the Golden State. And while it's possible to ski at Big Bear and swim at Huntington Beach in the same day, there are plenty of other beautiful spots to explore. With that in mind, here are 12 of the most gorgeous places in California.
1. Yosemite National Park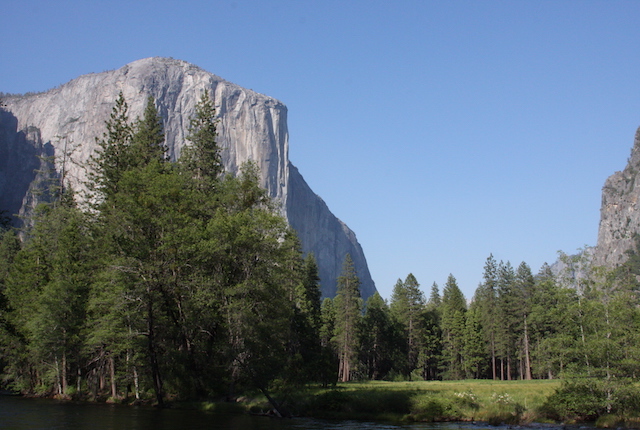 You could easily spend weeks hiking through Yosemite National Park and still not see all 1,100 square miles of valleys, vistas, and cliffs. Travelers with less time may want to follow the paths that offer some of the most memorable lookouts. Valley View, for example, includes a view of El Capitan and the twin Cathedral Rocks. About an hour away, Glacier Point serves up vistas of the Sierra Nevada mountain range. And Olmsted Point has an unforgettable view down onto the Half Dome rock formation.
A Nearby Luxury Hotel Pick: The Majestic Yosemite Hotel
Nestled deep amongst the pine trees, cliffs, and canyons of Yosemite Valley is the 123-room The Majestic Yosemite Hotel. The impressive stone and wood structure, built in 1927, is considered a National Historic Landmark. Rooms with views of the Half Dome and El Captain summits are filled with wood and rich tapestries of Native American design.
2. Pacific Coast Highway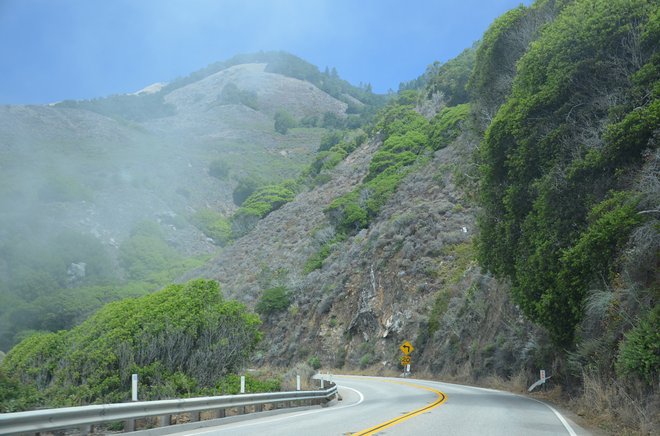 Starting a little south of San Juan Capistrano and ending in Mendocino County, the Pacific Coast Highway offers nearly 650 miles of coastal views. Technically, you can tackle the drive in one day, but you'll want to stop and soak in some of the state's most scenic spots. The secluded Greyhound Rock Beach, southwest of San Jose, is often visited by elephant seals and dolphins. Dana Point, the "whale capital of the west," has dramatic cliffs and ocean views. Point Loma, a rugged peninsula, has a charming lighthouse that has been transformed into a museum about the area's history. If you want, you can always stop in Big Sur and track Jack Kerouac's sojourn to the misty coastal town.
A Nearby Luxury Hotel Pick: Hyatt Regency Long Beach
The 528-room Hyatt Regency Long Beach is an upper-mid-range property in an ideal location for both leisure and business travelers. The convention center, shopping, entertainment, dining, and the beach are all within easy walking distance. Leisure activities are also plentiful, with a mid-size fitness center, heated outdoor pool with a hot tub and fire pit, and easy access to the beach trail for hiking, biking, and walking. Wi-Fi is free throughout.
3. Bowling Ball Beach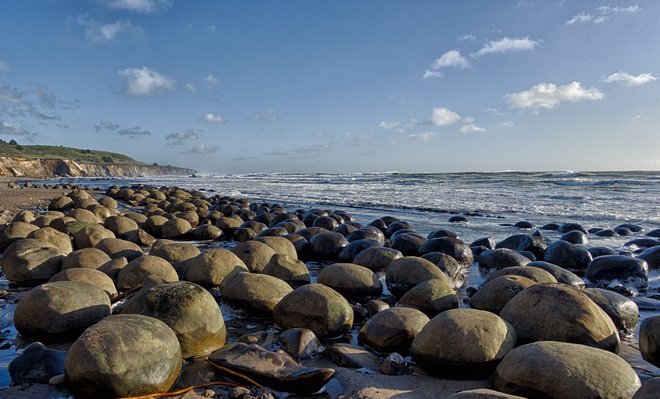 Located near Mendocino, a section of Schooner Gulch State Beach is named for the round stones that dot the water's edge during low tide. These shapely stones were formed by concretion, in which minerals bind together and become larger forms — in this case, bowling ball-shaped rocks. The spheres were shaped by millions of years of gentle erosion.
A Nearby Luxury Hotel Pick: The Inn at Newport Ranch
The Inn at Newport Ranch is a special property where it's all about the views; opened in 2015, it sits on a prime piece of land in Northern California overlooking the Pacific Ocean. Reaching the inn via Highway 1 can be quite an ordeal, particularly on foggy days, but guests seeking seclusion find it well worth it — with just a handful of rooms and suites, as well as two standalone options, Newport Ranch makes for a quiet and relaxing stay.
4. Emerald Bay State Park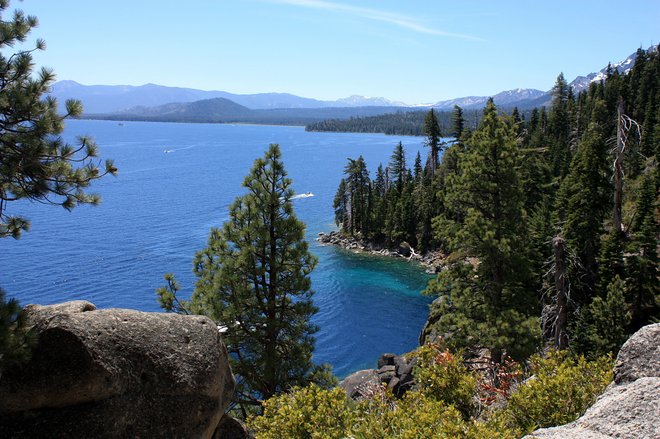 The crown jewel of Emerald Bay State Park is Lake Tahoe's Emerald Bay, a topaz-colored body of water that Mark Twain once described as "the fairest picture the whole earth affords." But that bay isn't the only notable feature of this 1,500-acre tract. Also on the grounds is Eagle Falls, miles of dense forest, and Vikingsholm, a 38-room stone castle that's one of the finest examples of Scandinavian-style architecture in the United States.
A Nearby Luxury Hotel Pick: The Landing Resort & Spa
With elegant chalet decor and a host of amenities, the Landing Resort & Spa offers a luxury stay across from a private beach on Lake Tahoe and near Heavenly Village and the Stateline casinos. There's a restaurant that serves Greek and Californian fare and has a lovely patio overlooking the lake and for a dose of pampering, guests can head to the on-site spa, which has a sauna and steam room, and there's also an outdoor pool with a hot tub.
5. Sequoia National Park
East of Visalia, Sequoia National Park is home to a lot of big things you won't find anywhere else. For example, five out of the world's 10 tallest trees are here, including the General Sherman tree, the largest tree on earth. Mount Whitney, the highest summit in the contiguous United States, is also located here. Look carefully and you may even find bobcats and mountain lions.
6. Ladder Canyon Trail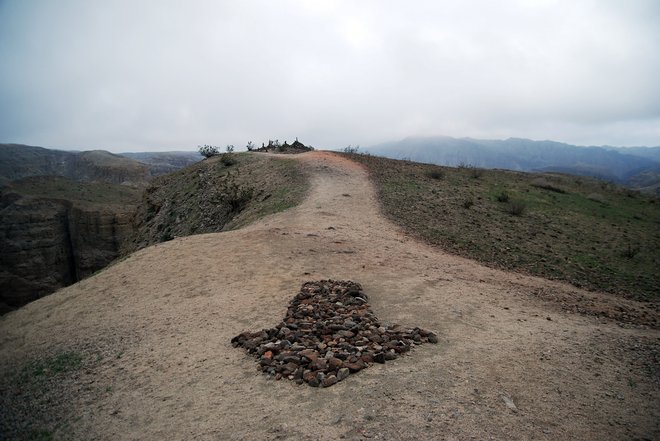 About 40 miles southeast of Palm Springs, tucked away in the Mecca Hills, is a hike that enables visitors to get a close-up view of what happens when the Pacific Plate and North American Plate meet. The Ladder Canyon Trail snakes through Ladder Canyon and Big Painted Canyon, and, as the name suggests, you need to access it via ladders. You'll wind through and over sandstone boulders, seeing the grand shapes that flowing water makes over thousands of years.
A Nearby Luxury Hotel Pick: Miramonte Indian Wells Resort & Spa, Curio Collection by Hilton
Located in the vacation town of Indian Wells, which is full of golf courses and tennis courts, the Miramonte Resort is a destination for travelers who don't plan on leaving the area. It's a peaceful haven, with a first-rate spa, multiple pools, an organic restaurant, and lush gardens. The Tuscan decor and abundance of greenery combine to create a Mediterranean vibe.
7. Death Valley's Natural Bridges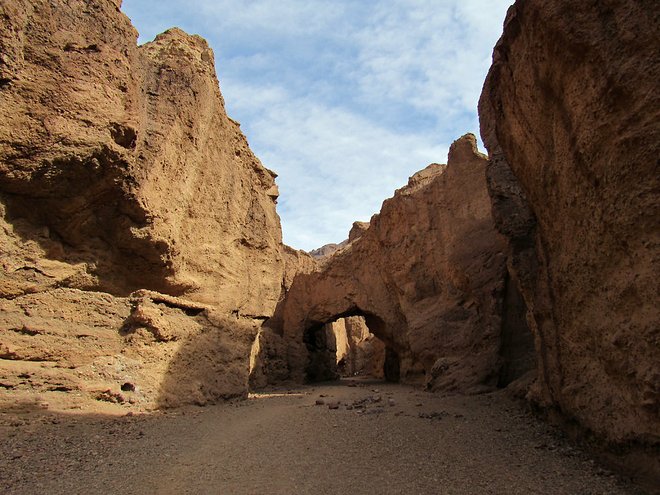 Inside Death Valley National Park, there are natural archways and bridges that showcase the amazing power of wind and water. A short hike is required to find the massive structures, but the pathway through canyons is almost as breathtaking as the destination. Seventeen major natural bridges have been discovered so far, but don't be surprised if the list grows longer. Visitors who want to explore the foundations of the structures may want to bring a bathing suit and dive into the water-filled caverns below.
A Nearby Luxury Hotel Pick: The Ranch At Death Valley
Deep in California's hottest valley, The Ranch At Death Valley is a staggeringly beautiful oasis situated in what seems like the middle of nowhere.
8. Joshua Tree National Park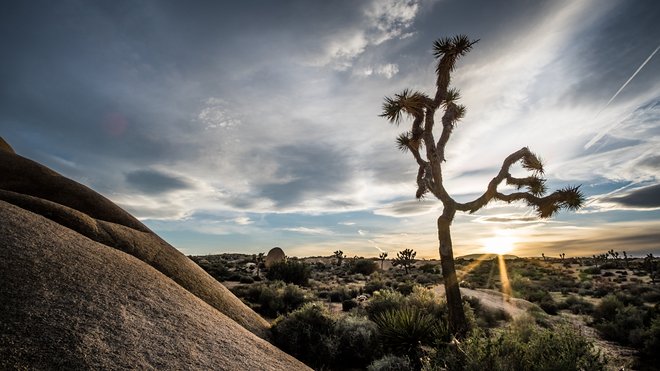 You'll need to drive about two-and-a-half hours to get from Los Angeles to Joshua Tree National Park, a reserve of almost 800,000 acres of desert. The park has two major sections: the Mojave Desert, which is home to Joshua trees and towering boulders, and the Colorado Desert, which has milder temperatures and blooms of verbena, beavertail cactus, and golden smokes. You can drive through large sections of the park and get out to admire and photograph some of the more iconic landmarks such as Skull Rock.
A Nearby Boutique Hotel Pick: Spin and Margie's Desert Hideaway
Spin and Margie's Desert Hideaway is a small boutique hotel located on a secluded desert road right near the west entrance of Joshua Tree National Park. Its five uniquely decorated cabins have all the comforts of home, including large walled-in gardens and full kitchens (in all but one room). A colorful picnic and grill area adds a fun dimension to the self-catering atmosphere.
9. Golden Gate Bridge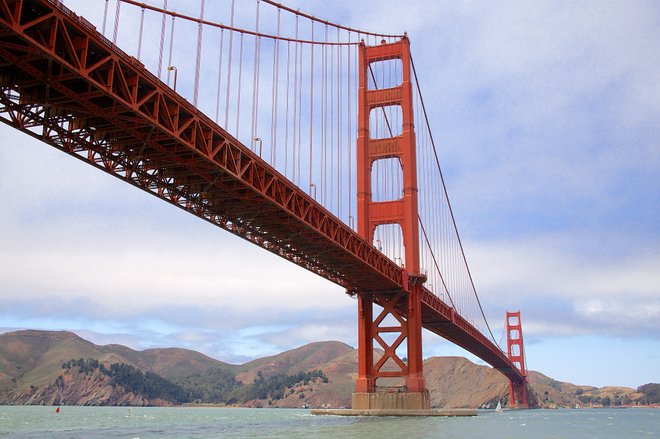 San Francisco's most famous span took about four years to build, but you'll likely cross over it in a matter of minutes. The iconic design was influenced by Mayan and Art Deco architecture, among others. Many decisions about the construction were controversial in the 1930s — on the opening day, the San Francisco Chronicle described the structure as a "$35 million steel harp" — but that's all water under the Golden Gate Bridge.
A Nearby Luxury Hotel Pick: Fairmont Heritage Place, Ghirardelli Square
Luxury vacation rental meets upscale hotel at the city's best, if most expensive, residence-style lodging. The Ghirardelli Square factory setting has plenty of character, and 53 modern one-, two-, and three-bedroom units feel like designer model homes with fireplaces, full kitchens, and top-of-the-line amenities.
10. Pfeiffer Beach
The road to Big Sur's Pfeiffer Beach is unmarked, so you'll have to ask for directions or keep your eyes peeled for a sign that warns of the narrow road leading to the outpost. The beach itself is famous for several things: the purple sand that appears most spectacularly after rains, and the surrounding bluffs, which are covered in verdant vegetation and large, jagged rocks. The most famous of these stone landmarks is the Keyhole Arch, situated just off the coastline. Sunlight streams through its center. While the location is breathtaking almost any time of day, you'll get the most Instagram-worthy shots at sunset, when the last rays of light flicker through the keyhole.
A Nearby Luxury Hotel Pick: Post Ranch Inn
The 39-room Post Ranch Inn is one of the most beautiful hotels in the United States — if not the entire world — and offers a romantic, intimate stay amid gorgeous natural surroundings. The hotel is built into the cliffs of Big Sur, and the organic architecture is breathtaking, seeming to grow out of the ground beside the hotel's surrounding redwoods. The spacious, eco-sensitive rooms have ocean or mountain views (that are sometimes obstructed by the pervasive fog that the area is known for) and many feature floor-to-ceiling windows to better show them off.
11. Muir Woods National Monument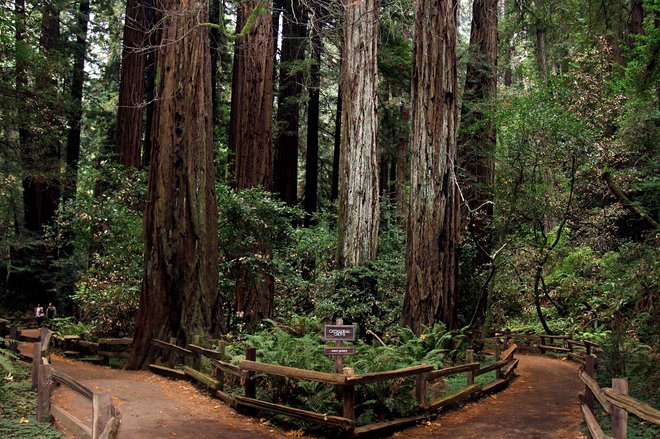 Just 12 miles north of San Francisco, the Muir Woods National Monument is one of the last old-growth coastal redwood forests. The fog that rolls in from the coast helps these trees to grow, even when rainfall is scarce. In addition to the stunning battalion of 200-foot trees, the Muir Woods park is also a spawning ground for silver salmon and steelhead as well 50 species of birds, including spotted owls.
A Nearby Luxury Hotel Pick: Loews Regency San Francisco
With astounding views from elegant, spacious rooms high up in a Financial District skyscraper and the best in pampering service, the Loews San Francisco Hotel (formerly Mandarin Oriental) lives up to its luxe reputation. The downtown location makes it best for business travelers, but the spa and fitness center are a draw for others as well. And the rooms and services are hard to beat.
12. Napa Valley Wineries and Beyond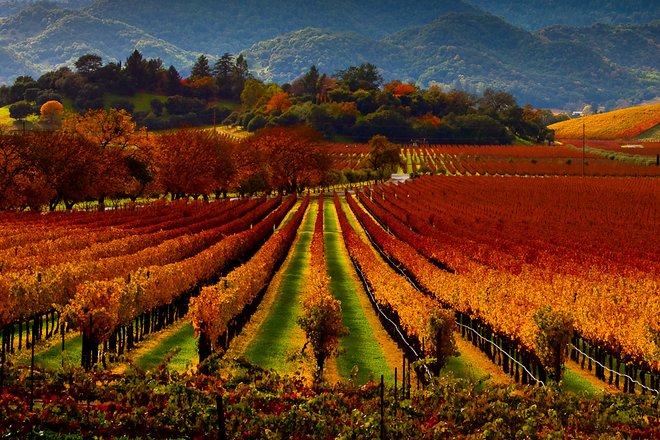 If you can't get under the Tuscan sun any time soon, Napa Valley's Mediterranean climate and rolling hills lined with grape trees is a great place to be. Presqu'ile Winery, located on a plot of coastland that almost seems like an island, has gorgeous views of the ocean and vineyard hills. Hall Winery in St. Helena has more than 35 pieces of contemporary art, including a giant stainless steel rabbit named Bunny Foo-Foo. And Sunstone Winery in Santa Ynez Valley will make you feel as if you're on the grounds of a grand European country estate.
A Nearby Romantic Hotel Pick: Carneros Resort and Spa
The luxury Carneros Resort and Spa is geared toward high-budget travelers — it's pricey — but guests who can afford it will find a sort of homey elegance here. Hillside Adirondack chairs overlook the vineyard. Crackling fireplaces warm every room. Private gardens and tree-lined infinity pools invite guests to relax. The entire resort feels like it's set on a farm, with cottages strewn about that house some of the guest rooms.
For a comfortable and stylish choice for your Cali vacay, think sustainably with the Japanese GoWeave Essential Jumpsuit from Everlane.
NOW WATCH: The Most Surreal Landscapes on Earth
You'll Also Like:
All products are independently selected by our writers and editors. If you buy something through our links, Oyster may earn an affiliate commission.