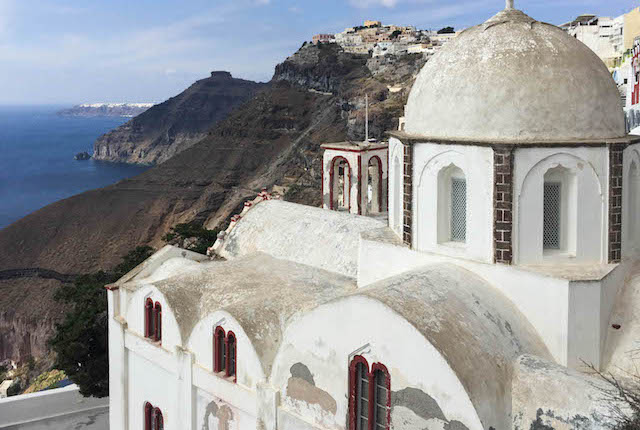 There's something truly magical about Santorini. Just mentioning the words "Greek island" conjures up images of dramatic cliffs plunging into the sparkling blue Aegean Sea, and precariously built whitewashed houses with blue-domed roofs. Every year, two million visitors come to Santorini (usually by boat) for the wineries, ancient ruins, boutique shopping, black and red lava pebble beaches, caldera hiking, Greek tavernas, and sunsets. There's a lot to see and do, but thanks to the Cycladic island's relatively small size (about 30 square miles), you can experience most of the magic in three very full days and then get back to island hopping through Paros, Mykonos, and Naxos. We put together the ultimate three- to five-day itinerary for Santorini.
Day 1: Walk (or Ride a Donkey) to Cliff Jumping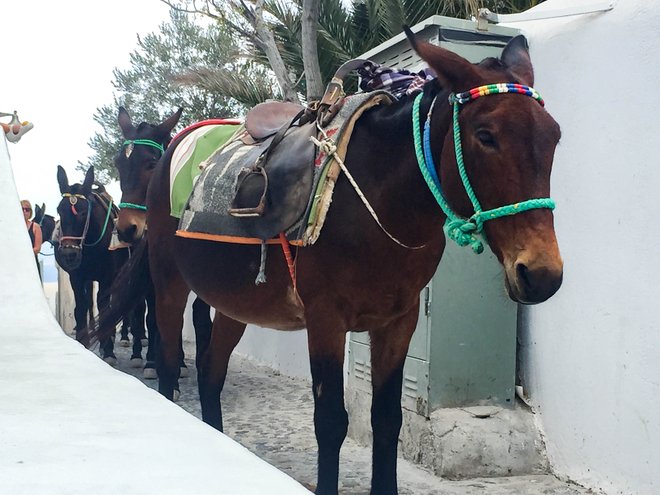 Days of the week don't matter in Santorini, an island that's hugely dedicated to tourism, as everything stays open seven days a week. What does matter is the season: many of the hotels, tour operators, ferries, restaurants, shops, and almost the entire of village of Oia close from before November until around the end of March. It's hard to believe, but Santorini has chilly winters and high winds. Most hotels use this time to do renovations. That said, if you're here in the high season (from the end of May through August), you'll have warm weather and sunny days — and lots of crowds.
We recommend starting in Fira, since the picturesque and centrally located village is where the ferries drop passengers. Get up early and eat breakfast at your hotel. Some of our favorite meals in Santorini were free hotel breakfasts, which usually consist of at least Greek pastries, eggs, fresh fruit, and coffee. Put on comfortable walking shoes and follow the stunning pedestrian path that winds along the Aegean Sea from Fira through Imerovigli and, eventually, to Oia. The walk takes about three to four hours at a leisurely pace and is an ideal way to get your bearings on the island while appreciating the natural beauty and architecture. Pit stops for photos at blue-domed churches with jagged cliff backdrops will definitely slow down the pace. Bonus points for schlepping out to Skaros Rock (take the steps next to the Blue Note restaurant in Imerovigli), where scenes from "Mamma Mia!" were filmed. The path is paved and well-marked through the villages, though it gets pretty rocky and steep on the more remote last leg north of Imerovigli — which is where you can rent a donkey if you want a break. Note that there are no public restrooms on the trail. If you left Fia around 8 a.m., you should arrive in Oia around noon, just before the hottest part of the day.
Oia is the crown jewel of the postcard-perfect villages (you just walked through the rest of them) that cling to the caldera side of Santorini. It's also the most crowded and most expensive village on the island. Grab lunch at one of the many cliff-facing restaurants if you're still enamored with the caldera views. Melitini offers shareable Greek-inspired tapas and has a rooftop patio. After lunch, it's time to shop or cliff dive. Santorini does an excellent job at providing authentic Greek items. Covetable souvenirs include leather sandals, jewelry made with lava stones, local wines, and "evil eye" trinkets. In Oia, the pedestrian path is jammed with boutique shops and eventually leads to the tip of the island. It's easy to spend an entire afternoon shopping, but if you want to get in the water, you're still in the right place.
Adventure lovers should skip the shopping and walk to the end of Oia for the path that leads down to Amoudi Bay. Hundreds of steps lead down to the water, where sailing excursions depart, and there are several seafood tavernas. Hug the cliffs' edge until you see a small island (with a church) and, likely, people jumping off of small cliffs and into the Aegean Sea. Dinner and sunset views can be enjoyed back at the tavernas, or rent a donkey to take you back up for dinner and sunset views on the cliff. The ancient church (that's perched on a high rock) is usually swarmed with tourists looking for epic sunset views. After dark, it's easy to catch a local bus back to Fira where you'll likely be more than ready for sleep.
Day 2: Get on a Boat and Check Out a Winery
After spending your first day trekking through the villages and looking down on the Aegean Sea, it's time to get out on the water. Santorini Sailing offers a huge selection of full- or half-day excursions that can include snorkeling, swimming, a visit to the hot springs (that are actually cold), meals, booze, and sunset views. If you have the time, definitely consider taking a full-day sail. For those with limited time, we suggest a morning five-hour sail that features a few stops for snorkeling and a delicious Greek-style lunch served on the boat. It's incredible to view Santorini's cliffs and beaches from the water. The price of the excursion includes hotel transportation.
Back in Fira, you'll have a little time to peruse the shops on the pedestrian caldera path (much like what you'll find in Oia, but with more of a boho vibe and cheaper prices). Then, it's time to get over to Santos Winery for a short tour, dinner, sunset views, and of course — wine. This isn't an intimate experience, the parking lot is usually crammed with tour buses, and the facilities are enormous. That said, it's lots of fun and a great way to learn about wine production on the island. The wine (and foodie gift shop) are much better than the food, but you should still order a nibble to accompany the wine flights. There are also amazing caldera and sunset views on display from the outdoor terrace. A few restaurants in Fira offer live music, but there's little in the way of nightlife. Most visitors are early to bed and early to rise.
Day 3: Hit Red Beach and Katerina's Traditional Restaurant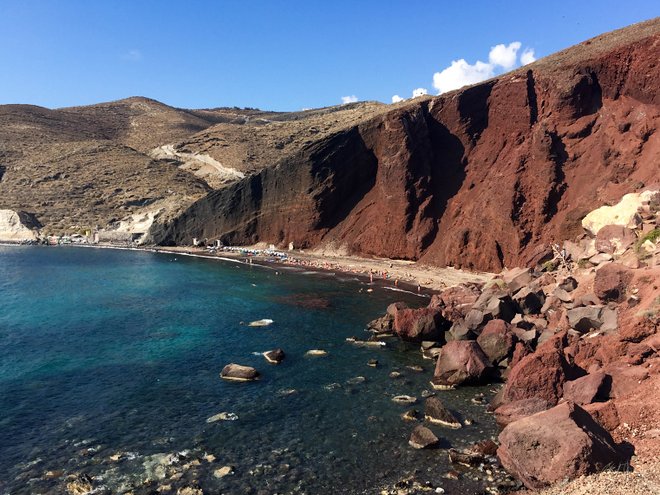 Day three is all about the beach. Santorini isn't immediately known for its beaches (unlike Mykonos), but the southern end of the island is home to epic red and black lava pebble beaches that lead to the calm and clear Aegean Sea. Red Beach is the most difficult to reach in terms of access. Visitors have to hike in from the parking lot, but it's worth the stress for the amazing red cliff formations and underwater coral. Sun loungers and umbrellas are available to rent, and there are a handful of beachy restaurants and snack vendors. For families, or anyone who doesn't want to walk down a gravel path with a rope railing to get to the beach, Kamari Beach is the second best option. The upscale beach town is relatively flat and there's public parking near the black pebble shore. Lovely restaurants and shops line the pedestrian promenade that runs parallel to the Aegean Sea. Water clarity is excellent and water sports equipment like paddleboards and Jet Skis are on offer. You won't get sunset views from this part of Santorini, but since you're missing the natural show anyway, this is an excellent time to eat dinner at Katerina's Traditional Restaurant, an incredible family-owned taverna with homemade Greek dishes. It's tucked away on a nondescript street in the village of Fira.
What to Do If You Have Two More Days
If you have a few more days on Santorini, it's time to go deeper and get off the well-tended tourist track. For more time on the beach (and the closest thing you'll get to a party vibe), Perissa Beach has karaoke bars, fish-and-chip shops, and budget hotels that cater to Brits. Cultural lovers should make time for the Museum of Prehistoric Thera and the Lignos Folklore Museum to learn more about the history of the island. If you loved Santos Winery, Venetsanos Winery is a more intimate affair and has an incredible dinner restaurant — plus caldera views. If you loved the architecture of the caldera villages, but hated the crowds, the inland Megalochori village has the same romanticism and more of a local feel. Many Greeks still live in the cave houses (as opposed to having turned them into boutique hotels), and there are a handful of Greek tavernas with live nightly music in the charming village square.
Know Before You Go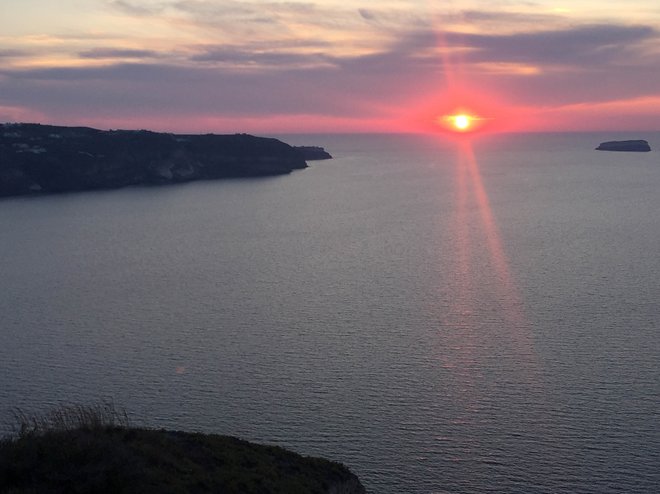 Some visitors reach Santorini via the tiny airport, but the vast majority arrive by boat. Both cruise ships and Greek ferry services (Blue Star Ferries is the only line that operates year-round) drop passengers at the port in Fira. This is where things get interesting, as the most popular way to get from the dock up to the road is either to take a cable car or walk up 600 steep steps. There are also taxis, donkeys, and private shuttles. If you're staying in a hotel in the northern villages (Fira, Oia, Imerovigli), we highly suggest you arrange transportation with the hotel. Some of them are nearly impossible to find without a guide, and parking is in lots at the bottom of the cliffs.
While we're on the subject of cliffs, the elderly and mobility impaired should be forewarned that the ancient island (made by a volcanic explosion) can be difficult to traverse. Some hotels are spread out over the cliff face (walking up and down steps is the only way to reach them), and the northern villages don't really allow car access. Buses are reliable, safe, and clean — though you might find yourself standing in the aisle. The fare for a one-way ride is around two euros, and you pay for your ticket onboard from a money collector. Taxis are expensive, so if you're planning on truly exploring the island, the best way to get around is to rent an ATV (available everywhere, and the companies will even bring a quad to your hotel room) or a car. Most sailing excursions include hotel pickup and drop-off services in their rates. Driving is generally safe, but note that there isn't a single traffic light on the island and it can be nerve-racking to share winding roads with buses, donkeys, and ATVs. Uber is not available in Santorini.
High season runs from May through September, and many of the hotels, restaurants, and shops start to close their doors in mid-October until around Easter. Crowds are fewer in April and October, but the weather gets chilly (you likely won't be using the pools or swimming in the Aegean Sea) and the days are shorter in October. June, July, and August are the busiest months and the island can feel overrun with tourists.
Hotel Picks
Oyster has reviewed over 220 hotels in Santorini and many of them fit the same mold. The island is world famous for its whitewashed Cycladic architecture with blue accents, and that's what you're likely to find (with some exceptions, of course). Space and privacy are issues in Fira, Oia, and Imerovigli, where many boutique hotels are built directly into the cliff on top of one another, facing the Aegean Sea. These are also the most expensive hotel options on the island. Move inland and south and you'll find more space, more privacy, bigger pools, and lower prices — but will end up having to drive to visit the villages and won't get famous sunset views from your room.
For honeymooners who want the best of the best in Oia, Adronis Luxury Suites has beautiful suites with private whirlpools and a dramatic infinity pool with caldera views. For something more modern and youthful, San Marino Suites is surprisingly hip and still walkable to Fira — though you'll be walking uphill. Further out, the cousin-owned Dahlia & Jasmine Collection is a sweetheart of a hotel with low rates, a nice pool, and a huge breakfast. It will require a bus ride to get to Fira. Beach lovers would be hard-pressed to find something cleaner and more convenient to Kamari Beach than the Sea Side Beach Hotel — which also has one of the best seafood and beachfront restaurants in Santorini. Apanemo is a good family-owned pick for lovely rooms, ocean views, low rates, and close proximity to Red Beach.
You'll Also Like:
All products are independently selected by our writers and editors. If you buy something through our links, Oyster may earn an affiliate commission.