Every year at the end of April, thousands make the hot and slow crawl to SoCal's Indio Valley for the season's first (and arguably most famous) music festival. You might say the annual pilgrimage to Coachella is a sort of rite of passage for hardcore festival-goers and music fans. But as avid music lovers and travelers, we here at Oyster see it as something else. It's the first bloom in a whole season full of music festivals taking place all over the country. We've picked out the best ones starting now, and continuing on through the summer circuit. And yes, we've even scoped out the best spots for you to stay near each of the grounds, too.
With so much on the calendar, this is by no means an exhaustive list. We chose these fests due to their history, unbelievable lineup, stunning venue, quirky activities and extras, or just because it looks fantastic. If you like what you see and want to hear more, we suggest buying your tickets (and booking your hotels) pronto -- Lollapalooza is already sold out and many festival tickets go up in price the longer you wait!
First debuting in 1970, the New Orleans Jazz and Heritage Festival was born out of a desire to celebrate The Big Easy's role in the birth of jazz — though these days, it's boasting one of the most diverse lineups in the country. This year is no different. With artists like Elton John, Pitbull, Tony Bennett & Lady Gaga, Wilco, T.I., The Who, Ed Sheeran, Widespread Panic, and Keith Urban, it's probably one of the few festivals that everyone in the family can enjoy. And don't worry, some jazz players and blues greats — like Christian McBride, Allison Krause, Buddy Guy, and Dr John — are also on the menu, as is some of the N'awlins' best spicy Louisiana Creole cuisine.
Grab advance single-day tickets for $58, or shell out a bit more ($70) day-of. Entry for kids is only $5!
Where to Stay: Sheraton New Orleans Hotel
As the official hotel of Jazz Fest, the upper-mid-range Sheraton is a large, mid-range business hotel located right on the border of the French Quarter and Central Business District. It features 1,100 spacious rooms with modern technology — such as flat-screen TVs — great beds, and clean bathrooms with shower/tub combos. There's also a big fitness center and on-site dining options (but why eat here when you can stuff your face full of festival food?), and the rooftop pool, two art galleries, and central location make it a solid pick for anyone looking to extend their trip a few days after the festival.
Austin sure receives its fair share of musical beatings over the year with rock festivals like SXSW, Austin City Limits, and Fun Fun Fun Fest (it's a wonder locals aren't bleeding from the ears). Luckily, iHeartRadio has stepped in to bring some southern charm back to the Lone Star State's self-declared "city of weird," because — looking over this year's lineup at the Frank Erwin Center — we see nothing weird about it, just awesomeness. Throw on your cowboy boots and head down to Austin to get roped in by acts like Rascal Flatts, Brad Paisley, The Band Perry, Tim McGraw, and Darius Rucker (remember Hootie and the Blowfish? he's gone country).
Tickets range from an easy $30 to a steep $375.
Where to Stay: Doubletree by Hilton Austin – University Area
The Frank Erwin Center is less than a 10-minute walk away, making this Doubletree a super convenient overnight option. The only caveat is that the mid-range chain is next to a busy interstate highway, so light sleepers beware. Besides that, the rooms are comfortable and modern, with big flat-screens and free standard Wi-Fi, and there's a solid outdoor pool.
You probably don't think "awesome music festival" when you think of Alabama, but a visit to the Gulf Shore's annual Hangout Festival just may have you singing a different tune. Besides an incredible lineup that will have you rocking out to some of the biggest names in the industry — like Beck, Skrillex, Foo Fighters, and Sam Smith — one of our favorite things about this festival is its location: smack on the soft sands of the beach. Does it get any better? Oh wait, it does — because Cold War Kids, Trampled by Turtles, and Foster the People are also playing, among many others.
You can grab three-day passes for $250 or splurge by dipping your toes into the $1600 Super VIP package.
Where to Stay: BEST WESTERN on the Beach
For vacationers looking to save some cash, this 93-room mid-range hotel delivers satisfactory rooms with a prime beachfront location on the Gulf of Mexico. The exterior and some interior spaces look dated, but the hotel is clean and well-maintained — and it's hard to beat the six-minute walk to the festival grounds. Amenities can include microwaves, fridges, or full kitchenettes, depending on the room type.
Geared toward a slightly older Warped Tour-type of crowd, New Jersey's Skate and Surf Festival takes over the Springsteen-made-famous Absury Park Waterfront for two days of anthemic, emotive, and fire-starting punk-ish rock music. Started in 2001, the festival is back this year after an eight-year hiatus and it's got headliners Dropkick Murphys and The Gaslight Anthem to help celebrate. Other acts include Thrice, mewithoutyou, Iron Chic, Manchester Orchestra, The Front Bottoms, and Hot Rod Circuit. There's also a half-pipe competition and several novelty wrestling matches taking place throughout the day.
Tickets run at around $65 per day or you can save a bit by buying a $115 two-day pass.
Boston Calling is one of the more reasonably priced festivals we found this spring (children under 10 are free!) — but you get what you pay for, and the lineup feels slightly random (performers range from headliners Beck, My Morning Jacket, and the Pixies, to older acts like Tenacious D and Ben Harper and the Innocent Criminals, as well as Weezer, Gerard Way, of My Chemical Romance, Sharon van Etten, and St. Vincent). A big plus is that you are allowed to bring in your own food and sealed bottled water, making this festival an even more affordable option.
Tickets are $50 for Friday, $75 for a Saturday or Sunday pass, $135 for both Saturday and Sunday, or $175 for the entire three days.
Where to Stay: Ames, A Morgans Original Hotel
Located practically across the street from City Hall Plaza, the Ames is about as close as you can get to the festival grounds without illegally pitching a tent by the stage. Ames is a high-design property from the hip Morgans Hotel Group and exudes sophistication, giving you a comfortable and stylish place to start and end your festival days. Rooms are gorgeous, with a black-and-white motif, comfortable beds, and modern technology. Bathrooms are similarly stylish, with Malin + Goetz toiletries and rainfall showerheads.
Quite possibly one of the most gorge-ous venues in the entire country, Sasquatch makes artists and festival-goers privy to great music and absolutely stunning views. A true outdoor festival, the four-day Sasquatch Festival is set up against the expansive and humbling backdrop of an area in Washington state known simply as "The Gorge." There are no neighbors to call-in noise complaints and no small stuffy rooms with poor acoustics — just plenty of fresh air, good vibes, and oodles of campsites (which will cost extra this year). Get back in touch with nature while you watch a fairly diverse lineup that features the likes of Robert Plant, Sleater-Kinney, Kendrick Lamar, Modest Mouse, Lana del Ray, Ryan Adams, the Decemberists, Spoon, and Chromeo.
Single tickets are not available and the four-day passes cost $350. VIP and glamping packages are almost as steep as the gorge, running between $950 to $5,000.
Started back in 1999 as a sort of casual-but-crazy, weekend-long music industry field trip to Las Vegas, Punk Rock Bowling pitted indie labels, bands, and fans against each other on the polished ten pin lanes during the drunken days, and put on a show at night. Over the years it's developed into a full-blown, three-day festival, where participants can sign up for punk rock karaoke, see four nights of shows, and roll their way through a two-day bowling tournament. This year's lineup features a bunch of old-school genre staples like Refused, Dropkick Murphys, Rancid, Sick of It All, Anti-Flag, Murder City Devils, and — the slightly lighter — Mighty Mighty Bosstones.
Tickets are $45 for single-day entry, but expect to shell out significantly more for any extras (not very punk rock if you ask us).
Where to Stay: The Golden Nugget Hotel and Casino
The official hotel of Punk Rock Bowling, the Golden Nugget is not only just a few blocks' walk from the festival grounds, but it's also a great bargain. You can expect clean rooms, a 200,000-gallon shark tank in the year-round outdoor pool area, a poolside fire pit, and a few good dining options.
One wouldn't normally think to pair a buttery Californian Chardonnay with a setlist from bands like Cage the Elephant, Passion Pit, Avett Brothers, No Doubt, or Snoop Dogg (or is it Snoop Lion?), but at Napa Valley's BottleRock, they manage to make attending a rock festival feel kinda classy — and we love them for it. Who doesn't want to taste some of the region's finest wines between sets and nosh on gourmet eats, all while singing along to some of their favorite bands as the sun sets? Nobody, that's who.
Tickets for Friday cost $119 but you can snag three-day passes for just $275, and VIP starts at $595 — or go pinkies up for the Platinum package for $3,000.
Where to stay: Andaz Napa
Part of the hip and upscale Andaz chain, this hotel is a decidedly modern option amid Napa's often rustic-luxe inns and resorts. With a great downtown location just under a 15-minute walk from the festival grounds, it offers 141 rooms and suites. Amenities such as balconies, deep soaking tubs, and seating areas are dependent on the room type, but all rooms include sleek decor and freebies like snacks and Wi-Fi; standard rooms are small. Overall, this hotel is a lovely option, complete with a farm-to-table restaurant. It's a perfect compliment to a "hard day" of wine tasting and listening to music.
One of the most popular and widely recognized festivals outside of Coachella and the New Orleans Jazz Fest, Tennessee's Bonnaroo will not only fill your ears with music from acts like punkers Against Me!, classics from Billy Joel, and EDM from Bassnectar, but it is also designed to fill your soul. With a massive water slide, up-cycled art installations, mini-marathon runs, free yoga, and gardening, art, and eco-classes, this festival focuses on eco-friendly fun with an open, community vibe. It's one of the more relaxed crowd-viewing festivals around, where hippy-meets-hipster. Plus, you get discounts on beer when you reuse your cup; how great is that? Other acts to check out include early teen metal rockers Unlocking the Truth, Alabama Shakes, Tears for Fears, and DeadMau5.
All this doesn't come cheap; tickets are $324 for general admission or a whopping $1,524.50 for VIP (sold in pairs only).
Chicago Blues Festival at Grant Park: June 12-14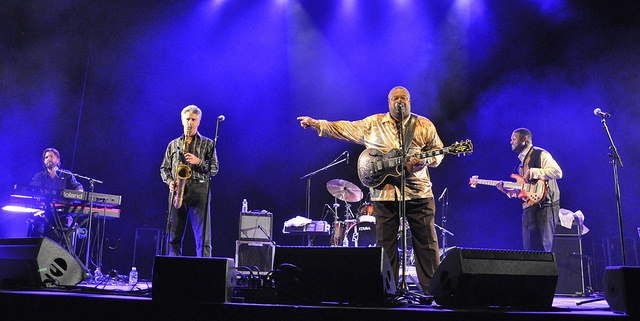 In its 32nd year, the Chicago Blues Festival is not only Chicago's largest music festival, but it is the largest FREE blues festival in the world! This
year it's being held in Grant Park, and Blues legend Buddy Guy, Taj Mahal Trio, and Toronzo
Cannon will headline on the second day. Other acts include Syl Johnson, Billy
Branch and the Sons of Blues, and the Hertiage Blues Orchestra Quartet. There will also be a few jam sessions and centennial tributes to Blues icons Muddy
Waters and Billy Dixon.
Did we mention it's FREE?!
Where to Stay: The Blackstone, a Renaissance Hotel
Conveniently located right across the street from Grant Park and its famous
Buckingham Fountain, the quirky, 328-room Blackstone mixes contemporary style with the building's restored
historic grandeur (sort of like the festival's lineup!). Some of the bright, modern rooms have great views of Lake Michigan, and the on-site tapas restaurant draws locals as well as guests.
Kicking
off this year in Alaska of all places, the Vans Warped Tour is the largest (if
not the only) touring festival in the U.S. and features solid headlining acts
throughout the tour, as well as a revolving cast of supporting acts. Check to see when
this knuckle-punch of a tour will be taking over an empty field, stadium, or
parking lot near you. This year you can expect to listen to staple artists like H20,
Pierce the Veil, and Motion City Soundtrack, as well as the always-energetic Pup,
hip-hop beats of Mod Sun and Riff Raff, and even some kooky Koo Koo Kangaroo.
Tickets:
Parents get in free; prices vary depending on the venue, but are usually
between $35 and $60.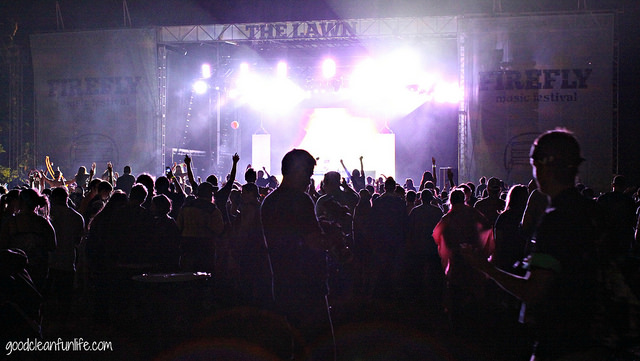 The youngest of the festivals
on the list, Firefly first debuted in 2012 where festival-goers traipsed
through the open fields and small wooded forests of the Woodlands of Dover
International Speedway to reach the performance stages. It's one of the
best-organized festivals around, though it's quite expensive thanks to its remote location
and hefty drives to and from hotels. This year, prepare to dance amongst the fireflies
as legends like Paul McCartney and Morrissey share stages with acts like Charli
XCX, Steve Aoki, Zola Jesus, Snoop Dogg/Lion, and Modest Mouse — to name a few.
It costs $300 for a four-day pass
(for now — it will go up to $349 as the weekend approaches); VIP is currently $700, and Super VIP is $2000.
Where to Stay: On-Site
Camping costs extra, starting
at $149 for a basic spot, but you can also upgrade to glamping, RV parking, full camp rentals (which include gear you can take home), and RV rentals — which tap out
at $5,000! Because of the festival's remote woodsy location, most hotels are at a
distance. Just know, whether you stay on-site or off, you'll have to pay $40 a day for
parking.
If you're into EDM (Electronic Dance Music), neon lights, dancing until dawn, carnival rides, and highly expressive and visual art, you might want to check out the bright and bumpin' Electric Daisy Carnival in Las Vegas. Taking place at the Las Vegas Motor Speedway, the three-day music festival draws colorful, free-spirited fans. The performers this year are still TBA, but we are hoping it is similar to the Electric Daisy lineup in NYC featuring Bassnectar, Calvin Harris, Afrojack, Art Department, and Krewella.
General admission tickets have already sold out, so there's only $750 VIP tickets available. (Hey, at least there's a payment plan option).
Where
to Stay: Aria Resort & Casino Las Vegas
Thanks
to a festival shuttle service (for $15 one-way) to and from select hotels along the Strip, the Aria is a convenient location for reach EDC, and it's also within walking distance of much of what the Vegas Strip has
to offer. A stay here is a great way to indulge in a few moments of luxury between the body painting, dance sets, and
grit of the festival.
Milkwaukee's
Summerfest is the world's largest music festival — and that's saying a lot.
Hosting over 1,000 performances across 11 stages during an event that spans 11
days (we feel sorry for the locals), it's virtually impossible not to find an
artist (or 10) that you want to see. This year, the Rolling Stones are the
top-billed act, pushing some pretty big names — like Linkin Park, The Flaming
Lips, Sheryl Crow, Third Eye Blind, and Buddy Guy — a little further down
pyramid. That's just the tip of the iceberg, but from this lineup it looks like the festival will be a
retrospective of music from decades past to present.
Would
you believe us if we said that tickets were $80 for all 11-days?! You can also snag $19 BOGO single-day passes, and three-day passes are available for $45. Kids and elders get in for just seven bucks.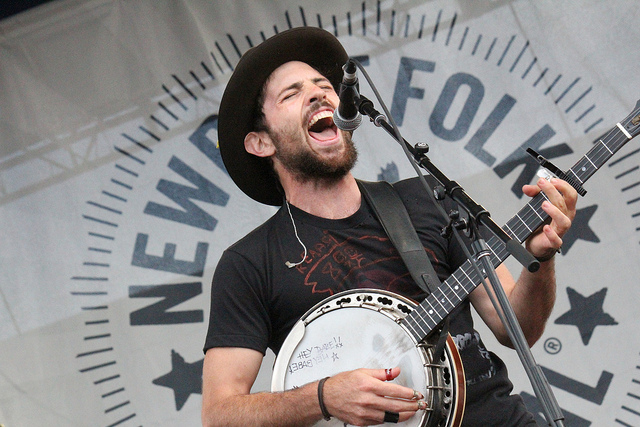 Rounding
out the list is Rhode Island's harbor-side Newport Folk Festival, where four
stages of music take over the weekend. While diehard folk fans may be a
little disappointed with the more indie-folk lineup (don't expect The Mamas and
The Papas here), it's a great place to discover new-to-you artists while
waiting out the day's end when more well-known acts like Iron and Wine, the
Decemberists, and Sufjan Stevens take the stage. Other acts include Calexico, Shaky
Graves, and Laura Marling.
Most
tickets have already sold out, but you can still grab Friday-only tickets for
just over $90.
All products are independently selected by our writers and editors. If you buy something through our links, Oyster may earn an affiliate commission.