You can't fake a good sports city. In certain places, there's just something in the air, or maybe in the water, that causes the locals to eat, breathe, and sleep sports. And there's something special about these sports-freak towns that make them feel special to non-locals, too -- even those who aren't really into sports. The sense of community, created by way of shared enemies, that defines sports-obsessed cities is palpable, and can really make a place tick. It's the pride, paraphernalia, ballpark, stadium food...the whole experience.
So here's our list of the best cities for sports fans this fall. You may love them, or love to hate them, but there's no denying they have that special something.
Boston is everyone's favorite sports city to hate, and there's a good reason for that — it's because they're consistently one of the best. I mean, if we're being honest, no one ever hates the worst team. No matter your opinion on the Patriots or the Red Sox, it's undeniable that Boston has an amazing sense of community as demonstrated by the fanatic sports behavior. And any visit to Fenway is a magical one, even if you're rooting for the other team.
Our Hotel Pick: The Westin Copley Place
New York is another sports city that people love to hate, and again, it's because it's pretty awesome. The rivalry between the Yankees and the Red Sox is no joke. It's serious stuff in The Big Apple, so much so that if you're a Red Sox fan in New York, you probably shouldn't tell people (but, if you know Red Sox fans like we do, then you know they probably will). Whether it's rooting for the Jets, the Mets, the Yankees, or the Giants, New Yorkers are proud people, and if you're not on the super-fan bandwagon, fugget about it.
Our Hotel Pick: The Standard High Line
Fly, Eagles, fly. Philly fans are continually named as some of the worst and meanest in the country — which really makes them some of the best, at least in their eyes. Known for being loud, obnoxious, and not particularly welcoming to away teams, Philadelphia fans are nothing if not passionate. Sports culture is everything in The City of Brotherly Love, so even if you hate them, you've gotta respect them.
Our Hotel Pick: Hotel Monaco Philadelphia
Wrigley Field in Chicago is one of the best old ballparks in the country. Any field with that much history is bound to have some extremely loyal and passionate fans. Like in any good sports city, life in Chicago revolves around its teams. Not to mention, it was named the best sports city by Sporting News three times, although the last title was back in 2010.
Our Hotel Pick: Dana Hotel and Spa
Pittsburgh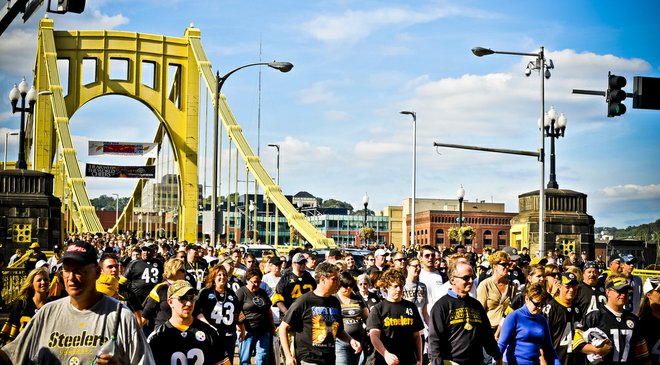 Need we say more than The Terrible Towel? This symbol of the Steelers has even made it to the top of Mt. Everest — so if any doubts the mettle of 'Burgh sports fans, they definitely haven't done their research. Pittsburgh is the city of black and gold, where people live and die by the numbers on the score board.
Despite its loss this past year, Seattle is still hot after its Superbowl XLVIII win, thanks in large part to the fact that Seattle fans are some of the best in the country. In fact, the impact of Seahawks fans played such a big role in the team's success in 1980 that the President retired the number 12 jersey and deemed the crowd the 12th man. To this day fans proudly rock their #12 jerseys. That's the spirit we look for in a great sports city. You win, Seattle.
Our Hotel Pick: Hyatt at Olive 8
As the saying goes, everything is bigger in Texas, and the spirit of Dallas fans is no exception. Cowboys fans are famous for filling their stadium to capacity, if not over, every time. If that's not an indication of an awesome sports community, then we don't know what is. Whether the Cowboys are really "America's Team" is debatable, but Dallas does have this sports thing on lock.
Our Hotel Pick: NYLO Dallas South Side
Related Links:
All products are independently selected by our writers and editors. If you buy something through our links, Oyster may earn an affiliate commission.