Summer days might be waning, but there's plenty to look forward to. Come fall, it's all about bonfires, chilly nights, hot chocolate, hayrides, and apple picking. And there are plenty of other ways to kick off the season, too. From September through November, the world hosts an array of festivals, some of which serve a religious or historical purpose while others are simply focused on partying with friends. Ahead, we compiled a list of some of the most impressive fall celebrations around the globe. Mark your calendars.
Dia de los Muertos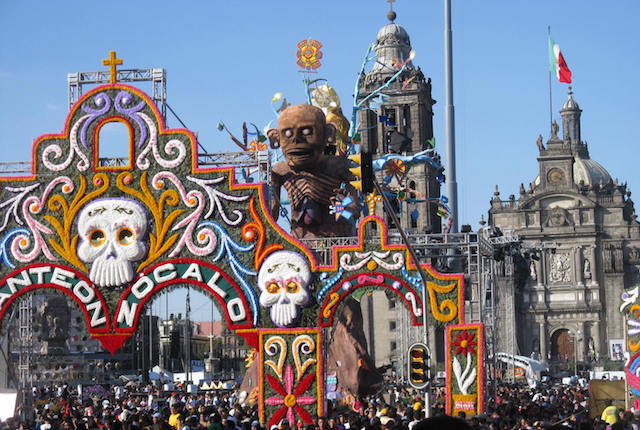 Dia de los Muertos or Day of the Dead is a popular Mexican holiday that celebrates those that have passed with events around the country. The festival begins on November 1 and ends the following day. Although it originated in Mexico, the holiday has spread to the U.S. and other Latin American countries. In Mexico City, there's a large parade filled with colorful costumes and women dressed as La Catrina (a female skeleton) as well as art installations, marigold displays, and markets selling knick-knacks like sugar skulls. But most celebrate at home with altars that hold offerings for their deceased family members. And on November 2, families visit the cemeteries where they clean and decorate their loved ones' graves with flowers and candles.
Where to Stay:
Oktoberfest
You've probably heard of Oktoberfest and you know it involves German food and a never-ending flow of beer. But did you know that it first started in 1810 in Munich with festivities from King Ludwig I and Princess Therese of Saxony-Hildburghausen's marriage? It has evolved over the past 200 years into a beer festival that's celebrated around the world, from Texas, Brazil, and Mexico City to Shanghai and Okinawa. The largest (and original) of the festivals, however, is held in Munich and includes a costume parade, an official tapping of the first keg by Munich's mayor, a gun salute, fairs, performances, vendors, and, yes, lots of beer.
Where to Stay:
Diwali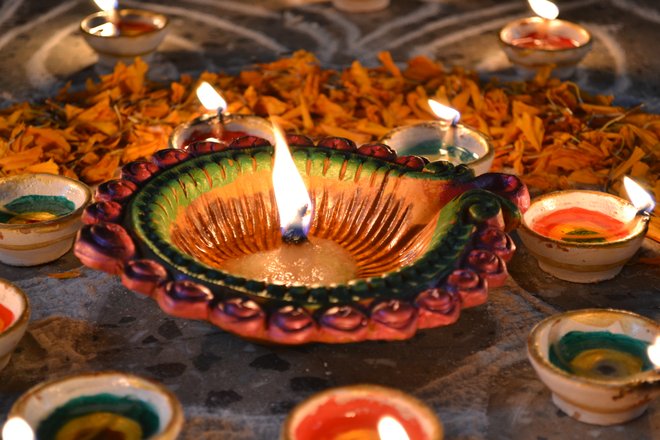 Diwali, also known as the Festival of Lights, is one of the biggest celebrations in India and among Hindus worldwide. The festival falls between mid-October and mid-November and lasts for five days. It involves lighting lamps, exchanging gifts, fireworks, lavish meals, and praying to Lakshmi, the goddess of wealth, for financial security for the next year. There are a number of stories associated with Diwali, but they all have one thing in common — good overcoming evil or the victory of light over darkness.
Where to Stay:
Albuquerque International Balloon Fiesta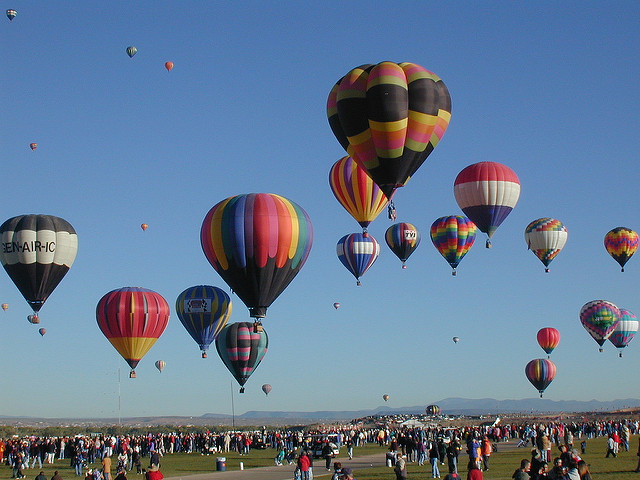 Hailed as one of the largest balloon festivals in the world, the Albuquerque International Balloon Fiesta is a spectacle that can't be missed. At the beginning of October, a kaleidoscope of more than 500 balloons soar above 78 acres in Albuquerque, New Mexico. The event does have a fee, but it includes breakfast, light and car shows, artists, races, fireworks, bands, and other performances. If you can't attend this jaw-dropping event, tune into their live webcam footage and prepare to be wowed.
Where to Stay:
Mid-Autumn Festival
The Mid-Autumn Festival, also known as the Moon Festival, is largely celebrated in China and Vietnam. The legend behind the event, which usually falls between the end of September and mid-October, varies from place to place, but they all focus on the full moon rising of the eighth lunar month. Mooncakes, which are thought to have originated in the 13th century as a way to pass secret messages between revolutionaries in the Yuan dynasty, are an essential part of the festivities as are lantern displays, fire dragon dances, carnivals, markets, and other shows. Head to Beijing, Hong Kong, Shanghai, Hangzhou, and Hoi An for some especially exciting Moon Festival celebrations.
Where to Stay:
Nuit Blanche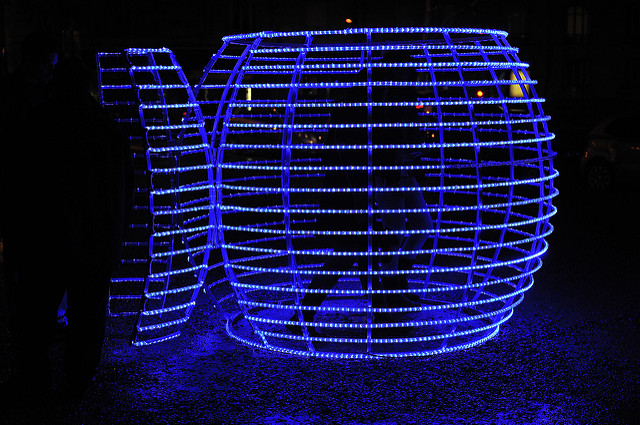 Starting as a contemporary art festival in Paris in 2002 , Nuit Blanche has now spread to other international cities like Toronto and Brussels. The festival occurs at night on the first Saturday of October and incorporates visual artists, performances, sculptures, music, and light displays. Plus, visitors will be able to marvel at the artistic displays that are also spread throughout the city.
Where to Stay:
Yi Peng and Loi Krathong Festival
The Yi Peng and Loi Krathong Festival, which falls on the full moon of the 12 month on the Thai lunar calendar (usually November), celebrates Buddha and his principals. During this spiritual event in Thailand, people take the time to reflect on their life and get rid of any negative energy. The most spectacular rituals associated with this festival are the release of khom loi (lit lanterns) into the night sky as well as the launching of krathong (floating vessels filled with incense, flowers, and candles) into rivers and other bodies of water. Head to , which hosts a three-day celebration filled with fireworks and vendors. It'll cost a fee to attend, but the magic of the lanterns and the decorations is worth the price tag.
Where to Stay:
Jousting of the Saracens
https://www.instagram.com/p/BJoKKzbh0FG
Italy hosts a festival on the first Sunday in September that makes visitors feel like they've been transported back to the Middle Ages. The Jousting of the Saracens, which dates back to the 13th century, occurs over several days in Arezzo and involves jugglers, musicians, and more. People from different neighborhoods also dress up in traditional medieval garb and participate in a jousting competition — though one that doesn't end in death. The players race on horses toward a wooden effigy and try to strike its shield with their lance. The crowd gets involved, so be sure to bring your A-game if you decide to visit.
Where to Stay:
Related Stories:
All products are independently selected by our writers and editors. If you buy something through our links, Oyster may earn an affiliate commission.