There's something very glamorous and carefree about island hopping. You stay just long enough to savor the very best a destination has to offer, then pop over to the next heavenly atoll in the sea. But without proper planning, bouncing around any archipelago can be exhausting -- and daunting. For starters, be realistic about how many locales you can visit given the length of your trip. And above all, avoid waking up at 5 a.m. to catch the puddle jumper that's headed to a ho-hum destination. So which destinations should you consider when mapping out a multi-island vacation? That's where we come in. Below, we compiled a list of some of the world's most glorious places to go island hopping.
Best known for their natural beauty and pampering resorts, Fiji's 300-plus islands offer a wide range of things to see and ways to relax. Several charter boat companies offer day and week passes, making it possible to sample several clustered destinations for a reasonable rate. If possible, find a company that lets you refill or renew your card, in case you decide to continue traveling.
The international airport on the big island of Viti Levu is where many visitors land in Fiji, and Suva, the capital, features a vibrant nightlife scene with a mix of East-meets-West food and dance-friendly watering holes. Along the coast are numerous charming towns with beachside resorts and expat communities. Savusavu is the location of Fiji's best-known pearl farms, and learning the secrets of the trade is fascinating. Savasi Island, just off the coast of Viti Levu, is known for its private beaches and generous service. A ferry ride the west of Viti Levu will take you to the Mamanuca Islands (20 in all), where Instagram-ready clear blue waters and coral reefs await. Surfers won't have much trouble finding several top-notch breaks either. Taveuni, Fiji's Garden Island, has plenty of exciting activities for visitors, including snorkeling, open-water diving, and boating. Plus, you can hike the island to spot rare birds or ride a natural water slide. Tip: while taking a ferry from Viti Levu is much cheaper than flying, many island hoppers opt for the quick jet ride to optimize their Fiji time.
Fiji Hotel Pick:
When it comes to island hopping in the Caribbean, options are aplenty. You can book flights to zip between splashier destinations like St. Martin and San Juan or pick a smaller group of islets, like the ones in Guadeloupe, and ferry between them. Travelers who want a more relaxed and luxurious approach to skimming the Caribbean waters can take a cruise and stop — even if for part of a day — in many of the major ports. Vacationers beginning their trip in San Juan can opt for a regional flight or nearby ferry to places such as Orcas Island, which has mountains for hiking as well as unspoiled forests. Folks can also canoe and kayak here. Guadeloupe isn't one destination but an archipelago of five islands that are about 20 to 45 minutes apart by ferry. Highlights here range from thumping electro music festivals to hand-gliding and rappelling. For a taste of the finer life, zip over to St. Maarten or St. Barts and stay in a five-star waterfront resort for a night. You may not want to spend all of your time dipped in gilded luxury, but a day can last a long time in your memory bank. Booking a cruise to Guadeloupe, St. Maarten, or the Dominican Republic will allow you to put all of the travel arrangements in someone else's hands, so you can just wander off the boat when it docks.
Caribbean Hotel Pick: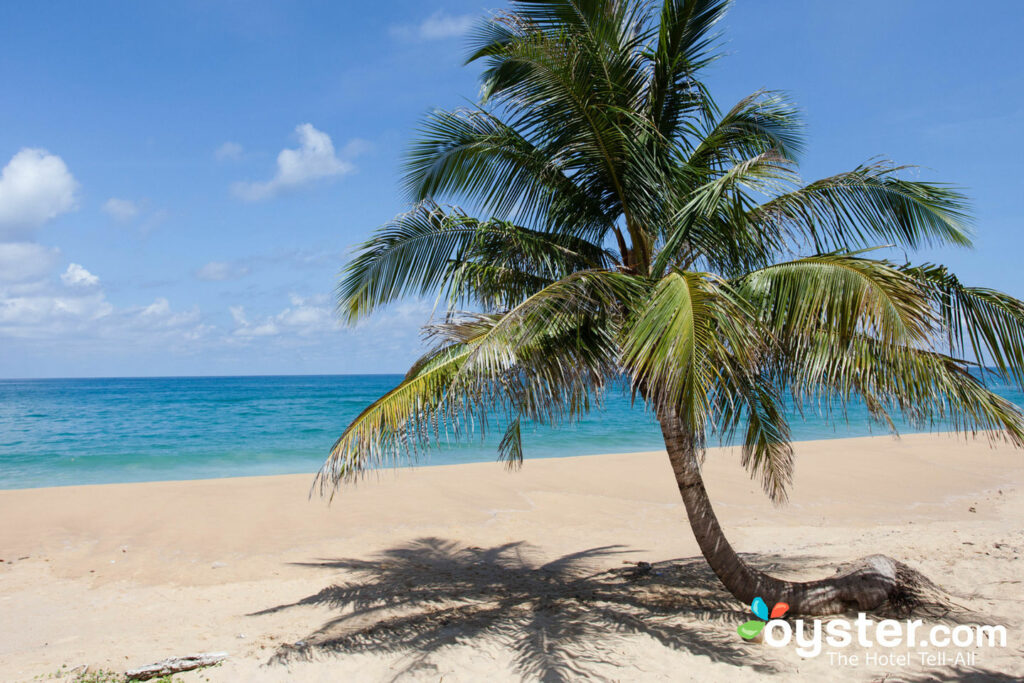 With hundreds of islands in the Gulf of Thailand and Andaman Sea, you'll be lucky to see a handful during any vacation. The options range from bustling to secluded and uninhabited. Keep in mind that locations on the east and west coast of the country have different weather patterns, so trying to hop between the two may offer up an unexpected storm depending on when you go. (Check out our handy guide for the best and worst times to visit Thailand.)
Many trips to Thailand's islands off of the southeastern coast begin in Phuket, which has the big town of Patong and several busy beaches. Plenty of vacationers stop in Patong where there's plenty to see. The Phi Phi Islands are a group of beautiful islands that can be toured with a speedboat. However, they're best known for a laid-back attitude and relaxing cream-white beaches, so no need to rush. Ko Phi Phi Leh has no human inhabitants, while Ko Phi Phi Don lacks roads. From October to April, Phang Nga, which includes the many islands, welcomes swimmers to its clear waters and technicolor reefs. James Bond fans will recall the location's limestone rocks from "The Man with the Golden Gun." Like many destinations in Thailand, the islands are impacted by monsoon season, so book wisely. Koh Samui, on the eastern coast, has low-rent beachside bungalows and high-end spas, bawdy cabaret shows, and solemn Buddhist temples. The nearby Koh Phanganmay be well known for the massive Full Moon rave, but there are plenty of other awesome aspects to the island beyond the party, like a huge inland jungle.
Thailand Hotel Pick:
For many Europeans, the Greek islands are the ultimate summer destination. During the day, folks can enjoy the electric blue water and white beaches; at night, guests can hit up one of the pulsating dance clubs. In the afternoon, amble through villages with curvy stone walkways and stop for coffee or fresh seafood. Of course, not every island fits neatly into that description, but several come close.
With approximately 3,000 islands in the Mediterranean Sea, Greece divides the islands into different groups. These collections can have different landscapes and weather patterns. The Ionian Islands, for example, are close to Italy and have had a series of different rulers from Venice, France, Russia, Austria, and more. As a result, there are pockets of distinct and beautiful historic architecture. The Saronic Gulf Islands, between the Peloponnese and Athens, include Hydra and are known for their crisp beaches, historic monasteries, and stone mansions. The most well-known of the groups might be the Cycladic Islands (or Cyclades), which are situated between Athens and Crete. Head to popular Cyclades destinations like Mykonos or Santorini to see those signature buildings with pastel blue roofs and whitewashed walls. Mykonos is home to soft sand beaches, windmills, and the charming historic town of Little Venice. On Santorini, you can hike from Fira to Firostefani, walk through a bowl-shaped volcano, or book a sunset cruise. The North Aegean islands are closer to Turkey and much less touristy and also offer a mix of Middle Eastern, Byzantine, and European cultures. And Crete, the largest island, can easily occupy a traveler for several days, thanks to its history of the Minoans, the earliest advanced civilization in Europe.
Greece Hotel Pick:
While island hopping is often associated with tropical destinations, Scotland has almost 800 islands off its coast. No jet or puddle jumper is necessary, either. Much of the travel to these destinations can be done by car or even bike, making hopping from island to island much more economical. And while a ferry is usually required, these rides tend to be shorter and more reasonably priced than in other countries. A few ferry lines also offer package deals to see several islands.
Scotland's isles come in four main groups: Shetland, Orkney, Inner Hebrides, and Outer Hebrides. Shetland's 100 islands span from the south of Scotland up close to Norway — and only 15 are inhabited. Campers and nature lovers will appreciate the untouched landscape of places such as Skeld, where it's easy to spot a seal and catch a trout. The archipelago of Orkney's 70 islands are located off Scotland's northeast coast. Archaeology buffs often make the trip to see the 1,000 prehistoric sites, including a house from 3,700 B.C. and the Neolithic monument dubbed Ring of Brodgar. Visitors who appreciate more modern pleasures can tour a local distillery and dine at one of the many seafood bistros here. The Inner Hebrides, located off the west coast of Scotland, has about 70 islands in its chain, 36 of which are inhabited. Highlights include Isle of Skye's 19th-century Armadale Castle, which sits on a 20,000-acre estate with restored historic gardens. The Isle of Mull, on the other hand, is known for its horseback riding and hiking. The Outer Hebrides are a large collection of small islands that tend to be a bit less touristy and more traditional. Scottish Gaelic is regularly spoken on many of them. Fans of water sports can go kayaking, surfing, and canoeing on many of the islands here. Don't miss the standing stones, also called the Hebrides Stonehenge, on Isle of Lewis.
Scotland Hotel Pick:
Many travelers think they need to go to the ends of the earth to island hop. However, off the coast of Florida are the Florida Keys, a string of islands known for snorkeling, scuba diving, and magical sunsets. And seeing several of them can make for a great bucket list-worthy trip. Vacationers strapped for time can opt for a seaplane or ferry to reach the more standout stops.
The Dry Tortugas are a collection of seven islands with white sand, coral reefs, and tropical fish. Its most iconic structure is Fort Jefferson, which was quite active during the Civil War and after. It remains in good shape today. If you want a taste of the exclusive spa life, Little Torch Key is home to the swanky Little Palm Island Resort & Spa, which is only accessible by plane or boat. More affordable cottages can also be found in the area, though. Islamorada, accessible by the Overseas Highway, is known as the sport-fishing capital of the world, and several charter boat companies offer package deals that include a day on the water. Grassy Key has the Dolphin Research Center, which makes it possible for you to swim among the clever creatures. And at Key Largo, folks can sign up for a glass-bottom boat tour of the John Pennekamp Coral Reef State Park. And last but not least, Key West, a notorious party destination, is known for its conch fritters, daiquiris, and of course, key lime pie.
Florida Hotel Pick:
Related Stories:
All products are independently selected by our writers and editors. If you buy something through our links, Oyster may earn an affiliate commission.