With the amount of snow that has hit the east coast within the past few weeks, there's no denying we're already in the thick of the holiday season. And with Christmas just around the corner, we couldn't help thinking of all our favorite places to spend it. From the snow covered hills of Norway to the swaying palms of Hawaii, here are Oyster's picks for the best places to spend Christmas 2014.
Bergen is an ideal place to spend Christmas for those who imagine their holidays covered in snow and filled with old-world charm. Christmas in Bergen includes all the traditional trimmings — a tree in the city center, holiday shops and concerts, and delicious street food. But a mini replica of the city made entirely of gingerbread, the lighting of Advent candles atop Mount Fløyen, and sledding down Mount Fløyen, make Christmas in Bergen unique.
Where to Stay: Clarion Hotel Admiral
The Clarion Hotel Admiral, housed in a historic former boat warehouse on the Bergen harbor, is a solid option within walking distance of popular sights. Renovated rooms are contemporary and stylish, and some have balconies with views of the water.
Austria's capital city dazzles during the Christmas season. World-famous Christkindlmarkts light up the city's squares, which are in turned filled with revelers sipping mulled wine and snacking (or feasting) on strudel. Local artisans sell their crafts in wooden stalls and cafes overflow with holiday-minded patrons. But perhaps the best part of Christmas in Vienna is watching the snow fall upon the city's imperial palaces, transforming an already beautiful city into something quite magical.
Where to Stay: DO & CO Hotel
With an unbeatable location in Stephansplatz, incredible views of St. Stephen's Cathedral, and high-design style, the DO & CO Hotel is an excellent choice for your holiday stay. Rooms are decked out in exotic hardwoods, stone, and leather, and the ritzy on-site restaurant is a hot spot for locals and tourists alike.
Christmas takes on a magical aura in Santa Fe, where Spanish, Native American, and old Southwestern traditions make the holiday season truly unique. Spend Christmas Eve in Santa Fe Plaza, where thousands of "farolitos" (paper bag lanterns) light up the city streets. Or watch Las Posadas, a nativity play, as it passes through the streets. And if you ever get hungry, Posole, a pork stew with chiles and white corn, is a local Christmas tradition that's readily available at numerous restaurants.
Where to Stay: Hotel Chimayo de Santa Fe
With a hard-to-beat location adjacent to Santa Fe Plaza, the Hotel Chimayo de Santa Fe is an ideal spot for those looking to stay near the city's best Christmas activities. The distinctive New Mexican decor and "homey" feel throughout the hotel are sure to make guests feel welcome during the holiday season.
Christmas In Newport is an annual month-long celebration that harkens back to the non-commercialized holiday season of yester-year. Events throughout the month of December include carolers, Nutcracker performances, doorway decoration contests, and fireside story times. But perhaps the most dazzling Newport attractions are its famous mansions. The Breakers, The Elms, and Marble House — icons of America's Gilded Age — are spectacularly decorated for the holiday season.
Where to Stay: Forty 1 North
Forty 1 North is easily Newport's most luxurious accommodation. Stylish, contemporary rooms overlook the marina, and guests and locals congregate at the dockside seafood restaurant and bar.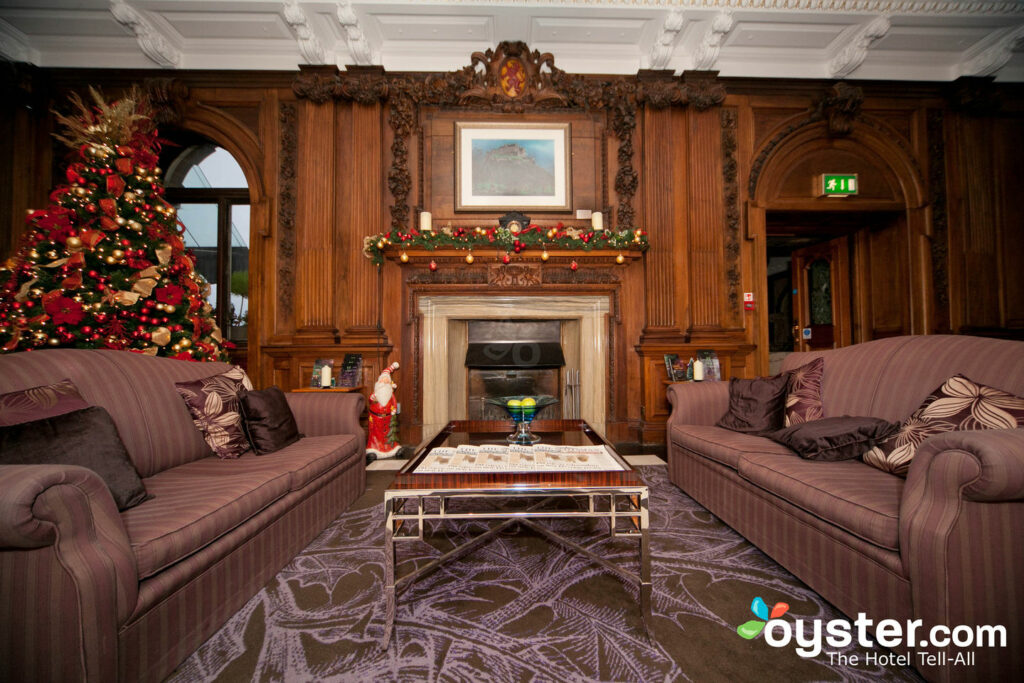 Whether it's ice skating in St. Andrew Square, trekking through a Christmas tree maze in Santa Land, or exploring the doors of a live Advent calendar known as the 24 Doors of Advent, you'll never lack Christmas cheer in Edinburgh. Everything from traditional Scottish markets to holiday vaudeville performances can be found throughout the city during the month of December.
Where to Stay: The Scotsman Hotel
The Scotsman Hotel is an upscale historic boutique located right off the Royal Mile, in the heart of the Old Town. The building is a former printing house, and many of the original features are preserved — including an Italian marble staircase, ornate ceilings, and oak paneling — making it a charming choice.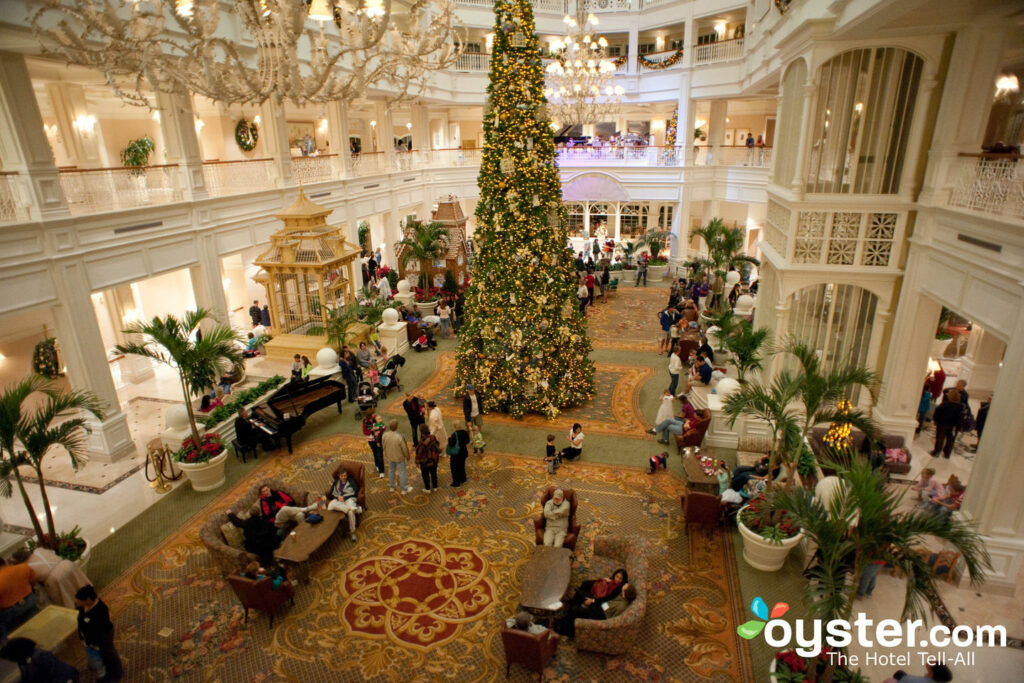 We can't think of a more magical family holiday than Christmas with the mouse. Walking down tinsel-covered Main Street, kids (and kids at heart) will be blown away by the Magic Kingdom's festive transformation. This year, Cinderella Castle will be transformed a la Frozen, and fans of the movie can expect appearances by all their favorite characters. Of course, the Magic Kingdom isn't the only place for holiday fun. There's Epcot's Holidays Around the World and Candlelight Processional, and Hollywood Studios's Osborne Family Spectacle of Dancing Lights. No matter where you find yourself, Disney is sure to make the holiday season special.
Where to Stay: Disney's Grand Floridian Resort & Spa
Disney's grand dame sits just across the lagoon from the Magic Kingdom. Its full service spa, formal decor, and upscale dining also ensure that the adults in the family will enjoy the holiday just as much as the kids. Like all Disney resorts, the Grand Floridian flaunts some incredible Christmas decor, but there's something extra special about Christmas at this Victorian gem.
Like most European cities, Amsterdam sees its fair share of Christmas markets during the holiday season. But nothing makes Christmas in Amsterdam more enticing than the legend of Sinterklass, who usually arrives in the city in mid-November and stays until early December, leaving presents for children behind. Though the feast of St. Nicholas falls on December 6th, holiday cheer continues throughout the city until the new year. The Amsterdam Light Festival, the Paradiso Orchestra's Christmas Matinee, and Amsterdam Tango Week are this year's most anticipated events.
Where to Stay: Hotel Estherea
Perfectly situated in the Canal Ring (close to the Dam Square Christmas Tree), the canal-front, fabulously extravagant Hotel Estherea feels appropriately plush around the holidays.
The historic city of Savannah is simply spectacular around Christmastime. Historic homes twinkle with white lights, and landmarks like the Cathedral of St. John the Baptist are beautifully decorated to reflect the cheer of the season. Catch a showing of A Christmas Tradition at the Savannah Theatre or marvel at more than 60 sailboats and yachts as they light up Savannah Harbor during the annual Boat Parade of Lights. Not to be missed are the nearly 300,000 glistening lights and decorations adding extra special holiday flair to the Coastal Georgia Botanical Gardens.
Where to Stay: The Dresser Palmer House
You'll experience old-world Southern Charm at its finest at The Dresser Palmer House, located on a tree-lined street in Savannah's historic district. Rooms are cozy, and may feature fireplaces, four-poster beds, claw-foot tubs, and/or private porches. Plus, there's a delicious free breakfast served six days a week, and a free nightly wine hour.
You know Christmas has to be good when it's celebrated in a city known for its chocolate and beer. After you indulge your taste buds, check out the giant tree in Grand Place (gifted from Riga, Latvia this year), the skating rink and ferris wheel in Place de la Monnaie, and the second annual Christmas parade. Spectacular sound and light shows also occur nightly in the Place Sainte Catherine and Grand Place. After seeing Brussels' historic buildings glow with neon colors and 3D effects, you'll start seeing Christmas in a whole new light. (We had to get just one holiday pun in there!)
Where to Stay: Hotel BLOOM!
The Hotel BLOOM! is a funky, artistic kind of place with neat wall art and a trendy design. Standard rooms are spacious, there's free Wi-FI, and the restaurant offers a free breakfast buffet. It's a bit removed from tourist sights, but close to public transportation.
"Mele Kalikimaka" (meaning "Merry Christmas") is the thing to say on a bright Christmas morning in Hawaii. You won't find snow or cozy fireplaces, but Honolulu is certainly festive this time of year. First off, there's the annual decorations at Honolulu Hale. You'll also find a traditional Christmas tree among the swaying palms, Santa's Enchanted Forest, and a wreath display. But if holiday hoopla isn't your thing, you can always kick back and relax on world-famous Waikiki Beach.
Where to Stay: The Royal Hawaiian, a Luxury Collection Resort
Of the three luxury hotels in Waikiki — the Moana Surfrider and the Halekulani are the others — the 528-room Royal Hawaiian provides the most stunning design, the warmest service, and a solid collection of free little extras, including turndown treats and welcome leis, which ensures your Christmas stay will be pleasurable.
All products are independently selected by our writers and editors. If you buy something through our links, Oyster may earn an affiliate commission.