Every year, Shark Week enters our lives for a fleeting seven nights of nail-biting, heart-pounding programming on the Discovery Channel. But before you even have the chance to cue up the "Jaws" theme song, the exciting event concludes, leaving us longing for more adrenaline-pumping adventures. We're of the mentality that the fun doesn't have to stop there. So whether you follow along or not, here are 10 prime destinations for cruising alongside the colossal aquatic creatures long after Shark Week wraps.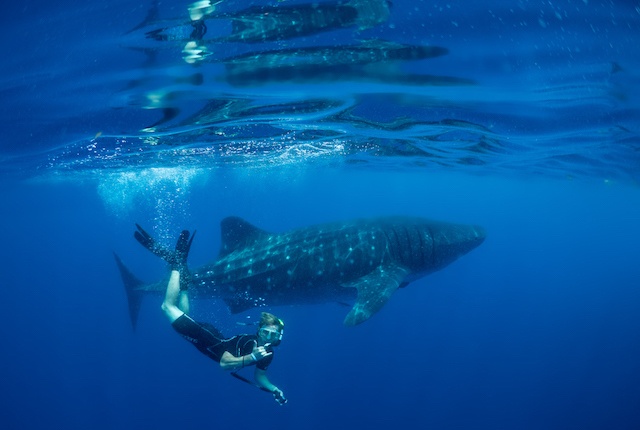 Brush up on your whale-speak (à la Dory from "Finding Nemo"), slip into your scuba suit, and hop into the warm Caribbean waters to rub shoulders with the largest concentration of whale sharks in the world. Take the plunge any time between May and September, which is when the gargantuan creatures are known to congregate by the hundreds. The species might be the biggest sharks on the planet (they can grow to be 46 feet long and weigh up to 15 tons), but breathe easy — they're vegetarian.
Stay close to the action: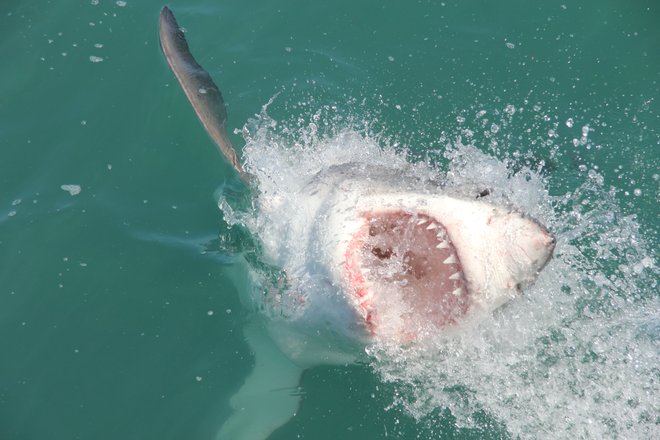 There are few things in life that will make you feel like as much of a badass as coming face-to-face with a great white shark. Luckily, Gansbaai, which happens to be the OG spot for great white shark cage diving, offers some of the best seats in the house for watching the predators swim through. More good news: Those who chickened out and stuck around on the boat won't miss out on the fun — the sharp-toothed animals still circle around the area, making for some exciting point-and-scream sightings.
One of the most impressive shark dives on the planet, this area is home to not one, but eight species. Get up close and personal with tigers, bulls, sicklefin lemons, silvertips, and more. Once you descend, you'll have the opportunity to watch local Fijians feed the massive bull sharks by hand. It may seem intimidating at first, but the photo ops are worth it. While you're submerged, expect to also encounter giant groupers, eagle rays, morays, and a variety of tropical reef fish.
Stay close to the action:
Located about 300 miles off Costa Rica's Pacific coast, this uninhabited island (which also happens to be the inspiration for Michael Crichton's "Jurassic Park") is accessible by a liveaboard vessel. Above ground, it's cloaked in verdant rainforest, cascading waterfalls, and a diverse array of plant and animal species. Underneath it all, things look a bit different. Come summer, the waters are teeming with hammerheads, whitetip sharks, and manta rays, to name a few. Here, the dives (literally) roll deep — about 100-feet, to be more specific. With strong currents, chill waters, and a remote location, it's not built for the faint of heart (or first-time plunger).
5. Guadalupe, Mexico
Swimming with the dolphins was fun and all, but you're ready to up the ante on the adrenaline scale. For a thrilling adventure, sink into the waters surrounding this volcanic island to cruise with some great whites. Although tucked behind a cage, you'll get within arm's reach of the animals. And thanks to the seal population (a.k.a. shark fuel) and clear, warm waters, your chances of a sighting are high.
6. Galapagos, Ecuador
https://www.instagram.com/p/4VPXGwEo4I
Home to an array of wildlife like penguins, tortoises, and iguanas, nothing brings on the wow factor like face-time with a shark. Visit the remote dive sites at Darwin Island, which boasts warm waters, colorful corals, and schools of hammerheads, whale sharks, manta rays, and golden rays.
Eat up the chance to experience a heart-racing shark dive. Folks will take a high-speed boat from Grand Bahama Island to the open seas, where guides use bait to lure all kinds of toothy predators — tiger sharks, hammerheads, Caribbean reef sharks, and lemon sharks, to name a few — while swimmers float on the top to take in the thrilling views.
Stay close to the action: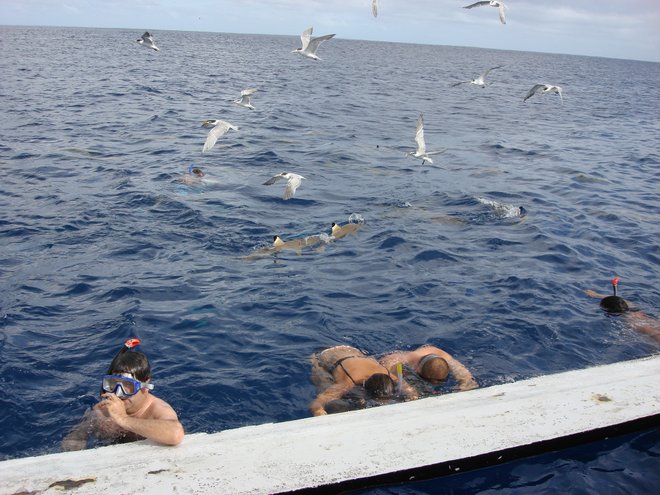 Bora Bora might be a sought-after honeymoon destination for its pristine beaches and luxe overwater bungalows, but it also boasts some of the most impressive (and popular) shark feeding trips. Step out of your comfort zone and head out for an excursion in a crystal clear lagoon, where you'll witness guides feed blacktip sharks. Daredevils will even have the opportunity to buoy over a different area to catch lemon sharks below.
Stay close to the action: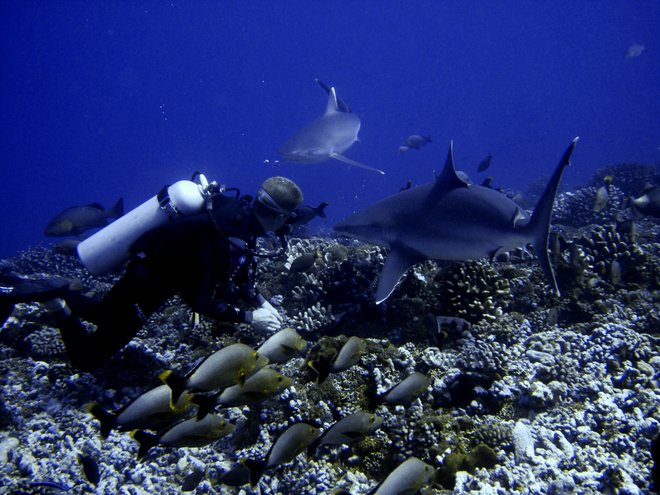 About a one-hour flight from Tahiti, Rangiroa is home to warm turquoise waters and unforgettable shark adventures. No island runoff equals visibility that extends over 150 feet. The Tiputa Pass, which offers an opening to the ocean, is well-known as one of the world's greatest shark dives. Here, divers will find themselves in the company of throngs of grey, blacktip, whitetip, lemon, and nurse sharks.
10. Osprey Reef, Australia
https://www.instagram.com/p/BGp8fCFDqrV
Brace yourself for majestic creatures like gray reef sharks, silvertips, hammerheads, dogtooth tuna, and even whale sharks at Osprey Reef, which lies northeast of Queensland. You'll have to take a liveaboard vessel to get here, but the tropical climate (an average of about 70 degrees in the winter and 85 degrees in the summer) makes it a year-round diving destination. Don't miss the shark feeding frenzy that goes down at North Horn, located at the northernmost tip of the reef.
Related Stories: