Two years ago I decided to quit my job and spend two months traveling Europe. It was definitely not an easy decision—and there were people who didn't support me giving up my financial and career security—but it was something I felt I needed to do at the time. So two weeks after my last day at work, I boarded a plane, leaving behind the comfort of family and friends and the start of a new relationship, to visit 14 countries I had never been to, most where they speak languages I don't understand. I sat there in my seat on my way to Iceland, for a quick layover, before heading to London to start my European tour. More terrified than I'd like to admit, I tried to take a nap, but was too anxious about what the next two months would bring and whether I had made the right decision. So I turned to stare out the window into the endless darkness of the night sky, only to see the telltale swirling green waves of the Aurora Borealis. Something about seeing the Northern Lights in that moment made me realize I had made the right choice.
Ever since then I have been excited to see the Northern Lights again, but this time from the ground where I could experience them and photograph them in the wilderness. I booked a flight back to Iceland for a week-long vacation with my friend Megan right after Thanksgiving, which also happened to coincide with my birthday. While we had a few activities planned, the most important excursion would be a night away from the city to see the Northern Lights in their complete glory. Of course, not everything worked out as expected. The six days we happened to be in Iceland were all cloudy and rainy. So, what do you do in a country during the winter when there are only four hours of sunlight per day, and the major thing you flew there for isn't a possibility? Here are six things we experienced that were definitely worth a trip to Iceland in the winter.
Walk around Reykjavik.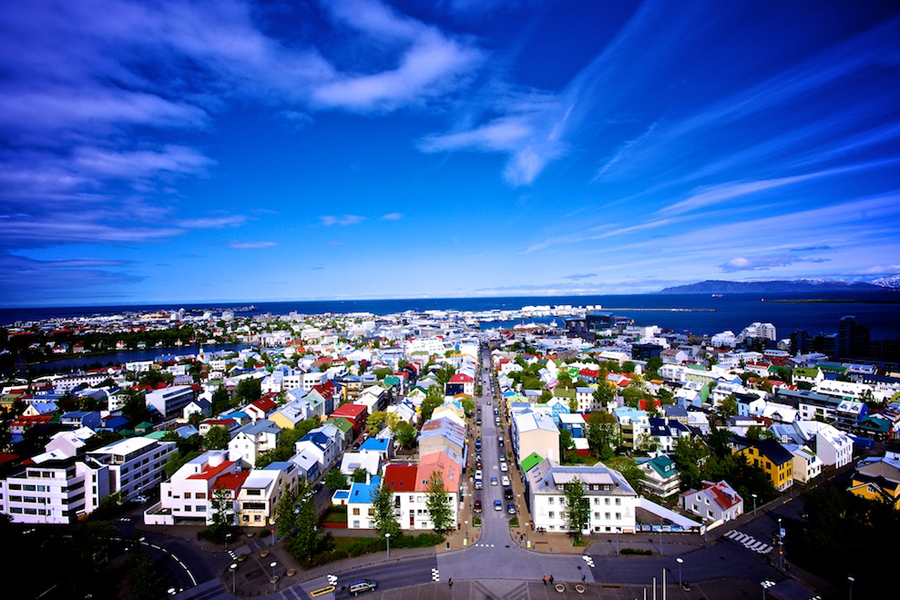 Coming from New York, where I never get any peace and quiet, the tranquility of Reykjavik was exactly what I needed. In the pre-dawn pink light—by pre-dawn I mean 10 a.m.—the city was absolutely beautiful. Tjörnin, the lake in the center of city, is surrounded by charming houses and has ducks and swans swimming in it, even in winter. Reykjavik's streets are lined with cute shops selling anything you could ever desire and are ideal for strolling. When it starts raining or gets too cold, there a plenty of museums and galleries to duck into, including the National Museum of Iceland and the infamous Icelandic Phallological Museum. During the week we were in Reykjavik, we witnessed Ingólfstorg Square transform into an ice rink (it opens on December 1st each year). Also, if you happen to be in Reykjavik the month before Christmas, be on lookout for the 13 Santas, or Yule-lads, hiding around the city in windows and stores.
Hike a glacier.
https://www.instagram.com/p/BPtKHEvBU-_/
While the glaciers in Iceland recede and melt in the summer months, making them unsafe to visit, winter's cold weather makes them stable enough to walk on top of—and inside of, via an ice cave. However, visiting a glacier is not something to do without a local guide, so we booked a tour. There are two- and three- day tours that give you more time to explore, but since we had limited time, we opted for an 18-hour one-day tour. We boarded a bus in Reykjavik at 7 a.m. and drove the four hours to Glacier Lagoon (Jökulsárlón). We stopped at a few waterfalls and the black sand beach at Vik along the way, but in my opinion, Glacier Lagoon was absolutely the highlight of the day and should not be missed. It was stunningly beautiful, and with the short winter days, the sun was setting as we got there, making for an unforgettable scene.
Eat and drink the local fare.
https://www.instagram.com/p/BQIJe2BDQtQ/
Reykjavik has pretty much every type of food you can think of—it is a capital city after all—but if you're looking for cuisine typical to Iceland, you definitely have to try the variety of seafood offered. The blue mussel is commonly found in the waters around Iceland and is served in many restaurants in the capital. (The beer poached mussels at Sæta Svíniđ are quite delicious.) Other traditional Icelandic fare includes puffin, whale, and reindeer, all of which you can find in restaurants throughout the city. If you're looking for food that's more reminiscent of home, check out the Laundromat Cafe. A Copenhagen-based restaurant, it opened an Icelandic branch after the success of its Danish locations. It's exactly what it sounds like: a cafe that has a laundromat in the basement, so you can enjoy some delicious food, like avocado toast or pancakes, while washing your clothes. (This is key for backpackers.) Another must-see during your trip to Reykjavik is the Lebowski Bar. With over 20 varieties of White Russians, as well as a diverse menu of burgers and shakes, there is something for everyone. For an evening that appeals to travelers and locals alike, check out the Kex Hostel. Sæmundur í Sparifötunum is the gastro pub in the lobby, and it offers a variety of bites.
Ride an Icelandic horse.
https://www.instagram.com/p/BOKlrpmBuyx/
Icelanders are incredibly proud of their horses. (Yes, they are small, but do not call them ponies!) Not only are they sturdy and well-tempered, but Icelandic horses also have two unique gaits, including the famous tolt, which is a lot smoother than the typical trot. We booked a morning tour with Íslenski Hesturinn that took us through volcanic landscapes. Appropriate for all level of riders, the tour was both exciting and informative. We lucked out that the rain stopped for two hours during our ride, and the landscape was absolutely stunning, despite the clouds. Also, the horses were adorable.
Check out the waterfalls and geysers.
There are hundreds of waterfalls around Iceland, so you definitely have to take the time to see a few. Some of the more famous ones are Gullfoss and Skógafoss, which are often included in the Golden Circle tours. Seljalandsfoss is a 197-foot-tall waterfall that you can walk behind into a small cave. Other Golden Circle attractions include Strokkur, a geyser that erupts every five to seven minutes, and Keriđ Volcanic Crater.
Soak in the Blue Lagoon.
https://www.instagram.com/p/BQKTZRjFiGP/
While this might seem cliché, you can't travel all the way to Iceland and not check out the most famous attraction in the country. The Blue Lagoon's location near the airport makes it an ideal stop on your way into or out Reykjavik. We decided to spend our morning here before catching our flight back home. You need to make a reservation prior to visiting the Blue Lagoon—or better yet, prior to arriving in Iceland—since there are limited spaces each day, and they fill up quickly. There are a variety of package options available, and while the most basic one is fine, I would recommend at least the Comfort package, which provides use of a towel and a refreshing algae mask. Despite it being 40 degrees Fahrenheit and raining during our visit, it was still a relaxing experience, and definitely worth the trip.
So, while the night skies might not always cooperate, there are plenty of other beautiful sights to see on your visit to Iceland in the winter.
You'll also like:
All products are independently selected by our writers and editors. If you buy something through our links, Oyster may earn an affiliate commission.