Best Beach Hotels in Nassau, New Providence Island
Take a look at the best beach hotels in Nassau.
See All Nassau Hotels
1
Sandyport Beach Resort is a three-and-a-half-pearl hotel located in the pretty community of Sandyport Marina Village. Rooms are cozy and the features are excellent for this price range. The hotel's 72 guest rooms are neat and inviting, they're decorated with locally made linens and artwork. Many offer kitchenettes or kitchens as well as hot tubs and separate sitting areas. This resort has a number of stand-out features, including direct access to Cable Beach, its own private lagoon beach, Blue Sail (a buzz-worthy restaurant), and a fun pool bar. It's worth comparing rates with nearby Compass Point Beach Resort, which also has beach access and free breakfast.
2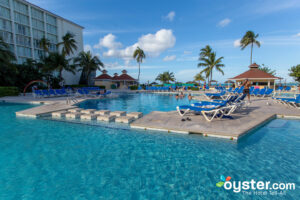 Breezes Resort & Spa Bahamas is a three-pearl resort located on Cable Beach. The resort's 391 guest rooms are big and bright, although decor is a bit bland and dated. The hotel has three appealing pools, five restaurants, a fantastic beach, as well as more unusual features such as a trapeze and a rock-climbing wall. Add to that a full schedule of land and water activities, along with four bars where the party often continues late into the night, and there's more than enough here to keep guests entertained. For those who like all-inclusive resorts, it's among the best value options on the island -- but it gets plenty of spring breakers in season. Kids under 14 are not allowed, so travelers seeking a more family-friendly option might want to check out Melia Nassau Beach Resort.
3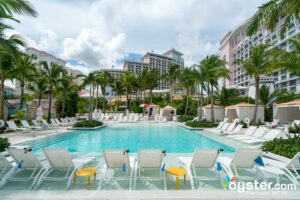 Sitting right on the crystal waters of Cable Beach, the massive Grand Hyatt Baha Mar overwhelms with features and has a luxury Vegas meets the Caribbean feel. The 1,800-room property has six attractive pools, the Caribbean's largest casino, impressive spa and fitness facilities, a Jack Nicklaus Signature Design golf course, nine tennis courts, and several luxury shops. A myriad of dining options range from haute Chinese cuisine and a seafood restaurant to food trucks with Mexican fare and gourmet hot dogs. Families are catered to with a kids' club, plus opportunities to see wildlife from sea turtles and sharks at The Sanctuary to flamingos at the aviary. Rooms are chic and spacious, decked out with mod-cons and attractive bathrooms, plus there are multi-bedroom villas and residences available. For something more intimate and even more luxurious, check out the neighboring Rosewood Baha Mar.
4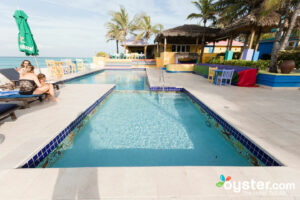 Compass Point Beach Resort is a three-and-a-half-pearl hotel located on Love Beach. The 18 huts at this laid-back resort are big on local charm -- with rainbow-colored exteriors and homey interiors -- but small on space. Founded by music producer Chris Blackwell of Island Records fame, this resort has an interesting history, along with a hip restaurant (continental breakfast is free) and direct access to one of the island's prettiest beaches, which it's named after. The secluded location is a great fit for guests with rental cars or those seeking a more intimate getaway, but it might feel too isolated for some. And paying for daily housekeeping is another downside. It's worth comparing amenities and rates with A Stone's Throw Away down the road, which offers a similar boutique ambience.
5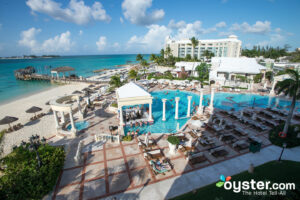 What was once known as the famous Balmoral Club back in the 1940s later became the 408-room Sandals Resort in 1995, where the motto is "Love is all you need." This resort has everything designed for couples and manages to impress upon arrival with Roman columns, statues, fountains, three levels of elegant accommodations, 10 distinct restaurants, and eight bars. Guests receive a slew of information at onset, including a schedule of both land and water activities and daily events, but many choose to relax at the beach or make use of one of two main pool bars to drink and mingle. Head to the offshore island for an easy excursion -– a boat leaves every hour and there's a Jamaican restaurant (included) and cabanas for napping. It's not all romance though; the resort does attract its fair share of partiers -– hence the rowdy Piano Bar and English Cricketeer Pub which are both open till the wee hours.
7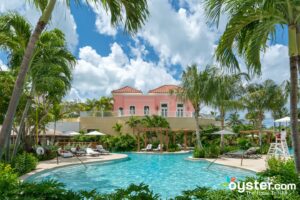 Part of a trio of luxury hotels comprising the immense Baha Mar resort, the Rosewood Baha Mar is the most luxurious (and expensive) option of the three. British Colonial architecture combines beach cottage interiors and Bahamian touches, plus the 237 spacious rooms are decked out with conveniences like 55-inch flat-screen TVs, Nespresso machines, and butler service. Two restaurants serve tasty fare and one of the most inviting spaces is The Library, a stylish guest favorite that offers Champagnes, afternoon tea, and caviar. Guests have access to all features across the Baha Mar resort, including an array of restaurants, a golf course, casino, kids' club, and expansive spa and fitness facilities, plus the Rosewood has its own private spa, pools, and gym. Families with kids might prefer the Grand Hyatt Baha Mar, and its expansive pool complexes.
8
The 288-room British Colonial Hilton is a historic Downtown landmark offering all of the features (and add-on fees) you'd expect from an upscale establishment. Set on 300 feet of private harborside beach, the hotel neighbors Nassau's main touristy strip, and it's walking distance to the Nassau Bahamas Cruise Terminal. Highlights include its beachfront setting, freshwater pool, lush, tropical grounds, superb business amenities, 24-hour fitness center, water sports, elegant function rooms, and choice of on-site restaurants and bars. Modern rooms are generic, but well-equipped with flat-screen TVs, work desks, and huge marble bathrooms (with premium toiletries). This Hilton is a good option for cruise passenger stopovers, corporate travelers, and those seeking a central, full-service hotel that's less "resort-y" than others. Travelers seeking a more resort-like vibe could check out Atlantis.
9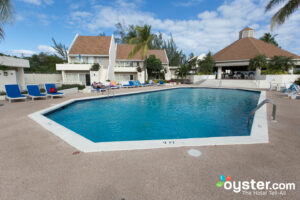 West Wind Club II is a three-pearl hotel located on popular Cable Beach, a 20-minute drive from downtown Nassau and within easy walking distance of restaurants. The hotel is composed of 54 two-bedroom villas, all of which include big living areas and full kitchens. The clean villas have an inviting home-away-from-home feel, but the decor could use an update. The on-site restaurant and outdoor pools are pretty average. Expect to pay extra for breakfast and Wi-Fi. As an alternative, Sandyport Beaches Resort also offers beach access and rooms with kitchens, plus the resort has a bit more personality.
10
An upscale, sprawling resort, Melia Nassau Beach is located on beautiful and serene Cable Beach. It's a 15-minute drive from the airport, but it's not in walking distance to other attractions. The 694 rooms and 32 suites are tastefully decorated, if a little generic, but they have wonderful views from private furnished balconies. A stylish lobby, three pools, daily activities, and entertainment add to the Melia's appeal. Six on-site restaurants serve better-than-expected food, and there's an on-site Starbucks. There are some tradeoffs for a resort this size: an impersonal feel, long waits for check-in, and long walks from the elevators to some rooms. Travelers may want to compare amenities and rates with Riu Palace Paradise Island.
11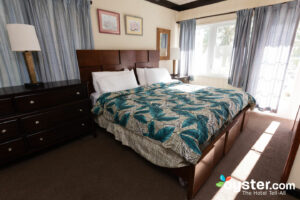 Coral Harbour Beach House and Villas is a two-and-a-half-pearl hotel located on picturesque Coral Harbour Beach, on the southwest coast of Nassau. The hotel's 16 guest rooms are clean and simple; many offer no-nonsense kitchens with stovetops. With a serene beach and cute restaurant that hosts live music, the hotel is ideal for guests who want to escape the crowds of downtown Nassau. Wi-Fi and continental breakfast are free. However, the location may be too isolated for some, particularly those without rental cars, though it's just a 15-minute drive to the airport. Another downside: no pool. It may be worth comparison shopping with Orange Hill Beach Inn, which is set on the north coast and has a pool, but can also have higher rates.