Best Value Hotels in the Bahamas
At Oyster, value is the most important factor we consider when evaluating a hotel. From the quality of rooms to pools and beach areas, we've compared how each feature stacks up against the competition. After sleeping at some of the best and most popular hotels in the Bahamas, we've found some excellent picks for the price.
See All Bahamas Hotels
1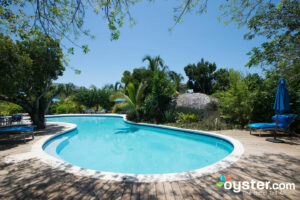 This relaxed, family-friendly condo complex offers 32 units in central Eleuthera Island, close to the small village of Governor's Harbour. With friendly Dave at the helm, an owner who is rarely far away, the peaceful grounds stay as easygoing as the rest of the island, which is known for its naturally rugged and secluded beaches. Guests requiring typical hotel amenities should probably look elsewhere, but units are bright, clean, and cheery, and come with fully equipped kitchens with stainless steel appliances, spacious bathrooms, pull-out sofa beds, and stackable washer/dryers. Guests can start the day with fresh chocolate croissants from the on-site deli, and then hit the beach across the street, or nap the afternoon away on a lounge chair at the pool.
2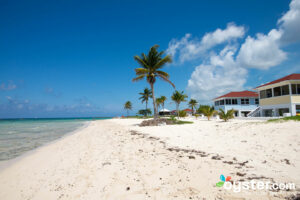 The family-run and authentic Paradise Cove is located on the western coast of Grand Bahama, 30 minutes from Freeport and along Deadman's Reef, one of the best snorkel spots on the island. There are just two comfortable two-bedroom villas: one blue and one yellow. Though the bar and grill can get a cruise ship crowd during the day, guests can easily find their own peace and quiet on the sand and even more so in the evening. This is ideal for couples or small groups who can transform the evening vibe into anything they want it to be: party-hearty, kid-friendly, or just plain romantic. Paddleboards (when the waves are not choppy), kayaks, and other rentals are available.
3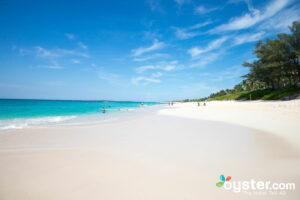 Smack dab between Atlantis Resort, Riu, and the One&Only Ocean Club on Paradise Island, this hidden gem offers 26 units ranging in size from one-, two-, three-, four and even five-bedroom options. Decor varies depending on the owner's taste, but these spacious villas all have fully-equipped kitchens, coffeemakers, sofa beds, and patios at generally great prices. Lounge chairs are never a problem at one of two pools, but do not miss out on having private access to Cabbage Beach. Sunrise's on-site restaurant serves breakfast, lunch, and dinner, and offers occasional live entertainment (that can stay loud late).
4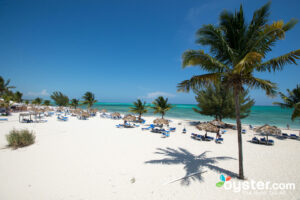 On the southeast shore of Grand Bahama near Freeport is one of the few all-inclusive resorts on the entire island with 274 rooms spread out over 26 acres. This Wyndham offers low prices for families on a budget. All rooms in the two-story bungalows have balconies, coffeemakers and free Wi-Fi, and are an easy walk to get to the three restaurants, the main lounge and bar, as well as the theater for nightly entertainment. A snack bar, pizza joint, trapeze, and water sports keep kids busy, but parents may want to invest in a good pair of headphones if looking for peace and quiet from the vendors and animation activities.
5
This 189-unit condo complex is located on a quiet stretch of beach called Silver Point, on the southern coast of Grand Bahama Island. Despite its aging exterior, most of the spacious one- and two-bedroom units have been spruced up with new appliances, mattresses, and fresh decor. Service is spotty and time-share pitches are the norm, but past that, the relaxed vibe gives those who want a simple vacation (think turquoise waves, an outdoor pool, and fully equipped kitchens) a chance for real peace and quiet, save for the occasional vendor. Two restaurants, an outdoor bar, excursions, and a shuttle to Port Lucaya are useful features, but a car is still recommended.